Giro d'Italia 2014 stage 8 is a 179 km medium mountain stage from Foligno to Montecopiolo. The route also contains the 1358-meter-high Cippo di Carpegna climb.
Giro d'Italia 2014 stage 8 quick info
DATE: May 17, 2014, Saturday
STAGE TYPE: Medium mountain
START-FINISH: Foligno (258m) > Montecopiolo (1235m)
LENGTH OF THE COURSE: 179.0 km
DIFFICULTY: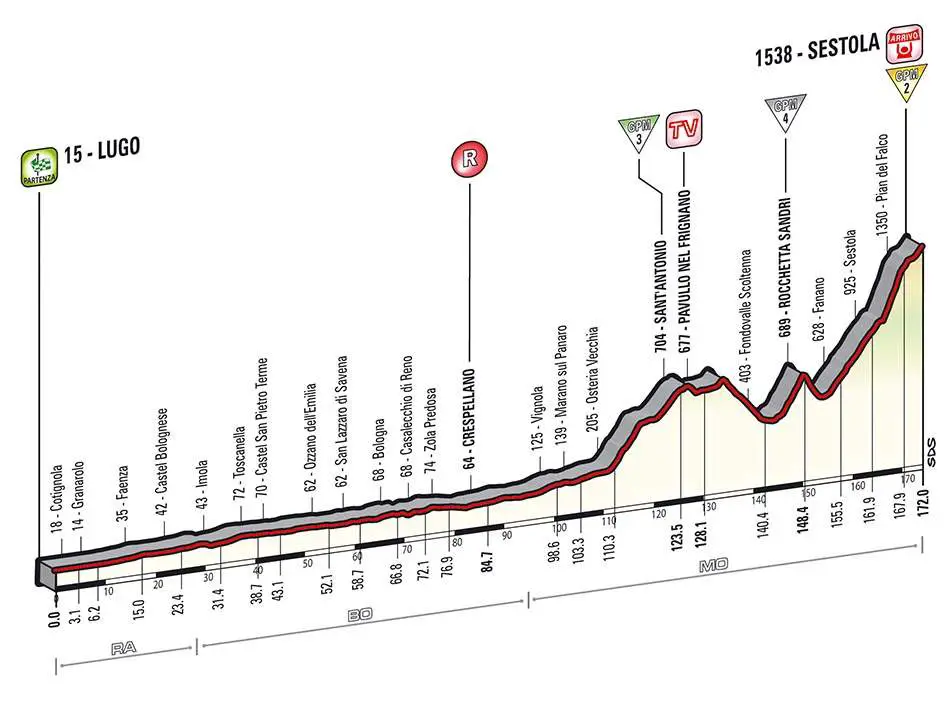 Giro d'Italia 2014 stage 8 profile
Climb details: Cippo di Carpegna
Climb details: Montecopiolo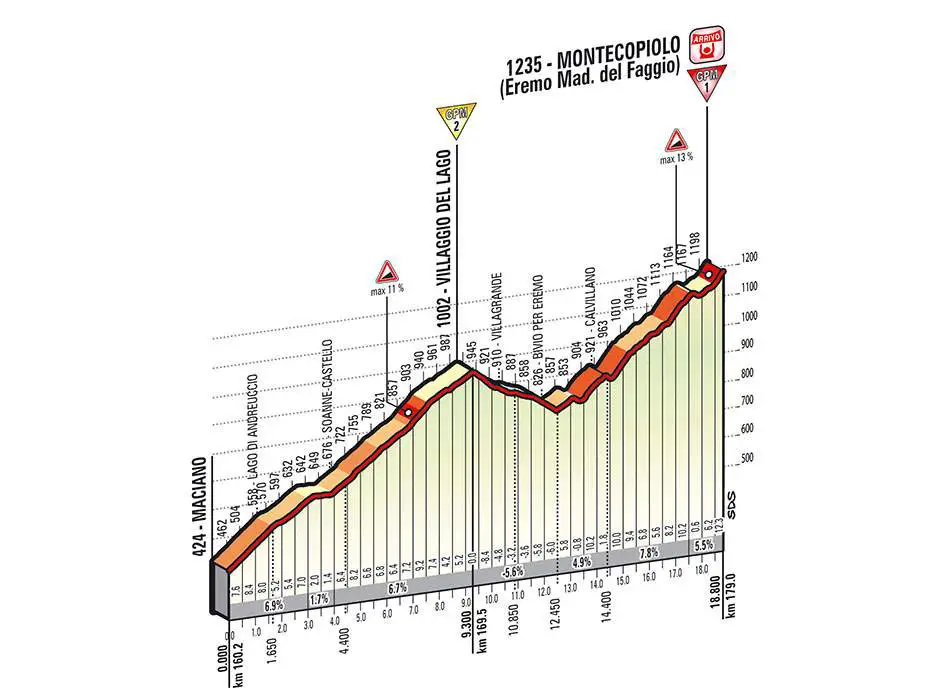 Last kilometers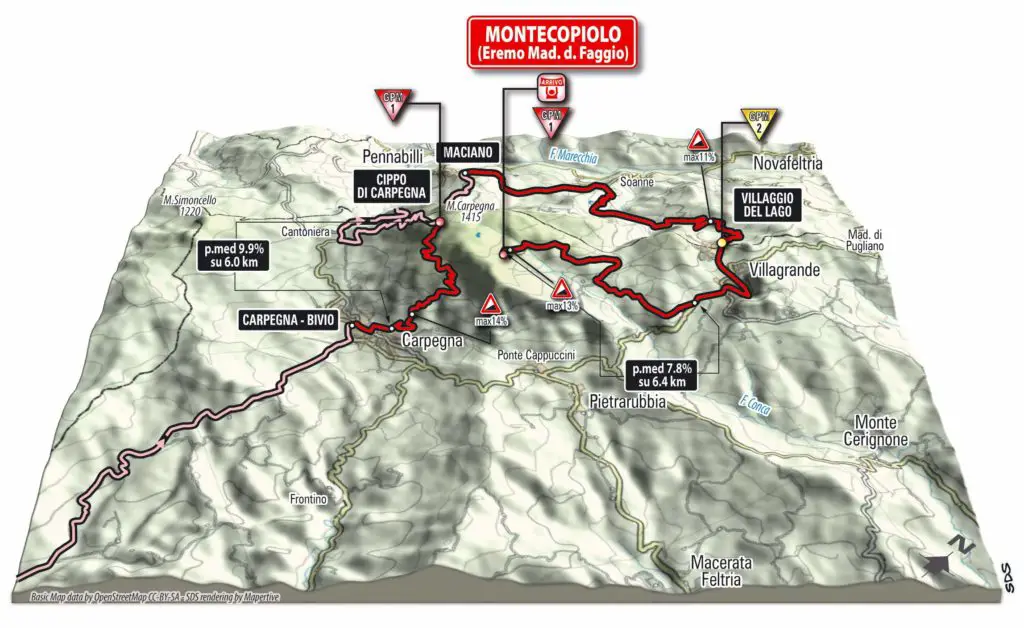 Giro d'Italia 2014 stage 8 map
Start: Foligno
Foligno is an ancient town of Italy in the province of Perugia in east-central Umbria, on the Topino river where it leaves the Apennines and enters the wide plain of the Clitunno river system. It is located 40 kilometers (25 miles) south-east of Perugia, 10 km (6 mi) north-north-west of Trevi, and 6 km (4 mi) south of Spello.
Foligno railway station forms part of the mainline from Rome to Ancona, and is the junction for Perugia; it is thus an important rail center, with repair and maintenance yards for the trains of central Italy, and was therefore subjected to severe Allied aerial bombing in World War II, responsible for its relatively modern aspect, although it retains some medieval monuments.
Of its Roman past, no significant trace remains, with the exception of the regular street plan of the center. Other resources include sugar refineries and metallurgical, textile, building materials, and paper and timber industries.
After the war, the city's position in the plain and again its rail connections have led to a considerable suburban spread with the attendant problems of traffic and air pollution, as well as a severe encroachment on the Umbrian wetlands.
Foligno is on an important interchange road junction in central Italy and 2 km (1 mi) away from the center of the city there is the Foligno Airport.
Finish: Montecopiolo
Montecopiolo is a comune (municipality) in the Province of Pesaro e Urbino in the Italian region Marche, located about 100 km west of Ancona and about 45 km west of Pesaro. It is formed by several villages, none exactly called Montecopiolo; the communal seat is in Villagrande.
Montecopiolo borders the following municipalities: Carpegna, Macerata Feltria, Maiolo, Monte Cerignone, Monte Grimano, Pennabilli, Pietrarubbia, San Leo. It is home to a hill castle, built in the 10th century, located at 1,030 meters above sea level.
Sources
Latest posts by M. Özgür Nevres
(see all)