Stage 7 of the Giro d'Italia 2014 is a 211 km flat stage from Frosinone to Foligno. At the 172.5th km of the race, the 646-meter high Valica Della Somma climb will be a real challenge for the sprinters.

STAGE DETAILS
DATE: May 16 2014, Friday
STAGE TYPE: Flat
START-FINISH: Frosinone (202m) > Foligno (228m)
LENGTH OF THE COURSE: 211.0 km
DIFFICULTY:


<< Previous Stage | All stages of Giro d'Italia 2014 | Next Stage >>
Stage Profile
Stage Map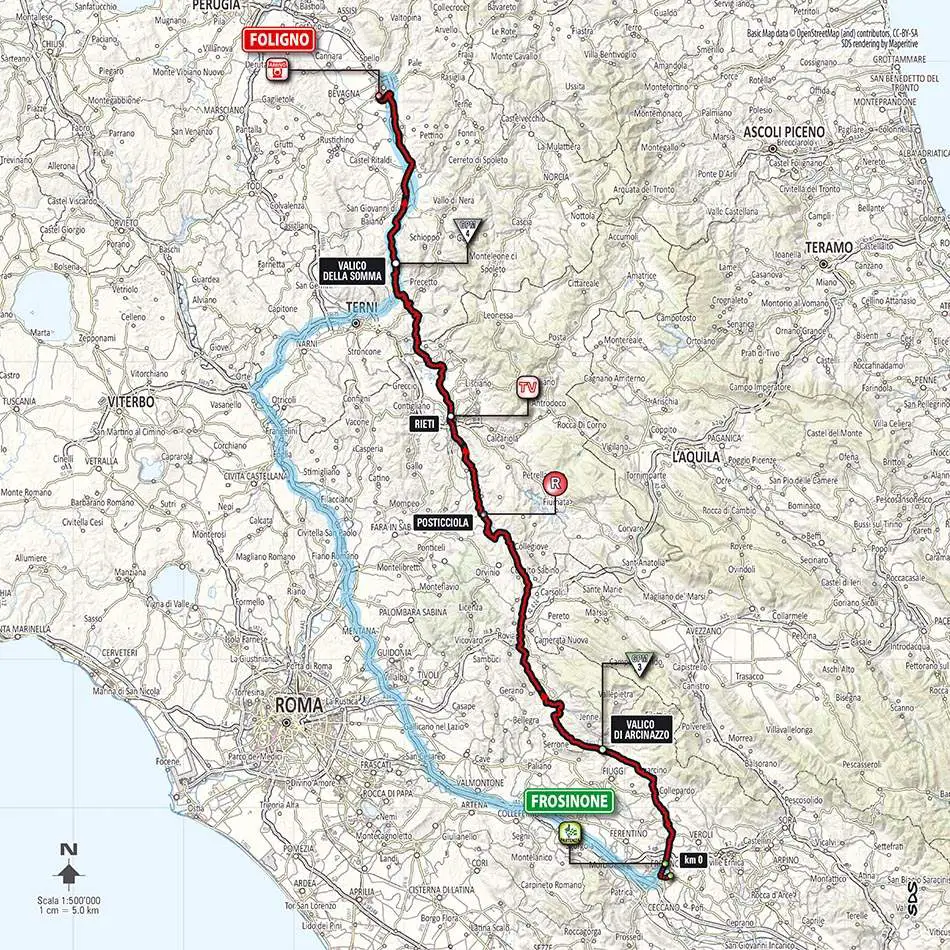 Start: Frosinone
Frosinone is a town and comune in Lazio, central Italy, the administrative seat of the Province of Frosinone. It is located about 75 km south-east of Rome close to the Rome-Naples Autostrada A1. It is commonly identified as the capital of the geographical region of Ciociaria.Frosinone is located on a hill overlooking the valley of the Sacco River, and is surrounded by the Ernici and Lepini mountain ranges.
East of Frosinone lies an early gothic Cistercian cloister.
Finish: Foligno
Foligno is an ancient town of Italy in the province of Perugia in east central Umbria, on the Topino river where it leaves the Apennines and enters the wide plain of the Clitunno river system. It is located 40 kilometres (25 miles) south-east of Perugia, 10 km (6 mi) north-north-west of Trevi and 6 km (4 mi) south of Spello.Foligno railway station forms part of the main line from Rome to Ancona, and is the junction for Perugia; it is thus an important rail center, with repair and maintenance yards for the trains of central Italy, and was therefore subjected to severe Allied aerial bombing in World War II, responsible for its relatively modern aspect, although it retains some medieval monuments. Of its Roman past no significant trace remains, with the exception of the regular street plan of the centre. Other resources include sugar refineries and metallurgical, textile, building materials and paper and timber industries. After the war, the city's position in the plain and again its rail connections have led to a considerable suburban spread with the attendant problems of traffic and air pollution, as well as a severe encroachment on the Umbrian wetlands. Foligno is on an important interchange road junction in central Italy and 2 km (1 mi) away from the centre of the city there is the Foligno Airport.
Latest posts by M. Özgür Nevres
(see all)