How fast can E-Bikes go? One of the common questions among the E-Biking community. Usually, an E-Bike can travel at nearly 20 Miles Per Hour (mph) (32 km/h) with no difficulty. But, remember that, after all, it ultimately reckons on you & your ability to pump.
To provide an exact answer, we can bring two types of electric bikes as examples. The first one is Pedal-Assist E-Bike that can go 20 mph (32 km/h) and is most suitable for short-distance and riding up hills. The next one is Throttle included E-Bike can reach a speed up to 30 mph (48 km/h) and is best for long-distance and commute trips.
Unfortunately, you can't ride your Electric Bike at its maximum speed as different countries have different laws on bicycle speed. To get details regarding the object, check out the rest of the article.
Different Class of Electric Bikes
Electric Bikes come with respective classes, and every category has its own features and speed limit that you must perceive if you are interested in using E-Bikes. The classifying system we are going to discuss below has been accepted by a couple of countries and states as a method of bike management.
Class 1 E-Bikes
These bikes come with a motor that confers support only when the rider is paddling but not your throttle. Class 1 E-Bikes stop assisting when riders reach the speed of 20 Miles Per Hour (32 km/h).
Class 2 E-Bikes
Class 2 bikes are also known as "Low-Speed Throttle-Assisted Electric Bicycle" in the E-Biking community. These types of bikes contain a motor that boosts the rider entirely without any pedaling. These are also limited at 20 mph (32 km/h) speed, and without turning on the motor, you can reach the maximum speed with pedaling.
Class 3 E-Bikes
They are comparatively smooth and faster than the class 1 & 2. These E-Bikes are called "speed pedal-assisted electric bicycles" in the biking community that only support when the rider is pedaling. Class 3 E-Bikes come with a speed motor, and their speed limit is 32 Miles Per Hour (48 km/h).
How Fast Can E-bikes Go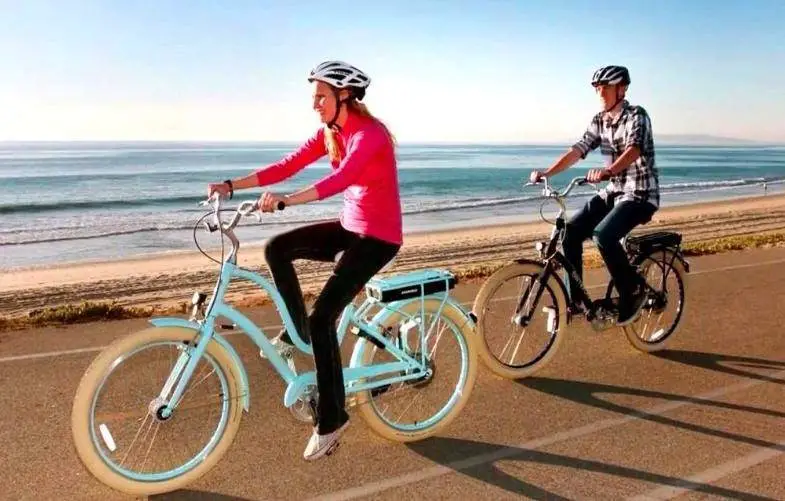 In Europe, E-Bikes can have the highest power of 250 watts that can go for a maximum speed of 25 kilometers per hour, nearly 15.5 mph. In contrast, things are entirely different in the United States, where E-bike motors can have a maximum of 750 Watt and the highest speed of 32 Kilometers Per Hour, 20 mph.
Now let's see how many miles an E-Bike can go with different watts motors. Electric Bikes with a 500 watts motor will support a maximum speed of 20 MPH with full throttle, not pedaling. On the other hand, a 750 Watt Mid-Drive E-bike will keep the highest speed of 32 Kilometers Per Hour. You'll find a few 750 watts bikes that can hit nearly 28 Miles Per Hour (45 km/h).
There are also 1000-watt E-Bikes. These bikes are powerful and fast compared to the 500 & 750W bikes. They can get you 50 Kilometers per hour or 32 mph.
Why Should I Use an E-Bike Rather Than Regular Bike
Many reasons will clarify why you should use an Electric Bike instead of a Regular Bike.
You can go faster and easier anywhere you need to go than on a standard bike.
Can travel without much effort at up to 28 Miles Per Hour (45 km/h) with an Electric Bike.
These bikes will aid you in riding hills without confronting any complications.
You'll ride faster but won't feel like you have to take a bath.
It is easy to control an E-Bike rather than a regular bike, which is much safer than any other bike.
Electric Bikes put less pressure on your knees and hips; thus, even a person with an injury can use them.
You'll be able to ride at the same pace while riding with a stronger partner.
These bikes can be used as alternatives to automobiles due to their ease, speediness, and convenience.
E-Bikes are mostly preferable if you want to ride on the challenging route.
How To Operate E-Bike Correctly
While riding on an E-Bike, you have to make sure that you are operating it properly, and you should be aware of its speed limit and safety. Here we have included some practical tips that should be followed while riding on the bike. They are:
While using an E-Bike, make sure that you're using the headlight and bell to show your present to pedestrians and motorists.
It is better to install a mirror on your E-Bike to see who is in your behind or around you.
Try to check your speed frequently and never attempt to overtake cars or buses, that can be a reason for an accident.
When coming to a stop, grip the breaks up earlier that will give you a better slow-up and more convenient riding experience.
Follow the same direction as the traffic.
Never break the traffic law.
Is 20 Mph Fast On A Bike?
Riding at 20 mph (32 km/h) is a comparatively low limit but not insufficient. According to research, most cyclists usually ride at 12 miles per hour (20 km/h) and hardly exceed that speed.
Also, it should be remembered that you should set the pace by keeping safety and regulation on your mind. We recommend riding a bike by maintaining the highest possible safety first. Depending on your experience and necessity, you can go about a maximum of 15 miles per hour.
Final Verdict
Most countries worldwide have limited the E-Bikes' speed to 28 mph, and some of them even at 20 Miles or 32 km/h. So, relying on your area, you can go at a speed of between 20-28 mph (32-45 km/h). But, with the help of pedaling, you'll be able to go faster as much as you want. On the other hand, if you would like to use an E-Bike while riding on hills, you can go faster than 28 Miles Per Hour as there is no speed limitation.

Latest posts by Bernita Fregoso
(see all)