Look Cycle, the French bicycle manufacturer has launched its new aero model – the new LOOK 795 Aerolight, the next generation of LOOK aero road bikes after 695 Aerolight.
2 versions of the LOOK 795 available: AEROLIGHT (integrated brakes) and LIGHT (conventional brakes).
According to the producer, some of the new LOOK 795 Aerolight features are:
Ultralight: only 5.9 kg
20% more comfortable, thanks to the new E-POST 2 SEATPOST (Editor's note: wait! how do you MEASURE the comfort?)
Compared to 695 light, 11.7% improved aerodynamics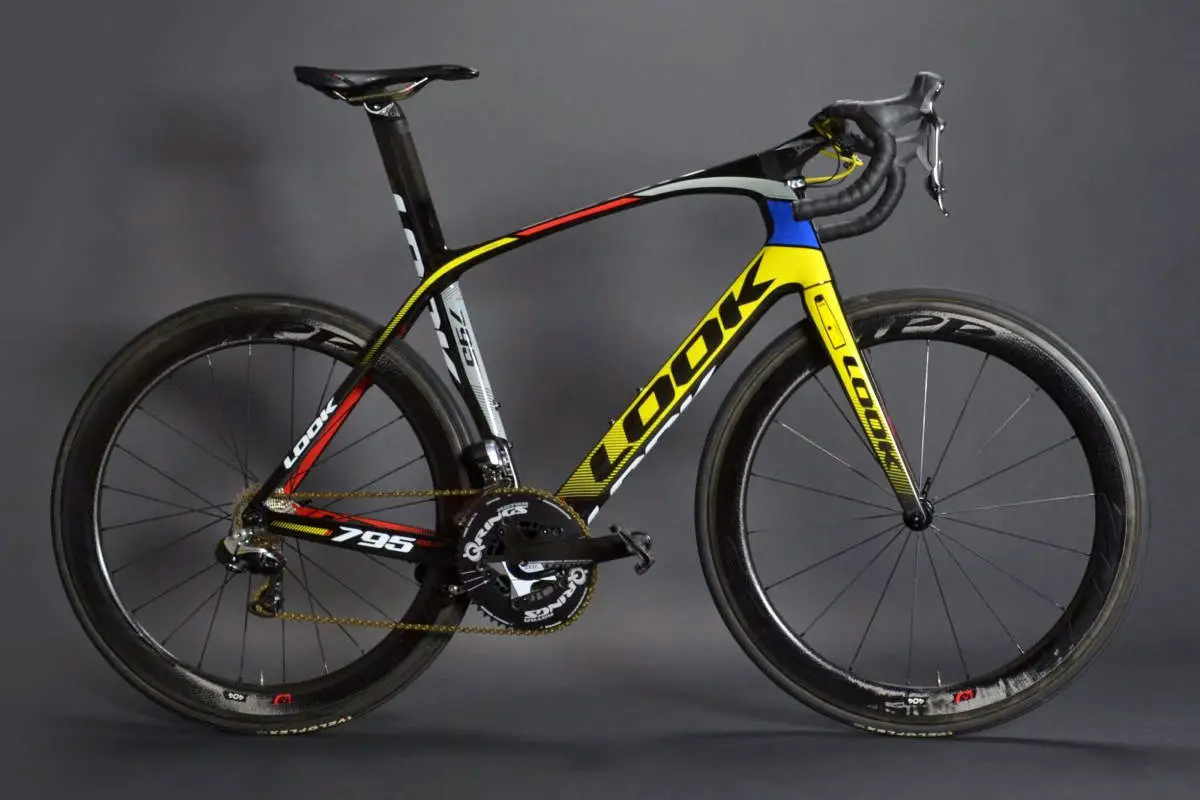 LOOK was one of the first bicycle producers that began to integrate components into the frame design. The 795 Aerolight is no exception: it features fully integrated carbon AEROSTEM. Its range is wide: from +17° to -13° which equates to 57 mm of adjustment for a length of 110 mm without hindering the integration.
The front brakes on the 795 Aerolight, of the mechanical V-brake type, are located centrally in the fork legs in housing that forms a window. This means that the caliper is fully concealed within the fork in order to achieve the best possible aerodynamics.
The brake cable and sheath follow an exclusive routing since they enter under the stem to be routed inside it and "drop-down" inside the steering tube to operate the caliper. External fitting is also possible, and the caliper may be operated from the left or right. The rear brakes are the Shimano Direct Mount standard, they are located under the chainstays and also feature integrated cable routing through the down tube and under the bottom bracket shell.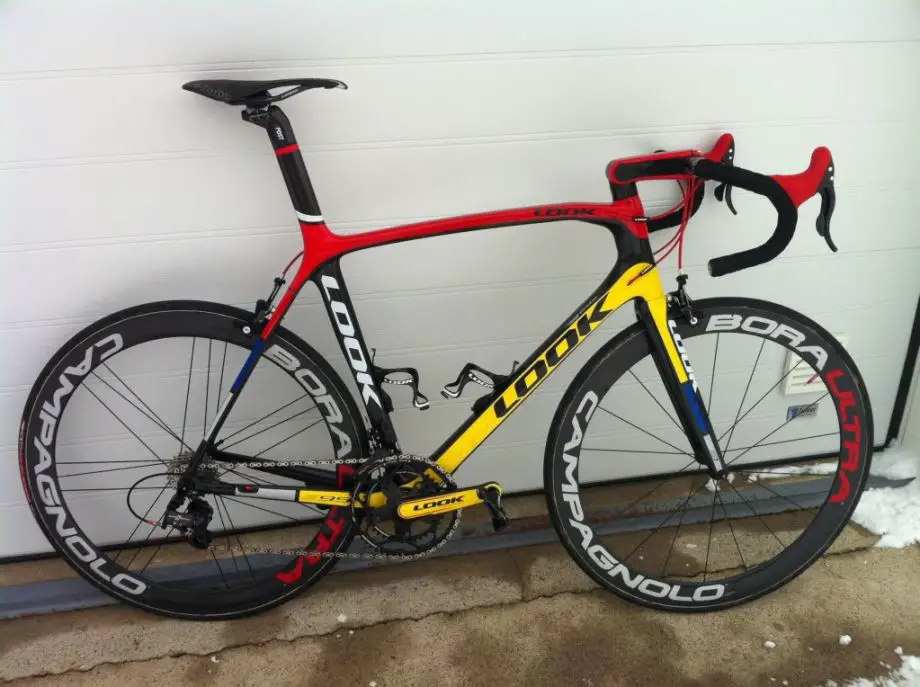 The ZED 2 carbon crankset included in the package. It is built from a single piece of carbon (2 pedal cranks + axle + spider = ONE-PIECE THROUGHOUT). The crankset alone (fewer bearings and chainrings but including the two cranks and the spindle) weighs just 320 grams.
Its special Z shape enables it to fit the frame with a special oversize bottom bracket shell (bearing diameter 65 mm). The technology in the three-lobe insert at the end of the cranks enables crank length to be varied between 170, 172.5, and 175 mm without replacing the crankset while maintaining compatibility with all pedals in the market.
Four color schemes are available: Pro Team (Mondrian), White, Carbon Red, and Fluo Reflect.
LOOK 795 Aerolight Specifications
Carbon type: HM IM and HR ultra-light 1.5 k fibers
Fork: HSC 8 = 320 g
Lugs: none = one-piece construction
Bottom bracket shell: zed specific 65 mm
Mount for front derailleur: carbon braze-on hanger
Seatpost: e-post ti with di2 internal battery mount
Headset: head fit 3 integrated headset; top = 11/8" stainless steel cartridge 1 "; bottom = stainless steel cartridge – top dia. = 41.7 mm; bottom dia. = 52 mm – angles 36°/45°
Brakes: integrated to fork (specific to look) and under chainstays (Shimano direct-mount) > 795 Aerolight only
Dropouts: compressed carbon – one-piece with chain stays and seat stays, replaceable rear derailleur hanger in aluminum.
Bottle cage: 2 lugs
Sizes: XS – S – M – L – XL
Di2 option: 100% integrated routing using an adapter kit and removable sheath stops
Pack weight: 2,400 g. In size s with an uncut seat tube
Accessories: color sheath kit / black bike cover/tube cutting guide
Warranty: Frame and fork = 5 years/paint and finish = 1 year (non-transferable)
Sources
Latest posts by M. Özgür Nevres
(see all)