Paris-Roubaix organizer ASO (Amaury Sport Organisation) has officially announced the ratings of 27 cobbled sectors in the 2013 edition of the race. This year the route is 254.5 km in total, and the peloton will have to ride on the cobbles a total of 52.6 km. Here are the Paris-Roubaix 2013 Route and Cobbled Sectors with ratings.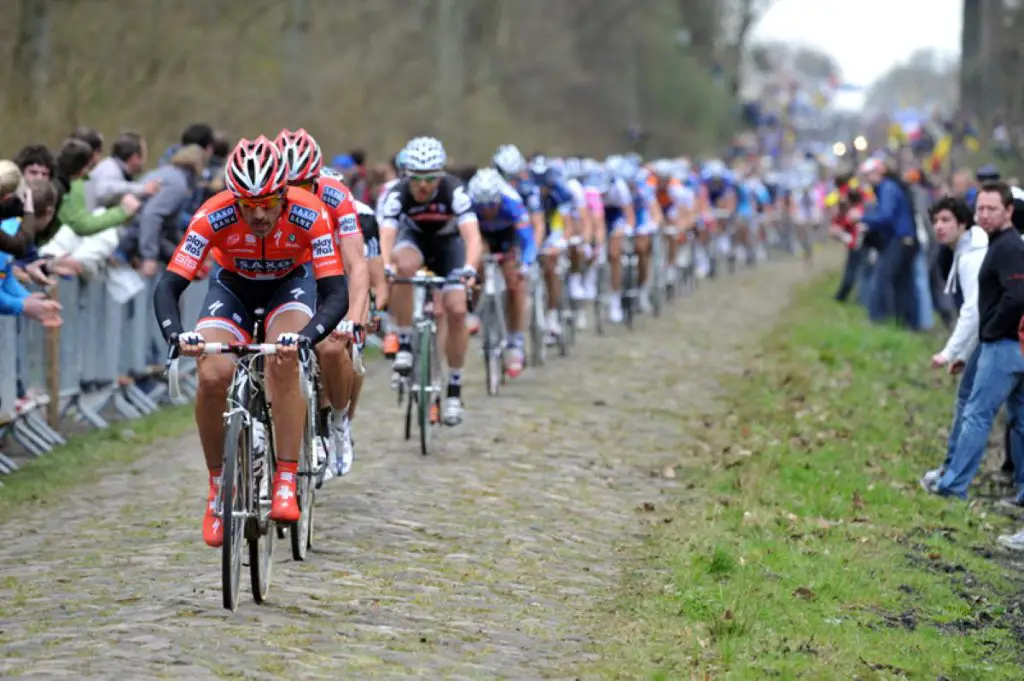 It will be the 111th edition of the "Queen of the Classics", aka "Hell of North". ASO president Christian Prudhomme and Jean-François Pescheux ranked all 52.6km of pavé (cobble).
The ratings of the Paris-Roubaix cobbles based on:
The length of the sector
The unevenness of the cobbles
The overall conditions of the sectors and
Their locations (at which km in the race, later is harder).
Paris-Roubaix 2013 Cobbled Sectors with Ratings
#, Sector, km in the race, Length (in meters), Difficulty
27, Troisvilles, km98.5, 2,200 meters, 3-star
---
26, Viesly, km105.0, 1,800 meters, 3-star
---
25, Quiévy, km107.5, 3,700 meters, 4-star

---
24, Saint-Python, km112.5, 1,500 meters, 2-star

---
23, Vertain, km120.0, 2,300 meters, 3-star
---
22, Verchain-Maugré, km130.0, 1,600 meters, 3-star
---
21, Quérénaing – Maing, km133.0, 2,500 meters, 3-star
---
20, Monchaux-sur-Ecaillon, km136.5, 1,600 meters, 3-star
---
19, Haveluy, km149.5, 2,500 meters, 4-star

---
18, Trouée d'Arenberg, km158.0, 2,400 meters, 5-star

---
17, Wallers – Hélesmes aka "Pont Gibus", km164.0, 1,600 meters, 3-star
---
16, Hornaing, km170.5, 3,700 meters, 4-star

---
15, Warlaing – Brillon, km178.0, 2,400 meters, 3-star
---
14, Tilloy – Sars-et-Rosières, km181.5, 2,400 meters, 4-star

---
13, Beuvry-la-Forêt – Orchies, km188.0, 1,400 meters, 3-star
---
12, Orchies, km193.0, 1,700 meters, 3-star
---
11, Auchy-lez-Orchies – Bersée, km199.0, 2,600 meters, 4-star

---
10, Mons-en-Pévèle, km205.0, 3,000 meters, 5-star

---
9, Mérignies – Avelin, km211.0, 700 meters, 2-star

---
8, Pont-Thibaut, km214.5, 1,400 meters, 3-star
---
7, Templeuve – Moulin de Vertain, km220.5, 500 meters, 2-star

---
6a, Cysoing – Bourghelles, km227.0, 1,300 meters, 4-star

---
6b, Bourghelles – Wannehain, km229.5, 1,100 meters, 3-star
---
5, Camphin-en-Pévèle, km234.0, 1,800 meters, 4-star

---
4, Le Carrefour de l'Arbre, km236.5, 2,100 meters, 5-star

---
3, Gruson, km239.0, 1,100 meters, 2-star

---
2, Hem, km246.0, 1,400 meters, 2-star

---
1, Roubaix, km256.5, 300 meters, 1-star
Paris-Roubaix 2013 profile and route
Sources
Latest posts by M. Özgür Nevres
(see all)