Quote of the day, from Dino Buzzati. Buzzati was an Italian novelist, short story writer, painter, and poet, as well as a journalist for Corriere Della Sera. He was also a cycling enthusiast.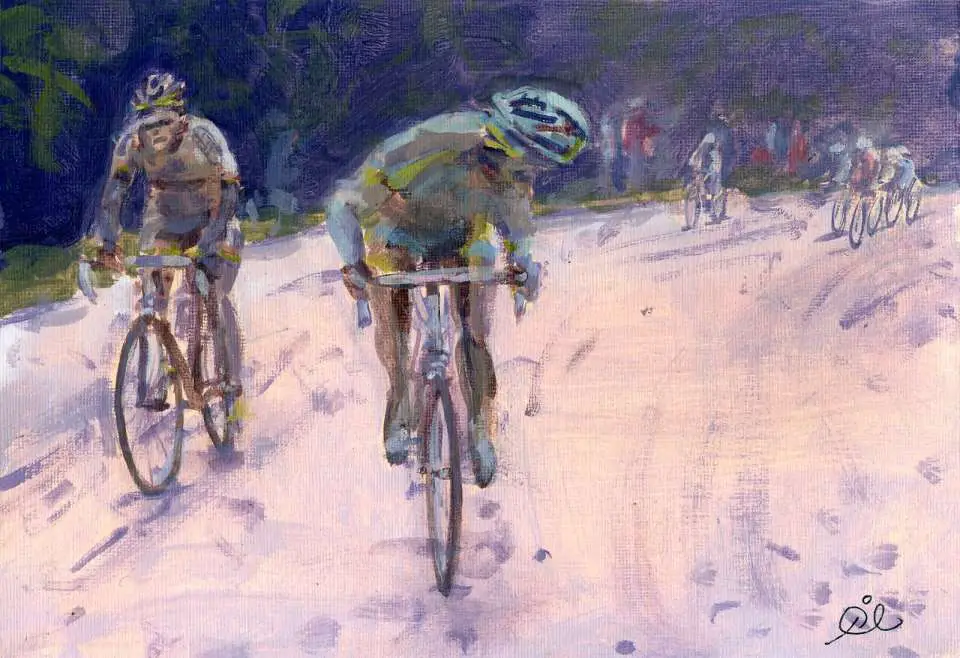 "Look at them, as they pedal and pedal through the fields, hills, and forests. They are pilgrims traveling to a distant city that they will never reach: they symbolize, in flesh and blood, as depicted in an ancient painting, the incomprehensible adventure of life. That's what it is-a pure romanticism."

Dino Buzzati
Dino Buzzati
Dino Buzzati (16 October 1906 – 28 January 1972) was born at San Pellegrino, Belluno, in his family's ancestral villa. Buzzati's mother, a veterinarian by profession, was Venetian and his father, a professor of international law, was from an ancient Bellunese family. Buzzati was the second of his parents' four children. One of his brothers was the well-known Italian geneticist Adriano Buzzati-Traverso (6 April 1913, Milan, Italy – 22 April 1983).
In 1924, he enrolled in the law faculty of the University of Milan, where his father once taught. As he was completing his studies in law, he was hired, at the age of 22, by the Milanese newspaper Corriere Della Sera, where he would remain until his death. He began in the corrections department and later worked as a reporter, special correspondent, essayist, editor, and art critic. It is often said that his journalistic background informs his writing, lending even the most fantastic tales an aura of realism.
He began writing fiction in 1933. His works of fiction include five novels, theatre and radio plays, librettos, numerous books of short stories, and poetry. His librettos include four for operas by Luciano Chailly, as well as that of the opera La giacca dannata by Giulio Viozzi.
Buzzati's worldwide fame is mostly due to his novel Il deserto dei Tartari, translated into English as The Tartar Steppe.
During World War II, Buzzati served in Africa, as a journalist attached to the Regia Marina. After the end of the war, Il deserto dei Tartari (The Tartar Steppe) was published Italy-wide and quickly brought critical recognition and fame to the author. He married Almeria Antoniazzi in 1964, which also marked the release of his last novel, Un amore. In 1972, Buzzati died of cancer after a protracted illness.
Sources
Latest posts by M. Özgür Nevres
(see all)