The Italian Bozzi family has once again moved ahead to revitalize the historic Legnano brand. In 2010, they resolved a licensing agreement issue with Bianchi, who had acquired the famous brand after the assassination of Emilio Bozzi in 1974. The new Legnano models were introduced in September 2013 at ExpoBici.
The history of Italian bicycles starts with the "L" of Legnano. Few if any marques can boast a legacy of success in the competition thanks to champions like Alfredo Binda, Giovanni Brunero, Learco Guerra, Gino Bartali, Fausto Coppi, and Ercole Baldini.
The history of Legnano cycles
In 1908, an Italian businessman, Emilio Bozzi, has established the Emilio Bozzi & Co. bicycle manufacturer at Corso Genova 9 in Milan, the first model being the "Aurora". Also, he had the rights to the Turinese Frejus bicycle brand. With the son of Franco Tosi, who had some patents from the English Wolsit brand, his company made the Ciclomotore Wolsit (1910–14), the rights to which were sold to NSU Motorenwerke AG (1932).
Soon after the establishment, they renamed the company Legnano (the name of Bozzi's hometown (see notes 1).
The turning point came in 1924 when fascism took an interest in championship cycling and issued an imperative order that all Italian cyclists will only race on Italian bicycles. At this time comes the first great insight for Emilio Bozzi: to offer a lifetime contract to a young painter, plasterer, trumpeter, and amateur bike racer, who was about to move to France with his family.
A 16-year-old poor and hungry boy, Alfredo Binda, left his village, Cittiglio, in the company of Pino, one of his 13 siblings, to seek his fortune. They'd headed to their cousins' place across the France border in Nice. They were playing trumpets. Alfredo started to work as a plasterer, and supported by his aunt, enrolled at both the local technical college and the local bike club. Soon he started to winning local races, and there was money to be made by winning. He soon abandoned plastering.
In 1924 someone told young Binda that at the Giro di Lombardia the first man to the top of the Ghisallo climb got 500 lire. He wrote to Eberardo Pavesi, the Directeur Sportif of Legnano, that he would be visiting family that weekend and wouldn't mind a crack at the race.
On hearing that Binda had an application pending for French citizenship, the Italian Cycling Federation dithered long and hard, before finally agreeing to let him race. Though he finished only fourth behind teammate Giovanni Brunero and runner-up Costante Girardengo (see notes 2), his defeat was to some extent mitigated by the fact that he'd ridden from Nice to Milan only the day before.
Pavesi was suitably impressed and immediately offered him a contract. Binda refused – he'd need a good deal more than Pavesi was offering to renounce his claim for French citizenship and come on home. Pavesi went back to Bozzi to negotiate, and after a week or two, Binda, the second "campionissimo", was a Legnano rider (see notes 3).
The symbol to represent Legnano would be that of Alberto da Giussano, the legendary Guelph warrior from the Lombard League wars that defeated Frederick Barbarossa in the 12th century. The beautiful brass casting that adorns the head tube of Legnano bicycles was inspired by the statue of Alberto da Giussano erected at Legnano in 1900. It is said that Alfredo Binda drew the first sketch of the new Legnano brand.

Alfredo Binda proves to be a real investment for Bozzi: he was an excellent time trialist, a superlative climber, and held world records for 10, 20, and 50 km on the track. He won the Giro a record five times in 1925, 1927, 1928, 1929, and 1933 (1933 was also the first year the Giro held a "King of the Mountains" competition, which Binda won too); he also won the Giro di Lombardia in 1925, 1926, 1927 and 1931.
His dominance in the Giro was overwhelming: besides the five overall victories, he won 41 stages (a record only broken in 2003 by Mario Cipollini). In 1927, he won 12 out of 15 stages, and in 1929 he won 8 consecutive stages. Because of this domination, he was offered money not to compete in the Giro of 1930. Instead, he took part in that year's Tour de France, winning two stages.
In the World Championships, Binda was also very successful. He won the title three times in 1927 (the first edition), 1930, and 1932 (a record later equaled by Belgians Rik Van Steenbergen and Eddy Merckx and Spaniard Óscar Freire). In addition, he placed third in 1929. Other victories of Binda include the Italian Championships (four times), and Milan – San Remo (twice).
The only races missing from his palmarès were the World Hour Record and Tour de France, though they weren't for want of trying. And with these palmarès, Binda made the Legnano brand famous throughout the world.
The Legnano racing bicycles were initially painted blue, then a light olive green, before taking on their unique metallic 'lizard green' color at the end of the '30s that would also serve to define the brand. Legnano frames also have a feature that makes them immediately recognizable, placing the seat post binder bolt immediately below the top tube and just in front of the seat tube.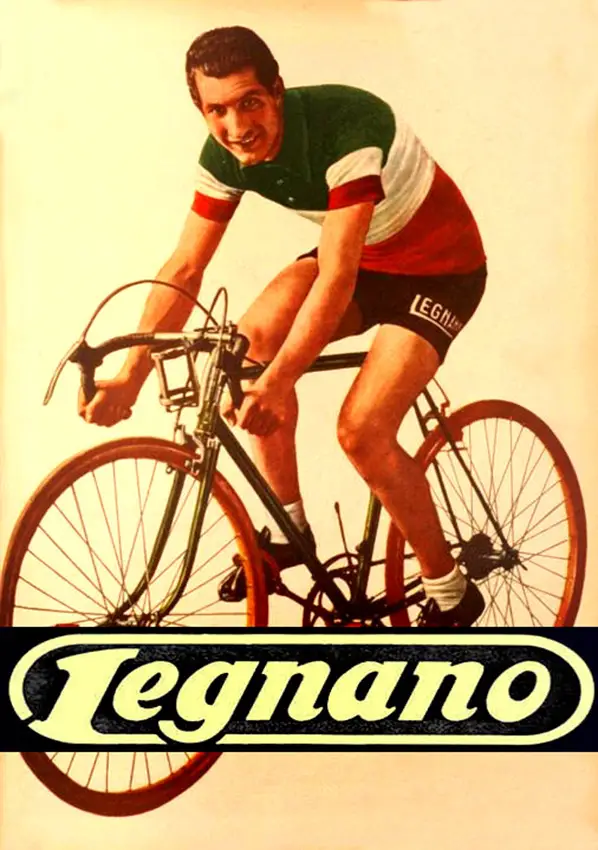 Victories won by a cyclist riding a Legnano bike
The Legnano legend continued after Binda: The list of Legnano victories is long:
16 Giro d' Italia
1921-1922 Giovanni Brunero
1924 Giuseppe Enrici
1925-1927-1928-1929-1933 Alfredo Binda
1926 Giovanni Brunero
1930 Luigi Marchisio
1932 Antonio Pesenti
1936-1937-1946 Gino Bartali
1940 Fausto Coppi
1958 Ercole Baldini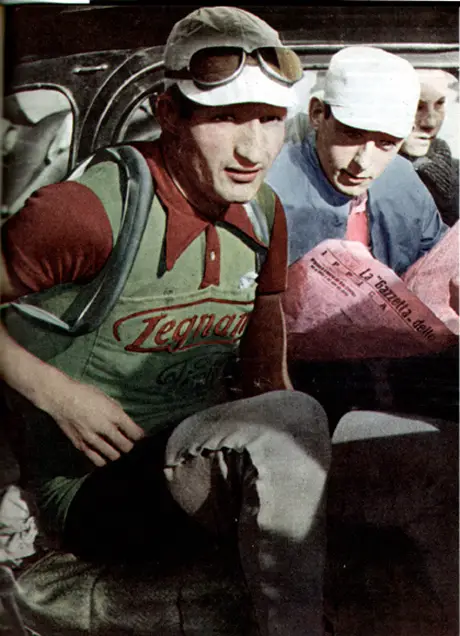 2 Tour de France
14 Giro di Lombardia (today Il Lombardia)
1923-1924 Giovanni Brunero
1925-1926-1927-1931 Alfredo Binda
1928 Gaetano Belloni
1936-1939-1940 Gino Bartali
1941-1946 Mario Ricci,
1950 Renzo Soldani
1952 Giuseppe Minardi
10 Milan – Sanremo
1922 Giovanni Brunero
1924 Piero Linari
1925-1926 Costante Girardengo,
1929-1931 Alfredo Binda
1939-1940-1947 Gino Bartali
1941 Pierino Favalli
World Hour Records
December 7, 1942, Fausto Coppi km. 45.848
September 9, 1956, Ercole Baldini km. 46.394 (bicycle with a claimed weight of 6.7 kg)
15 Italian National Road Championships and, numerous other victories such as in Giro del Piemonte, Giro di Toscana, etc.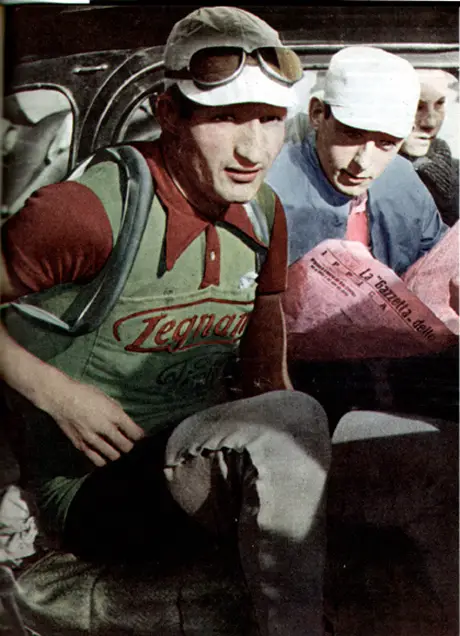 The Legnano company began a slow but inexorable decline, culminating with the assassination of Emilio Bozzi in 1974 by a terrorist group. After his death, the family does not intend to take over the company, which after a period of ups and downs in 1987 was sold to longtime rival Bianchi.
Eventually, both brands were acquired by the multinational Cycleurope group, which has decided to maintain the tradition of the Bianchi brand at the expense of the Legnano brand, now relegated to low-level economic production. Following a lengthy legal challenge in 2008, an Italian court awarded the rights to the Legnano brand to the heirs of Emilio Bozzi.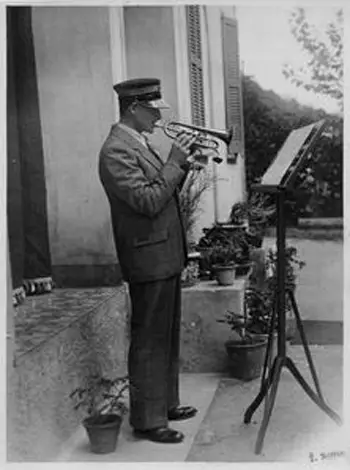 Notes
Legnano is an Italian town and comune in the north-westernmost part of the Province of Milan, about 20 km (12 mi) from downtown Milan. It's crossed by the river Olona, and it's the 13th town for inhabitants in Lombardy. Thanks to the historic Battle of Legnano, fought on May 29, 1176, between the forces of the Holy Roman Empire, led by Emperor Frederick Barbarossa, and the Lombard League, Legnano is the only town, in addition to Rome, named in the Italian national anthem. Every year Legnanesi (the people of Legnano) remember this battle with the Palio delle contrade.
There are three riders nicknamed "il campionissimo – champion of champions" in history: first, Costante Girardengo; second, Alfredo Binda; and third, Fausto Coppi.
Maglia Rosa – Triumph and Tragedy at Giro d'Italia; Sykes, H.; Ruleur Limited; London, 2011
Sources
The history of Legnano on condorino.com
Italian Cycling Journal: Legnano, the Brand Will Continue On
Emilio Bozzi on Wikipedia
Maglia Rosa – Triumph and Tragedy at Giro d'Italia; Sykes, H.; Ruleur Limited; London, 2011
Legnano on Wikipedia
Battle of Legnano on Wikipedia
Alfredo Binda on Wikipedia
Latest posts by M. Özgür Nevres
(see all)