Santini Cycling Wear and the UCI are launching a new partnership with Belgian men's lifestyle brand, ANTWRP which has created a collection of fashion wear featuring the rainbow motif. ANTWRP will be displaying the UCI lifestyle collection in its high street and online stores and also selling the merchandise line created by Santini for the UCI. Equally, the ANTWRP collection will also be available through Santini's online store.
The most coveted prize of all in cycling, the Union Cycliste Internationale (UCI) World Champion jersey, features a rainbow motif that tells the world the wear is the king of the world for an entire year. Today, however, that irresistible rainbow of five colors – blue, red, black, yellow, and green – make the leap beyond the racing world and onto the lifestyle clothing market, thanks to ANTWRP. The cool young Belgian men's fashion brand has just signed an agreement with Santini Cycling Wear and the UCI to create a collection of casual wear inspired by the UCI World Champion rainbow motif.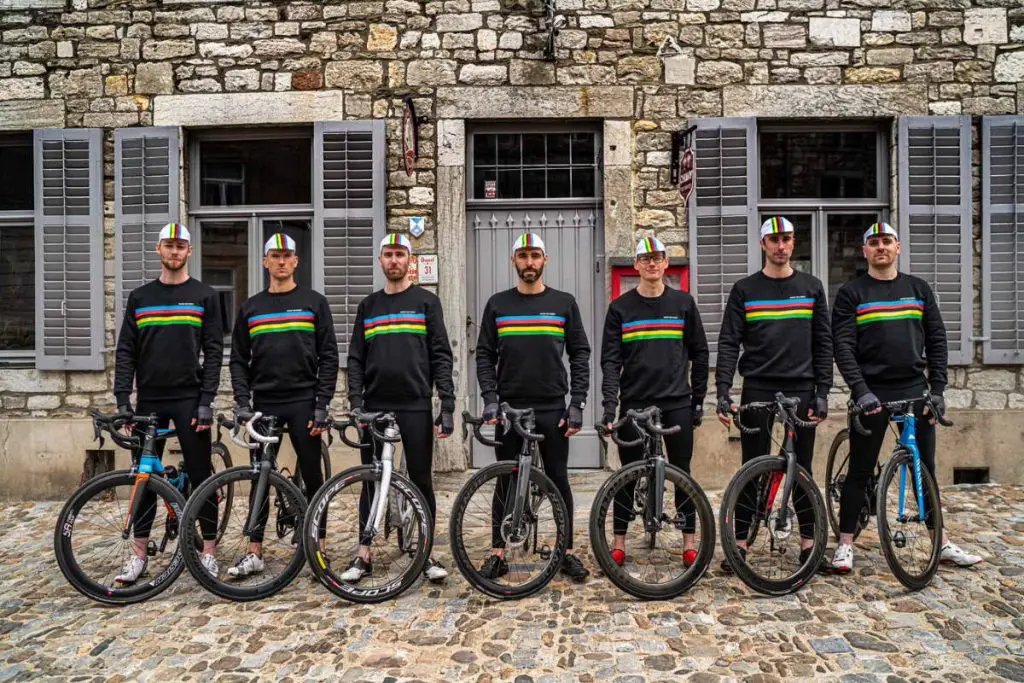 "This collection spans t-shirts, sweatshirts, and sweaters that are young and casual in style," said the ANTWRP Management Team. "All the pieces are in inspiring shape and color combinations with designs dedicated to the cycling world and references to Belgium plus they feature the UCI World Champion rainbow motif".
"Aside from this collection, ANTWRP has also selected part of the UCI-branded line of merchandise we created, including cycling wear and accessories," added Paola Santini, Marketing Manager Santini Cycling Wear "to sell in its own stores from the end of May to enrich its own rainbow motif-inspired fashion range. We are delighted with this new partnership as we believe it will highlight to a growing extent the way the cycling and fashion worlds are mixing".
The ANTWRP casual wear line will also be available from santinicycling.com from the end of May.
About Santini Cycling Wear
Santini Cycling Wear was founded in 1965 by Pietro Santini who spotted a market for technical cycling clothing as a result of his abiding passion for the sport and competition. In what would seem like a revolutionary and contrarian choice today, the Bergamo-based company made the pivotal decision to design and manufacture all of its products exclusively in Italy. Each item is designed and developed by a designer team with deep-rooted passion for the two-wheel world to meet four key requirements: fit, performance, comfort and durability.
Santini currently produces 3,500 items of clothing per day and exports 80% of its output. It is deeply committed to ongoing investment in researching and developing innovative textiles and new production methods. However, people – athletes – remain its central focus as it continues to refine its creations to allow cyclists to pursue their sporting passions in a comfortable but inimitably stylish kit (www.santinicycling.com)
About ANTWRP
ANTWRP, the fashion collection for men, was founded in 2006 and has been epitomizing the Antwerp state of mind ever since. Antwrp has its roots in Antwerp and is the only fashion label connected with the city. Throughout the years, Antwrp has evolved towards a total look with a strong identity which always manages to surprise and keep up with the changing times.
Antwrp is characterized by its strong graphic elements and its striking color combinations, often referring to the 1970s and 80s. They result in a mix of culture, futurism, and vintage, spiced with humor. Sport is a common thread throughout the collection. The success has even resulted in the capsule collection "Velo Tourist by Antwrp" steeped in nostalgia and influences of urban cycling.
In short, Antwrp makes a difference for the discerning man. (www.antwrp.com)
Latest posts by M. Özgür Nevres
(see all)