Dutch team Belkin's (former Rabobank) new bike sponsor is Bianchi, for two years. Here is the first look at Team Belkin's Bianchi Oltre XR.2 and Infinito CV.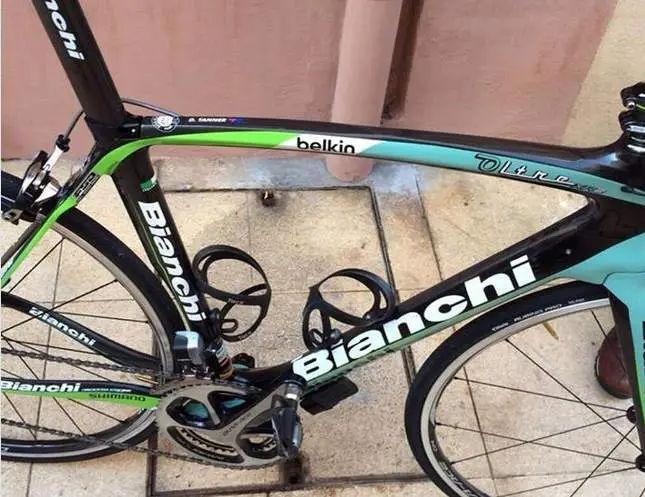 The XR.2 is equipped with Dura-Ace Di2. On the road, Belkin will ride the Bianchi Oltre XR.2 and the new exclusive Infinito CV with patented Countervail Vibration Cancelling technology (for the Cobbled classics). A new carbon-framed time trial bike will be presented at the start of the season.
Team Belkin's Bianchi bikes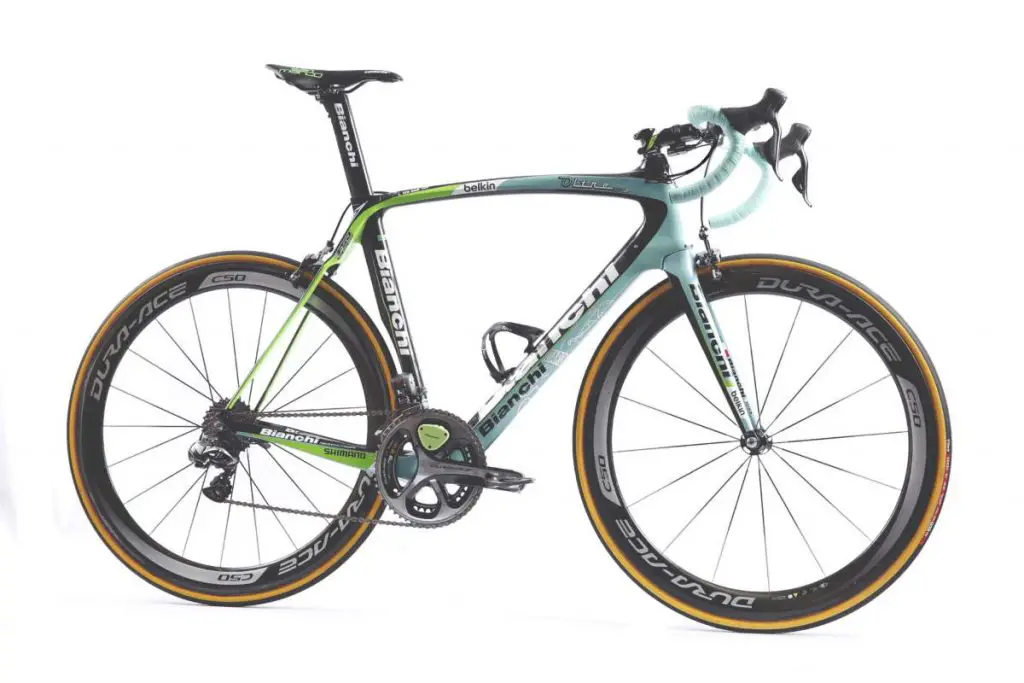 The Belkin cycling team was founded for the 1984 season under the name Kwantum–Decosol, anchored by Jan Raas (see notes 1), with most cyclists coming from the TI-ceeded by Superconfex, Buckler, Wordperfect, and Novell, respectively, before Raas signed a contract with Rabobank, a Dutch association of credit unions, in 1996. After Rabobank's sponsorship ended in 2012, it was known as Blanco.
And now Belkin, the American manufacturer of consumer electronics that specializes in connectivity devices is the team's main sponsor. Belkin was announced as the team's new sponsor in June 2013.
Since 1984, the team has entered every Tour de France and since the introduction of divisions in 1998, the team has always been in the first division (the UCI WorldTour, formerly known as the UCI Pro-tour). A 2012 investigation by Dutch newspaper de Volkskrant concluded that doping was at least tolerated, from the team's 1996 beginnings as Rabobank until at least 2007.
Notes
1. Jan Raas
Jan Raas (born 8 November 1952, in Heinkenszand, near Goes in Zeeland) is a Dutch former professional cyclist whose 115 wins include the 1979 World Road Race Championship in Valkenburg, he also won the Tour of Flanders in 1979 and 1983, Paris-Roubaix in 1982 and Milan-San Remo in 1977.
He won ten stages in the Tour de France. In six starts, Raas won the Amstel Gold Race five times. In his entire career, he competed in 23 of the highly contested "Monument" Races and he finished on the podium in almost half of them: 3rd place six times, 2nd place zero times, and 1st place four times.
Raas was a tactician and clever sprinter. He struggled on the long climbs but excelled on the short steep climbs which suit sprinters, characteristic of the northern classics.
Following his retirement from professional cycling in 1985, Raas' know-how made for a natural move into team management and he became sporting director of the Kwantum team. Raas found sponsors when old ones pulled out and the team received backing from SuperConfex, Buckler, WordPerfect, Novell, and finally Rabobank.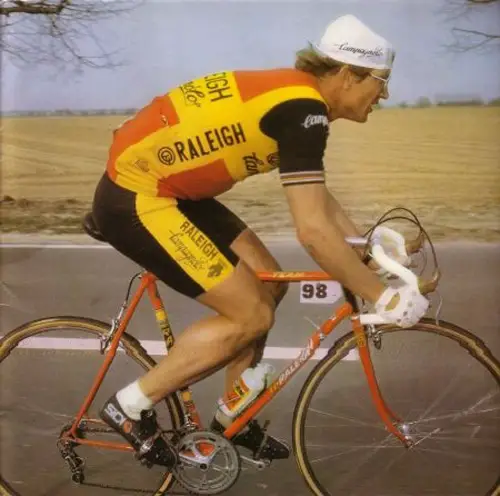 Sources
Latest posts by M. Özgür Nevres
(see all)