The UCI – Santini – Decathlon partnership launched in 2021 with a collection of UCI World Championships cycling wear and accessories is being expanded in 2022 to include a global distribution agreement of the New Rainbow Collection: a growth trajectory driven by a new direct contract with the Decathlon Group and presence in its French, German, Italian, Hungarian and Spanish stores.
After the success of the Santini & UCI collection that appeared in Decathlon stores in Italy, Belgium, Hungary, and Switzerland last year, the Italian company has now signed a framework agreement with the Decathlon Group for the global distribution of the cycling wear sporting the UCI World Championships' iconic rainbow stripes.
A New Rainbow Collection
"The Santini & UCI collection made exclusively for Decathlon was a great success with the public and that is why we decided to broaden our agreement for 2022," declared Monica Santini, CEO of Santini Cycling Wear. "The new agreement was reached directly with the Decathlon Group and reflects our mutual trust and cooperation as well as providing for constant growth".
In 2022, the Decathlon stores that already stock the Santini & UCI collection will be joined by those in France, Spain, and Germany. The collection will be available from April 2022 in special Santini & UCI-branded corners in the Decathlon stores as well as from the Decathlon website.
The collection includes a replica of the UCI World Champion jersey, an all-black kit, and a range of black and white accessories. All will sport the iconic rainbow stripes and are made with the same quality and skill Santini pours into producing all of its technical cycling wear – at great prices!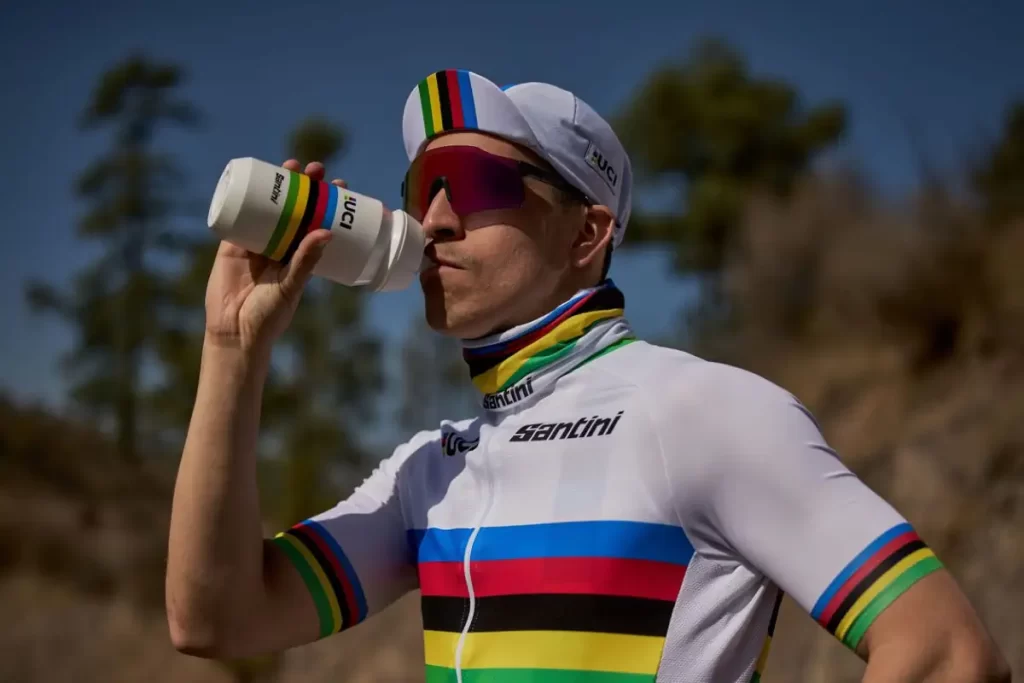 This extended agreement with Decathlon ties in with the UCI's raison d'être to promote cycling for populations in all regions and of all levels of ability.
UCI President David Lappartient declared: "Thanks to this UCI – Santini initiative in partnership with Decathlon, more bike users and cycling enthusiasts have discovered the fantastic Santini cycle wear, either in neutral colors or sporting the prestigious rainbow stripes of UCI World Champion. I am delighted that this initiative is expanding to reach an even greater cross-section of the population, thanks to a wider distribution agreement with Decathlon, a major outlet specializing in multisport and leisure".
"Santini is a symbol in the world of cycling and it is an honor to collaborate with such a beautiful brand. We thank UCI for making this association possible. This partnership makes a lot of sense for Decathlon, we are delighted to be able to offer our customers clothing that reflects the highest level of international cycling," declared Guillaume Pichot, Decathlon Product Manager.
About Santini Cycling Wear
Santini Cycling Wear was founded in 1965 by Pietro Santini who spotted a market for technical cycling clothing as a result of his abiding passion for the sport and competition. In what would seem like a revolutionary and contrarian choice today, the Bergamo-based company made the pivotal decision to design and manufacture all of its products exclusively in Italy. Each item is designed and developed by a design team with a deep-rooted passion for the two-wheel world to meet four key requirements: fit, performance, comfort, and durability.
Santini currently produces 5,000 items of clothing per day and exports 80% of its output. It is deeply committed to ongoing investment in researching and developing innovative textiles and new production methods. However, people (athletes) remain its central focus as it continues to refine its creations to allow cyclists to pursue their sporting passions in a comfortable but inimitably stylish kit.
Latest posts by M. Özgür Nevres
(see all)