A very rare photo of the young Fausto Coppi from the fifth edition (1938) of the Italian semi-classic cycling race Giro dell'Appennino.
The fifth edition of the Giro dell'Appennino (1938). A very young Fausto Coppi takes off, not even yet nineteen, thanks to an exemption granted by the race director, "il papa dell'Appennino (the father of the Giro dell'Appennino)" Luigi Ghiglione.
Ghiglione and Coppi remained friends until Coppi's death.
The Giro dell'Appennino is a semi-classic European bicycle race held in the Apennine Mountains, Italy. The first edition was in 1934 and won by Augusto Como. Fausto Coppi won the 1955 edition, it was one of his latest major victories.
Since 2005, the race has been organized as a 1.1 event on the UCI Europe Tour.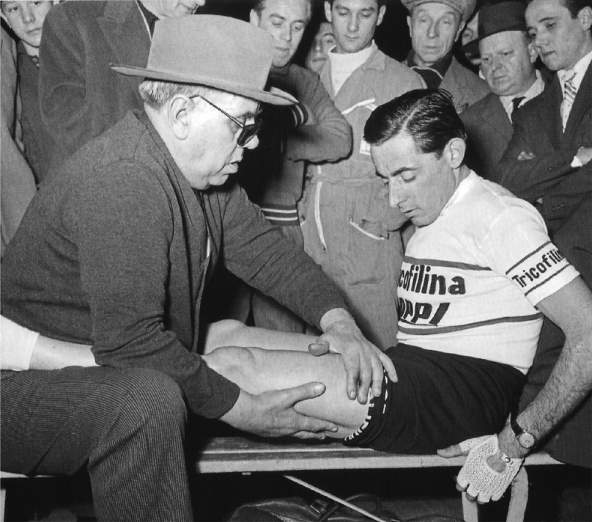 Italian writer Giorgio Delfino writes in his 1995 book "Il Giro Dell'appennino: Una Leggenda Che Si Rinnova (The Giro dell'Appennino: a legend that renews itself, written jointly with Domenico Massa)": "Together with the well-known names of the previous edition, there are also others that are also famous but participate in the first time: Luigi Ferrando, the cyclocross specialist, of which he was three times Italian Champion; Michele Olmo, brother of the more famous Giuseppe 'Gepin' Olmo. Among these new arrivals, one will make an era: Faustino Coppi."
Italian sports journalist Felice Pelucco wrote in "Il Lavoro" (a famous and important Italian Genoese newspaper published between 1903 and 1992) on Monday 22 August 1938: "The one who surprised was Coppi, one of the best on the whole route, combative on the plains, extremely tenacious on the climbs".
Sources
Latest posts by M. Özgür Nevres
(see all)