All sporting challenges need solid, dependable allies and the 2020 Granfondo Stelvio Santini has just that in its new sponsor, go-to sports fabric manufacturer, Polartec. In partnership with Santini Cycling Wear, this year's entrants will be donning an official race jersey made from around five plastic bottles (depending on size). The jersey boasts unique characteristics as it is made from two high-performance fabrics, Polartec Power Dry recycled and Polartec Delta recycled, which themselves are made from PET bottles.
Both men's and women's versions of the compulsory Santini race jersey are available.
Update: Granfondo Stelvio Santini 2020 Edition Canceled due to Coronavirus
Materials are playing an increasingly pivotal role in the sport of cycling and now participants in the 2020 Granfondo Stelvio Santini will get to test first-hand the efficiency of a truly unique garment.
Created by Santini Cycling Wear and Polartec, partners of the Granfondo Stelvio Santini which will take place on June 7 next, the official jersey for the event will provide the perfect opportunity to test the technologies of the American company combined with Santini's expertise in making technical cycling clothing, on the hairpins and climbs of the glorious Alta Valtellina.
2020 Granfondo Stelvio Santini official race jersey – Circular economy in the saddle: 1 jersey = 5 recycled plastic bottles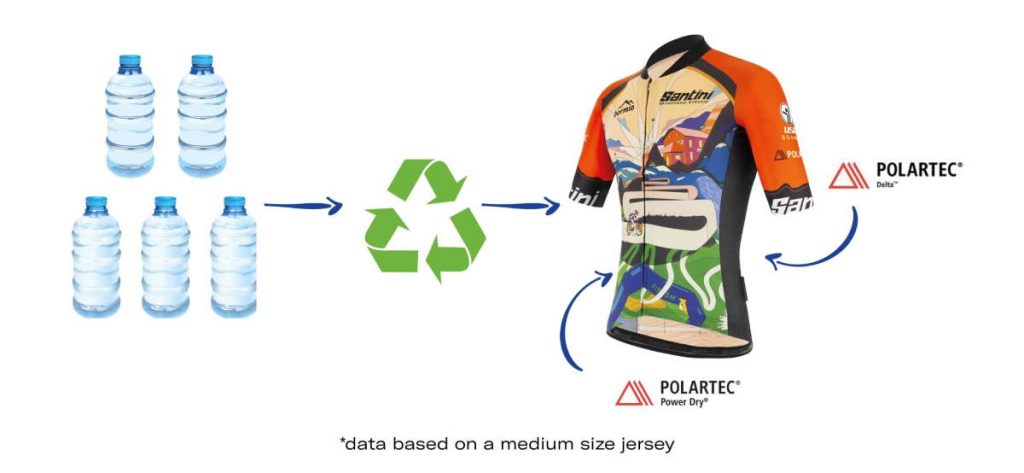 Cycling is, by definition, an environmentally-friendly act but becomes even more so if cyclists wear sustainable clothing. The central feature of the 2020 Granfondo Stelvio Santini official jersey is its eco-friendly status. The Power Dry and Delta fabrics used to make it are manufactured by Polartec using a process that recycles single-use bottles made from polyethylene terephthalate, better known as PET.
Specifically, on June 7, 2020, each participant will literally be wearing five plastic bottles – that's an estimated total of 18,000 bottles turned into fabric. This is much more than a symbolic gesture: it is a practical move to combat litter in the environment and foster its recovery and recycling.
This subject is particularly dear to the hearts of the Granfondo Stelvio Santini organizers who have laid on green areas along the race route into which cyclists can throw rubbish, such as bar and gel wrappers, to keep the spectacular environs of the Parco dello Stelvio pristine and litter-free. An extra side pocket has been added to the official race jersey made by Santini and Polartec for participants to stow such items between green areas.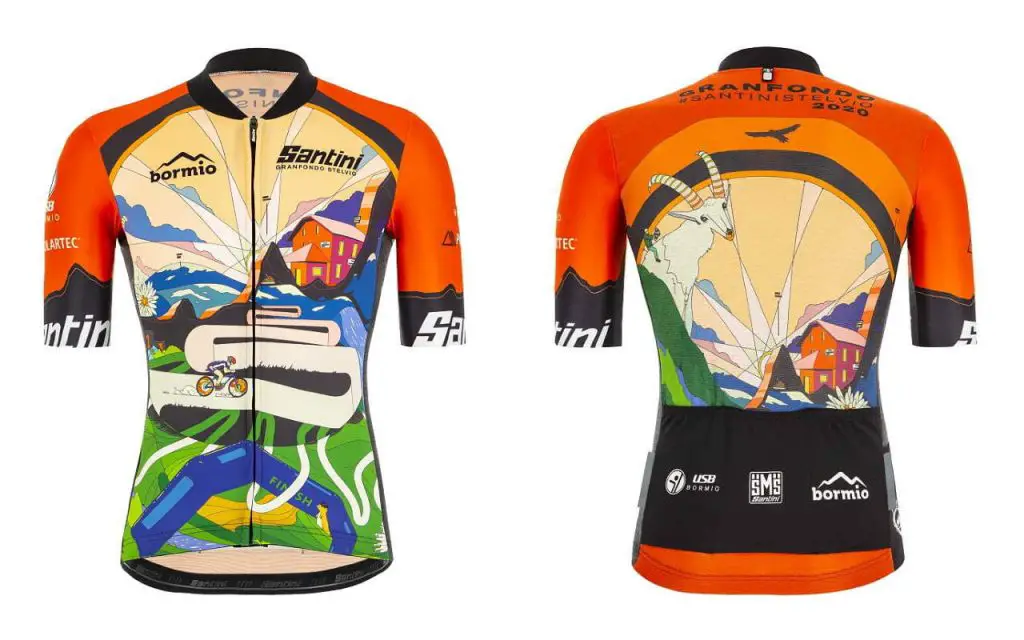 Polartec Fabrics
The two Polartec fabrics used to make the official 2020 Granfondo Stelvio Santini jersey are:
Polartec Power Dry recycled, for the front and back pockets. Light, highly breathable, odor-resistant and fully recyclable, it is the most advanced moisture-control, fast-drying, next-to-skin fabric.
It is engineered with a patented bi-component knit construction for the two sides of the fabric. This dual surface approach optimizes performance by wicking moisture off the skin and directly transferring it to the outer surface where it diffuses, resulting in quick dry times.
Polartec Delta recycled, which is used for the back of the jersey, is exceptionally breathable, delivers superior wicking, and is a cool touch. It goes well beyond the usual breathability and wicking, boosting the latter by actually helping to cool the body. Its innovative composition regulates dry times and guarantees improved breathability when wet, for an unparalleled refreshingly cool result.
Delta's specialized knit construction uses radiating knit structures to keep wearers cooler in hot conditions by increasing airflow to dissipate heat.
2020 Granfondo Stelvio Santini: Entries, Routes, and Classifications
The Granfondo Stelvio Santini takes place on Sunday, June 7, 2020. Entries are now open with different pricing structures depending on the number of places still available. From January 1, 2020, to February 28, entries cost 70 euro with 1,000 places available. From March 1 to the end of April, a further 800 places will be available at a price of 80 euros apiece. Then the remaining 200 bibs will be available between May 1 and 15 at a price of 100 euro.
The same three race routes return for 2020 and share a single finish-line at the top of the Stelvio Pass. The 151.3-kilometer long route, which has a 4,000-metre-plus elevation gain, is ideal for cyclists with strong legs and big hearts, while the 137.9-kilometer medium route avoids the grueling Mortirolo climb. However, even the 60-kilometer short route will see cyclists tackle an elevation gain of almost 2,000 meters.
There is no overall classification. Instead, the start-to-finish times of all finishers will be published in alphabetical order. Polka dot jerseys will be awarded to the King and Queen of the Mountains in all categories for the Teglio, Mortirolo, and Passo dello Stelvio climbs: there will be both a classification for each individual climb and also one for the sum of the three times which will be topped by the fastest.
Both the team with the highest number of entries and the one with the largest number of finishers will also be awarded prizes.
Entries are now open at granfondostelviosantini.com
Event details:
Name: Granfondo Stelvio Santini
Location: Alta Valtellina – from Bormio to the Stelvio Pass (Province of Sondrio)
Edition: 9th
Date: 7th June 2020
Long Route: Bormio – Teglio – Mortirolo – Bormio – Stelvio > 151.3 km (4,058 m elevation change) Medium Route: Bormio – Teglio – Bormio – Stelvio > 137.9 km (3,053 m elevation change)
Short Route: Bormio – Sondalo – Bormio – Stelvio > 60 km (1,950 m elevation change)
Entries open: 15th October 2019
Organizer: US Bormiese
Website: granfondostelviosantini.com
This post is a press release by the Italian cycling wear manufacturer Santini. For further information: santinicycling.com
Latest posts by M. Özgür Nevres
(see all)