Today's historic photo of the day: Charly Gaul on Mont Ventoux; Tour de France 1958, stage 18, July 13, Sunday, 21.5 km Individual Time Trial.
A 21.5-kilometer individual time trial from Bédouin – up Mount Ventoux. Charly Gaul, as usual, let himself lose some time on the flat stages, always confident that he could make the time up in the mountains.
After the Pyrenees, he was sitting in eighth place, 10 minutes, 41 seconds behind Favero. He unleashed a wonderful ride, beating Bahamontes by a half-minute. Anquetil finished 4 minutes behind Gaul, Géminiani and Bobet were 5 minutes back. But Géminiani had Yellow Jersey again. And now, for the first time in his career, Gaul was a true threat to win the Tour de France. The Alps started the next day.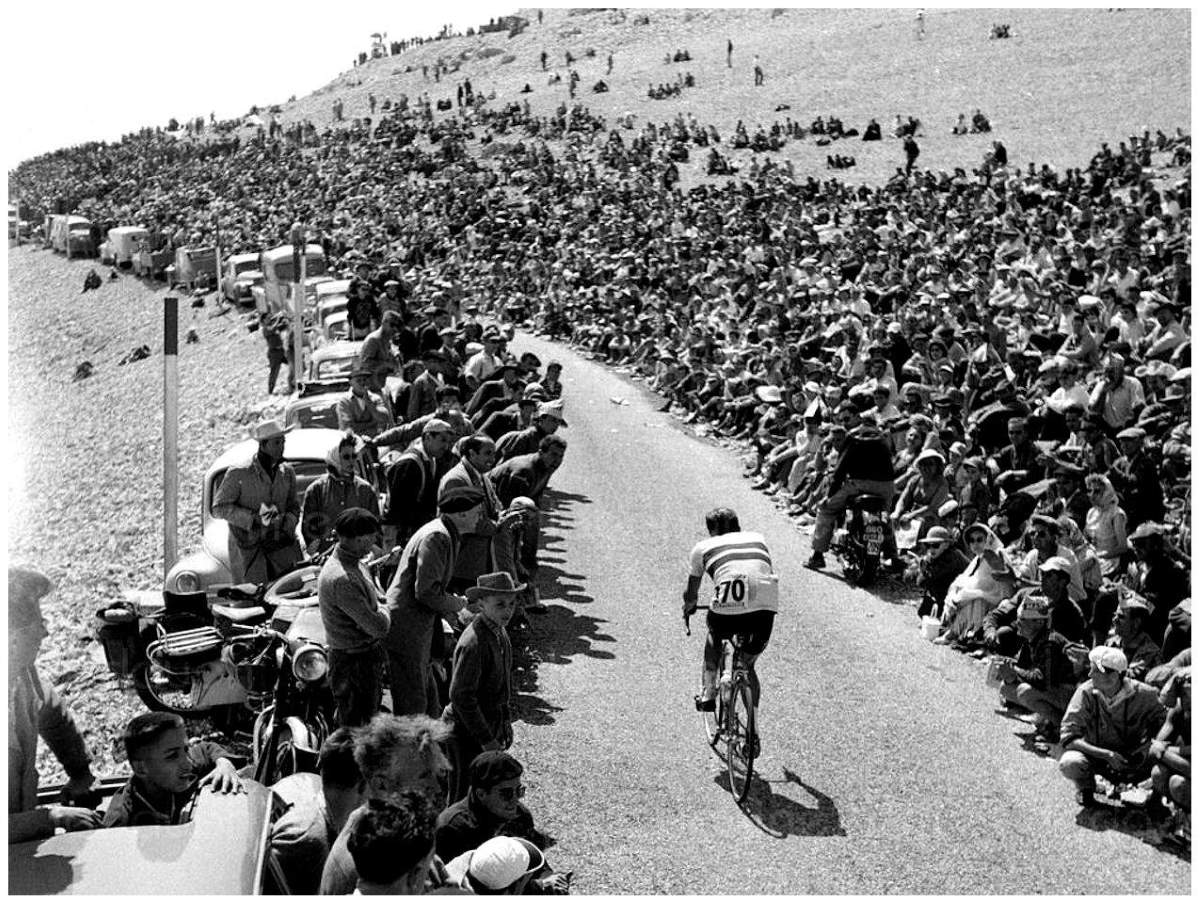 Tour de France 1958 Stage 18 results
Charly Gaul: 1hr 2min 9sec
Federico Bahamontes @ 31sec
Jean Dotto @ 2min 53sec
Jean Brankart @ 2min 57sec
Marcel Rohrbach @ 3min 23sec
Jozef Planckaert @ 3min 52sec
Jacques Anquetil @ 4min 9sec
Jean-Claude Annaert @ 4min 13sec
Jean-Pierre Schmitz @ 4min 53sec
Louison Bobet @ 4min 54sec
Raphaël Géminiani @ 5min 1sec
Jean Graczyk @ 5min 32sec
General Classification after Stage 18
Raphaël Géminiani: 81hr 5min 36sec
Vito Fvero @ 2min 1sec
Charly Gaul @ 3min 43sec
Gilbert Desmet @ 6min 8sec
Jozef Planckaert @ 6min 51sec
Jacques Anquetil @ 7min 27sec
Jean Brankart @ 8min 57sec
Gilbert Bauvin @ 9mn 5sec
Salvador Botella @ 9min 24sec
André Darrigade @ 9mn 56sec
Louison Bobet @ 10min 18sec
Charly Gaul also was victorious at two other individual time trials (stages 8 and 23) and at the mountainous stage 21, and he won the Tour. He earned the nickname of L'Ange de Montange (The Angel of the Mountains) after the 1958 Tour de France, which he won with four stage victories.
He also won the Giro d'Italia in 1956 and 1959. Gaul rode best in cold, wet weather. In later life, he became a recluse and lost much of his memory.
Gaul (born 8 December 1932, died Luxembourg City, 6 December 2005) was 1.73 m tall and weighed 64 kg. His lightness was a gift in the mountains, where he won the climbers' competition in the Tour de France of 1955 and 1956. Unusual for a light man, he was also an accomplished time-trialist, in one Tour de France beating the world leader, Jacques Anquetil.
Gaul pedaled fast on climbs, rarely changing his pace, infrequently getting out of the saddle. His contemporary, Raphaël Géminiani, said Gaul was "a murderous climber, always the same sustained rhythm, a little machine with lower gear than the rest, turning his legs at a speed that would break your heart, tick tock, tick tock, tick tock." The journalist Pierre About wrote that Gaul had "irresistible sprightliness", that he had "the air of an angel for which nothing is difficult."
The writer Jan Heine said: "Nobody else ever climbed that fast. Gaul dominated the climbs of the late 1950s, spinning up the hills at amazing cadences, his legs a blur while his cherubic face hardly showed the strain of his exceptional performances." Pierre Chany called him "without doubt, one of the three or four best climbers of all time."
Philippe Brunel of the French newspaper, L'Équipe, said: "In the furnace of the 1950s, Gaul seemed to ride not against Bahamontes, Anquetil Adriessens, but against oppressive phantoms, to escape his modest origins, riding the ridges to new horizons, far from the life without surprises which would have been his had he stayed in Luxembourg." Gaul was weakest on flat stages and in the heat. In the 1957 Tour de France, he went home after two days, stricken by the temperature in what Pierre Chany called a "crematorium Tour".
He was at his best in cold and rain, winning the following year's race after a lone ride through the Alps in a day-long downpour described by the French newspaper, L'Équipe as "diluvian". It was the first time the Tour had been won by a pure climber.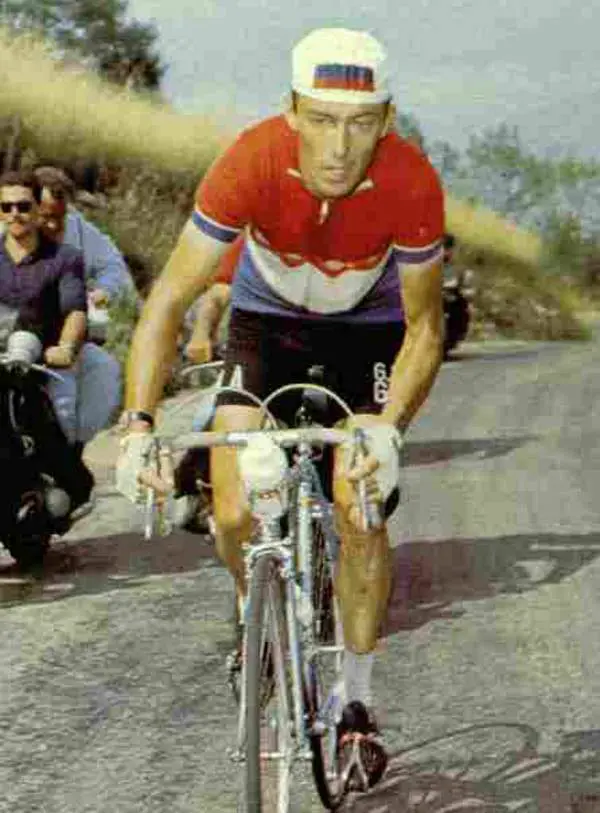 Sources
Latest posts by M. Özgür Nevres
(see all)