Cima Coppi history – the Cima Coppi is the summit with the highest altitude reached by cyclists during the Giro d'Italia. It was established in 1965, five years after the death of "Il Campionissimo" (champion of champions) Fausto Coppi.
Here is the brief history of Cima Coppi between 2000 and 2009.
Cima Coppi History 2000-2009, Year by Year
2000: Colle dell'Agnello (2,744 m / 9,003 ft), José Jaime González (Colombia)
In the 2000 Giro d'Italia, the Cima Coppi was featured in stage 19, a 176-km going from Saluzzo to Briançon (France). There were two major climbs: Colle dell'Agnello, followed by the Izoard and an uphill finish in Briançon. An elite group of riders went clear on Agnello climb and José Jaime Gonzalez (Nectar-Selle Italia) was the first at the summit, winning his third Cima Coppi prize.
The leading group also managed to stay away on the descent. On the Izoard climb, Stefano Garzelli's (Mercatone Uno) teammate Marco Pantani attacked several times, but each time he was marked by Gilberto Simoni (Lampre). Then Pantani sat up and waited for his leader. Then Simoni started attacking but Pantani brought him back every time for Garzelli.
On the descent before the climb into Briançon, as the big dogs watched and marked each other, Paolo Lanfranchi, the gregario of Pavel Tonkov (Mapei), took advantage of the slower pace to take a flyer. Further on Pantani gave chase but it was too late. Lanfranchi won the stage; Pantani was an astonishing second and Simoni, Garzelli and Casagrande followed in at a minute. Garzelli said that he had hoped to conserve his energy as much as possible over this stage with the time trial coming the next day. Pantani had made sure everyone had worked hard.
Garzelli, a fourth-year pro, had won the Giro in his fourth attempt. José Jaime Gonzalez finished in 31st place at 1 hr 0 min 45 sec.
2001: Colle Fauniera (2,511 m / 8,238 ft)
Stage 18, which includes the Cima Coppi, was 234 km going from Imperia to Santa Anna di Vinadio. A night before the stage, 200 police officers staged a predawn raid on cyclists' hotel rooms and team cars, searching for banned drugs. The raids did not lead to any arrests, though banned substances were seized. The search lasted until 4 a.m. One cyclist, who has not been identified, reportedly jumped out of his first-floor window in the hotel as the raids began. Others flung syringes from their windows, the San Remo police said.
Cyclists decided not to ride the stage as a protest over what they described as mistreatment by the Italian police and fatigue due to a sleepless night. Race director Carmine Castellano said that "The Giro has lost an arm, and I have lost a piece of my heart".
Gilberto Simoni (Lampre) won the 2001 Giro d'Italia.
2002: Passo Pordoi (2,239 m / 7,346 ft), Julio Alberto Pérez Cuapio (Mexico)
Stage 16, a 163 km going from Conegliano to Corvara in Badia featured four major ascents: Forcella Staulanza, Passo di Fedaia, Passo di Pordoi, and Passo di Campolongo. Julio Alberto Pérez Cuapio (Panaria) attacked on the first climb and never seen again. He was first atop Pordoi and became the first Mexican to win the prize. He rode alone to Corvara and won the stage.
The eventual winner Paolo Savoldelli (Alexia) descended like a falcon and came within 53 seconds of Pérez Cuapio.
Cuapio finished this Giro in 18th, 22 min 15 sec behind Savoldelli.
2003: Colle d'Esischie (2,366 m / 7,762 ft), Fredy González (Colombia)
The 175 km Stage 18, from Santuario di Vicoforte to Chianale was consisting four major ascents: Montemale di Cuneo, Colle d'Esischie, Colle Sampeyre and Chianale. Fredy González (Colombia-Selle Italia) was first atop Colle d'Esischie. Stefano Garzelli (Vini Caldirola-Sidermec) won the stage.
Gilberto Simoni (Saeco) won the 2003 Giro with a commanding 7 min 6 sec margin over the second place Stefano Garzelli (Vini Caldirola-Sidermec). Fredy González finished in 35th place, 1 hr 5 min 36 sec down.
2004: Passo di Gavia (2,621 m / 8,599 ft), Vladimir Miholjević (Croatia)
Stage 18 of 2004 was short but tough: 118 km route from Cles to Bormio 2000 featured three main ascents: Passo del Tonale, Passo di Gavia and Bormio 2000. Around after 30 kilometers, 20 riders broke away – none of them were the threat to the general classification. Vladimir Miholjević (Alessio-Bianchi) attacked on Gavia climb and he was first at the snow-covered summit of Gavia, becoming the first Croatian to win the Cima Coppi prize.
With 10 km to go, Miholjević was still leading the race, with around 2 minutes of a gap. But attacks were started at the maglia rosa group behind. The eventual winner Damiano Cunego (Saeco) won the stage.
Miholjević finished 24th in the GC, 32 min 6 sec behind Cunego.
2005: Passo dello Stelvio (2,758 m / 9,049 ft), José Rujano (Venezuela)
There was three major climbs feature in stage 14: Frassineto, Stelvio and Passo di Foscagno. José Rujano, the Venezuelan rider of Colombia-Selle Italia was first atop Stelvio, becoming the first Venezuelan to win the Cima Coppi prize. His teammate, the Colombian Iván Parra won the stage, it was his second consecutive win.
Paolo Savoldelli (Discovery) was the overall winner of this Giro. José Rujano finished in third, just 45 seconds behind. It was one of the tightest Giro final GCs in history, with Gilberto Simoni (Lampre) finished only 28 seconds behind Savoldelli.
2006: Passo di Gavia (2,621 m / 8,599 ft), Juan Manuel Gárate (Spain)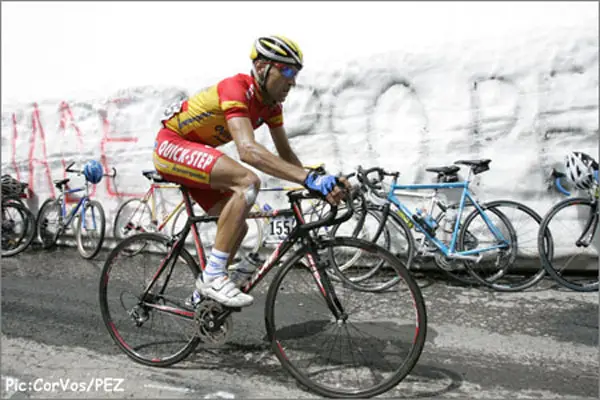 Cima Coppi included in the penultimate 20th stage, which contains three major climbs: Passo del Tonale (1,883 m), Passo Gavia (2,621 m), and Passo del Mortirolo (1,854 m). Ivan Basso (CSC) was comfortably leading the GC with 6 min 7 sec over Jose Enrique Gutierrez (Phonak).
Juan Manuel Gárate, the Spanish climber of the Quick-Step team was first atop Gavia. He also won the previous stage a day before. But in this Giro, Ivan Basso was untouchable. He won the stage 1 min 17 sec ahead of Gilberto Simoni (Saunier Duval), who already won the Giro twice (2001, 2003) and nailed his first Giro victory with a large margin (9 min 18 sec over Gutierrez).
Gárate finished 2006 Giro in 7th place, 24 min 26 sec behind Basso.
2007: Colle dell'Agnello (2,744 m / 9,003 ft), Yoann Le Boulanger (France)
Stage 12, a 163 km going from Scalenghe to Briançon which was starting from Italy and finishing in France, featured two major climbs: Colle dell'Agnello and Col d'Izoard. Yoann Le Boulanger, the French rider of Bouygues Telecom team Attacked on the slopes of Colle dell'Agnello and passed this years' Cima Coppi first. A few minutes behind him, a group of elite riders was chasing. Before the stage, Andrea Noè (Liquigas) was leading the GC, but these two monster climbs were too much for him. His teammate Danilo Di Luca (Liquigas) won the stage and take the lead.
Di Luca also won the 2007 Giro. Le Boulanger finished in 30th, 1 hr 6 min 16 sec behind Di Luca.
Di Luca gave an irregular doping test, after stage 17 to Monte Zoncolan. The test, given spontaneously hours after the routine test Di Luca gave for being race leader at the time, reportedly showed hormone levels like "those of a child," causing anti-doping authorities to suspect that Di Luca was using some means to cover the presence of banned substances. These unusual levels were not present in the routine test, leading to suspicions that Di Luca had received an autologous blood transfusion between the two tests. A CONI commission later cleared Di Luca on the basis of insufficient evidence to conclude that he had doped.
2008: Passo di Gavia (2,621 m / 8,599 ft), Julio Alberto Pérez Cuapio (Mexico)
The penultimate stage 20, a 224 km going from Rovetta to Tirano featured three major climbs: Passo di Gavia, Passo del Mortirolo and Aprica. Julio Alberto Pérez Cuapio (CSF Group-Navigare) was first atop Gavia, winning his second Cima Coppi prize after 2002. His teammate Emanuele Sella won the stage, it was his 3rd stage win in this Giro.
Alberto Contador won the 2008 Giro d'Italia. Pérez Cuapio finished in a distant 76th place, 2 hr 34 min 11 sec behind Contador.
2009: Colle del Sestriere (2,035 m / 6,677 ft), Stefano Garzelli (Italy)
Cima Coppi was included in stage 10, a 262 km high-mountain stage from Cuneo to Pinerolo. When still 152 km to go, Stefano Garzelli (Acqua & Sapone) attacked. At one point, while climbing the Sestriere, his advantage was 6 min 20 sec on the Maglia Rosa group. He was alone atop Sestriere, the Cima Coppi.
Then he sat up and waited for two chasers Andriy Hrivko (ISD) and Giovanni Visconti (ISD). With 25 km to go, they were together. Then Hrivko has cracked. He couldn't keep up with the pace Garzelli is setting on the second category Pra Martino, the final ascent.
10 km from the summit, Garzelli has been caught by the pack. Danilo Di Luca (LPR) won the stage.
Denis Menchov (Rabobank) 2009 Giro d'Italia.
Sources
Latest posts by M. Özgür Nevres
(see all)