Colnago Classic series contains two iconic steel frames: Colnago Master and Colnago Arabesque. When these two classics were born in the 1980s, Colnago Master featured the star-shaped tubes that would become a signature of Colnago and tame lug shaping. The Arabesque was like Master's counter-thesis: it had more conventionally shaped tubes, but lugs with significantly more flourish. Today, the Master has barely changed from its roots, but the Arabesque has a different story.
Colnago Classic Series 2020: Colnago Master
In the early 1980s, Ernesto Colnago began experimenting with crimping main frame tubes to increase stiffness. In the mid-1980s, Ernesto and Gilberto Columbus developed the Gilco Master tube profile which was a round tube that featured four distinct symmetrical flutes through the central section of the tube and resembled a 4-sided star. This tubing was used to build a new bicycle simply called the Colnago Master.
The Gilco Master tube profile outlasted all other Colnago tube designs and can you can still order a modern Master steel frameset in 2020.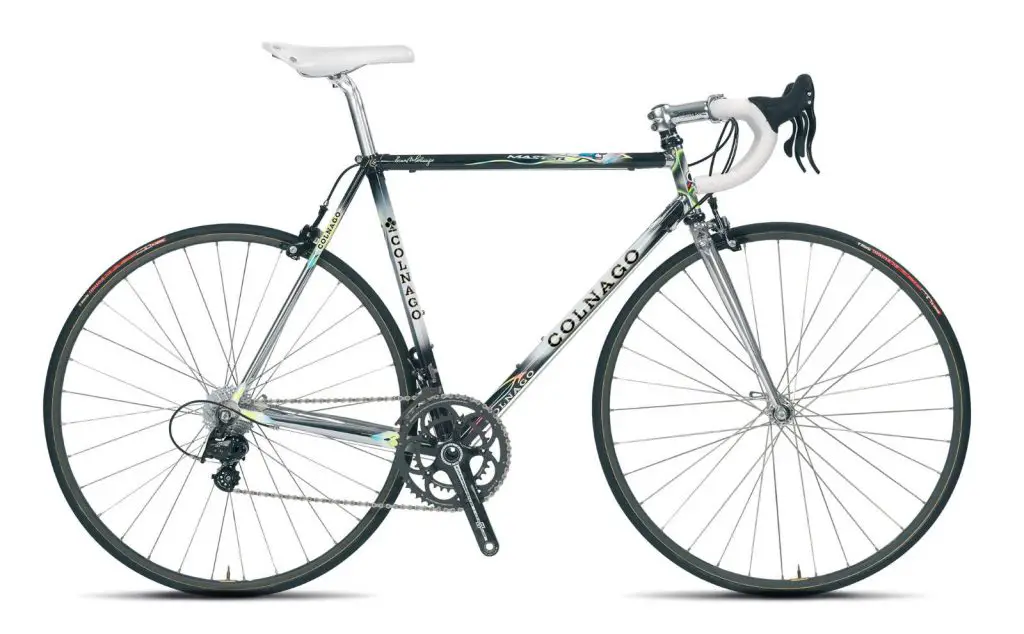 So, Gilco Master tubing is the special feature of this frame and its unique shape is easy to identify. These specially profiled tubes were used in all 3 tubes of the front triangle ie. the top tube, seat tube, and down tube.
This tube shape was so successful it was a patented design by Colnago and evolutions of if were used in many of Colnago's more modern carbon fiber lugged high-performance frames.
Colnago Classic Series 2020: Colnago Arabesque
Colnago Arabesque is still a classic icon of design and elegance. It is widely considered as a masterpiece of craftsmanship and the pride of Made in Italy in the world.
The hallmark of the frame is the lug embellished with an arabesque pattern. This exquisite feature has caused cycling experts to consider it to be a priceless gem of Italian manufacturing. This ornamental trait elevates this frame and gives it the status of a true work of art in the cycling world.
Though the bike looks beautiful enough to hang on a wall as artwork, it really is made to be ridden – and to be ridden fast! It is a pure-breed racehorse – to save it for good would be causing you to miss out on a lot of fun.
Not only is this a gorgeous bike, but it's also pretty rare. It is made using a recently discovered cache of 80s-era Arabesque lugs.
Colnago Arabesque frame compatible both with modern and traditional groupsets, traditional being the ones that come with downtube shifters. With steel tubes that hint at the star-shape that would become the signature of Colnago frames, the real meat of this frame comes in the elaborately designed lugs, all jugendstil-ish filigree, and finery.
Colnago Arabesque is available in four colors and 17 sizes from 49cm to 65cm in a 1 cm increment.
Columbus Tubi (Columbus Tubes)
Columbus Tubi is a manufacturer of steel tubing used in bicycle frames, located in Settala, in the Province of Milan. The company was founded in 1919 by A.L. Colombo and was taken over by Colombo's youngest son, Antonio, in 1977. It is now a division of Gruppo SPA, which also owns the bicycle manufacturer Cinelli.
Columbus tubing was the main competitor to TI Reynolds 531 in the bicycle tube set market with many of the big-name Italian manufacturers of bicycles and framesets utilizing their products. Famous frame builders such as Bianchi, Centurion Bicycles (after 1981), De Rosa, Ciocc, Pinarello, and Colnago all specified the Columbus tubesets as part of their product range.
Sources
Latest posts by M. Özgür Nevres
(see all)