Team Garmin-Sharp 2013 kit has been unveiled today. The kit is produced by the team's technical clothing supplier Castelli, which will be seen publicly for the first time at the Tour Down Under.
The Garmin-Sharp 2013 team jersey features an updated design with a more distinct argyle on the front and covering the entire back.
Castelli brand manager Steve Smith said that: "The close partnership we have with Garmin-Sharp and Director of Sport Science, Robby Ketchell, has led to improvements in 8 models and the addition of 5 new models to make sure the riders have the best possible clothing for every condition."
"We're happy that our partnership with Team Garmin-Sharp leads to real innovation for the pros that we can then bring into our Castelli collection and our Servizio Corse custom team products. Based on our partnership with the team, every cyclist can benefit from the feedback we get from the pros."
About Castelli brand
The Italian sports clothing manufacturer Castelli traces its roots back to 1876 and a fine tailor, Vittore Gianni, in the heart of Milan. Through the years, Vittore Gianni clothed AC Milan, Juventus, and the Milan Ballet. The first cycling clothing was made in the 1910s for the five-time Giro champion Alfredo Binda.
Maurizio Castelli was born in 1948 and grew up following the races of Fausto Coppi, a close friend with Maurizio's father who was then owner of Vittore Gianni. Coppi always wore Vittore Gianni clothing, including the first silk skin suits designed for Fausto's time trials.
The photo of Fausto Coppi and Gino Bartali sharing a water bottle while climbing the Col d'Izoard is one of the most iconic photos in cycling history. In that photo, both Bartali and Coppi are wearing Castelli jerseys.
After a brief but promising cycling career, Maurizio created his eponymous brand in 1974.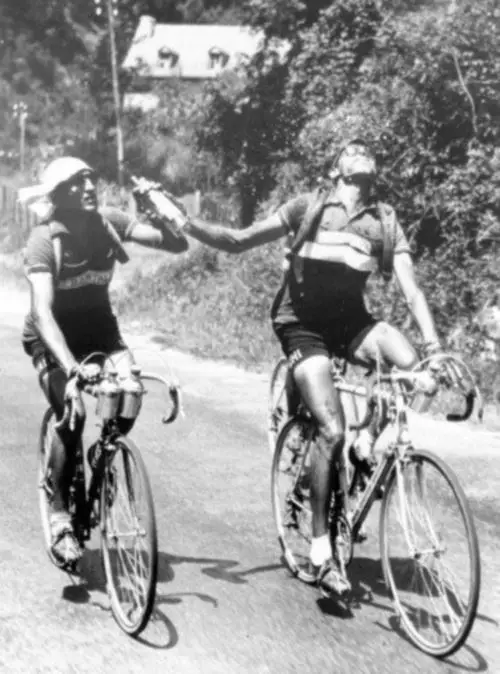 In addition to the new team kit, new Edge 810 and Edge 510 bike computers were launched today by Garmin itself. Garmin released a video advertising (see the video below) titled "The Edge: Let others follow" with the Garmin-Sharp riders Dan Martin, David Millar, 2012 Giro d'Italia winner Ryder Hesjedal, and Andrew Talansky.
Garmin-Sharp 2013 Team Roster
Rider (Country) Birth Date (age)
Jack Bauer (NZL) April 7, 1985 (aged 27)
Tom Danielson (USA) March 13, 1978 (aged 34)
Thomas Dekker (NED) September 6, 1984 (aged 28)
Rohan Dennis (AUS) May 28, 1990 (aged 22)
Caleb Fairly (USA) February 19, 1987 (aged 25)
Tyler Farrar (USA) June 2, 1984 (aged 28)
Koldo Fernández (ESP) September 13, 1981 (aged 31)
Nathan Haas (AUS) March 12, 1989 (aged 23)
Ryder Hesjedal (CAN) December 9, 1980 (aged 32)
Alex Howes (USA) January 1, 1988 (aged 25)
Robert Hunter (RSA) April 22, 1977 (aged 35)
Andreas Klier (GER) January 15, 1976 (aged 36)
Michel Kreder (NED) August 15, 1987 (aged 25)
Raymond Kreder (NED) November 26, 1989 (aged 23)
Martijn Maaskant (NED) July 27, 1983 (aged 29)
Dan Martin (IRE) August 20, 1986 (aged 26)
David Millar (GBR) January 4, 1977 (aged 35)
Lachlan Morton (AUS) January 2, 1992 (aged 20)
Ramūnas Navardauskas (LTU) January 30, 1988 (aged 24)
Nick Nuyens (BEL) May 5, 1980 (aged 32)
Glenn O'Shea June 14, 1989 (aged 23)
Alex Rasmussen June 9, 1984 (aged 28)
Jacob Rathe (USA) March 13, 1991 (aged 21)
Sébastien Rosseler (BEL) July 15, 1981 (aged 31)
Peter Stetina (USA) August 8, 1987 (aged 25)
Andrew Talansky (USA) November 23, 1988 (aged 24)
Christian Vande Velde (USA) May 22, 1976 (aged 36)
Johan Vansummeren (BEL) February 4, 1981 (aged 31)
Steele Von Hoff (AUS) December 31, 1987 (aged 25)
Fabian Wegmann (GER) June 20, 1980 (aged 32)
David Zabriskie (USA) January 12, 1979 (aged 33)
Managed by Jonathan Vaughters, the Garmin-Sharp cycling team will begin the 2013 season in January at the Santos Tour Down Under.
First held in 1999, the Santos Tour Down Under is the biggest cycling race in the southern hemisphere.
As a UCI ProTeam, they were automatically invited and obligated to send a squad to every event in the UCI World Tour.
In 2008 the Santos Tour Down Under became the first race outside of Europe to receive prestigious UCI WorldTour status to guarantee the world's best elite teams would make their way to Adelaide, Australia.
Sources
Latest posts by M. Özgür Nevres
(see all)