Giro d'Italia 2014 stage 1 details: This year's Giro d'Italia is starting with a 21.7 km Team-Time-Trial on May 9 in Belfast, Ireland.
Giro d'Italia 2014 stage 1 quick info
DATE: May 09, 2014, Friday
STAGE TYPE: Team Time Trial
START-FINISH: Belfast (4m) > Belfast (13m)
LENGTH OF THE COURSE: 21.7km
DIFFICULTY: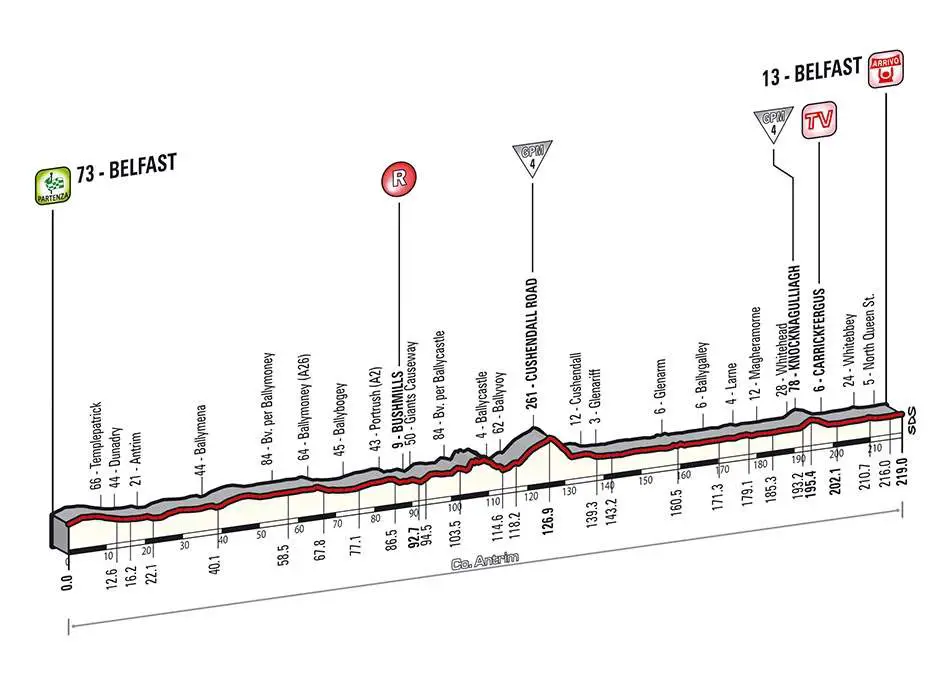 Giro d'Italia 2014 stage 1 profile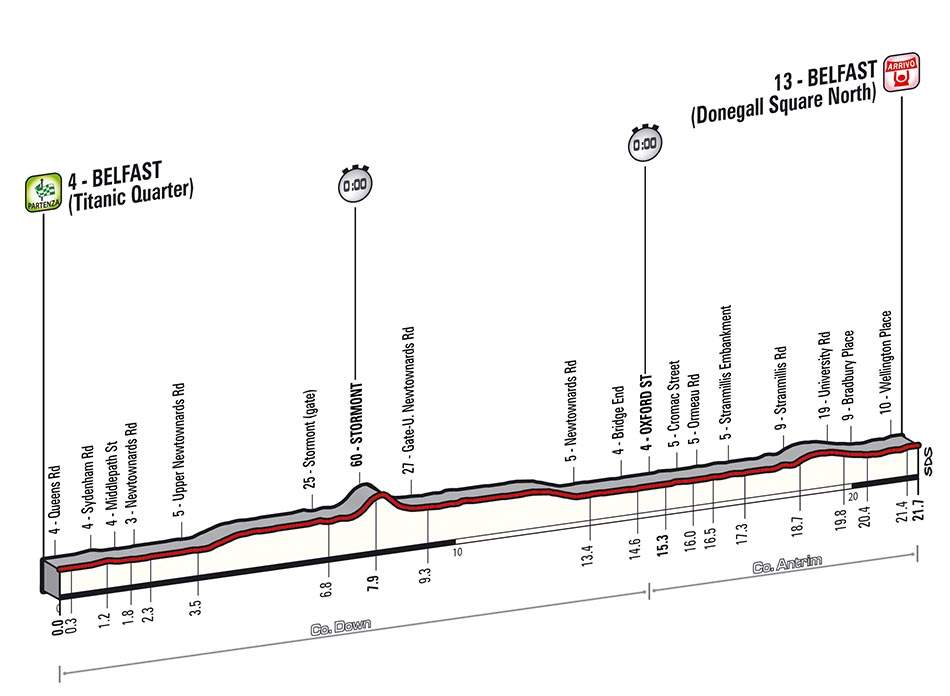 Giro d'Italia 2014 stage 1 map
Giro d'Italia 2014 stage 1 Start/Finish: Belfast
Belfast (from Irish: Béal Feirste, meaning "mouth of the sandbanks") is the administrative capital and largest city of Northern Ireland. Most of Belfast is in County Antrim, but parts of East and South Belfast are in County Down. It is on the flood plain of the River Lagan.
By population, it is the eighteenth largest city in the United Kingdom and the second largest on the island of Ireland.
It is the seat of the devolved government and legislative Northern Ireland Assembly. The city of Belfast has a population of 286,000 and lies at the heart of the Belfast Urban area which has a population of 483,418 and the Belfast Metropolitan Area, which has a population of 579,276. The Larger Urban Zone, as defined by the European Union, has a total population of 641,638. Belfast was granted city status in 1888.
Historically, Belfast has been a center for the Irish linen industry (earning the nickname "Linenopolis"), tobacco production, rope-making, and shipbuilding: the city's main shipbuilders, Harland and Wolff, which built the well-known RMS Titanic, propelled Belfast on to the global stage in the early 20th century as the biggest and most productive shipyard in the world.
Belfast played a key role in the Industrial Revolution, establishing its place as a global industrial center until the latter half of the 20th century.
Industrialization and the inward migration it brought made Belfast if briefly, the biggest city in Ireland at the beginning of the 20th century, and the city's industrial and economic success was cited by unionist opponents of Home Rule as a reason why Ireland should shun devolution and later why Ulster unionists, in particular, would fight to resist it.
Today, Belfast remains a center for industry, as well as the arts, higher education, and business, a legal center, and is the economic engine of Northern Ireland. The city suffered greatly during the period of conflict called the Troubles but latterly has undergone a sustained period of calm, free from the intense political violence of former years, and substantial economic and commercial growth. Belfast city center has undergone considerable expansion and regeneration in recent years, notably around Victoria Square.
Belfast is served by two airports: George Best Belfast City Airport in the city, and Belfast International Airport 15 miles (24 km) west of the city. Belfast is also a major port, with commercial and industrial docks dominating the Belfast Lough shoreline, including the famous Harland and Wolff shipyard.
Sources
Latest posts by M. Özgür Nevres
(see all)