Giro d'Italia 2014 stage 15 is a 225 km high mountain stage from Valdengo to Plan di Montecampione. The route is mostly flat until the 205.7th km, then the climb starts and the stage finishes atop 1665-meter-high Plan di Montecampione.
Giro d'Italia 2014 stage 15 quick info
DATE: May 25, 2014, Sunday
STAGE TYPE: High mountain
START-FINISH: Valdengo (258m) > Plan di Montecampione (1665m)
LENGTH OF THE COURSE: 225.0 km
DIFFICULTY:
Giro d'Italia 2014 stage 15 profile
Climbs
Plan di Montecampione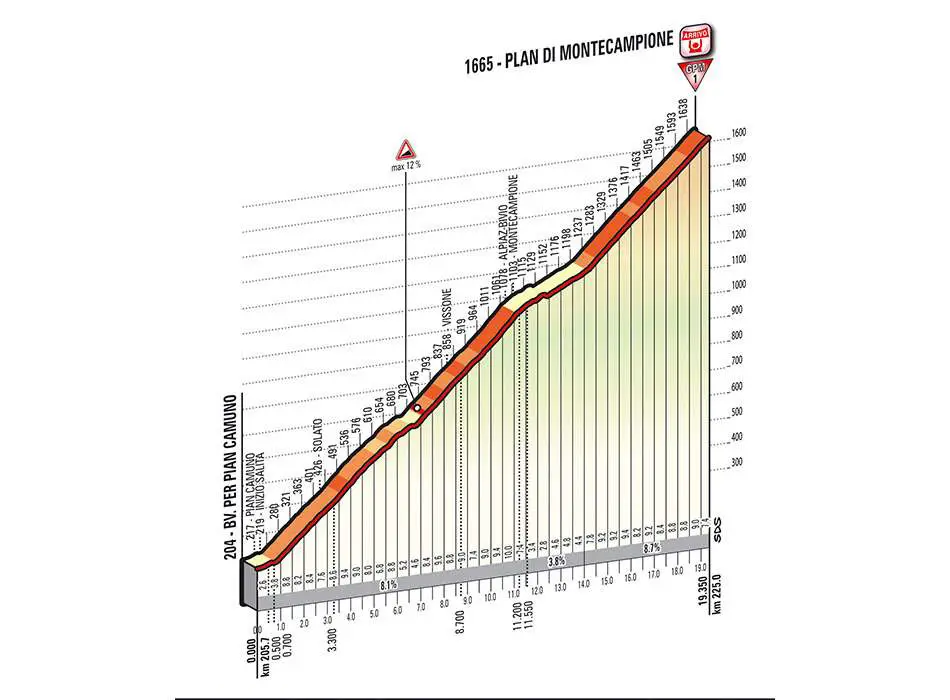 Last kilometers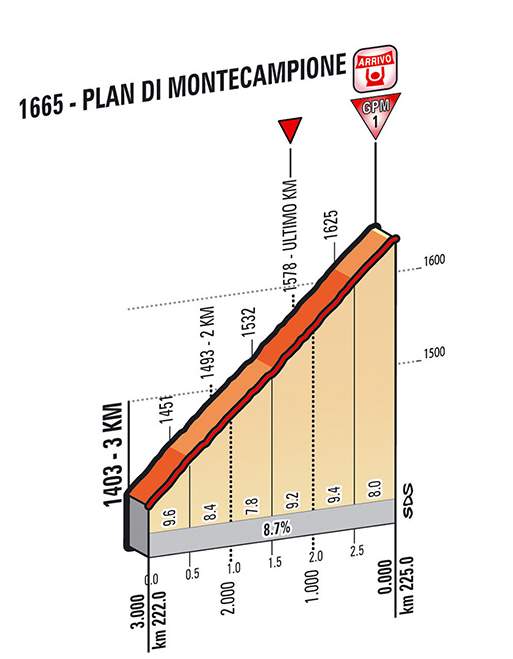 Giro d'Italia 2014 stage 15 map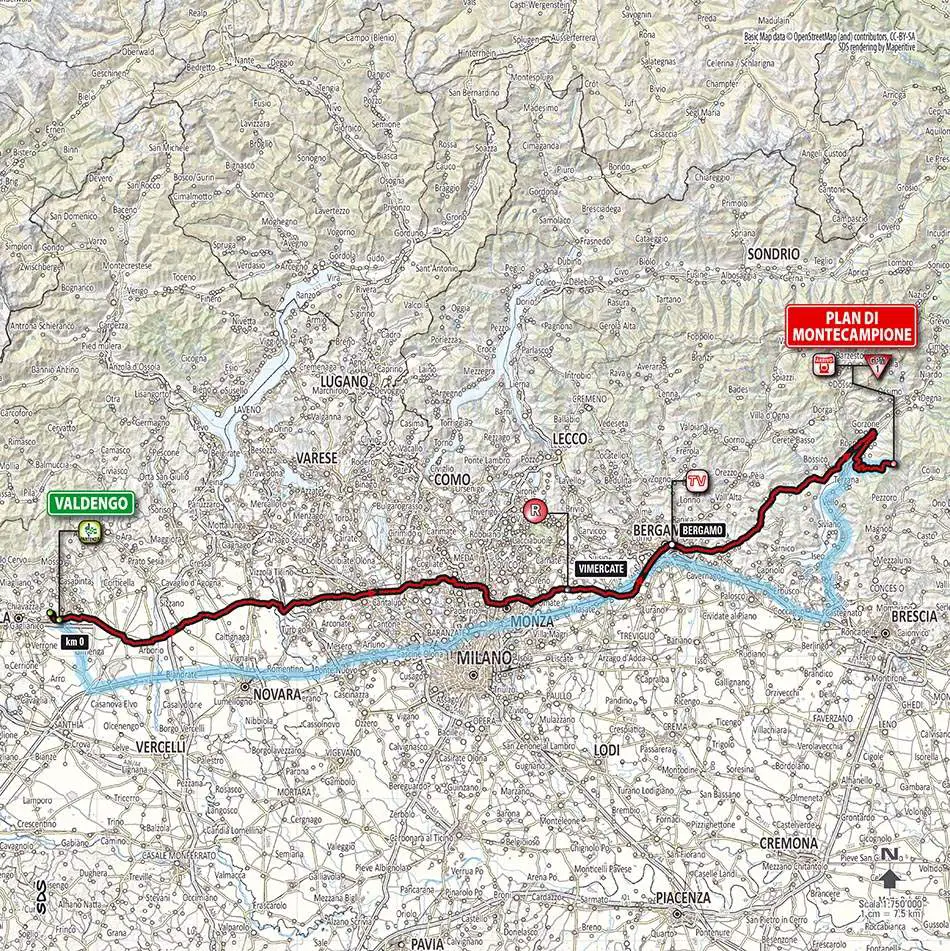 Start: Valdengo
Valdengo is a comune (municipality) in the Province of Biella in the Italian region Piedmont, located about 60 km northeast of Turin and about 3 km southeast of Biella.
Monuments and places of interest in Castello Valdengo
Chiesa parrocchiale di San Biagio (Parish Church of San Biagio): the current conformation of the building dates back to a renovation in the 17th century, inside there are numerous works of art including a sixteenth-century panel attributed to the school of Lanino.
Castello medioevale con ricetto (Medieval castle) with shelter and noble chapel of Santa Caterina.
Chiesa di Sant'Andrea (Church of Sant'Andrea): named in a bull of 1184 as a Benedictine cell, it was rebuilt in the 17th century, inside there is a 17th-century stucco altar.
Finish: Plan di Montecampione
Montecampione is a ski resort in Valcamonica, Lombardy, northern Italy. It is located 60 km from Brescia and 95 km from Milan, near Lake Iseo. It operates from mid-December to the end of March.
Montecampione is the closest ski resort to Milan Orio al Serio airport. It's a great ski resort for beginners.
Flora and fauna of the area are those typical of the Alpine sector.
Proceeding from Pian Camuno, along the road that passes from Solato and Vissone, one encounters at the lowest altitudes beeches, maples, chestnuts, and oaks which are well suited to hilly altitudes.
After the hamlet of Vissone, fir and larch woods follow one another up to Plan di Montecampione, which then change into formations of rhododendrons and shrubs. After the altitude of 1700-1800 m asl, you will encounter almost exclusively grass, moss, and lichens.
The poultry fauna is present throughout the territory, starting with the numerous colonies of swallows (in the lake area of ​​Rondeneto north of Plan di Montecampione). There are also various birds of prey, such as buzzards at lower altitudes and even hawks. Other species present in the area are marmots (present in large numbers under Mount Muffetto, in the Plan di Montecampione area), rodents, wild boars, foxes, and even several ungulates in the Rosello area.
Hunting is prohibited on most of the territory.
Sources
Latest posts by M. Özgür Nevres
(see all)