Staying hydrated is important for overall good health lubricating joints, removing waste, delivering nutrients, and regulating temperatures. Without adequate liquids, you may become dehydrated and your body cannot operate properly. Good hydration is crucial, too when you're cycling because it affects your performance on the saddle. Above all, it is vital to know how different beverages can influence the way you ride because not all liquids have a positive effect on your body.
Hydration while cycling: alternatives to water
In addition to lots of water to keep your body hydrated all throughout the day, there are other beverages that you can consume without a problem. If you love coffee, it is possible to drink your caffeine without a negative effect on your performance. Studies show that there are several health benefits of drinking coffee. Caffeine enhances endurance performance and high-intensity exercise benefiting trained athletes.
Caffeine makes you alert and improves reaction time. Of course, like everything else, the amount of caffeine that you put in your body must not also exceed the recommended dose which varies according to body weight but is around 200-400mg ingested roughly 30-60 minutes before cycling or a workout. Unlike alcohol, caffeine in coffee does not cause dehydration for as long as you consume it in moderation.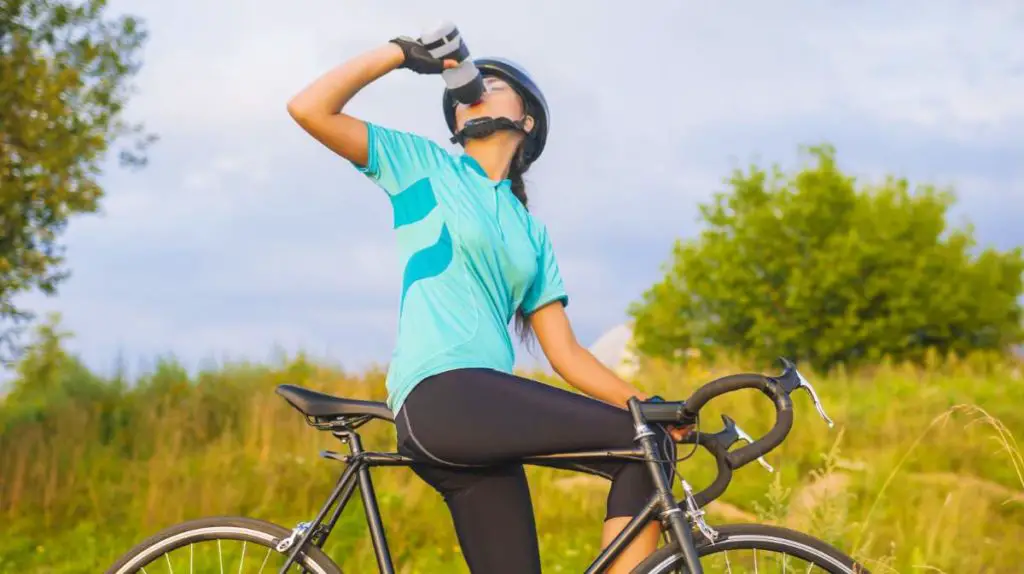 Energy drinks are other types of liquid that are safe to drink when you're cycling. The exertion of effort means that you are going to lose vital minerals and salts through sweating. Hence, it is critical that you replenish these electrolytes while cycling. Energy and sports drinks provide carbohydrates to fuel your ride and also offer valuable electrolytes. By replenishing electrolytes, you avoid muscle cramping which can affect the quality of your ride.
Drinking alcohol before a cycling event
Alcohol is a diuretic meaning that you tend to urinate more often resulting in dehydration. Hence, it makes sense to increase your intake of water or liquids to compensate for the loss. Being dehydrated while on the saddle can decrease your performance. According to research, dehydration exceeding 2% of body mass reduces performance. It decreases cycling performance due to the 'thermoregulatory strain and perceived perception.' In addition, it prevented the cyclists from maintaining their cadence because mild dehydration altered physiologic function.
Because of dehydration, you are more prone to injury making you at high risk of experiencing cramps and pulled muscles. Heavy and prolonged consumption of alcohol also raises the level of cortisol which is a stress hormone. Hence, while you may be tempted to drink a glass of wine or beer to calm your nerves before a cycling race, it might do the opposite.
Furthermore, alcohol has an impact on sleep-disrupting its length and quality. Sleep is very important for cyclists as it helps in muscle growth and recovery. If you are drinking alcohol, it reduces the recovery time of your body. It can even release a toxin from your liver that impacts testosterone levels affecting muscle growth and regeneration. With all of these negative effects, it is safe to advise avoiding alcohol the day before you cycle or to refrain from consuming large quantities of it as it can affect your race performance. If you do get to drink lots of it, ensure that you compensate for it by drinking lots of water to stay hydrated.
Hydration is very important while riding a bicycle. Hence, it is critical to choose your beverages well avoiding excessive alcohol that can affect performance and ensuring that your body gets the liquids it needs.

Latest posts by Jane Sandwood
(see all)