Santini announces a new partnership with the international Haute Route series for amateur road riders that want a pro experience from start to finish. The Italian company will be making the jersey for the circuit events, dressing the winners of the races, and also creating merchandise to combine with the official jersey as well as a special collection.
Amateur multi-day races that provide participants with services that deliver an unparalleled 'pro' road race experience. Haute Route consists of three, five, and seven days in which amateur riders can avail a whole range of high-end pro-quality services designed for them: from the race cars and escort, support convoy, technical assistance, logistical support to feed stations, and pre-race briefings. A whole menu of the kind of services pro teams enjoy as a matter of course.
Having recognized their shared goals, Santini and Haute Route signed a partnership agreement that will see them work together for the next two years, until 2024. Starting this season, the Italian brand will supply the event jerseys that all participants find in their race packs in addition to the exclusive winners' jerseys. But that is far from the end of the story. Because of the iconic character of the events, the Italian cycling wear company will be offering a range of merchandise at the events and a core collection dedicated to Haute Route that will be available also at the events and on the Haute Route website.
"The agreement with Haute Route is the result of the trust that the IRONMAN Corporation, which owns the circuit and has been one of our partners since 2019, has in us and our work- commented Monica Santini, CEO Santini Cycling Wear – and we are delighted to take this opportunity to dress the many amateur cyclists that take part in Haute Route in our quality cycling wear".
Haute Route 2022 Season Races
The 2022 Haute Route season has five events on its calendar and will once again provide participants with a truly unique experience, allowing amateur cyclists to tackle mythical passes over several days whilst also providing them with the kinds of services that pro road riders enjoy. This is what makes the Haute Route events the very epitome of luxury amateur cycling, by allowing amateur riders to live their passion in pro-style.
The 2022 season races are:
Haute Route Alpe d'Huez – June 24-26
Haute Route Pyrenees – July 5-9
Haute Route Alps – August 21-27
Haute Route Dolomites – August 30 – September 3
Haute Route Davos – September 23-25
Julie Royer, Haute Route Group CEO:
"Haute Route is delighted to announce the new partnership with Santini Cycling Wear. We believe the Italian brand is the ideal apparel ambassador for Haute Route as they share the same ethos and passion for providing the very best for our riders. We're excited to share the official jerseys and merchandise with our riders in the upcoming season".
About Santini Cycling Wear
Santini Cycling Wear was founded in 1965 by Pietro Santini who spotted a market for technical cycling clothing as a result of his abiding passion for the sport and competition. In what would seem like a revolutionary and contrarian choice today, the Bergamo-based company made the pivotal decision to design and manufacture all of its products exclusively in Italy. Each item is designed and developed by a design team with a deep-rooted passion for the two-wheel world to meet four key requirements: fit, performance, comfort, and durability.
Santini currently produces 5,000 items of clothing per day and exports 80% of its output. It is deeply committed to ongoing investment in researching and developing innovative textiles and new production methods. However, people -athletes- remain its central focus as it continues to refine its creations to allow cyclists to pursue their sporting passions in a comfortable but inimitably stylish kit.
About Haute Route
Born in the mountains and raised on the road, Haute Route began in 2010 with its founding event – The Haute Route Alps. Today, the brand is driven by a passion for soaring heights and personal feats, offering 3, 5, and 7-day cycling events in iconic destinations. The brand's objective is to deliver an unparalleled 'professional' experience for amateur cyclists. This means not only delivering first-class hospitality and event management but all the key ingredients that make up the culture and experience of professional road racing.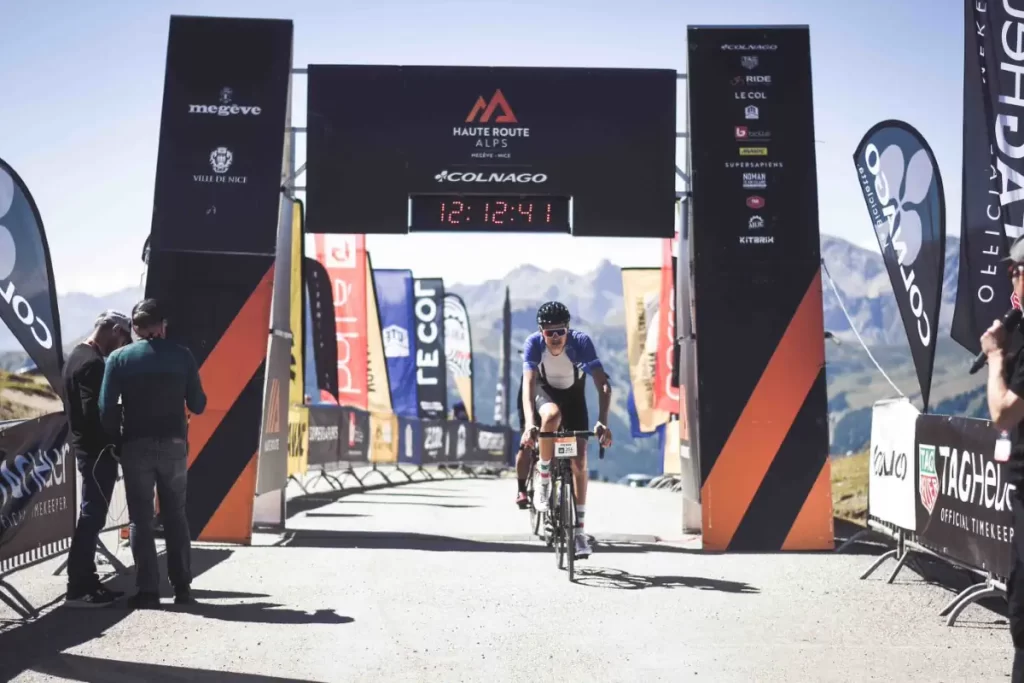 Latest posts by M. Özgür Nevres
(see all)