Santini and IRONMAN® will continue their partnership, which commenced in 2019, for the next three years. The Italian company will design and manufacture a collection dedicated exclusively to IRONMAN® for sale at all events on the IRONMAN global calendar as well as a Santini X IRONMAN co-brand line to be available from Santini stockists, online from Santini website, and at select IRONMAN events across Europe and America.
The new Santini X IRONMAN collection will not be presented until April but the Italian brand is providing a sneak preview of the latter's top-of-the-range Viper trisuit today.
Santini X IRONMAN Viper Trisuit 2022: a sneak preview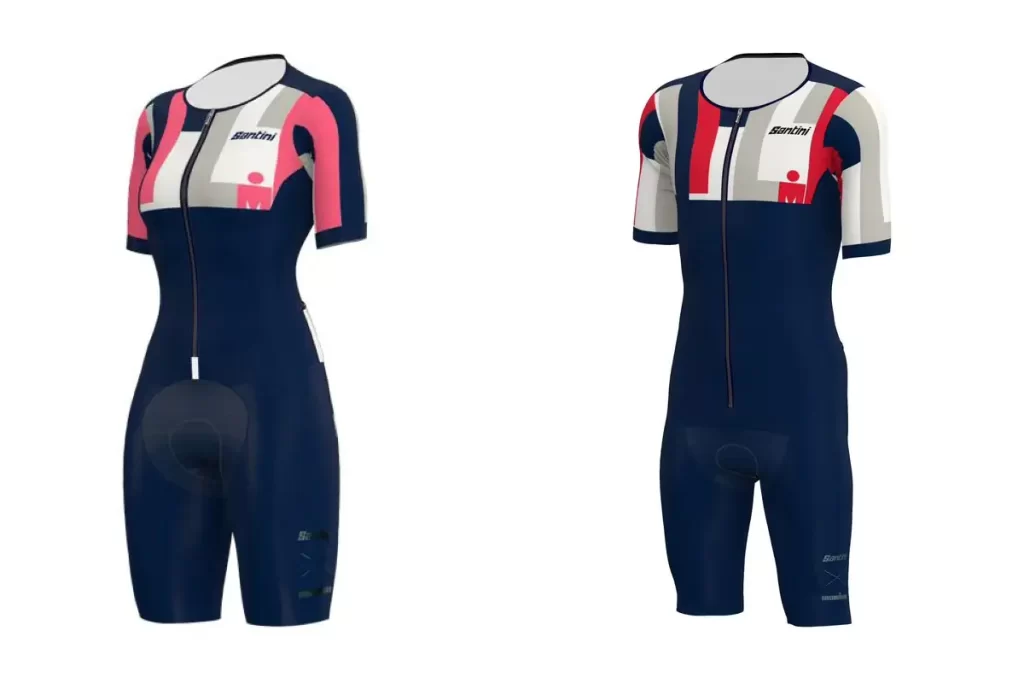 The partnership that started in 2019 by Santini Cycling Wear and the history-making IRONMAN® triathlon circuit is stronger than ever with the two companies having agreed to extend the partnership to 2024. As with the previous deal, this new agreement will see Santini designing and making exclusive apparel for sale at all IRONMAN events.
It will also develop the entire top-of-the-range cycling and triathlon collection under the Santini X IRONMAN co-brand, which will be available from all the stores on its stockist network, from the Santini website, and at various events on the IRONMAN global calendar. This collection will thus not only be part of the Santini range, but also its only dedicated triathlon line for 2022.
Santini is also organizing activities of various kinds featuring its own triathlon ambassadors at several events on the circuit with the aim of attracting more amateur athletes to the discipline.
"We have built up a very successful partnership with IRONMAN over the last few years and we are delighted it is continuing," commented Monica Santini, CEO of Santini Cycling Wear. "The partnership allowed us to work hand-in-glove with the undisputed leading athletes in the sector: thanks to their feedback, in fact, we have created a new collection that will help all triathletes to express their potential as fully as possible".
The new Santini X IRONMAN co-brand will focus on long-distance: the collection will be designed to deliver superior comfort at maximum performance with both men's and women's options available.
"We are delighted to continue with Santini, who is the undisputed leader in the cycling and triathlon technical apparel space, said Matt Wikstrom, Chief Partnership Officer for The IRONMAN Group. "They are at the forefront of technology and through their industry-leading design and craftsmanship, allow for us to customize garments for each one of our respective events. This allows our athletes the ability to truly memorialize their life-changing achievements."
One of the standout pieces from the new collection due to be unveiled in April 2022 is the Viper trisuit. Wind tunnel-tested and developed in collaboration with pro athletes from the Santini team, the suit will sport a new graphic featuring the iconic IRONMAN M-Dot logo. It will be available in navy blue with red and grey detailing for men and in navy blue with pink and grey detailing for women.
The Viper is made from a combination of two different fabrics which guarantee optimal aero efficiency: Trophy by Sitip is light, breathable, and quick-drying, while Swan Wrap is used for the sleeves. Lastly, the outside of the crotch/chamois pad area of the suit has a grippy finish to help keep the rider consistently stable in the saddle.
The new Santini X IRONMAN collection will be available from April at various events on the circuit, from the Santini website, and to select stores worldwide.
About Santini Cycling Wear
Santini Cycling Wear was founded in 1965 by Pietro Santini who spotted a market for technical cycling clothing as a result of his abiding passion for the sport and competition. In what would seem like a revolutionary and contrarian choice today, the Bergamo-based company made the pivotal decision to design and manufacture all of its products exclusively in Italy. Each item is designed and developed by a design team with a deep-rooted passion for the two-wheel world to meet four key requirements: fit, performance, comfort, and durability.
Santini currently produces 5,000 items of clothing per day and exports 80% of its output. It is deeply committed to ongoing investment in researching and developing innovative textiles and new production methods. However, people -athletes- remain its central focus as it continues to refine its creations to allow cyclists to pursue their sporting passions in a comfortable but inimitably stylish kit.
About The IRONMAN Group
The IRONMAN Group operates a global portfolio of events that includes
the IRONMAN® Triathlon Series
the IRONMAN® 70.3® Triathlon Series
the IRONMAN® Virtual Racing™ (VR™) Series
5150™ Triathlon Series, the Rock 'n' Roll® Running Series
the Rock 'n' Roll Virtual Running™ Series
IRONKIDS®
World Triathlon Championship Series
the premier running events including the Standard Chartered Singapore Marathon™ and The Sun-Herald City2Surf®
Ultra-Trail® World Tour events including Tarawera Ultra and Ultra-Trail Australia™
mountain bike races including the Absa Cape Epic®
road cycling events
and other multisport races.
The IRONMAN Group is the largest operator of mass participation sports in the world and provides more than a million participants annually the benefits of endurance sports through the company's vast offerings. Since the inception of the iconic IRONMAN® brand and its first event in 1978, athletes have proven that ANYTHING IS POSSIBLE® by crossing finish lines around the world.
Beginning as a single race, The IRONMAN Group has grown to become a global sensation with hundreds of events across 55+ countries. The IRONMAN Group is owned by Advance, a private, family-owned business. For more information, visit www.ironman.com.
About Advance
Advance is a private, family-held business that owns and invests in companies across media, entertainment, technology, communications, education , and other promising growth sectors.
Their mission is to build the value of their companies over the long term by fostering growth and innovation.
Advance's portfolio includes Condé Nast, Advance Local, Stage Entertainment, The IRONMAN Group, American City Business Journals, Leaders Group, Turnitin, 1010data, and Pop. Together these operating companies employ more than 17,000 people in 29 countries.
Advance is also among the largest shareholders in Charter Communications, Discovery , and Reddit. For more information visit www.advance.com.
Latest posts by M. Özgür Nevres
(see all)