Finding a way to keep pedaling when the temperatures drop sharply is the real challenge facing all cycling fans throughout the winter season. Santini Cycling Wear has responded to this dilemma with a line of winter apparel made from Polartec fabrics that deliver unparalleled performance.
The jacket, bib-tights, base layer, and glove liners, all Italian-made, adapt effortlessly to the rapid variations in temperature typical of autumn and winter, to provide wearers with the perfect heat balance in all conditions.
It is no coincidence that the entire line was one of the winners of the prestigious Polartec Apex Awards for stylishly-designed, on-trend products that use and enhance the characteristics and technologies of the American company's fabrics.
In this instance, Santini chose Polartec Alpha for the glove liners and base layer Power Wool to regulate body temperature in the Adapt bib-tights, and Polartec Power Shield Pro for the Vega Multi jacket. All three are high-tech fabrics that make the Santini winter line the perfect way of staying on your bike right through the winter.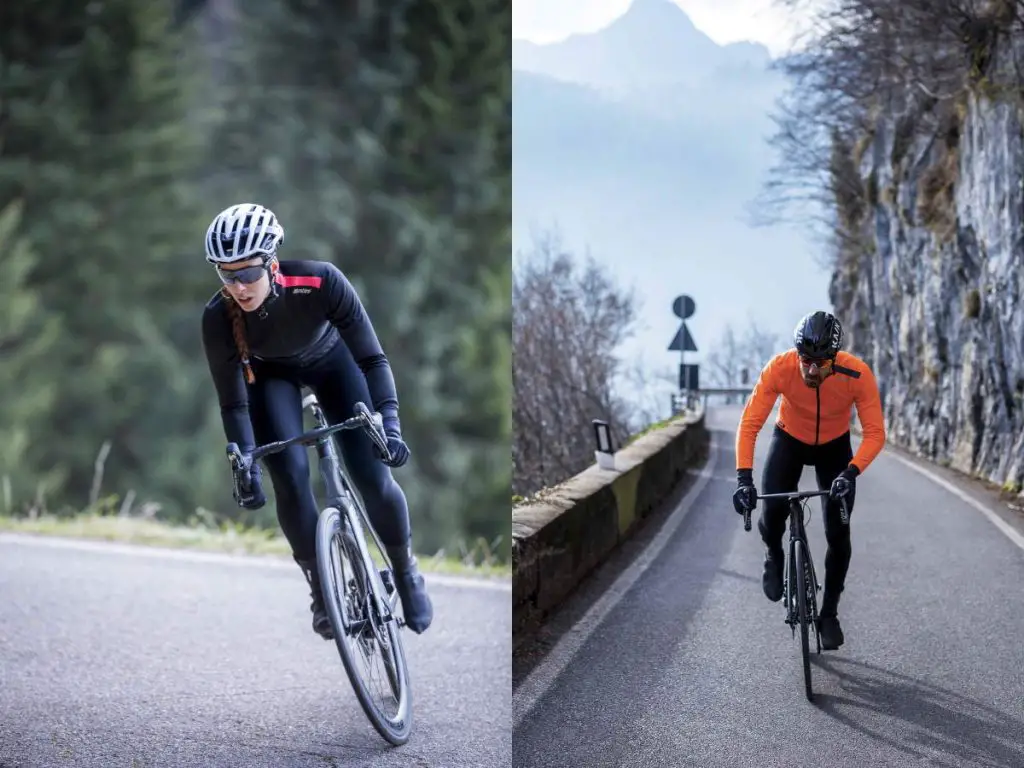 Santini Adapt bib-tights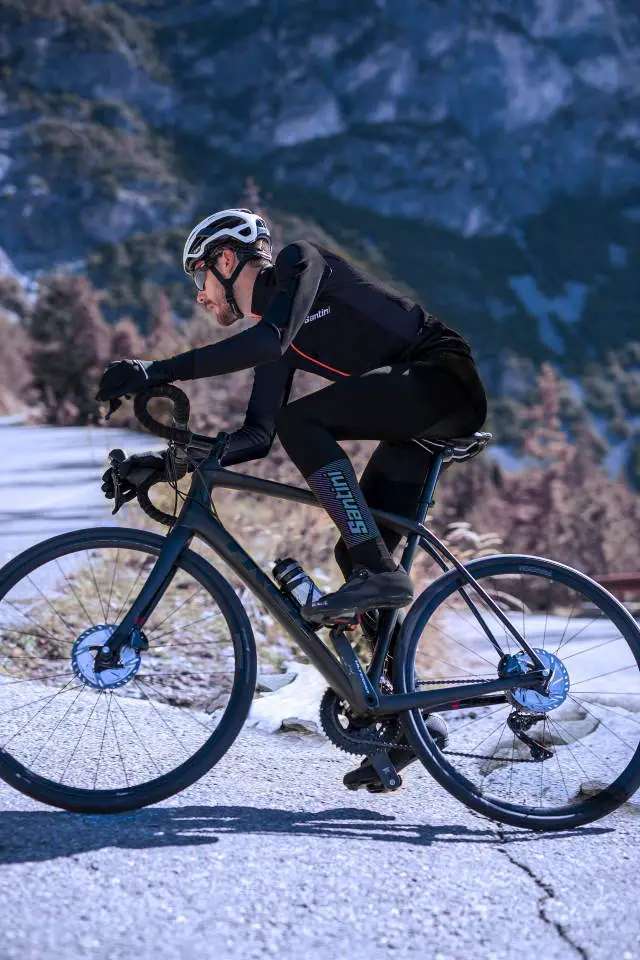 Santini Adapt bib-tights adapt brilliantly to variations in temperature: they can be used throughout the autumn and spring as well as on winter days when the mercury hasn't dropped too far. Changeable weather is all part of the deal at those times of the year and to tackle it, Santini suggests the Adapt bib-tights which it has created in collaboration with Polartec.
The bib-tights are made from Polartec® Power Wool™, a revolutionary dual-component knit fabric that combines the best of both natural and synthetic fibers, all without blending. Their inner layer is made from soft, odor-reducing merino wool, while a hard-wearing synthetic has been chosen for the outer layer. The Polartec solution helps regulate body temperature in two ways: it is breathable to keep the body cool when it heats up during exercise but helps insulate it to keep it warm when the temperature drops.
The Adapt bib-tights are all-black in color with a reflective and iridescent design and the Santini logo right across the left calf to keep the wearer safe on the roads. They also feature Santini's C3 chamois which incorporates a protective shell with an ergonomic 3D surface. Gel inserts in the seat bone area also neutralize vibrations when the chamois is under stress. An antibacterial microfiber outer layer also ensures the C3 is soft and breathable against the skin too.
Santini Vega Multi jacket
The Vega Multi jacket is made in collaboration with Polartec using Polartec Power Shield® Pro, a waterproof fabric (5,000 mm water column) that is also extremely light and breathable. The Power Shield® Pro membrane allows both excess heat and moisture vapor from sweat to escape for exceptional breathability.
The jacket is designed to tackle a variety of weather conditions with confidence and is heat-sealed for complete rain protection. The sleeves are raw cut and lined in light thermal fleece with an outer waterproof PU layer at the cuffs and on the back which is also longer for better protection from the elements.
Visibility on the road is guaranteed as well by two elastic stripes with reflective dots across the shoulders and the Santini name emblazoned on the back of the jacket. The jacket also has a waterproof zipped pocket to keep valuables dry.
The Vega Multi jacket is available in a choice of black or fluorescent orange for men. The women's version in a choice of black or grenadine pink is cut specifically for the female body shape.
Santini Alpha sleeveless base layer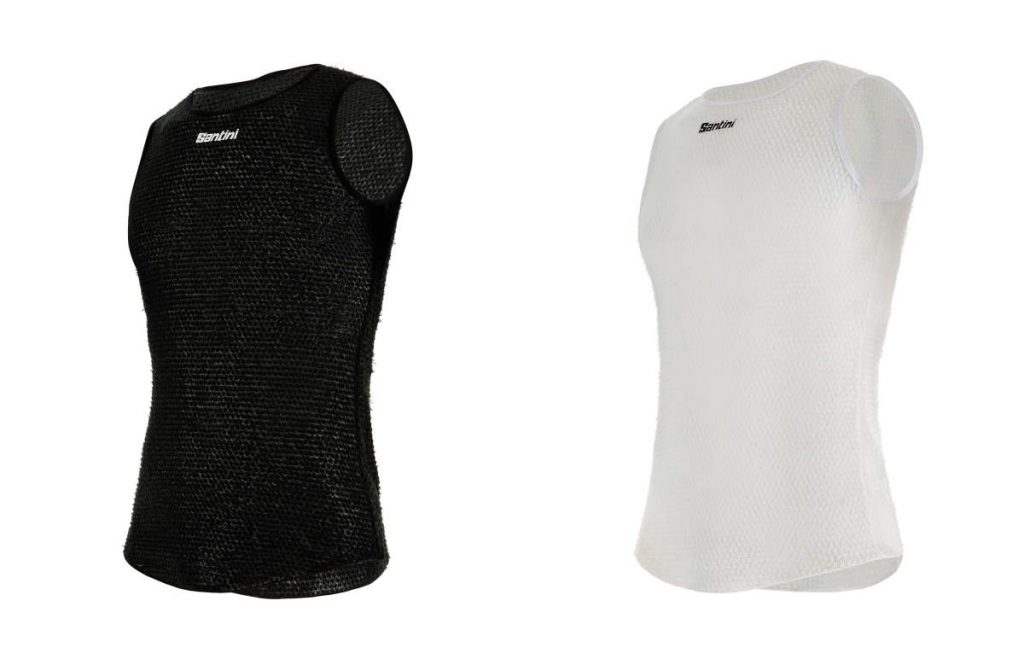 The cozy, comfortable Santini Alpha sleeveless base layer is made from Polartec Alpha®, the latest in "active insulation" technology designed to regulate body temperature.
The result is that it keeps the wearer warm while still wicking away sweat for superb breathability. Made in a choice of black or white, it is also very hard-wearing.
Santini Alpha under-gloves
Hands are one of the areas of the body that feel the cold most on winter rides. These innovative Santini under-gloves slip on under your gloves and are made from light, insulating, breathable fabric which keeps hands warm in even the chilliest of temperatures.
Joint Press Release (Santini & Polartec)
For further information: santinicycling.com – polartec.com
About Santini
Santini Cycling Wear was founded in 1965 by Pietro Santini who spotted a market for technical cycling clothing as a result of his abiding passion for the sport and competition. In what would seem like a revolutionary and contrarian choice today, the Bergamo-based company made the pivotal decision to design and manufacture all of its products exclusively in Italy. Each item is designed and developed by a design team with a deep-rooted passion for the two-wheel world to meet four key requirements: fit, performance, comfort, and durability.
Santini currently produces 3,000 items of clothing per day and exports 80% of its output. It is deeply committed to ongoing investment in researching and developing innovative textiles and new production methods. However, people – athletes – remain its central focus as it continues to refine its creations to allow cyclists to pursue their sporting passions in the comfortable but inimitably stylish kit.
About Polartec
Polartec is the leading manufacturer of innovative and sustainable textile solutions. Since it invented modern synthetic fleece in 1981, the Polartec R&D team has continued to develop high-performance technologies that have improved the way products are created and made.
It is the only ingredient brand to offer genuine innovation and versatility thanks to a range of fabrics that ticks all the boxes from skin contact to insulation and protection from the elements.
Polartec technologies are now used by brand leaders in the sports, military and workwear sectors, and are synonymous with uncompromising performance.
Latest posts by M. Özgür Nevres
(see all)