SRAM pART Project New York City debuts on November 29, 2012, in New York, with twice as many artists and a whole new way to transform bicycle parts into art.
From the SRAM web site:
For the New York City event, over 80 noted artists will contribute original pieces created from SRAM components – including, for the first time, works of collage as well as sculpture. The artworks will be featured in a juried gallery exhibition, then sold at a gala live auction event.
The auction is scheduled for November 29th at the Cedar Lake Theatre in New York City. One hundred percent of the proceeds will be donated to World Bicycle Relief.
First- and second-place prizes will be awarded in the collage and sculpture categories. There will also be one overall grand-prize winner, who will receive an all-expenses-paid trip for two to Africa to witness the work of World Bicycle Relief firsthand.
People get into the show by buying a couple of bikes for kids in Zambia (SRAM is supporting and sponsoring the World Bicycle Relief with the pArt Project).
Some of the works will be displayed at the SRAM pArt Project
Some of the works that will be on display during the SRAM pArt Project in New York: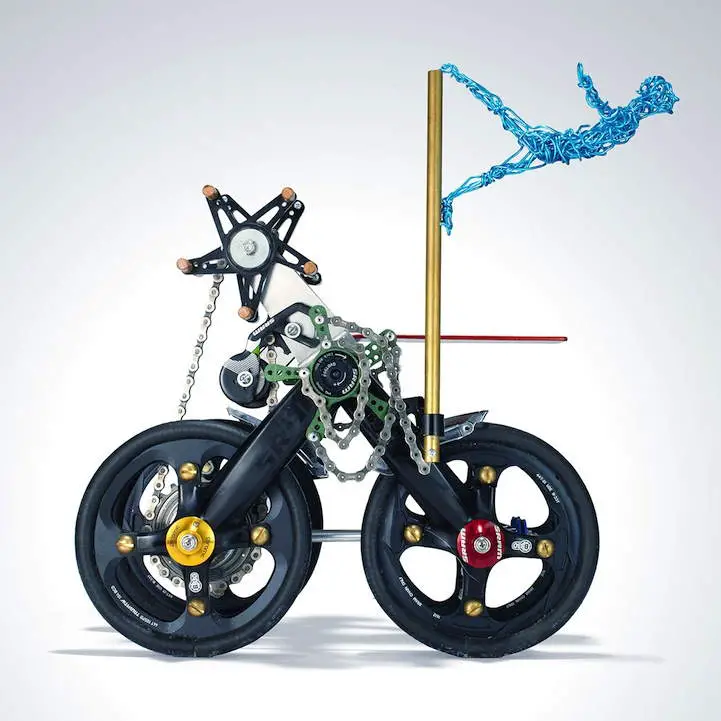 "Free Wheeling" by Lewis Tardy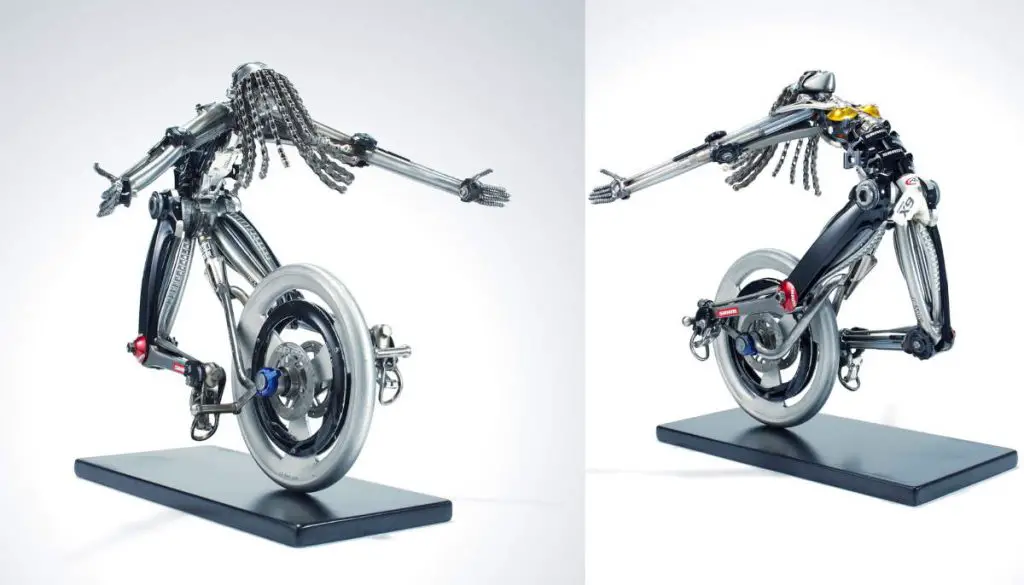 Born in Kalamazoo Michigan, Tardy spent his youth exploring all things mechanical. During that time, he also was discovering his creative passion. In 1985 while working as an assistant in a sculpture studio, the two interests fused.
The combination of found steel materials coupled with a mixture of commentaries including levity, strength, and sexuality result in this unique expression of Tardy's vision. Significant inspiration comes from shapes and designs discovered within the found parts and materials, which takes shape in human and animal subjects alike. On many occasions, a single shape or part will inspire and become the building block of a whole Idea.
Lewis Tardy's sculptures are included in corporate and private collections across many countries of the world.
"Fresh Air" by Alex Bogusky
The son of two designers, Alex's career in communications began over twenty years ago when he joined Crispin and Porter Advertising in 1989 as an art director. He became the creative director five years later, a partner in 1997, and co-chairman in 2008. Under Alex's direction, Crispin Porter + Bogusky grew to more than 1,000 employees, with offices in Miami, Boulder, Los Angeles, London and Sweden, and with annual billings over $1Billion.
During Alex's leadership, CP+B became the world's most awarded advertising agency. CP+B is the only agency to have won the Cannes Advertising Grand Prix in all five categories: Promo, Media, Cyber, Titanium, and Film. In 2008, Alex was inducted into the Art Director's Club Hall of Fame. In 2010, Alex received the rare honor of being named "Creative Director of the Decade" by Adweek.
Always drawn towards social responsibility, while at CP+B, Alex created groundbreaking cause initiatives such as the "Truth Campaign," the most successful youth-focused anti-tobacco education initiative in US history.
In 2010 he continued his work on Climate with Al Gore. Rebranding Mr. Gore's Climate Reality Project and launching 24 Hours of Reality in 2011. At launch, it was the most highly viewed streaming web event to date and continues to grow.
His angel investing led him to partner with Dane McDonald, formerly of Foundry Group, to stand up an early-stage venture capital fund called Batshit Crazy Ventures.
If he's not working you will find him on skis, a surfboard or a bike.
"The Amazing Hjalmer and His Astonishing One-Person Self-Propelled Circus Machine" by Bruce White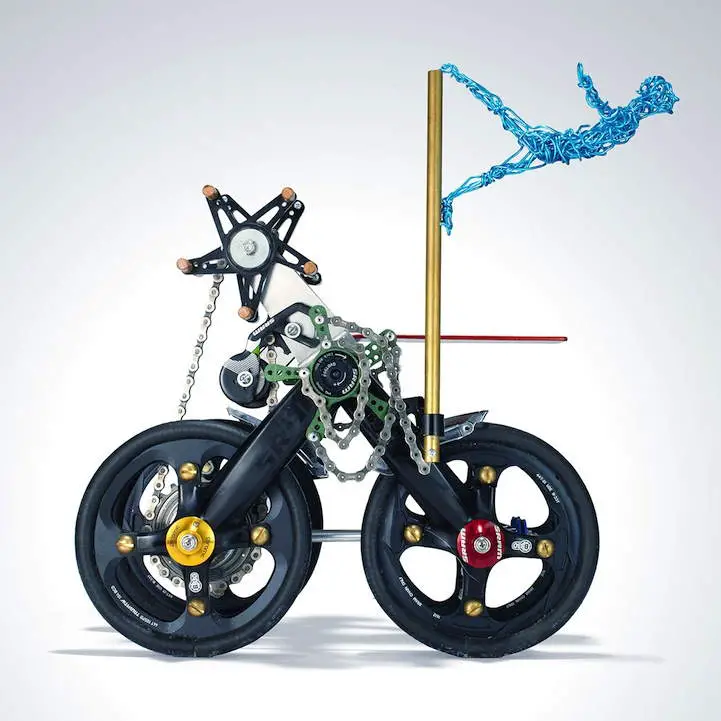 Born in Bayshore, New York, White grew up in New Jersey, spending most of his summers on Long Island and the Jersey shore and developing a keen interest in boat building and sailing.
He earned a Bachelor's degree at the University of Maryland and Master's and Doctoral degrees at Columbia University in New York City. After graduation White taught at Florida State University, Garden City High School, Adelphi University, Queens College, and Southern Illinois University and finally settled at Northern Illinois University due to its proximity to Chicago-the city internationally recognized for contemporary public sculpture.
While teaching at Northern Illinois University, White received a Distinguished Research Professorship award.
During his tenure at Northern Illinois University, he exhibited first at Fairweather-Hardin Gallery, and then at Roy Boyd Gallery. His identity as a Chicago artist began as a result of his involvement with the original Navy Pier Sculpture exhibitions which eventually became allied with the Chicago International Art Expo. White's work, "Aurora I", was the first direct purchase by the State of Illinois program, Art-In-Architecture, and the sculpture is now located on the campus of the University of Illinois in Urbana.
This work was followed by a major work, "Delphin", for the new Illinois Revenue Building in Springfield. He has been included in private collections and exhibited throughout the United States. His permanent large-scale public commissions may be found in Illinois, Florida, Texas, Oklahoma, Minnesota, Iowa, North Carolina, New Jersey, Indiana, Michigan, Mississippi, Wisconsin, Alabama, and Virginia. In Chicago, he has received prominent commissions for two public works, one of which is located at 4400 Chicago Avenue and another on the Farallon Building on Dearborn and Ohio.
White has also done two works in Sweden, one the result of a grant from the America-Scandinavian Foundation and private donations.
"Urchin #45 (Waiting)" by D. Dominick Lombardi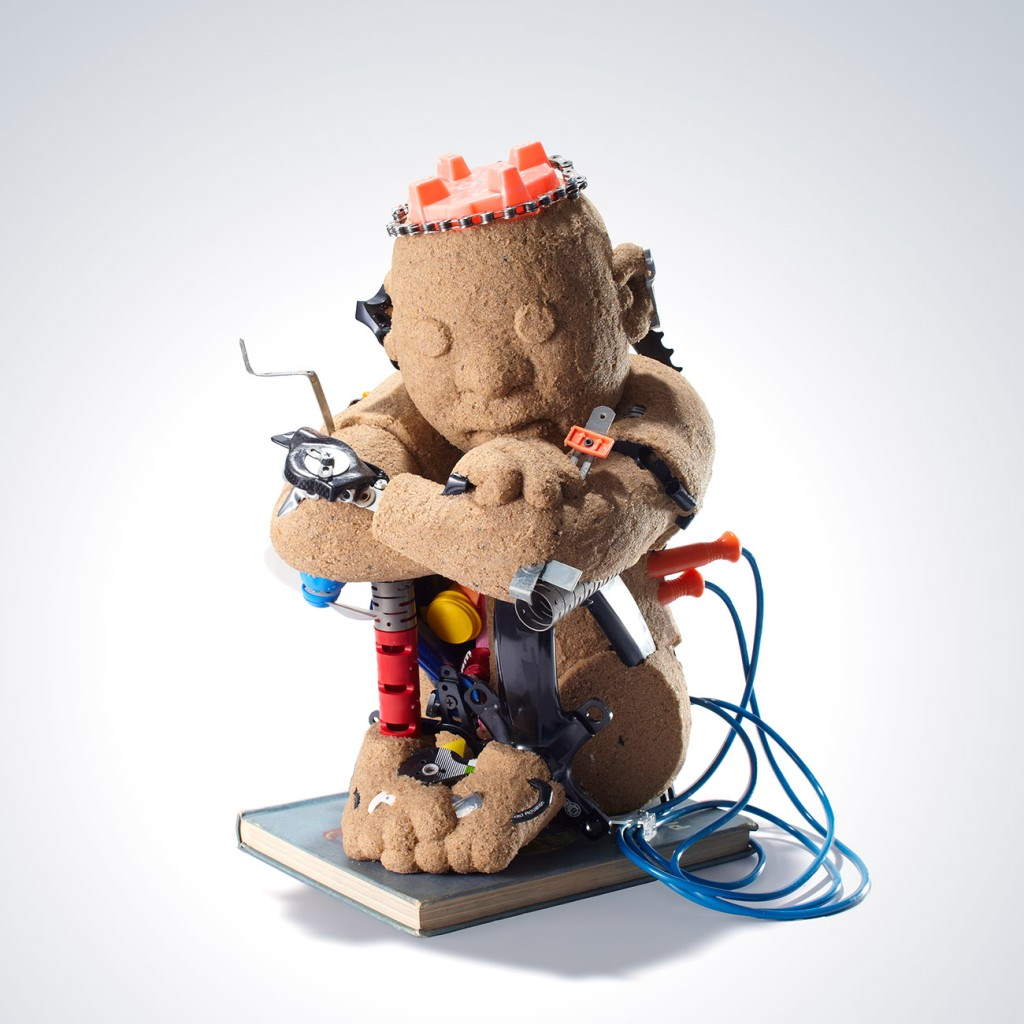 D. Dominick Lombardi (Bronx, New York 1954) is a visual artist, writer, and art critic; the U.S. editor of dArt international magazine; as well as a curator. He was an art critic for The New York Times from 1998 to 2005.
"When I spin, my dress spins too" by Ebitenyefa Baralaye
Ebitenyefa Baralaye is a ceramicist, sculptor, and designer. His work explores cultural, spiritual, and material translations of form/objects, text, and symbols interpreted through a diaspora lens and abstracted around the aesthetics of craft and design.
Baralaye received a BFA in Ceramics from the Rhode Island School of Design and an MFA in Ceramics from the Cranbrook Academy of Art. Baralaye was an Emerging Artists Program recipient at the Museum of the African Diaspora in 2017 and an AICAD Teaching Fellow at the San Francisco Art Institute from 2016 to 2018. He is currently an Assistant Professor and Section Head of Ceramics at the College for Creative Studies in Detroit.
"Cycloidoscope" by Illtyd Perkins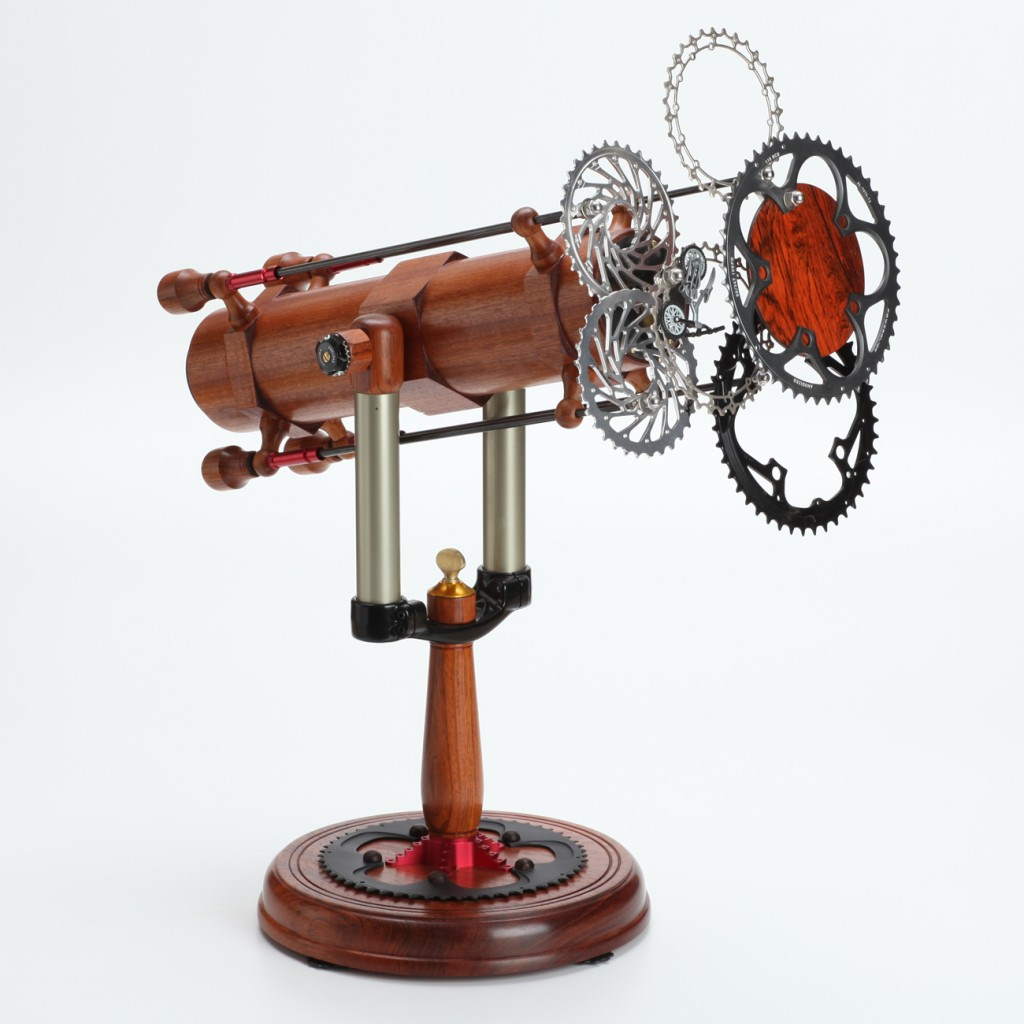 Illtyd Perkins is a fine furniture maker specializing in one-off designs as well as traditional bookbinding equipment.
"American Tourister" by Kyle Fokken
"A Night at the Lake" by Michelle Richeson
"Starry, Starry Bike" by Pam McKnight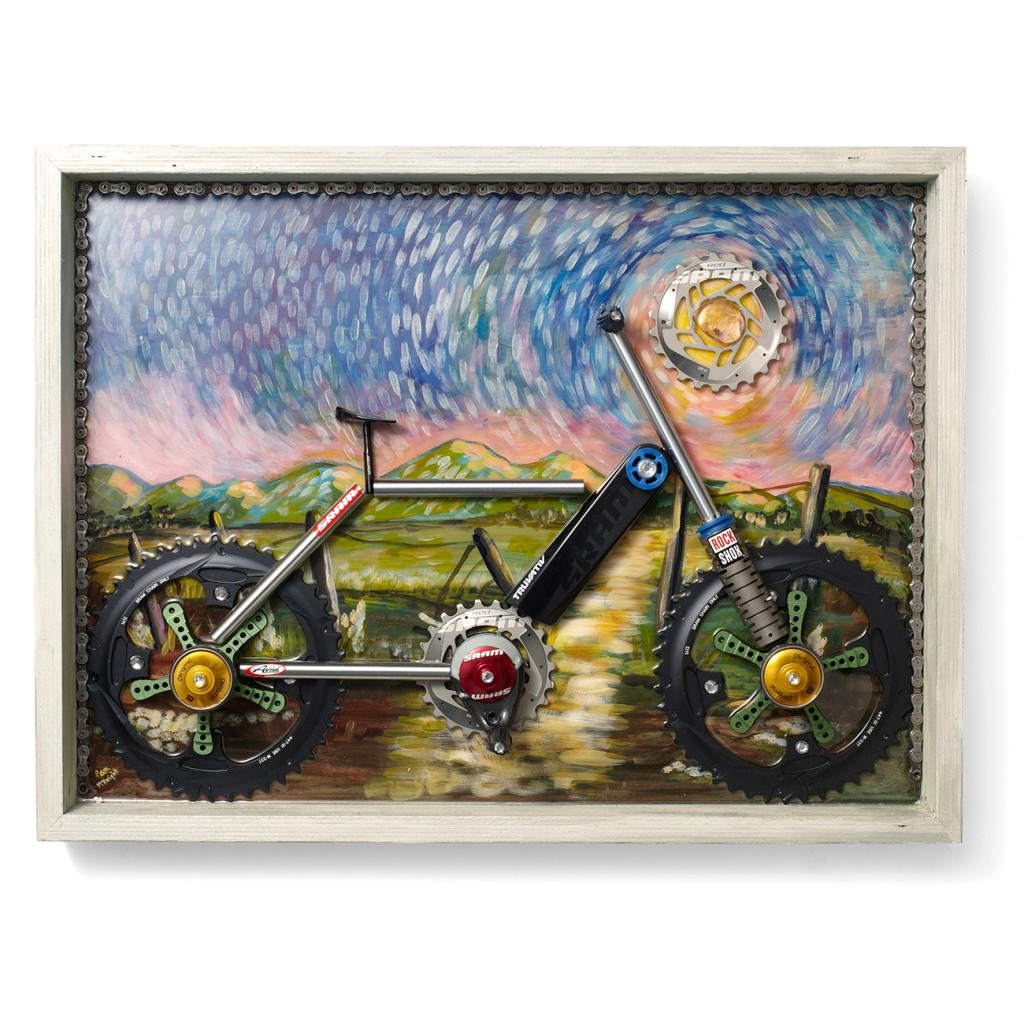 "SRAM supported Botany" by Rachel Dorn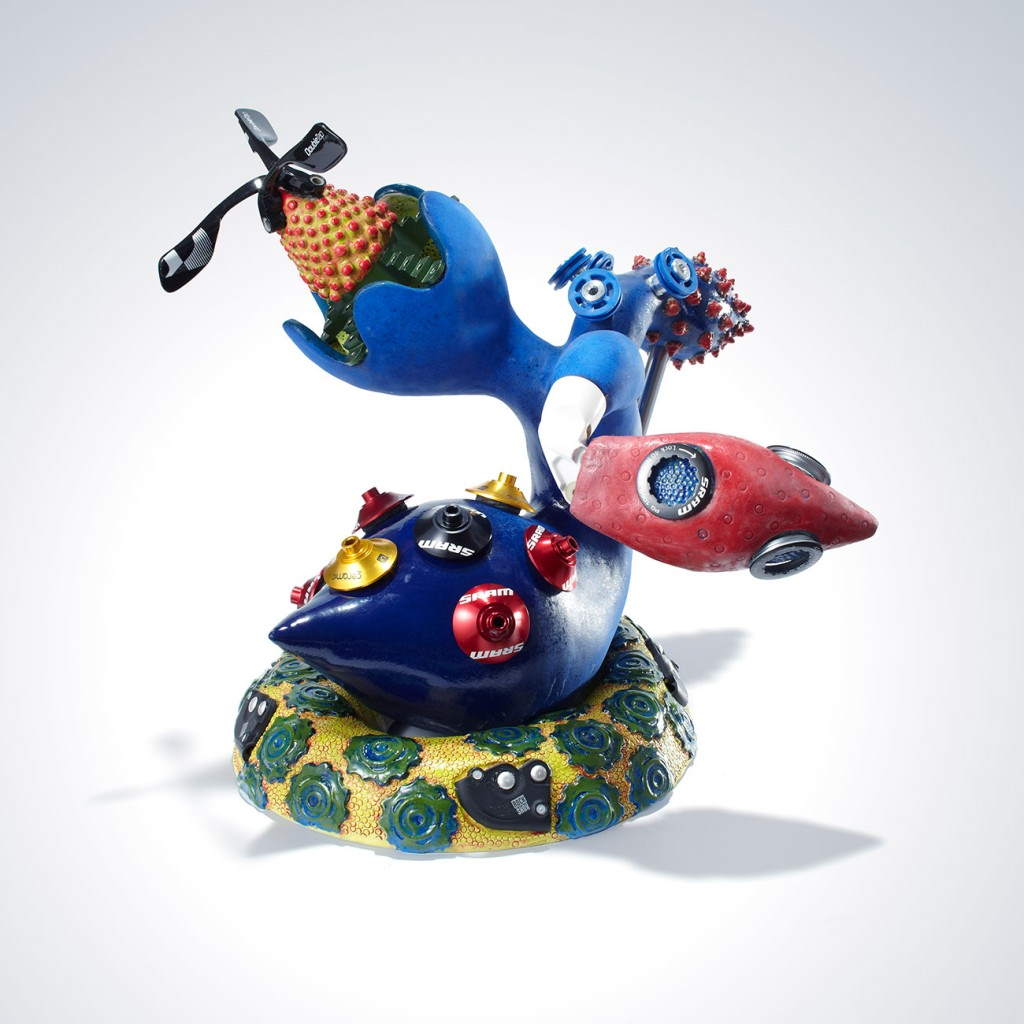 Rachel Dorn is a professional ceramic artist and art instructor at Yakima Valley College in Yakima, Washington. She has been exhibiting my ceramic sculpture for more than a decade and teaching nearly as long. She earned my MFA from the University of Wisconsin-Madison in 2006 and moved to Yakima later that year to run the ceramic studio at Yakima Valley College.
"Invincible" by Robert Gigliotti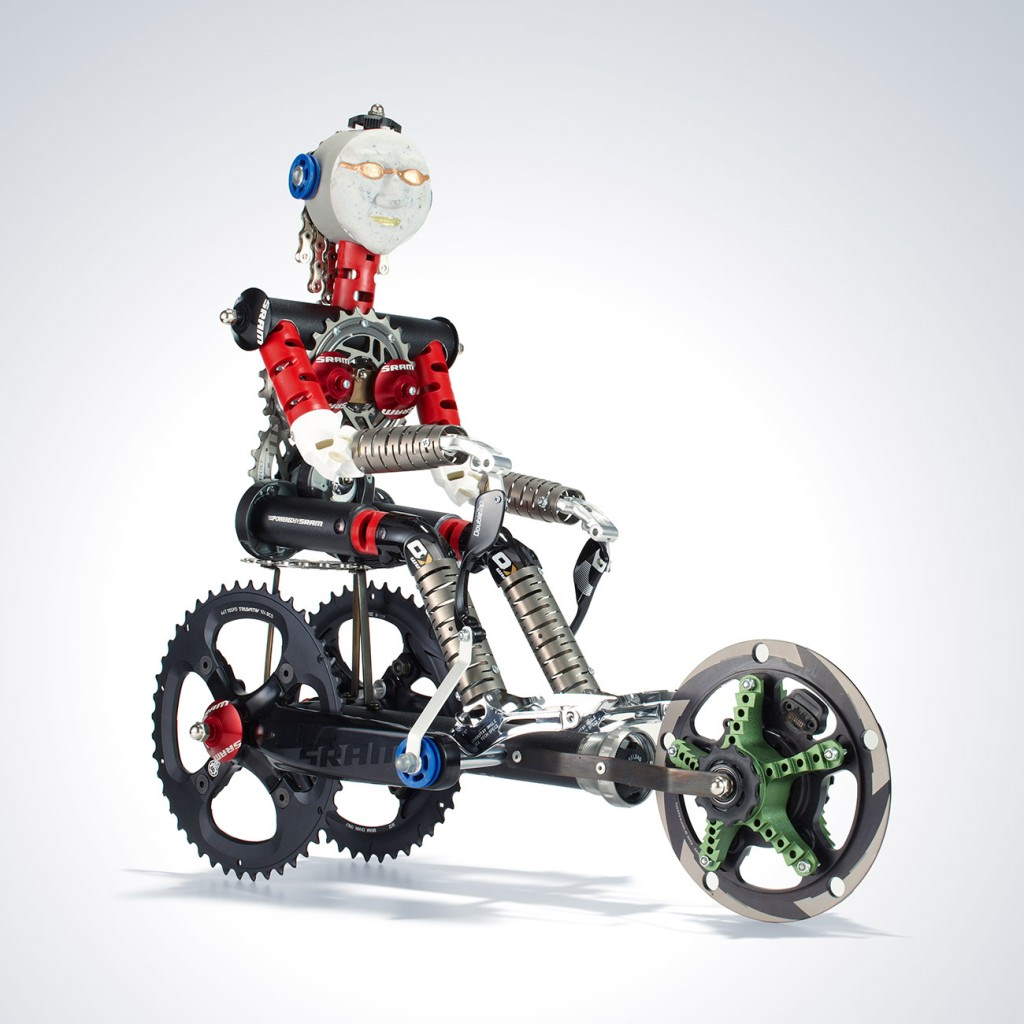 Robert Gigliotti was born in Utah in 1947. He went to undergrad at the University of San Francisco and graduated Winter Quarter of 1969. The next stop was a year of graduate work in the social sciences at the University of Victoria in Victoria, BC.
Robert dropped out of Victoria and went to art school in 1972 at Oregon State University and then on to the University of Oregon where he earned a Master of Science degree in Art Education in 1976.
He began practicing art in 1984 and became a full-time professional artist in 2002.
"Ostrich" by Rob Millard
The primary aim of my work is to illustrate and analyze concepts that I find enthralling. The resulting objects deal on many levels with formal and thematic issues. I hope to show an equal blending of art, craft, and the presentation of engaging ideas in intriguing ways. The works are meant to involve the viewer on many levels: physically, visually, and intellectually.
My sources include (among others) mythology, science, history, and American Folk Art. The objects I make reflect the sensibilities of a person steeped in practicality who (for better or worse) ended up learning about things like art history, existentialist philosophy, and post-structuralist theory. I identify strongly with the idea of the artist as a kind of Daedalean hybrid: artist/artisan/shaman. It is my hope that my works will, in some small way, enrich the viewer and make her/him see the world as slightly more tragic or laughable (or possibly both at the same time).
Sources
Latest posts by M. Özgür Nevres
(see all)