At stage 8 of the 2016 Tour de France, Chris Froome attacked during the descent, using the so-called "Supertuck" style. He quickly opened up a gap of a few seconds on his main general classification rivals, including Nairo Quintana. Then he tucked down onto the top tube of his bicycle and spun the 54-teeth chainring with all he had, opening up an even bigger gap in the process. Finally, he won the stage by 13 seconds over his rivals.
A lot of people were astonished at his descending technique. But, in fact, we saw it before.
What is supertuck?
If a cyclist sits on the top tube and pedal while descending, it's called "supertuck". Sometimes, just sitting on the top tube is also called so.
Here is the video of Chris Froome descending using the Supertuck technique:
The first footage of Supertuck style (probably?)
And look at the video below: at the end of stage 5 of the Presidential Tour of Turkey 2014, we see Cameron Wurf of the Cannondale team uses Supertuck technique (see @0:33). Commentator Carlton Kirby even says "It couldn't get any weirder than this".
Wurf wrote on his blog about that stage. He said that he learned this technique (Supertuck) from Matej Mohorič:
"We were now on the downhill drag to the line and inside 1 km to go. Behind me, Peta was doing a great job in instructing me on how to ride with left and right and good and a lot faster! The problem was we were going downhill and I was spinning like an egg beater at 70 km/h so I resorted to the technique I had decided to use for this exact moment earlier in the stage."
"Back in California in January Junior Matty Mohoric (Wurf means Matej Mohorič) had taught me his much famed sitting on the top tube while pedaling technique."
"When he did it I realized I had to do a million watts to keep up with him going downhill so knew it was effective. I decided this downhill was the perfect place to adopt it for 2 reasons. Firstly my legs were screaming from the effort of the stage and secondly and although maybe not so sporting of me I knew the man behind had to take on more wind. As it was a crucial lead-out man for Cav (Mark Cavendish) the less Peta had at the finish the better for us as Cav would have to start sprinting earlier into the headwind and Elia (Viviani) would get more time to plan his blast straight past him!"
"So, onto the top tube, I went and pedaled as fast down the hill as I could. It was my only possible way to increase the speed as my power was gone and if quickstep or any other team thought I was going too slow well they didn't have to stay on my wheel and could pass me at any time."
"I quickly realized that there was no one coming up on my left so knew the group was strung out a little and Elia was sitting pretty!! As the road flattened out I returned to the comfort of my saddle dug as deep as I could for a few more m's, had a quick look over my left shoulder to see that there was still nobody challenging me for the front position, and got the jolly hell out of there before I slowed down the train. I had the birds-eye view of watching Elia fly by on the 3 Quick-Step boys' wheels and thought little rippa, Elia is definitely going to finish this off!!"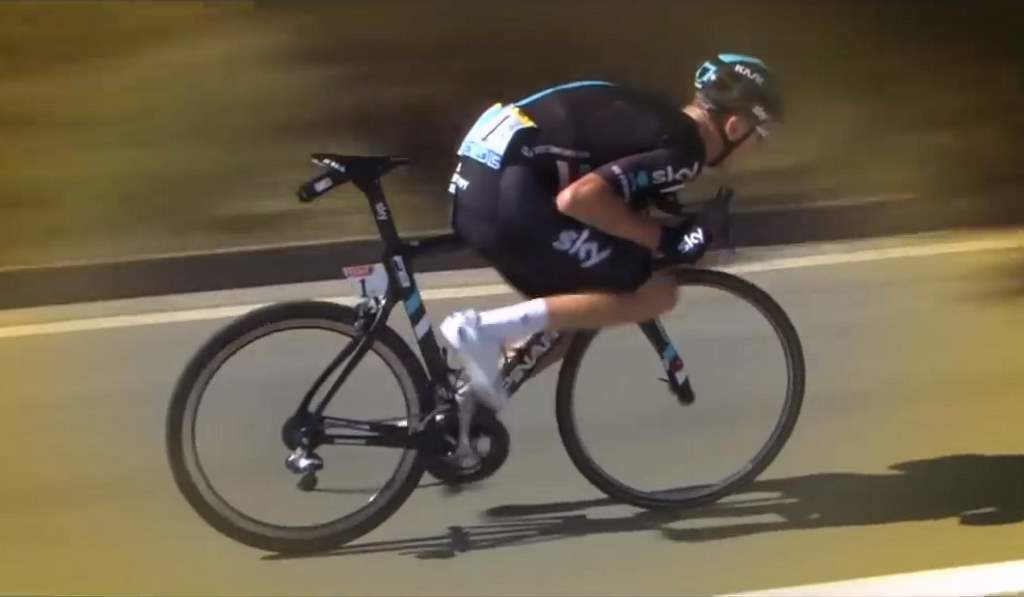 Maybe Wurf learned the supertuck technique from Mohorič, but it's actually older. Schleck brothers were using Supertuck back in 2009 Tour de France.
German cyclist Marcel Wüst was also using the technique back in 1996.
But, they were just sitting on the top tube. If we call "supertuck" pedaling while sitting on the top tube, then it's Mohorič who first used it.
Why supertuck is dangerous?
Supertuck is actually a dangerous technique and was recently banned by the UCI, cycling's governing body.
Because you are shifting your weight in front of the bike – and it is not a good weight distribution. See the video below – at the beginning of the video, Peter Sagan is hitting a speed bump whilst in supertuck and nearly falling. He's an extremely good bike handler – another cyclist might fall. And Sagan was descending at around 80 kph! A fall could be fatal.
Latest posts by M. Özgür Nevres
(see all)