Tour de France 2017, the 104th edition of the French Grand Tour's route has been revealed by the ASO, the organizer of the race.
This year, there will be fewer time trials (no team trial and a short 13.8 km ITT on the opening day and another 23 km on the penultimate stage, a total of 33.8 km, see notes 1) and many famous climbs not included the route, for example there will be no Alpe d'Huez, no Mount Ventoux, etc.
Instead, the race organizers introduced many new climbs. Like the ones in the Vuelta a España, some of the climbs will be short-but-steep, and the mountain stages' lengths are reduced.
These short stages are probably inspired by Giro d'Italia and Vuelta a España – these grand tours have had many short mountain stages in recent years, which were full of action from the start (remember the 118.5 km stage 15 of Vuelta 2016, where Contador and Quintana joined the breakaway where Froome got isolated and lost 2:37 to Quintana).
The shortest stage of the last 30 editions of Tour (except the time trials and the prologues), the 13th stage between Saint-Girons and Foix, which is 100 km (62 mi) is another interesting aspect of this year's race.

There will be only four (or three? if we count the stage eight, four) mountaintop finishes. Many mountain stages are finishing with long downhill and/or flat sections.
Tour de France 2017 Stage List
Saturday, July 1: Dusseldorf – Dusseldorf (ITT), 13 km
Sunday, July 2: Dusseldorf – Liege, 202 km
Monday, July 3: Verviers – Longwy, 202 km
Tuesday, July 4: Mondorf-Les-Bains – Vittel, 203 km
Wednesday, July 5: Vittel – Planche des Belles Filles, 160 km (Summit finish)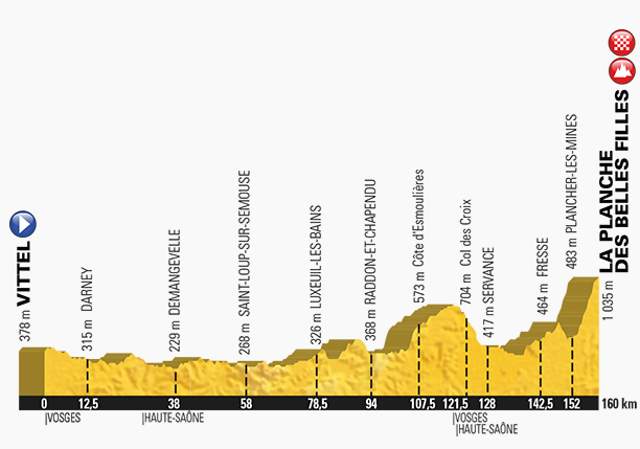 Thursday, July 6: Vesoul – Troyes, 216 km
Friday, July 7:Troyes – Nuit-Saint-Georges, 214 km
Saturday, July 8: Dole – Station des Tousses, 187 km (Summit finish)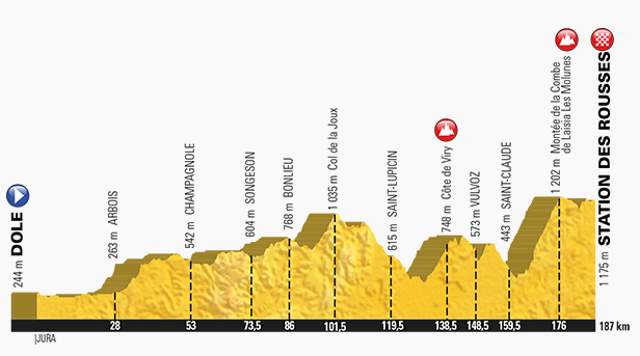 Sunday, July 9: Nantua – Chambery, 181 km
Rest day 1, Monday, July 10
Tuesday, July 11: Perigueux – Bergerac, 178 km
Wednesday, July 12: Eymet – Pau, 202 km
Thursday, July 13: Pau – Peyragudes, 214 km (Summit finish)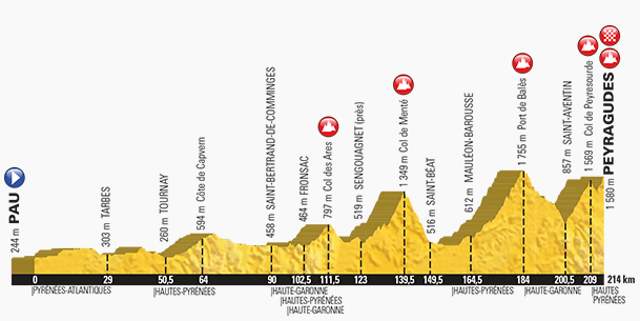 Friday, July 14: Saint-Girons – Foix, 100 km
Saturday, July 15: Blagnac – Rodez, 181 km
Sunday, July 16: Laissac-Severac L'Eglise – Le Puy-en-Velay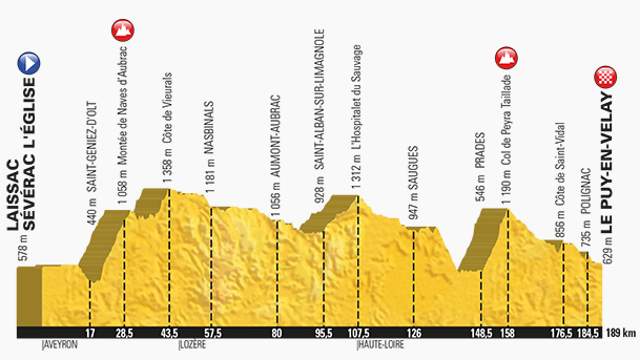 Rest day 2, Monday, July 17
Tuesday, July 18: Le Puy-en-Velay – Romans-Sur-Isere, 165 km
Wednesday, July 19: La Mure – Serre-Chevalier, 183 km
Thursday, July 20: Briancon – Izoard, 178 km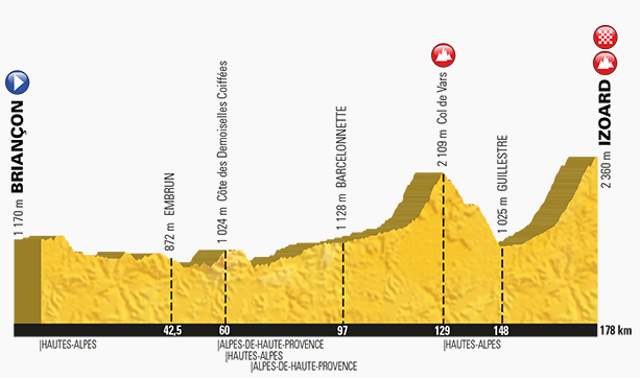 Friday, July 21: Embrun – Salon-de-Provence, 220 km
Saturday, July 22: Marseille – Marseille (ITT), 23 km
Sunday, July 23: Montgeron – Paris Champs-Élysées, 105 km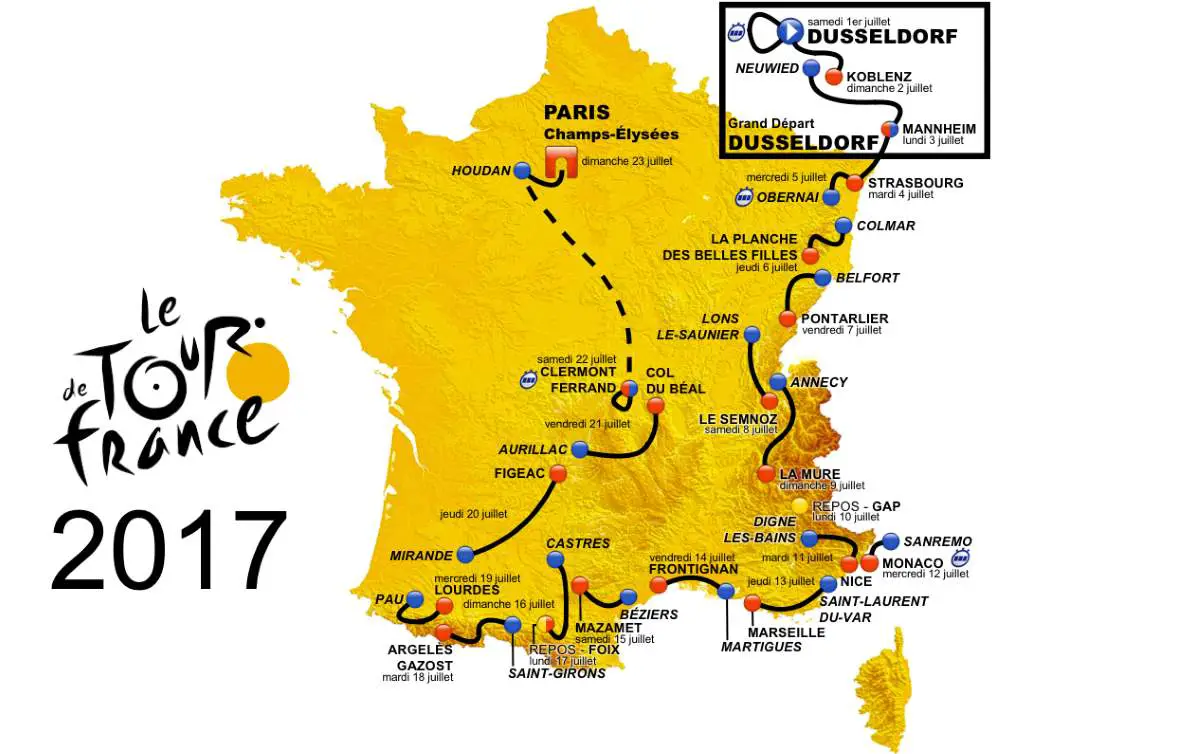 Notes
Time trials of the last 11 Tours:

2006: No Team Time Trial, a 7.1 km (4.41 mi) prologue, two individual time trial stages: 52 km (32.31 mi) and 57 km (35.42 mi), Total: 116.1 km (72.14 mi)
2007: No Team Time Trial, a 7.9 km (4.91 mi) prologue, two individual time trial stages: 54 km (33.55 mi) and 55.5 km (34.49 mi), Total: 117.4 km (72.95 mi)
2008: No Team Time Trial, two individual time trial stages: 29.5 km (18.33 mi) and 53 km (32.93 mi), Total: 82.5 km (51.26 mi)
2009: A 39 km (24.23 mi) Team Time Trial, two individual time trial stages: 15.5 km (9.63 mi) and 40.5 km (25.17 mi), Total: 95 km (59.03 mi)
2010: No Team Time Trial, a 8.9 km (5.53 mi) prologue, an individual time trial stage: 52 km (32.31 mi), Total: 60.9 km (37.84 mi)
2011: A 23 km (14.29 mi) Team Time Trial, an individual time trial stage: 42.5 km (26.41 mi), Total: 65.5 km (40.70 mi)
2012: No Team Time Trial, a 6.4 km (3.98 mi) prologue, two individual time trial stages: 41.5 km (25.79 mi) and 53.5 km (33.24 mi), Total: 101.4 km (63 mi)
2013: A 25 km (15.53 mi) Team Time Trial, two individual time trial stages: 33 km (20.51 mi) and 32 km (19.88 mi), Total: 90 km (55.92 mi)
2014: No Team Time Trial, an individual time trial stage: 54 km (33.55 mi), Total: 54 km (33.55 mi)
2015: A 28 km (17.40 mi) Team Time Trial, an individual time trial stage: 13.8 km (8.57 mi), Total: 41.8 km (25.97 mi)
2016: No Team Time Trial, two individual time trial stages: 37.5 km (23.30 mi) and 17 km (10.56 mi) (mountain), Total: 54.5 km (33.86 mi)
Sources
Latest posts by M. Özgür Nevres
(see all)