Cannondale Pro Cycling Team (currently Liquigas-Cannondale) will move to Vision as its exclusive wheel sponsor for the 2013 season.
Vision is a USA-based bicycle components manufacturer. WorldTour teams Lampre-ISD (going under the name of Lampre-Merida in 2013 season), Euskaltel-Euskadi, and Vacansoleil-DCM also using Vision components as well as some other pro-continental and continental teams.
The Italian team were already using Vision aerobars past several seasons.
Probably Cannondale Pro Cycling Team will use seven models of Vision wheels: the Metron 3 Spoke and Metron Disc will be used for time trials; the Metron 81, TC50, and TC24 carbon tubulars for road racing; and T42 and T30 clinchers for training.
The team was using Mavic wheels past several seasons.
Vision Wheels product family
Metron-81
DESCRIPTION & MATERIALS
Full Carbon 81mm section tubular rim
New Metron Front hub
PRA hubs. Preload Reduction Assembly system
6 sealed Ceramic cartridge bearings (2 F+4 R) mounted on a 17mm hub axle diameter
Aero bladed spokes
Special ABS self-locking nipples
Laced, tensioned, and trued by hand
Includes special carbon QR (QR-89), brake pads, valve extenders, and wheels bag
SIZES
Aluminum Cassette for Shimano 9-10 sp or Campagnolo 10-11sp. Freehub body compatible Shimano 11sp cassette
Spokes (F/R): 20 radial front wheel; 21 rear wheel, 14 cross x2 drive side and 7 radial non drive side (2:1
ratio)
Minimum tire requirement of 23mm
FINISH
Rims-UD Carbon finish
Front hub-UD Carbon finish
Rear hub-Black anodized
Spokes-Black & 1 Red
Color graphics
Vision Metron-81 weight
Metron Disc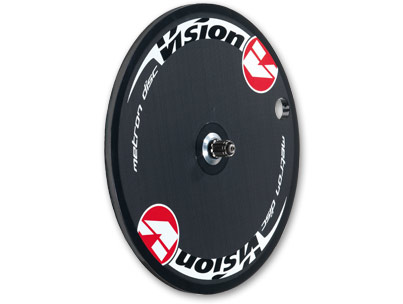 DESCRIPTION & MATERIALS
Full Carbon 88mm section tubular rim
Full UD carbon fairings construction
Reinforced braking surface with special CNC machining
4 sealed Ceramic cartridge bearings mounted on a 17mm hub axle diameter
Laced, tensioned and trued by hand
Includes special carbon QR (QR-89), brake pads and valve extender and valve cover
SIZES
Aluminum Cassette for Shimano 9-10 sp or Campagnolo 10-11sp. Freehub body compatible Shimano 11sp cassette
FINISH
Rims-UD Carbon finish
Fairings-UD Carbon finish
Rear hub-Black anodized
Color graphics
Vision Metron Disc weight
Metron 3-Spoke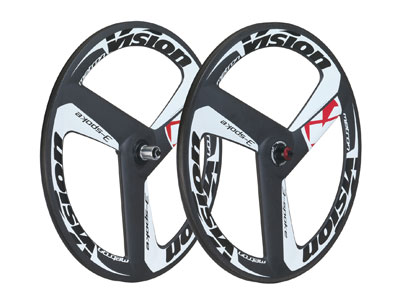 DESCRIPTION & MATERIALS
60mm section profile for tubular tire
The balanced layering of UD and 3K carbon fibers
PRA hubs with Preload Reduction Assembly system
6 Sealed Ceramic cartridge bearings (2F + 4R) mounted onto a 17mm axle
3 Carbon bladed spokes
Hand laminated rim and spoke
Includes special carbon quick releases (QR-89), brake pads, valve extenders, and wheels bag
SIZES
Aluminum Cassette for Shimano 9-10 sp or Campagnolo 10-11sp
Recommended tire 23mm
FINISH
Carbon 3K finish
Hubs, sandblasted and black anodized with laser-etched logos
Red anodized adjustment collars
Color graphics
TriMax Carbon TC50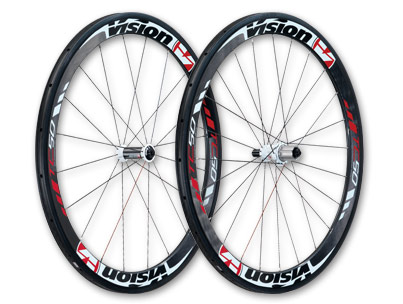 DESCRIPTION & MATERIALS
Carbon tubular rim with 50mm height and 23mm width
Carbon front hub
PRA hubs. Preload Reduction Assembly system
6 sealed cartridge bearings (2 F+4 R) mounted on a 17mm hub axle diameter
Aero bladed spokes
Laced, tensioned and trued by hand
Includes special carbon QR (QR-89), brake pads, valve extenders, and wheels bag
SIZES
Aluminum Cassette for Shimano 9-10 sp or Campagnolo 10-11sp. Freehub body compatible Shimano 11sp cassette
Spokes (F/R): 18 radial front wheel; 21 rear wheel, 14 cross x2 drive side and 7 radial non drive side (2:1 ratio)
Minimum tire requirement of 23mm
FINISH
Rims-UD Carbon finish
Front Hub-UD Carbon finish
Rear hub-Painted white
Spokes-Black&1 Red
Color graphics
TriMax Carbon TC50 weight
TriMax Carbon TC24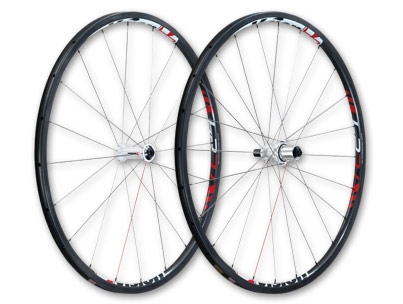 DESCRIPTION & MATERIALS
Ultra light and proven on the pavè of Paris/Roubaix
New 24mm Carbon Tubular rim
PRA hubs. Preload Reduction Assembly system
6 sealed cartridge bearings (2 F+4R) mounted on a 17mm hub axle diameter
Aero bladed spokes
Laced, tensioned and trued by hand
Includes special carbon QR (QR-89), brake pads, valve extenders, and wheels bag
SIZES
Aluminum Cassette for Shimano 9-10 sp or Campagnolo 10-11sp. Freehub body compatible Shimano 11sp cassette
Spokes (F/R): 20 radial front wheel; 24 rear wheel, 16 cross x3 drive side and 8 radial non drive side (2:1 ratio)
Minimum tire requirement of 23mm
FINISH
Rims-3K Carbon finish
Front&Rear hubs-Painted white
Spokes-Black&1 Red
TriMax Carbon TC24 weight
TriMax T42
DESCRIPTION & MATERIALS
CSI Carbon Alloy 42mm clincher rim
PRA hubs. Preload Reduction Assembly system
6 sealed cartridge bearings (2 F+4 R) mounted on a 17mm hub axle diameter
Aero bladed spokes
Special ABS self-locking nipples
Laced, tensioned, and trued by hand
Includes Mercury alloy QR, rim tapes
SIZES
Aluminum Cassette for Shimano 9-10 sp and Campagnolo 10-11sp. Freehub body compatible Shimano 11sp cassette
Spokes (F/R): 18radial front wheel; 21 rear wheel, 14 cross x2 drive side and 7 radial non drive side (2:1 ratio)
FINISH
Rims-3K Carbon finish with alloy
Front&Rear hubs-Black anodized
Spokes-Silver&1 Red
Color graphics
Vision TriMax T42 weight
TriMax T30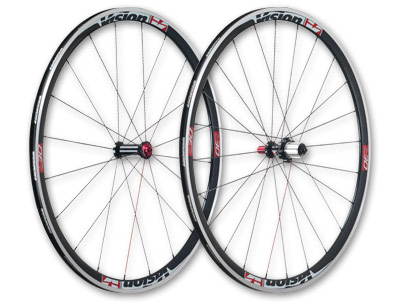 DESCRIPTION & MATERIALS
Alloy 30mm clincher rim
PRA hubs. Preload Reduction Assembly system
6 sealed cartridge bearings (2 F+4 R) mounted on a 17mm hub axle diameter
Aero bladed spokes
Special ABS self-locking nipples
Laced, tensioned, and trued by hand
Includes QR-66 and rim tapes
SIZES
Aluminum Cassette for Shimano 9-10 sp or Campagnolo 10-11sp. Freehub body compatible Shimano 11sp cassette
Spokes (F/R): 20 radial front wheel; 24 rear wheel, 16 cross x3 drive side and 8 radial non drive side (2:1 ratio)
FINISH
Rims-Shiny black anodized
Front&Rear hubs-Black anodized
Spokes-Silver&1 Red
Color graphics
Vision TriMax T30 weight
Team30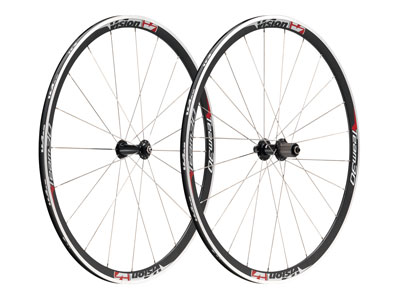 DESCRIPTION & MATERIALS
Alloy 30mm clincher rim
CNC braking surface
CNC machined aluminum hubs
4 Sealed cartridge bearings
Aero bladed spokes
Special ABS self locking nipples
Laced, tensioned and trued by hand
Includes Mercury alloy QR and rim tapes
SIZES
Aluminum Cassette for Shimano 9-10sp
Spokes (F/R): 20 radial front wheel; 24 rear wheel, 12 cross x2 drive side and 12 radial non drive side
FINISH
Rims-Sandblasted Black anodized
Front&Rear hubs-Black anodized
Spokes-Silver
Color graphics
Vision Team30 weight
Team25
DESCRIPTION & MATERIALS
Alloy 25mm clincher rim
CNC braking surface
Classic aluminum hubs for J-bend spokes
4 Sealed cartridge bearings
2mm round spokes
Laced, tensioned and trued by hand
Includes QR-60 and rim tape
SIZES
Steel Cassette for Shimano 9-10sp Only
Spokes: 20 radial front wheel; 24 rear wheel, 12 cross x2 drive side and 12 radial non drive side
FINISH
Rims-Sandblasted Black anodized
Front&Rear hubs-Black anodized
Spokes-Black
Color graphics
Vision Team25 weight
Latest posts by M. Özgür Nevres
(see all)