A folding electric bike is an excellent option for city and urban riding. These bikes have a more compact and slimmer frame than their non-foldable counterparts, so you can easily navigate them through traffic and crowds.
Plus, your budget won't be a problem if you want to buy a folding e-bike because there are many affordable options out there. And since folding e-bikes have robust joints and frames, you're rest assured that they will last for a long time.
Why Should You Get Yourself a Folding Electric Bike
Whether it's taking your bike onto a train or storing it in your car trunk, you want the convenience of being able to bring your bike anywhere. That's where folding electric bikes come in.
These bikes are space-friendly because they don't take up a lot of space. You can store your bike behind the door or in your closet when you no longer need it. Since it folds down, you don't have to leave your bike outside.
You can bring it inside your home or office and store it somewhere. Another reason why you should get a folding electric bike is that it holds its value. When you don't need your bike, you can sell it and get back what you paid for.
Best Folding Electric Bikes
The best electric folding bikes combine the portability of a folding bike and the functions of an e-bike. So you can travel faster and fold your bike for easy and quick storage. In this folding electric bike review, we have selected and reviewed three of the best options on the market today.
1. RadMini 4
The RadMini 4 is a high-step electric folding bike with 3.3-inch wide puncture-resistant tires that feature a checkerboard all-terrain tread and reflective sidewalls. It comes with integrated lights and a 48V lithium-ion battery with 800 charge cycles, allowing the bike to reach up to 25mph and travel up to 45 miles on a single charge.
This bike is lightweight as it only weighs 7.7 lbs. You can also buy separate battery packs if you travel long distances. Charging time takes around five to six hours. The RadMini 4 features a 750-watt hub motor and seven-speed gears that allow you to take on steep hills and inclines easily.
The RadMini 4 also has an LCD panel and reflective detailing, and lights to keep you safe at night. The wide tires provide a stable ride too. Plus, the bike has a kickstand and a bell that you can use to alert others of your presence.
Pros
Large backlit display.
Tires are puncture-resistant.
Cons
Removing the battery can be challenging.
The bike is heavy.
2. 2021 Quietkat Voyager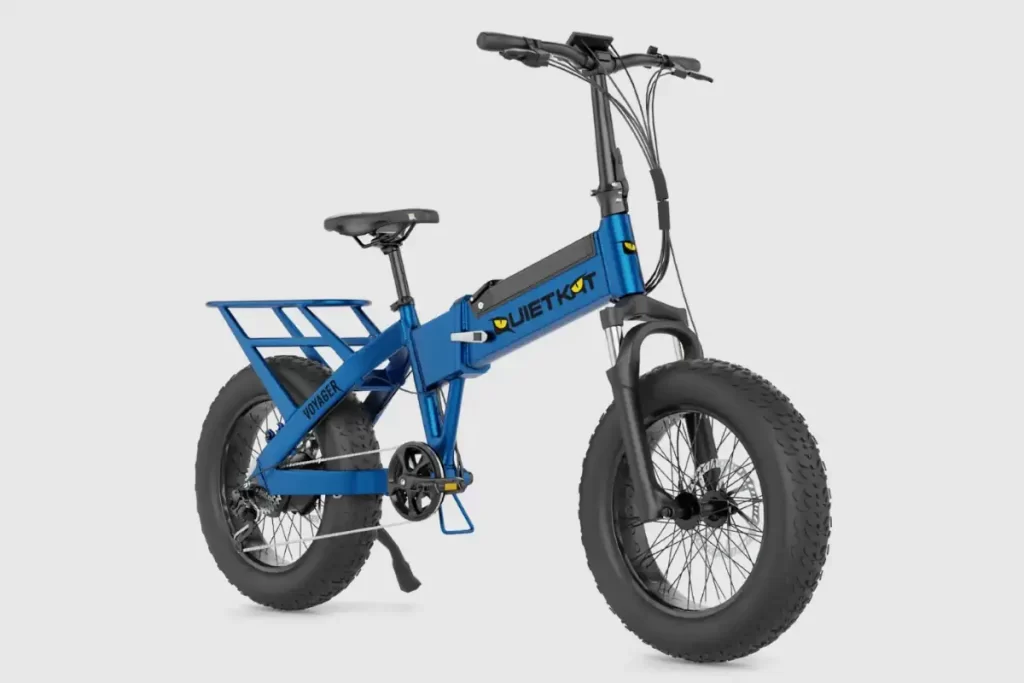 The 2021 Quietkat Voyager's folding frame collapses easily for quick storage in the shed, garage, RV, or boat. It comes with a 750W hub drive motor that allows the bike to travel up to 25mph.
This model has a 48V lithium-ion battery that you can charge off or on the bike. It also features a thumb throttle and five pedal assist levels. The large four-inch off-road tires allow the bike to take on any terrain.
Moreover, the 2021 Quietkat Voyager can accommodate up to 325 lbs of weight. It also features a 100mm coil-sprung suspension fork and mechanical two-piston disc brakes. The bike has a seven-speed drivetrain that you can easily convert to a single speed. So if you're looking for a compact bike for your off-road adventures, the 2021 Quietkat Voyager is one of your best options.
Pros
Large tires allow the bike to roll smoothly over dirt or asphalt.
Digital displays provide trip information like battery life and speed.
Cons
Only available in one size.
Bulky when folded.
3. Ecotric Folding E-Bike
The Ecotric Folding E-Bike features a 500-watt brushless motor and a 36V lithium battery, allowing the bike to travel up to 23 miles on one charge at 32km/h or 20mph. The Ecotric Folding E-Bike comes with both pedal and throttle assist. So if you're tired of pedaling, you can switch to throttle mode. It can take on rough roads and challenging terrain with ease.
Assembly is also easy. You only need to attach the saddle, front wheel, tires, front fender, pedals, and handlebar control module to the bike, and you're good to go. Charging time is only six to eight hours. And in some cases, you can use the bike after two to three hours of charging.
This model comes with 7-speed Sinamo external gears, allowing you to coast freely. Plus, the aluminum alloy frame looks sharp and durable. The e-bike weighs around 50 to 55 lbs (22.5-25 kg) and can accommodate up to 250 lbs (113 kg) of rider and luggage weight.
Pros
Push-button allows the rider to maintain and control the speed of the bike.
Mechanical disc brakes allow you to use the bike for urban cycling.
Cons
Poor assembly instructions.
It lacks front forks.
Factors to Look for in a Folding Electric Bike
Folding electric bikes have different features and qualities, so choosing the best one can be daunting. That's why we have included the key elements that you should consider when selecting a foldable electric bike.
Weight and Storage
The bike's weight will determine how much weight it can handle and how portable it can be. You should also check whether it has a throttle or pedal assist. Throttle assist bikes have a motor, so they require less physical effort.
The throttle powers the wheel's momentum, increasing the bike's speed and power. However, this kind of bike has a low battery life range and requires a lot of motor power. Thus, throttle bikes are suitable for short journeys.
On the other hand, pedal-assist bikes require a lot of physical effort because you need to pedal to get power from the motor. This kind of bike is ideal for those who want to use biking as a form of exercise.
Battery Life and Motor Power
Folding electric bikes with big motors can run faster than those with smaller engines. However, these bikes also consume more power which means they won't last long because the battery will drain more quickly.
Thus, you should consider the kind of journey you take regularly. For instance, if you travel short distances daily but you encounter plenty of hills, you should get a bike with a powerful motor.
You also need to take the length of your trip into account. After all, you don't want your bike to stop halfway through your journey. Manufacturers determine the bike's battery life based on several factors, usually ideal conditions. Thus, it would help if you considered extra performance time before you buy anything.
Type of Bike
Although there are different folding electric bikes, the best one depends on your purpose and lifestyle. For instance, if you lack space at home, you should consider getting a mini folding e-bike.
A folding mountain e-bike is a good option for those who often encounter rocky or challenging pathways. And don't forget to wear a pair of running shoes to protect your feet at all times.
In Summary
It doesn't matter whether you're looking for a new addition to your bike collection or need something that will take you from point A to B. The ones listed above offer the best value for your money. But if you're still confused, refer to the abovementioned tips, and you'll find the right portable electric bike for you.

Latest posts by Bernita Fregoso
(see all)