"Lighter, stiffer, and smoother than many elite carbon frames". This is the slogan of the Cannondale CAAD10 2015, the new model of the American bicycle manufacturer's most popular aluminum frame series. CAAD10 is lightweight, stiff, and fast. Its EVO-like geometry gives you razor-sharp cornering and aggressive race positioning.
For the first time ever, this year also two disc-brake build options are available.
Cannondale is producing award-winning CAAD (Cannondale Advanced Aluminum Design) series of road bikes since 1983. It is the first United States-based bicycle producer to supply frames under its own name to a European professional team (Saeco). Saeco was a top-level European team, with the world's fastest sprinter Mario Cipollini on the squad. Cipollini raced an "R4000" model (CAAD3) in the 1997 season.
Perhaps the Saeco team's most memorable moments were Cipollini's 4 consecutive stage wins in the 1999 Tour de France. The image of Mario Cipollini approaching the TV camera right after a win to say, "Cannondale makes the best bikes!" propelled Cannondale's popularity among road racing cyclists.
Cannondale CAAD10 2015 builds
Black Inc. Disc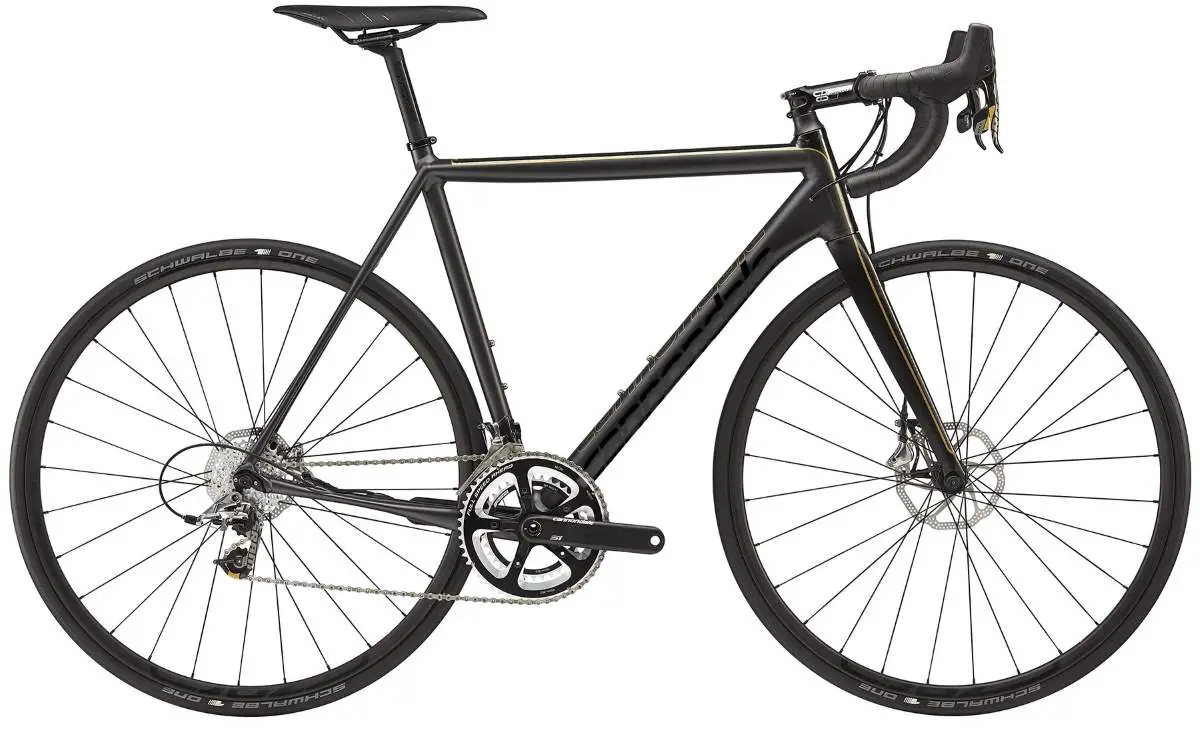 ADVERTISED PRICE $4330 (see notes 1)
Cannondale CAAD10 2015 Black Inc. Disc Specifications:
Frame: CAAD10 Disc, SmartFormed 6069 Alloy, SPEED SAVE, BB30, Di2 ready
Fork: CAAD10 Disc, SPEED SAVE Full Carbon, 1-1/8" to 1-1/4" tapered steerer
Crank: Cannondale HollowGram Si, BB30, FSA Chainrings, 52/36
Crank Option 1: N/A
Bottom Bracket: FSA BB30 Bearings
Shifters: SRAM RED 22 HRD
Cog Set: SRAM PG-1170, 11-28, 11-speed
Chain: SRAM PC-1170, 11-speed
Front Derailleur: SRAM RED 22 Yaw, braze-on
Rear Derailleur: SRAM RED 22
Rims: CZero Carbon 20mm Clincher, 28 hole
Hubs: CZero Centerlock Disc, 28 hole
Tires: Schwalbe ONE, 700x25c, folding
Pedals: N/A
Brakes: SRAM RED HRD hydraulic disc, HS1 rotors
Handlebar: Cannondale C1 Ultralight, 2014 Alloy, Compact
Stem: Cannondale C1 Ultralight, 2014 Alloy, 31.8, 6 deg.
Headset: CAAD10, 1-1/4" lower bearing, 25mm top cap
Brake Levers: SRAM RED HRD hydraulic
Spokes: DT Swiss Aerolite
Grips: Fi'zi:k MicroTex Bar Tape
Saddle: Fi'zi:k Arione R7 MG rail
Seat Post: Cannondale C1 Ultralight, 2014 Alloy 27.2x300mm
Rear Shock: N/A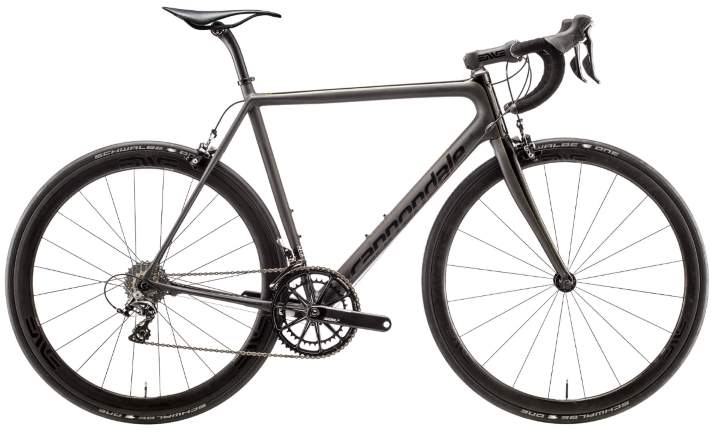 Rival Disc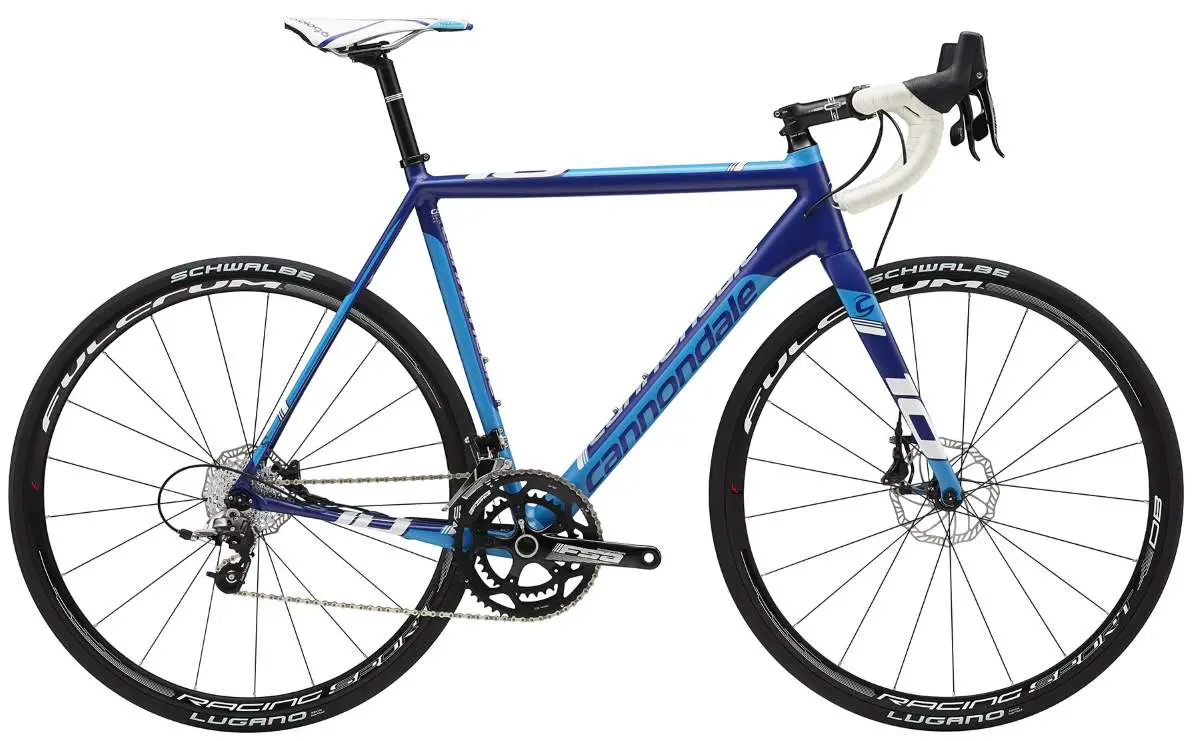 ADVERTISED PRICE $2170 (see notes 1)
Cannondale CAAD10 2015 SRAM Rival Disc Specifications:
Frame: CAAD10 Disc, SmartFormed 6069 Alloy, SPEED SAVE, BB30, Di2 ready
Fork: CAAD10 Disc, SPEED SAVE Full Carbon, 1-1/8" to 1-1/4" tapered steerer
Crank: FSA Gossamer Pro, BB30, 52/36
Crank Option 1: N/A
Bottom Bracket: FSA BB30
Shifters: SRAM Rival 22 HRD
Cog Set: SRAM PG-1130, 11-28, 11-speed
Chain: SRAM PC-1130, 11-speed
Front Derailleur: SRAM Rival 22 Yaw, braze-on
Rear Derailleur: SRAM Rival 22
Rims: Maddux RD 2.0 Disc, 28-hole
Hubs: Formula Disc, CX-20 front, CX-22 rear
Tires: Schwalbe Lugano, 700x25c, folding
Pedals: N/A
Brakes: SRAM Rival HRD hydraulic disc, Centerline T1 rotors
Handlebar: Cannondale C3, butted 6061 Alloy, Compact
Stem: Cannondale C2, 6061 Alloy, 31.8, 6 deg.
Headset: CAAD10, 1-1/4" lower bearing, 25mm top cap
Brake Levers: SRAM Rival HRD hydraulic
Spokes: Stainless Steel, 15g
Grips: Cannondale Bar Tape w/Gel, 2.5mm
Saddle: Prologo, Kappa EVO STNL
Seat Post: Cannondale C3, Alloy, 27.2x300mm
Rear Shock: N/A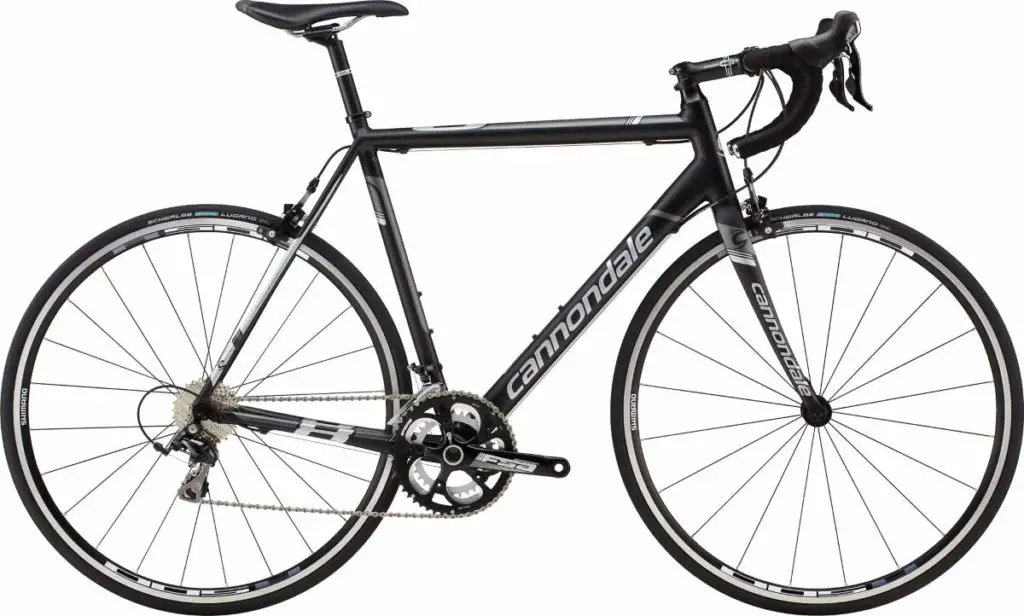 Force, Racing Edition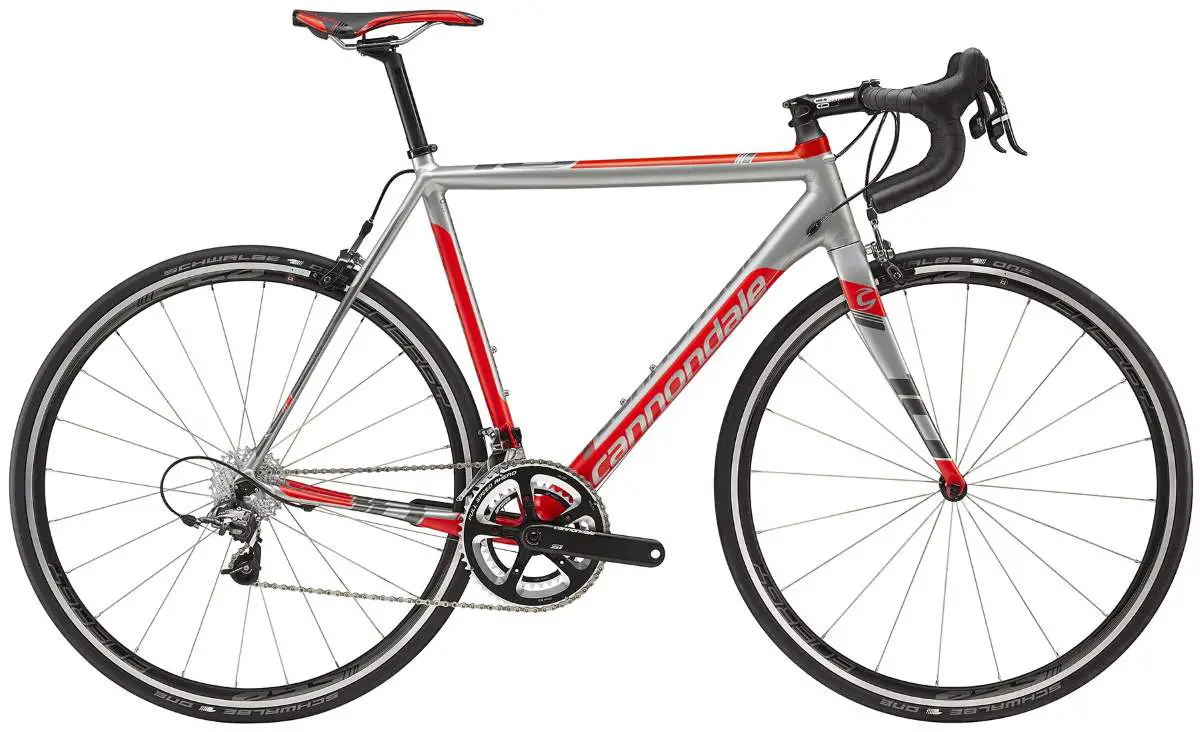 ADVERTISED PRICE $2820 (see notes 1)
Cannondale CAAD10 2015 Force, Racing Edition Specifications:
Frame: CAAD10, SmartFormed 6069 Alloy, SPEED SAVE, BB30, Di2 ready
Fork: CAAD10, SPEED SAVE Full Carbon, 1-1/8" to 1-1/4" tapered steerer
Crank: Cannondale HollowGram Si, BB30, FSA Chainrings, 52/36
Crank Option 1: N/A
Bottom Bracket: FSA BB30 Bearings
Shifters: SRAM Force 22
Cog Set: SRAM PG-1170, 11-28, 11-speed
Chain: SRAM PC-1170, 11-speed
Front Derailleur: SRAM Force 22 Yaw, braze-on
Rear Derailleur: SRAM Force 22
Rims: FSA Energy 20h front, 24h rear
Hubs: FSA Energy 20h front, 24h rear
Tires: Schwalbe ONE, 700x25c, folding
Pedals: N/A
Brakes: SRAM Force
Handlebar: Cannondale C2 Classic, 2014 Alloy, Shallow Drop
Stem: Cannondale C1 Ultralight, 2014 Alloy, 31.8, 6 deg.
Headset: CAAD10, 1-1/4" lower bearing, 25mm top cap
Brake Levers: SRAM Force 22
Spokes: FSA Energy 20h front, 24h rear
Grips: Cannondale Bar Tape w/Gel, 2.5mm
Saddle: Prologo Nago Evo T2.0
Seat Post: Cannondale C1 Ultralight, 2014 Alloy, 27.2x300mm
Rear Shock: N/A
Ultegra 3
ADVERTISED PRICE $2270 (see notes 1)
Cannondale CAAD10 2015 Ultegra 3 Specifications:
Frame: CAAD10, SmartFormed 6069 Alloy, SPEED SAVE, BB30, Di2 ready
Fork: CAAD10, SPEED SAVE Full Carbon, 1-1/8" to 1-1/4" tapered steerer
Crank: Cannondale HollowGram Si, BB30, FSA Chainrings, 52/36
Crank Option 1: N/A
Bottom Bracket: FSA BB30 Bearings
Shifters: Shimano Ultegra 6800
Cog Set: Shimano Ultegra 6800, 11-28, 11-speed
Chain: Shimano HG700, 11-speed
Front Derailleur: Shimano Ultegra 6800, braze-on
Rear Derailleur: Shimano Ultegra 6800
Rims: Mavic Aksium S WTS
Hubs: Mavic Aksium S
Tires: Mavic Aksion, 700x25c, folding
Pedals: N/A
Brakes: Shimano Ultegra 6800
Handlebar: Cannondale C3, butted 6061 Alloy, Compact
Stem: Cannondale C2, 6061 Alloy, 31.8, 6 deg.
Headset: CAAD10, 1-1/4" lower bearing, 25mm top cap
Brake Levers: Shimano Ultegra 6800
Spokes: Mavic Aksium S
Grips: Cannondale Bar Tape w/Gel, 2.5mm
Saddle: Fi'zi:k Arione CX, MG rail
Seat Post: Cannondale C2, UD Carbon, 27.2x300mm
Rear Shock: N/A
105 5
ADVERTISED PRICE $1680 (see notes 1)
Cannondale CAAD10 2015 105 5 Specifications:
Frame: CAAD10, SmartFormed 6069 Alloy, SPEED SAVE, BB30, Di2 ready
Fork: CAAD10, SPEED SAVE Full Carbon, 1-1/8" to 1-1/4" tapered steerer
Crank: FSA Gossamer Pro, BB30, 52/36
Crank Option 1: N/A
Bottom Bracket: FSA BB30
Shifters: Shimano 105 5800
Cog Set: Shimano 105 5800, 11-28, 11-speed
Chain: Shimano HG600, 11-speed
Front Derailleur: Shimano 105 5800, braze-on
Rear Derailleur: Shimano 105 5800
Rims: Shimano RS11
Hubs: Shimano RS11
Tires: Schwalbe Lugano, 700x25c, folding
Pedals: N/A
Brakes: Tektro R580
Handlebar: Cannondale C3, butted 6061 Alloy, Compact
Stem: Cannondale C3, 6061 Alloy, 31.8, 6 deg.
Headset: CAAD10, 1-1/4" lower bearing, 25mm top cap
Brake Levers: Shimano 105 5800
Spokes: Shimano RS11
Grips: Cannondale Bar Tape w/Gel, 2.5mm
Saddle: Prologo, Kappa EVO STN
Seat Post: Cannondale C3, Alloy, 27.2x300mm
Rear Shock: N/A
Track 1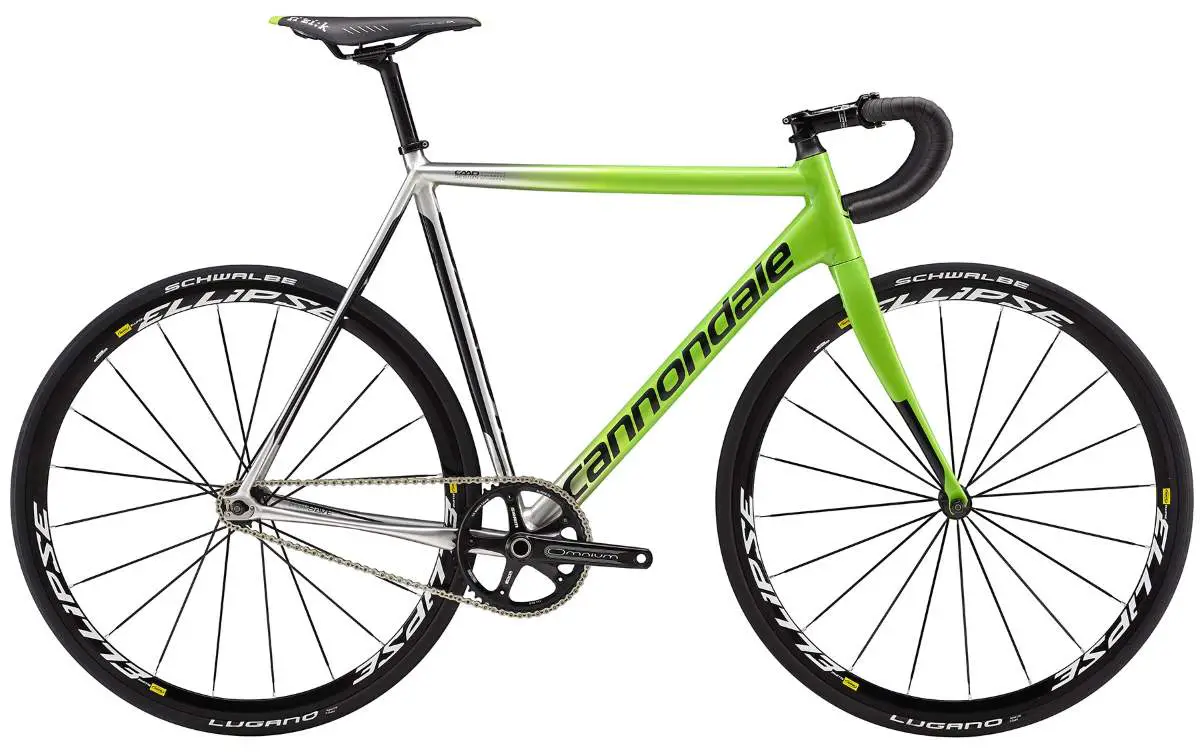 ADVERTISED PRICE $2170 (see notes 1)
Cannondale CAAD10 2015 Track 1 Specifications:
Frame: CAAD10 Track, SmartFormed 6069 Alloy, BB30 w /threaded adapter
Fork: CAAD10 Track Carbon w/Alloy Drop Outs, 45mm Rake, 1-1/8" to 1-1/4" tapered steerer
Crank: SRAM Omnium, 48T
Crank Option 1: N/A
Bottom Bracket: SRAM BSA
Shifters: N/A
Cog Set: Shimano Dura-Ace Track, 16T, 1/8"
Chain: SRAM PC-1, 1/8"
Front Derailleur: N/A
Rear Derailleur: N/A
Rims: Mavic Ellipse Track
Hubs: Mavic Ellipse Track
Tires: Schwalbe Lugano, 700x25c, folding
Pedals: N/A
Brakes: N/A
Handlebar: Cannondale C2 Classic, 2014 Alloy, Shallow Drop
Stem: Cannondale C2, 6061 Alloy, 31.8, 6 deg.
Headset: CAAD10, 1-1/4" lower bearing, 25mm carbon top cap
Brake Levers: N/A
Spokes: Mavic Ellipse Track
Grips: Cannondale Bar Tape w/Gel, 2.5mm
Saddle: Fizike Arione CX, Mg Rails
Seat Post: Cannondale C1 Ultralight, 2014 Alloy, 27.2x300mm
Rear Shock: N/A
Notes
All the prices are taken from Cannondale's website. For all the models and prices visit cannondale.com
Latest posts by M. Özgür Nevres
(see all)