Cannondale has revealed its 2015 model road bike series. Like the previous year, there are 3 elite road models (Carbon SuperSix EVO, aluminum CAAD10, and CAAD8) and 2 endurance road models (Synapse Carbon and Synapse). Cannondale SuperSix EVO 2015 is the admiral ship of the American bike manufacturer.
Price ranges of SuperSix EVO 2015 carbon series from $2270 for a Shimano 105 model to $4870 for the Ultegra Di2 machine. Bikes with High Modulus frames are starting from $5420 with mechanical Shimano Dura-Ace, up to $9210 Team Edition (equipped with SRAM Red). The high-end model is the SuperSix EVO Black Inc at $11920.
Cannondale SuperSix EVO 2015 builds
Black Inc.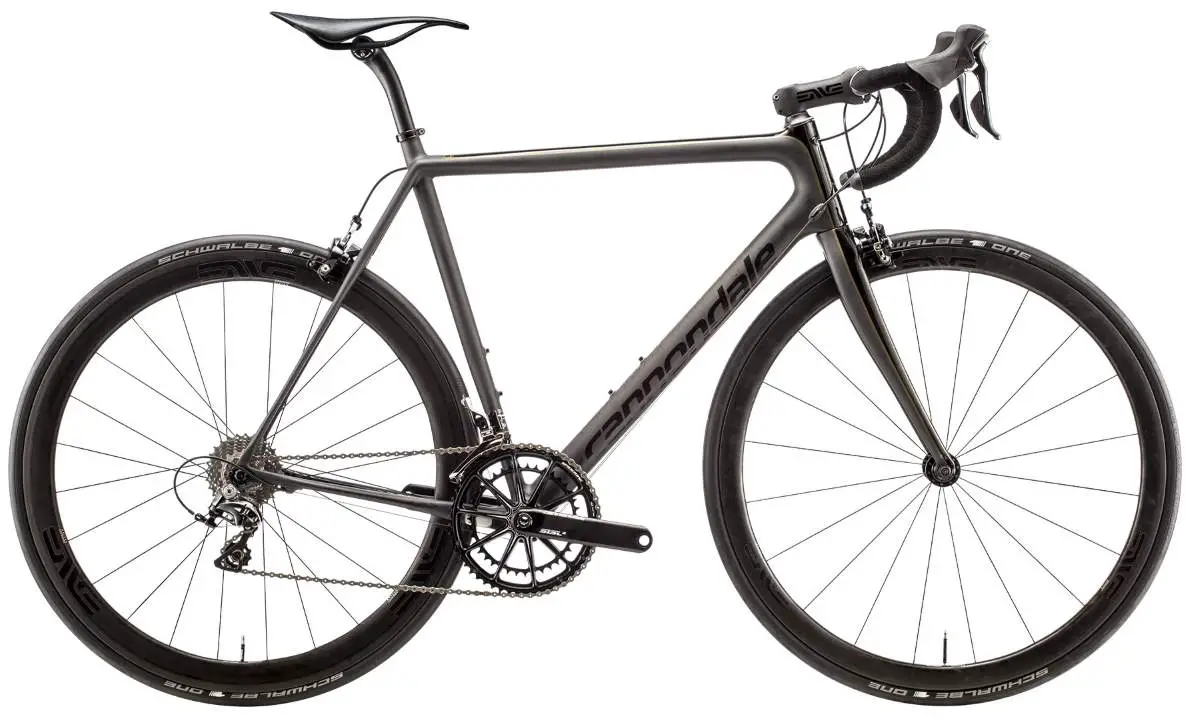 ADVERTISED PRICE $11920 (see notes 1)
Cannondale SuperSix EVO 2015 Black Inc Specifications:
Frame: SuperSix EVO, BallisTec NANO Carbon, SPEED SAVE, PressFit BB30
Fork: SuperSix EVO, Speed SAVE, BallisTec NANO Carbon, 1-1/8" to 1-1/4" steerer
Crank: Cannondale HollowGram SiSL2, BB30, w/ OPI SpideRing, 53/39 (Compact 50/34 Included)
Crank Option 1: N/A
Bottom Bracket: Cannondale Alloy PressFit30
Shifters: Shimano Dura-Ace 9000
Cog Set: Shimano Dura-Ace 9000, 11-28, 11-speed
Chain: Shimano HG900, 11-speed
Front Derailleur: Shimano Dura-Ace 9000, braze-on
Rear Derailleur: Shimano Dura-Ace 9000
Rims: Enve Smart 3.4 Clincher, 20h front, 24h rear
Hubs: Chris King R45, 20h front, 24h rear
Tires: Schwalbe ONE, 700x25c, folding
Pedals: N/A
Brakes: Shimano Dura-Ace 9000
Handlebar: Enve Carbon Road Compact, 31.8mm
Stem: Enve Carbon Road, 31.8, 6 deg.
Headset: SuperSix EVO, 1-1/4" lower bearing, 25mm carbon top cap, 5mm hidden top cap
Brake Levers: Shimano Dura-Ace 9000
Spokes: DT Swiss Aerolite
Grips: Fabric ALM Buffalo Leather Bar Tape
Saddle: Fabric ALM Carbon, Buffalo Leather
Seat Post: Enve Carbon Road 27.2x350mm
Rear Shock: N/A
Extras: Includes both standard 53/39 and compact 50/34 SpideRing chainring sets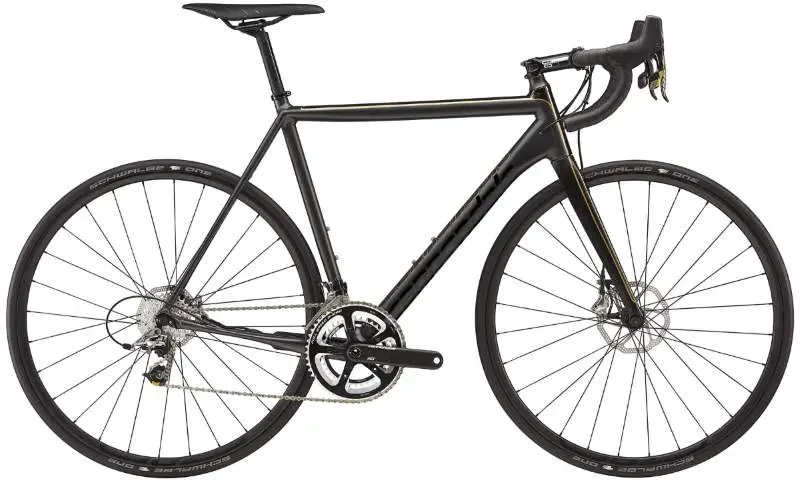 Hi-MOD Team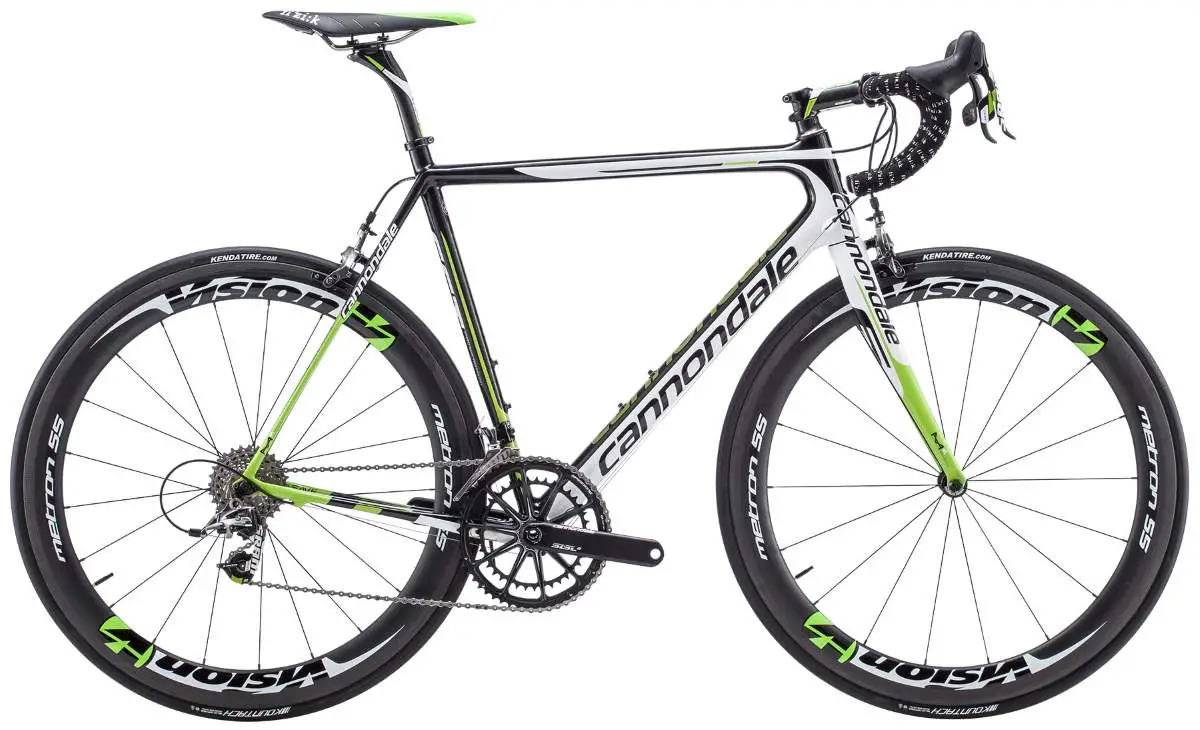 ADVERTISED PRICE $9210 (see notes 1)
Cannondale SuperSix EVO 2015 Hi-MOD Team Specifications:
Frame: SuperSix EVO, BallisTec Hi-MOD Carbon, SPEED SAVE, PressFit BB30
Fork: SuperSix EVO, SPEED SAVE, BallisTec Hi-MOD full Carbon, 1-1/8" to 1-1/4" steerer
Crank: Cannondale HollowGram SiSL2, BB30, w/ OPI SpideRing, 53/39 (Compact 50/34 Included)
Crank Option 1: N/A
Bottom Bracket: Cannondale Alloy PressFit30
Shifters: SRAM RED 22 Doubletap
Cog Set: SRAM XG-1190, 11-28, 11-speed
Chain: SRAM PC-1190R, 11-speed
Front Derailleur: SRAM RED 22 Yaw, braze-on
Rear Derailleur: SRAM RED 22
Rims: Vision Metron 55 carbon clincher
Hubs: Vision Metron
Tires: Kenda Kountach, 700x25c, folding
Pedals: N/A
Brakes: SRAM RED
Handlebar: FSA K-Force Carbon Nano
Stem: FSA OS-98 CSI , 31.8, 6 deg.
Headset: SuperSix EVO, 1-1/4" lower bearing, 25mm carbon top cap, 5mm hidden top cap
Brake Levers: SRAM RED
Spokes: Vision Metron
Grips: Fi'zi:k MicroTex Bar Tape
Saddle: Fi'zi:k Arione, Braided Carbon Rails
Seat Post: FSA K-Force Carbon, 27.2x350mm
Rear Shock: N/A
Extras: Includes both standard 53/39 and compact 50/34 SpideRing chainring sets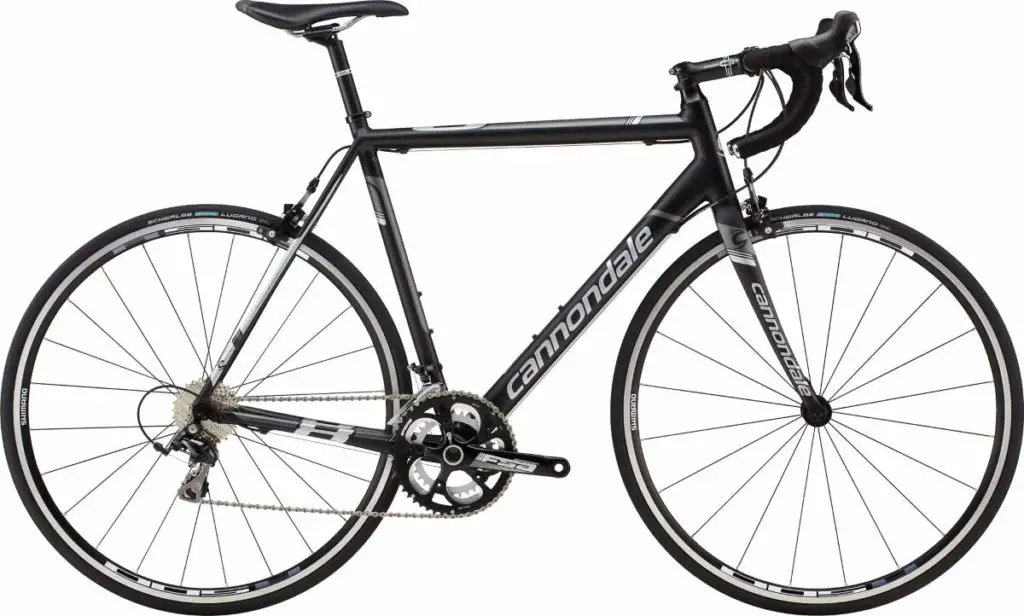 Hi-MOD Dura-Ace Di2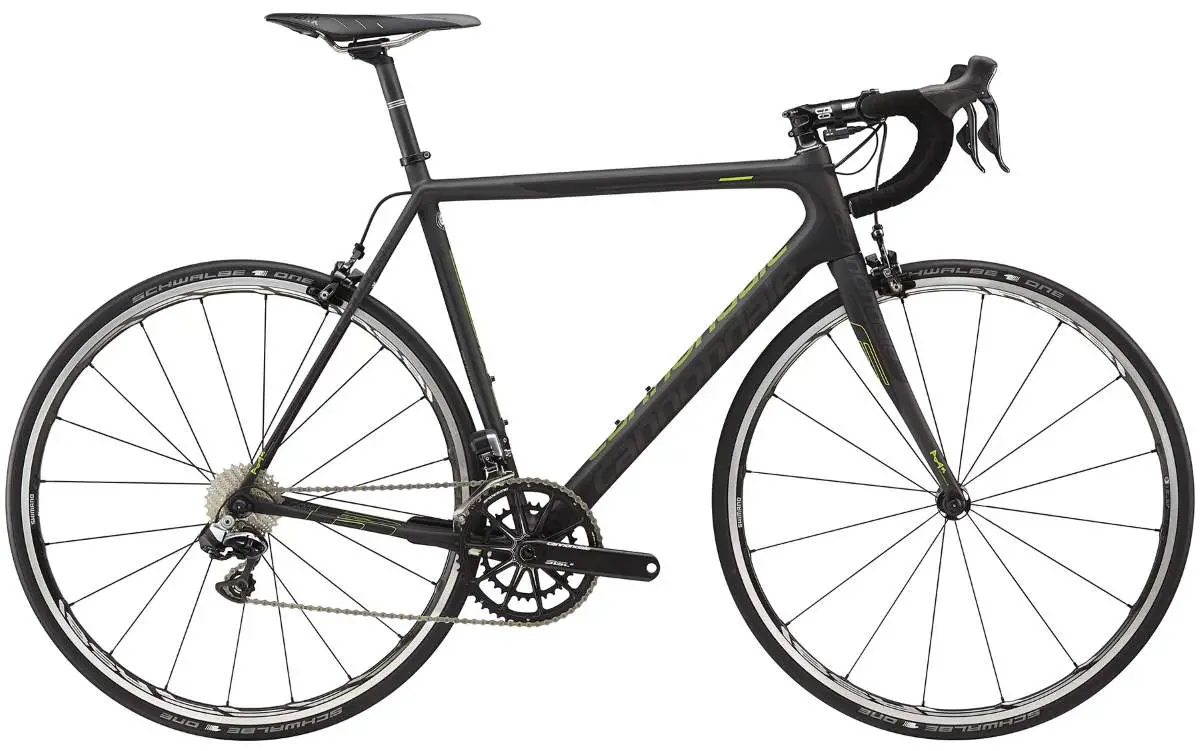 ADVERTISED PRICE $8120 (see notes 1)
Cannondale SuperSix EVO 2015 Hi-MOD Dura-Ace Di2 Specifications:
Frame: SuperSix EVO, BallisTec Hi-MOD Carbon, DI2 Specific, SPEED SAVE, PressFit BB30
Fork: SuperSix EVO, SPEED SAVE, BallisTec Hi-MOD full Carbon, 1-1/8" to 1-1/4" steerer
Crank: Cannondale HollowGram SiSL2, BB30, w/ OPI SpideRing, 53/39 (Compact 50/34 Included)
Crank Option 1: N/A
Bottom Bracket: Cannondale Alloy PressFit30
Shifters: Shimano Dura-Ace Di2 9070
Cog Set: Shimano Ultegra 6800, 11-28, 11-speed
Chain: Shimano HG700, 11-speed
Front Derailleur: Shimano Dura Ace Di2 9070, braze-on
Rear Derailleur: Shimano Dura Ace Di2 9070
Rims: Shimano RS81 C24
Hubs: Shimano RS81 C24
Tires: Schwalbe ONE, 700x25c, folding
Pedals: N/A
Brakes: Shimano Dura-Ace 9000
Handlebar: Cannondale C1 Ultralight, 2014 Alloy, Compact
Stem: Cannondale C1 Ultralight, 2014 Alloy, 31.8, 6 deg.
Headset: SuperSix EVO, 1-1/4" lower bearing, 25mm carbon top cap, 5mm hidden top cap
Brake Levers: Shimano Di2 9070
Spokes: Shimano RS81 C24
Grips: Fi'zi:k MicroTex Bar Tape
Saddle: Fi'zi:k Arione, K:ium Rails
Seat Post: Cannondale C2 Carbon, Di2 Battery, 27.2x350mm
Rear Shock: N/A
Extras: Includes both standard 53/39 and compact 50/34 SpideRing chainring sets, Di2 Seatpost Battery, Di2 charger
Hi-MOD Dura-Ace
ADVERTISED PRICE $5420 (see notes 1)
Cannondale SuperSix EVO 2015 Hi-MOD Dura-Ace Specifications:
Frame: SuperSix EVO, BallisTec Hi-MOD Carbon, SPEED SAVE, PressFit BB30
Fork: SuperSix EVO, SPEED SAVE, BallisTec Hi-MOD full Carbon, 1-1/8" to 1-1/4" steerer
Crank: Cannondale HollowGram Si, BB30, FSA Chainrings, 52/36
Crank Option 1: N/A
Bottom Bracket: Cannondale Alloy PressFit30
Shifters: Shimano Dura-Ace 9000
Cog Set: Shimano Ultegra 6800, 11-28, 11-speed
Chain: Shimano HG700, 11-speed
Front Derailleur: Shimano Dura Ace 9000
Rear Derailleur: Shimano Dura Ace 9000
Rims: Shimano RS81 C24
Hubs: Shimano RS81 C24
Tires: Schwalbe ONE, 700x25c, folding
Pedals: N/A
Brakes: Shimano Dura-Ace 9000
Handlebar: Cannondale C1 Ultralight, 2014 Alloy, Compact
Stem: Cannondale C1 Ultralight, 2014 Alloy, 31.8, 6 deg.
Headset: SuperSix EVO, 1-1/4" lower bearing, 25mm carbon top cap, 5mm hidden top cap
Brake Levers: Shimano Dura-Ace 9000
Spokes: Shimano RS81 C24
Grips: Fi'zi:k MicroTex Bar Tape
Saddle: Fi'zi:k Arione, w/ Mg Rails
Seat Post: Cannondale C1 Ultralight, 2014 Alloy, 27.2x300mm
Rear Shock: N/A
Carbon Ultegra Di2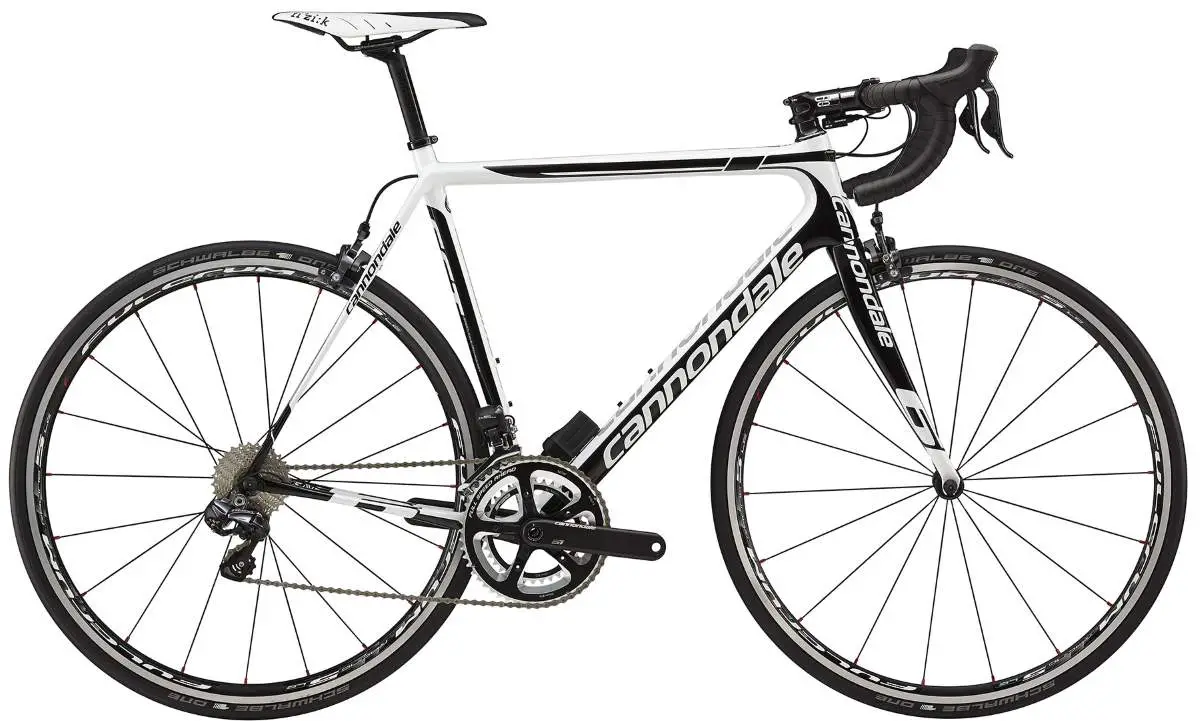 ADVERTISED PRICE $4870 (see notes 1)
Cannondale SuperSix EVO 2015 Hi-MOD Ultegra Di2 Specifications:
Frame: SuperSix EVO, BallisTec Carbon, Di2 Specific, SPEED SAVE, PressFit BB30
Fork: SuperSix EVO, BallisTec Carbon, SPEED SAVE, 1-1/8" to 1-1/4" steerer
Crank: Cannondale HollowGram Si, BB30, FSA Chainrings, 52/36
Crank Option 1: N/A
Bottom Bracket: Cannondale Alloy PressFit30
Shifters: Shimano Ultegra Di2 6870
Cog Set: Shimano Ultegra 6800, 11-28, 11-speed
Chain: Shimano HG700, 11-speed
Front Derailleur: Shimano Ultegra Di2 6870, braze-on
Rear Derailleur: Shimano Ultegra Di2 6870
Rims: Fulcrum Racing 5
Hubs: Fulcrum Racing 5
Tires: Schwalbe ONE, 700x25c, folding
Pedals: N/A
Brakes: Shimano Ultegra 6800
Handlebar: Cannondale C1 Ultralight, 2014 Alloy, Compact
Stem: Cannondale C1 Ultralight, 2014 Alloy, 31.8, 6 deg.
Headset: SuperSix EVO, 1-1/4" lower bearing, 25mm carbon top cap, 5mm hidden top cap
Brake Levers: Shimano Ultegra Di2 6870
Spokes: Fulcrum Racing 5
Grips: Fi'zi:k MicroTex Bar Tape
Saddle: Fi'zi:k Arione, w/ Mg Rails
Seat Post: Cannondale C1 Ultralight, 2014 Alloy, 27.2x300mm
Rear Shock: N/A
Extras: Di2 charger
Carbon SRAM RED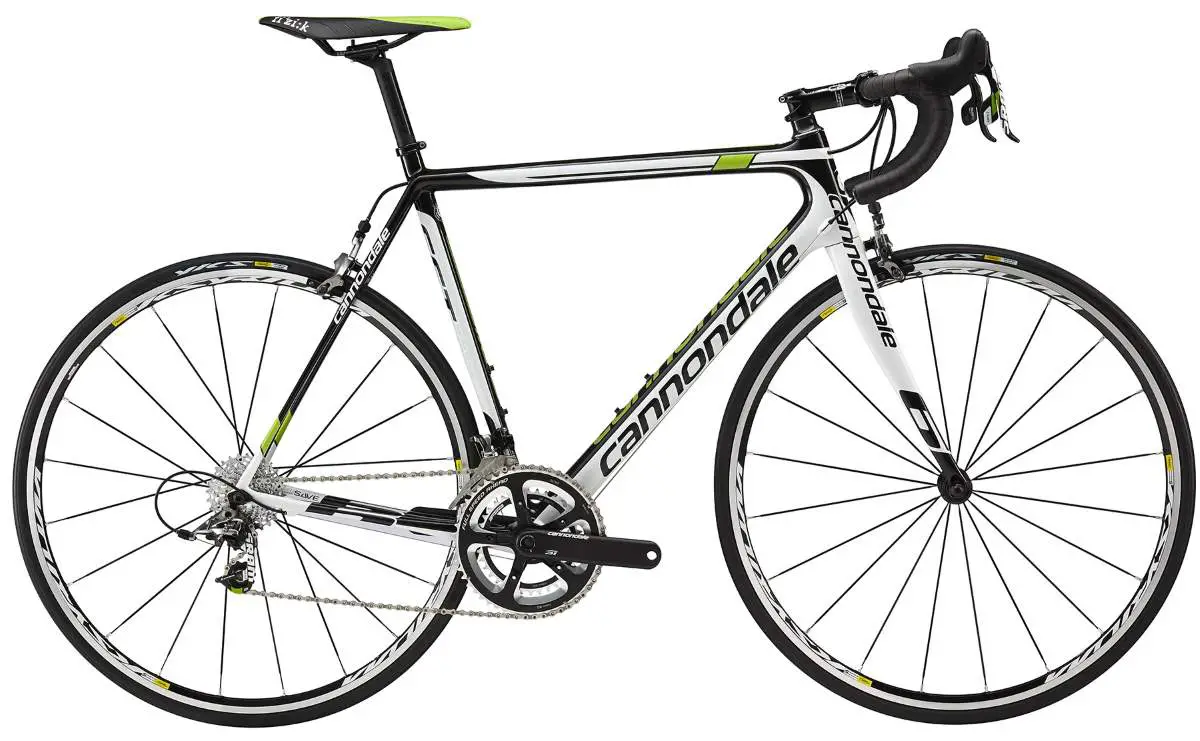 ADVERTISED PRICE $4440 (see notes 1)
Cannondale SuperSix EVO 2015 Carbon RED Specifications:
Frame: SuperSix EVO, BallisTec Carbon, SPEED SAVE, PressFit BB30
Fork: SuperSix EVO, BallisTec Carbon, SPEED SAVE, 1-1/8" to 1-1/4" steerer
Crank: Cannondale HollowGram Si, BB30, FSA Chainrings, 52/36
Crank Option 1: N/A
Bottom Bracket: Cannondale Alloy PressFit30
Shifters: SRAM RED 22
Cog Set: SRAM PG-1170, 11-28, 11-speed
Chain: SRAM PC-1170, 11-speed
Front Derailleur: SRAM RED 22 Yaw, braze-on
Rear Derailleur: SRAM RED 22
Rims: Mavic Ksyrium Equipe S WTS
Hubs: Mavic Ksyrium Equipe S
Tires: Mavic Yksion Comp WTS, 700x25c, folding
Pedals: N/A
Brakes: SRAM RED
Handlebar: Cannondale C2, 2014 Alloy, Compact
Stem: Cannondale C2, 6061 Alloy, 31.8, 6 deg.
Headset: SuperSix EVO, 1-1/4" lower bearing, 25mm carbon top cap, 5mm hidden top cap
Brake Levers: SRAM RED
Spokes: Mavic Ksyrium Equipe S
Grips: Cannondale Bar Tape w/Gel, 2.5mm
Saddle: Fi'zi:k Arione, w/ Mg Rails
Seat Post: Cannondale C1 Ultralight, 2014 Alloy, 27.2x300mm
Rear Shock: N/A
Carbon Force, Racing Edition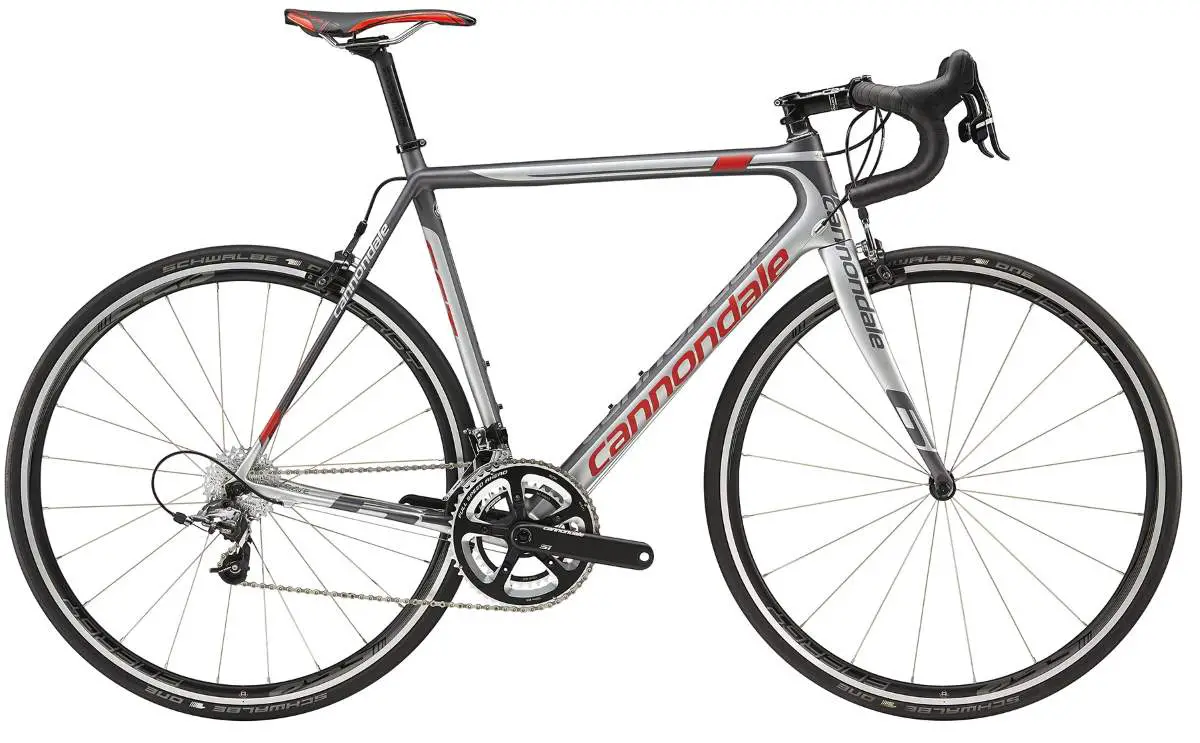 ADVERTISED PRICE $3790 (see notes 1)
Cannondale SuperSix EVO 2015 Carbon Force, Racing Edition Specifications:
Frame: SuperSix EVO, BallisTec Carbon, SPEED SAVE, PressFit BB30
Fork: SuperSix EVO, BallisTec Carbon, SPEED SAVE, 1-1/8" to 1-1/4" steerer
Crank: Cannondale HollowGram Si, BB30, FSA Chainrings, 52/36
Crank Option 1: N/A
Bottom Bracket: Cannondale Alloy PressFit30
Shifters: SRAM Force 22
Cog Set: SRAM PG-1170, 11-28, 11-speed
Chain: SRAM PC-1170, 11-speed
Front Derailleur: SRAM Force 22 Yaw, braze-on
Rear Derailleur: SRAM Force 22
Rims: FSA Energy 20h front, 24h rear
Hubs: FSA Energy 20h front, 24h rear
Tires: Schwalbe ONE, 700x25c, folding
Pedals: N/A
Brakes: SRAM Force 22
Handlebar: Cannondale C2 Classic, 2014 Alloy, Shallow Drop
Stem: Cannondale C2, 6061 Alloy, 31.8, 6 deg.
Headset: SuperSix EVO, 1-1/4" lower bearing, 25mm top cap
Brake Levers: SRAM Force 22
Spokes: FSA Energy 20h front, 24h rear
Grips: Cannondale Bar Tape w/Gel, 2.5mm
Saddle: Prologo Nago Evo T2.0
Seat Post: Cannondale C1 Ultralight, 2014 Alloy, 27.2x300mm
Rear Shock: N/A
Carbon Ultegra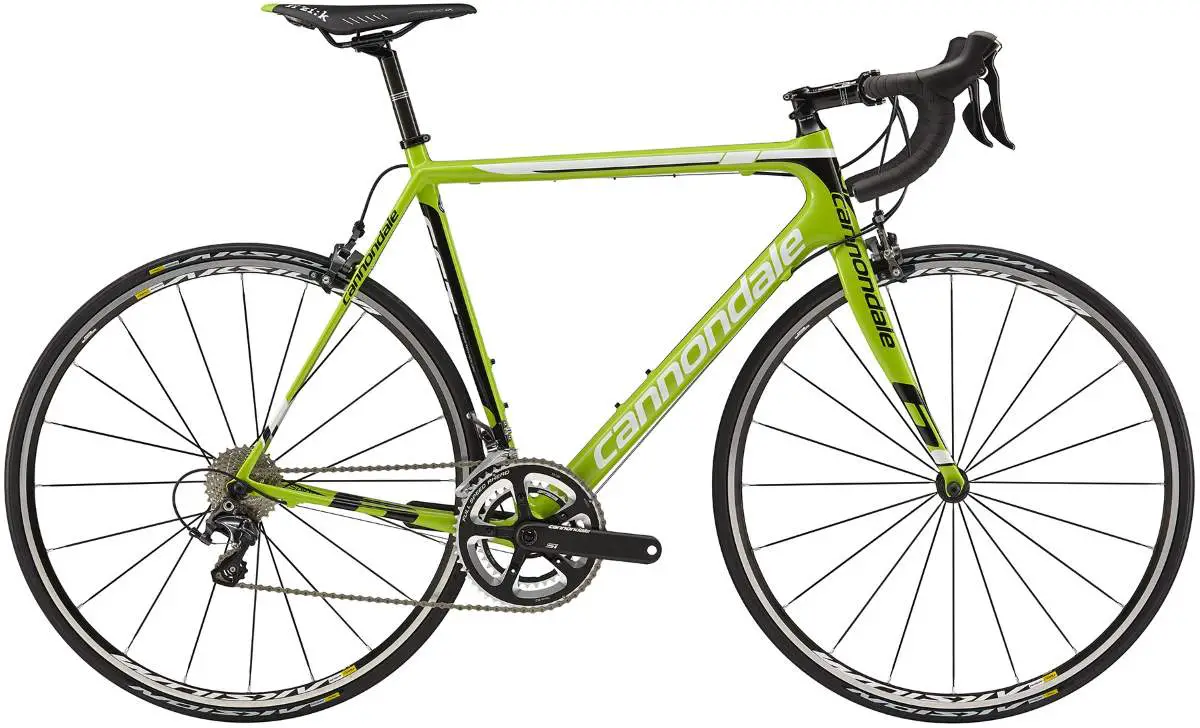 ADVERTISED PRICE $3250 (see notes 1)
Cannondale SuperSix EVO 2015 Carbon Ultegra Specifications:
Frame: SuperSix EVO, BallisTec Carbon, SPEED SAVE, PressFit BB30
Fork: SuperSix EVO, BallisTec Carbon, SPEED SAVE, 1-1/8" to 1-1/4" steerer
Crank: Cannondale HollowGram Si, BB30, FSA Chainrings, 52/36
Crank Option 1: N/A
Bottom Bracket: Cannondale Alloy PressFit30
Shifters: Shimano Ultegra 6800
Cog Set: Shimano Ultegra 6800, 11-28, 11-speed
Chain: Shimano HG700, 11-speed
Front Derailleur: Shimano Ultegra 6800, braze-on
Rear Derailleur: Shimano Ultegra 6800
Rims: Mavic Aksium S WTS
Hubs: Mavic Aksium S WTS
Tires: Mavic Aksion, 700x25c, folding
Pedals: N/A
Brakes: Shimano Ultegra 6800
Handlebar: Cannondale C2, 2014 Alloy, Compact
Stem: Cannondale C2, 6061 Alloy, 31.8, 6 deg.
Headset: SuperSix EVO, 1-1/4" lower bearing, 25mm top cap
Brake Levers: Shimano Ultegra 6800
Spokes: Mavic Aksium S WTS
Grips: Cannondale Bar Tape w/Gel, 2.5mm
Saddle: Fi'zi:k Arione CX, w/ Mg Rails
Seat Post: Cannondale C2, UD Carbon, 27.2x300mm
Rear Shock: N/A
Carbon SRAM Rival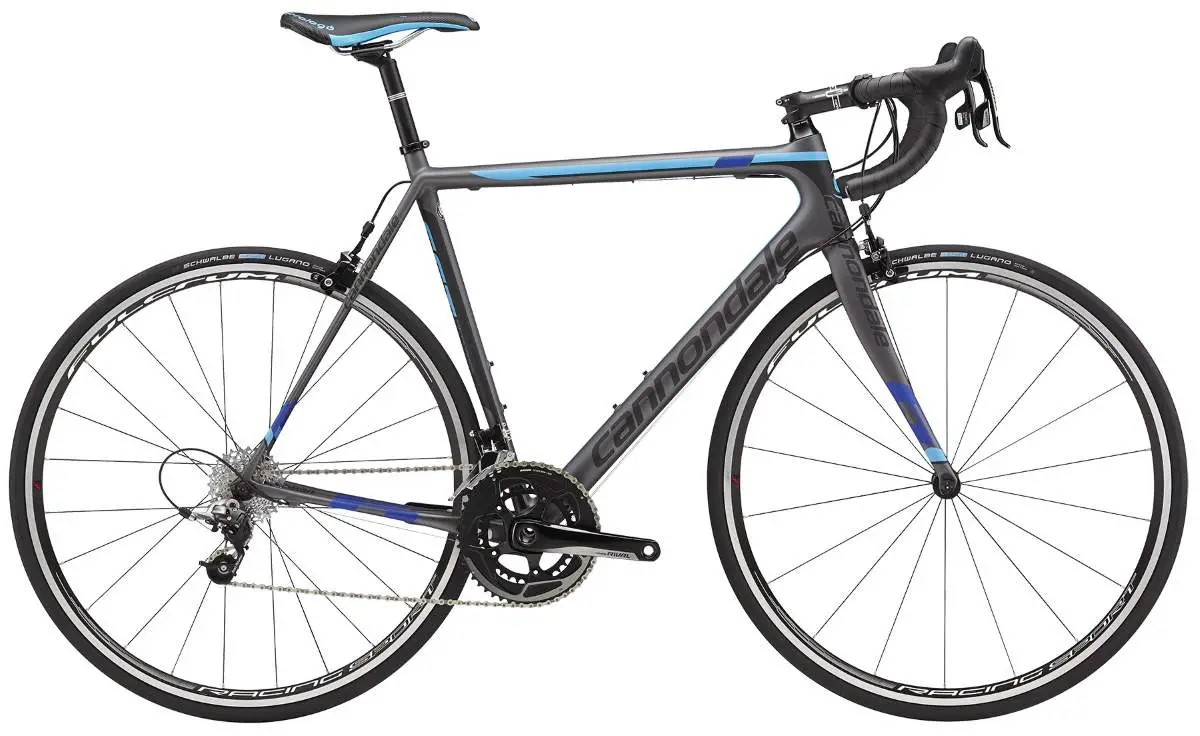 ADVERTISED PRICE $2710 (see notes 1)
Cannondale SuperSix EVO 2015 Rival Specifications:
Frame: SuperSix EVO, BallisTec Carbon, SPEED SAVE, PressFit BB30
Fork: SuperSix EVO, BallisTec Carbon, SPEED SAVE, 1-1/8" to 1-1/4" steerer
Crank: SRAM Rival BB30, 52/36
Crank Option 1: N/A
Bottom Bracket: Cannondale Alloy PressFit30
Shifters: SRAM Rival 22
Cog Set: SRAM PG-1130, 11-28, 11-speed
Chain: SRAM PC-1130, 11-speed
Front Derailleur: SRAM Rival 22 Yaw, braze-on
Rear Derailleur: SRAM Rival 22
Rims: Fulcrum Racing Sport
Hubs: Fulcrum Racing Sport
Tires: Schwalbe Lugano, 700x25c, folding
Pedals: N/A
Brakes: SRAM Rival
Handlebar: Cannondale C3, butted 6061 Alloy, Compact
Stem: Cannondale C2, 6061 Alloy, 31.8, 6 deg.
Headset: SuperSix EVO, 1-1/4" lower bearing, 25mm top cap
Brake Levers: SRAM Rival
Spokes: Fulcrum Racing Sport
Grips: Cannondale Bar Tape w/Gel, 2.5mm
Saddle: Prologo Scratch Pro T2.0
Seat Post: Cannondale C3, 6061 Alloy, 27.2x300mm
Rear Shock: N/A
Carbon 105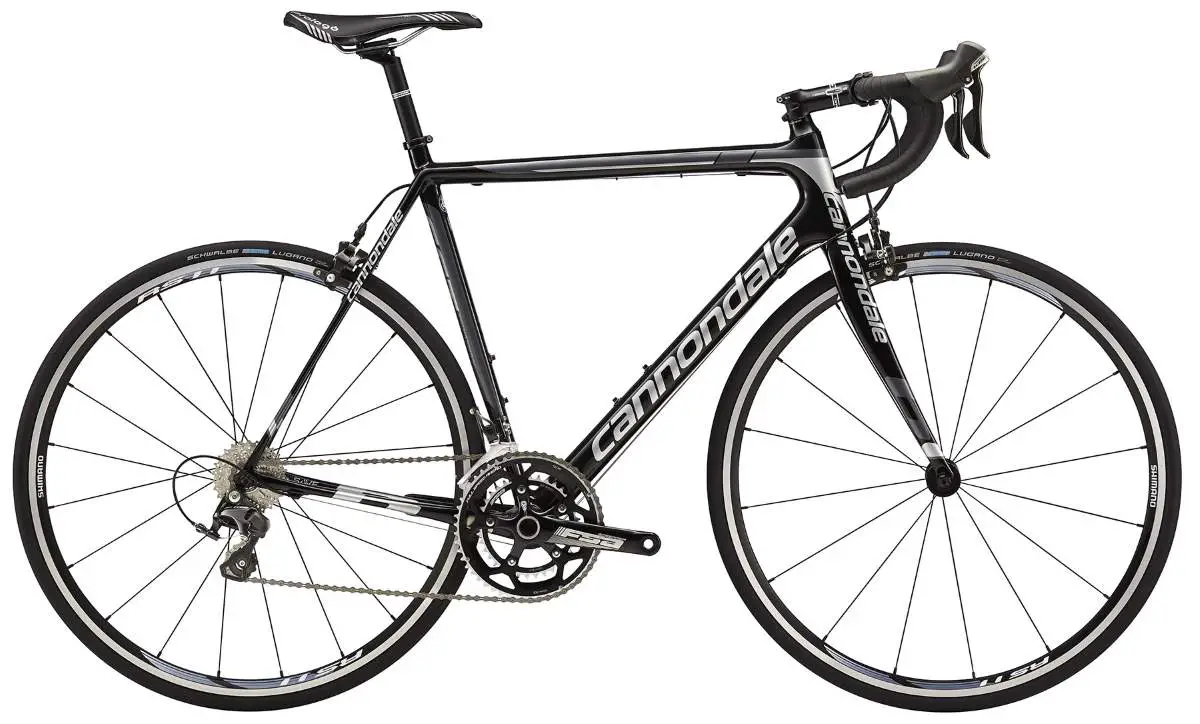 ADVERTISED PRICE $2270 (see notes 1)
Cannondale SuperSix EVO 2015 105 Specifications:
Frame: SuperSix EVO, BallisTec Carbon, SPEED SAVE, PressFit BB30
Fork: SuperSix EVO, BallisTec Carbon, SPEED SAVE, 1-1/8" to 1-1/4" steerer
Crank: FSA Gossamer Pro, BB30, 52/36
Crank Option 1: N/A
Bottom Bracket: Cannondale Alloy PressFit30
Shifters: Shimano 105 5800
Cog Set: Shimano 105 5800, 11-28, 11-speed
Chain: Shimano HG600, 11-speed
Front Derailleur: Shimano 105 5800, braze-on
Rear Derailleur: Shimano 105 5800
Rims: Shimano RS11
Hubs: Shimano RS11
Tires: Schwalbe Lugano, 700x25c, folding
Pedals: N/A
Brakes: Shimano 105 5800
Handlebar: Cannondale C3, butted 6061 Alloy, Compact
Stem: Cannondale C3, 6061 Alloy, 31.8, 6 deg.
Headset: SuperSix EVO, 1-1/4" lower bearing, 25mm top cap
Brake Levers: Shimano 105 5800
Spokes: Shimano RS11
Grips: Cannondale Bar Tape w/Gel, 2.5mm
Saddle: Prologo Scratch Pro T2.0
Seat Post: Cannondale C3, Alloy, 27.2x300mm
Rear Shock: N/A
Notes
All the prices are taken from Cannondale's website. For all the models and prices visit cannondale.com
Latest posts by M. Özgür Nevres
(see all)