Colnago C59 Disc (C for "Colnago", and 59 for 59th anniversary of the Colnago frames) is the first road bike with disc brakes. Personally, I don't think it is necessary for a road bike has disc brakes. But Colnago claims disc brakes are the way of the future, a generational improvement bound to evolve the road racing bicycle.
Colnago found the benefits of disc brakes so compelling, they engineered their top-of-the-line C59 Italia frame to deliver a comprehensive disc brake road platform. C59 is a full hydraulic disc brake specific road bike that using a Formula brake system developed specifically for them.
Colnago did not simply add disc brake tabs to a normal road bike, the C59 Disc is comprehensively designed for disc brakes. Braking forces must be safely distributed through the fork and frame to ensure the highest level of safety. The frame and fork have been reinforced in key areas. Fork dropouts have been reversed to eliminate the possibility of wheel ejection.
The frame is available in both sloping and traditional geometries.
From Colnago's web site:
The frame and fork are fully com­pat­i­ble with stan­dard PM calipers too.
With twin 140mm diam­e­ter discs the frame and fork have also been redesigned in the key areas where the brakes are mounted. The fork is com­pletely new, whilst at the rear of the main frame the chain­stays and the seat­stays are also new, to cope with the increased load­ing that the disc brakes gen­er­ate at their mount­ing points. The C59 Disc is com­pat­i­ble with both elec­tronic and mechan­i­cal groupsets.
Along with the main chas­sis changes, Colnago has also designed their own match­ing wheel sys­tem, the Artemis Disc. These wheels fea­ture disc-specific hubs and full car­bon com­pos­ite wheel rims.
Colnago C59 Disc builds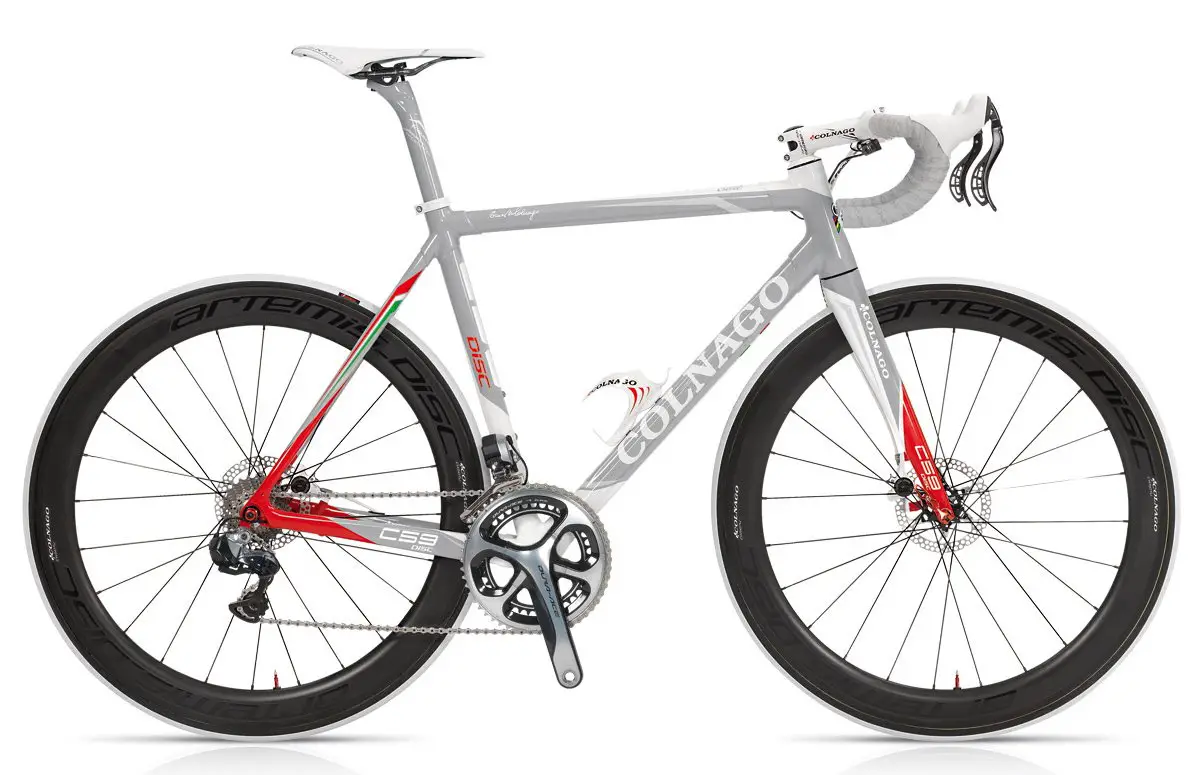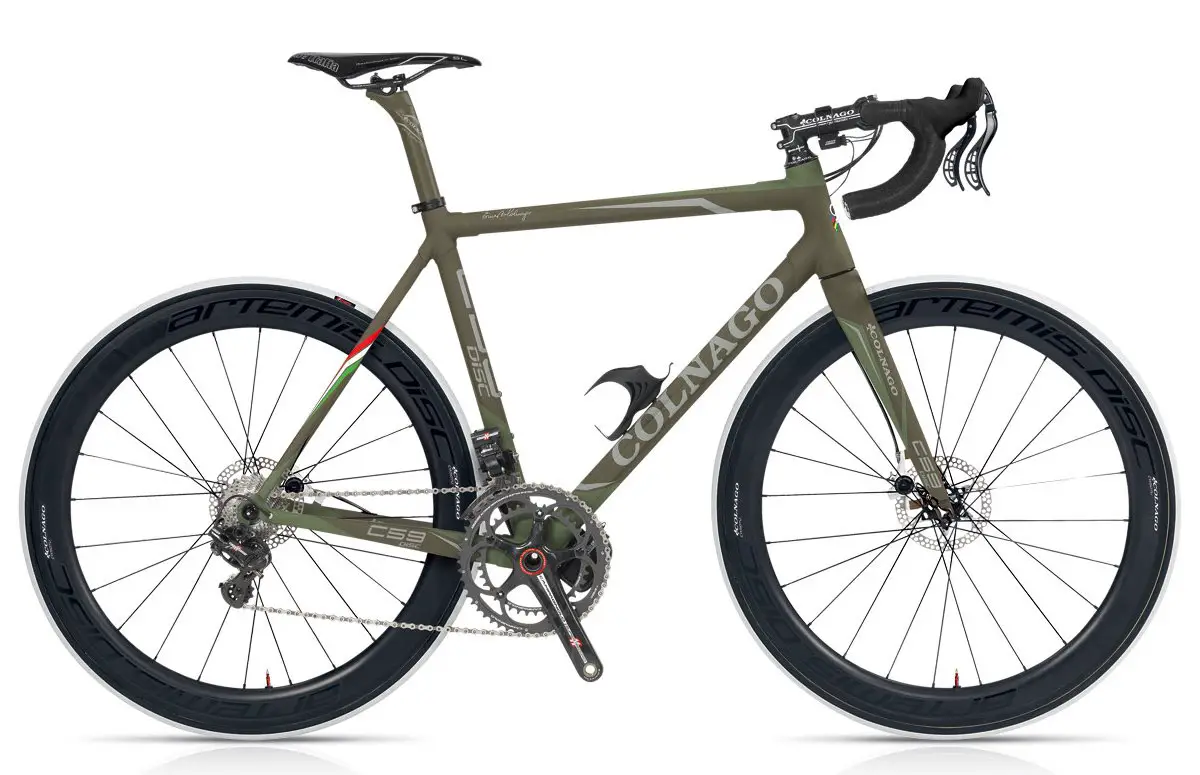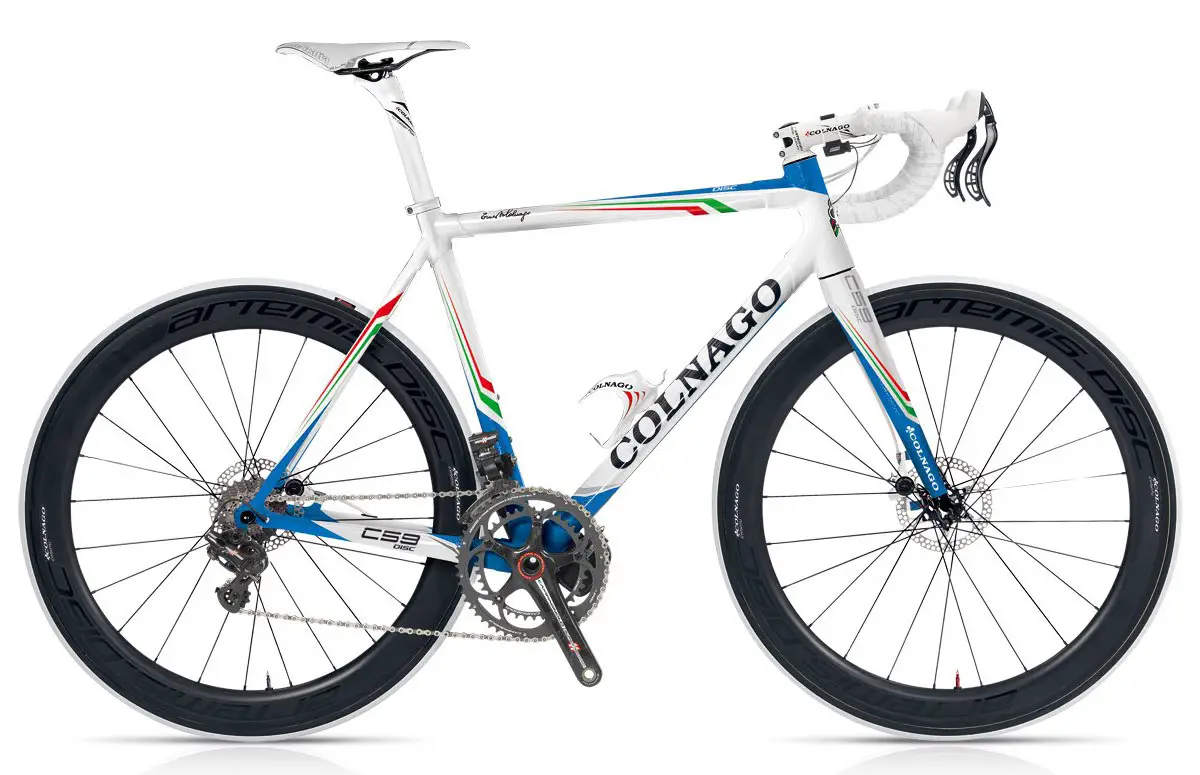 As I said before, I don't think it is necessary a road bike have disc brakes, I even don't find it aesthetic. But according to Colnago, benefits of road disc brakes are:
Improved braking performance – better brake modulation in all conditions
No rim surface damage
No braking track heat to affect tire pressure
Lower rim weight
Lower center of gravity – the bike feels lighter and handles better
Simple, clean aesthetic
"Lower center of gravity", I can only accept this thesis. "Improved braking performance", maybe, but I am afraid that this may cause a chaos and crashes in the peloton.
Frameset Features
Fully handmade in Italy
Available in eight sloping frame sizes 42, 48, 50, 52, 54, 56, and 58cm
Available in fourteen traditional frame sizes 52, 53, 54, 55, 56, 57, 58, 59, 60, 61, 62, 63, 64, and 65 cm
Internal cable routing
Mechanical and Electronic group compatible
Legendary Colnago Master tube shaping
Colnago Q-stay carbon fiber stays
1 1/8″ – 1 1/4″ tapered head tube and steer tube
Colnago Headset System sealed cartridge bearing headset
Colnago 31.6mm carbon seatpost painted to compliment each colorway
Available Colors – Hand Painted in Italy
Maserati Blue (TSMR)
Flat Black/Gloss Black Graphics (Black)
White/Blue/Italian Flag (TSIT)
Fiat Campovolo Grey/Red (TSCV)
White/Glitter Red (TSRD)
White/Black (TSWH)
Nato Green (TSEI)
Team Edition Carbon/White Graphics (12BK)
Team Edition White/Carbon Graphics (12WH)
The bike is coming with 2 years of warranty.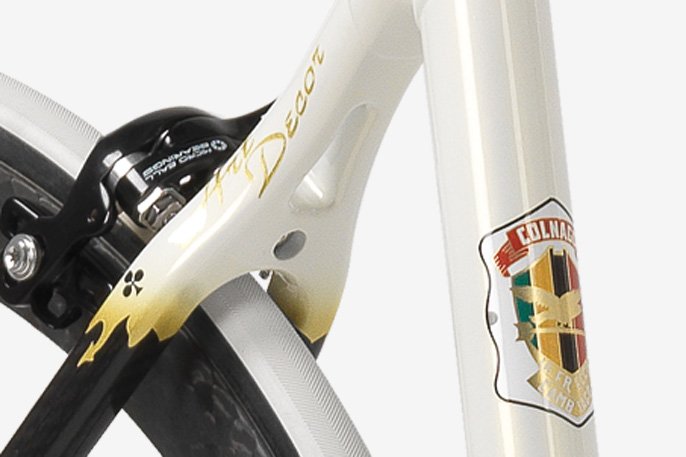 Latest posts by M. Özgür Nevres
(see all)