The first Tour de France was held on in 1903, and the overall winner was Maurice Garin (3 March 1871, Arvier, Aosta Valley, Italy – 19 February 1957, Lens or Haute-Savoie, France). His bicycle, a La Française was the first bike to win the Tour de France.
The first Tour de France was 2,428 km in length, and was containing only 6 stages!
Stage 1: Wednesday, July 1, Paris – Lyon, 467 km
Stage 2: Sunday, July 5, Lyon – Marseille, 374 km
Stage 3: Wednesday, July 8, Marseille – Toulouse, 423 km
Stage 4: Sunday, July 12, Toulouse – Bordeaux, 268 km
Stage 5: Monday, July 13, Bordeaux – Nantes, 425 km
Stage 6: Saturday, July 18, Nantes – Paris, 471 km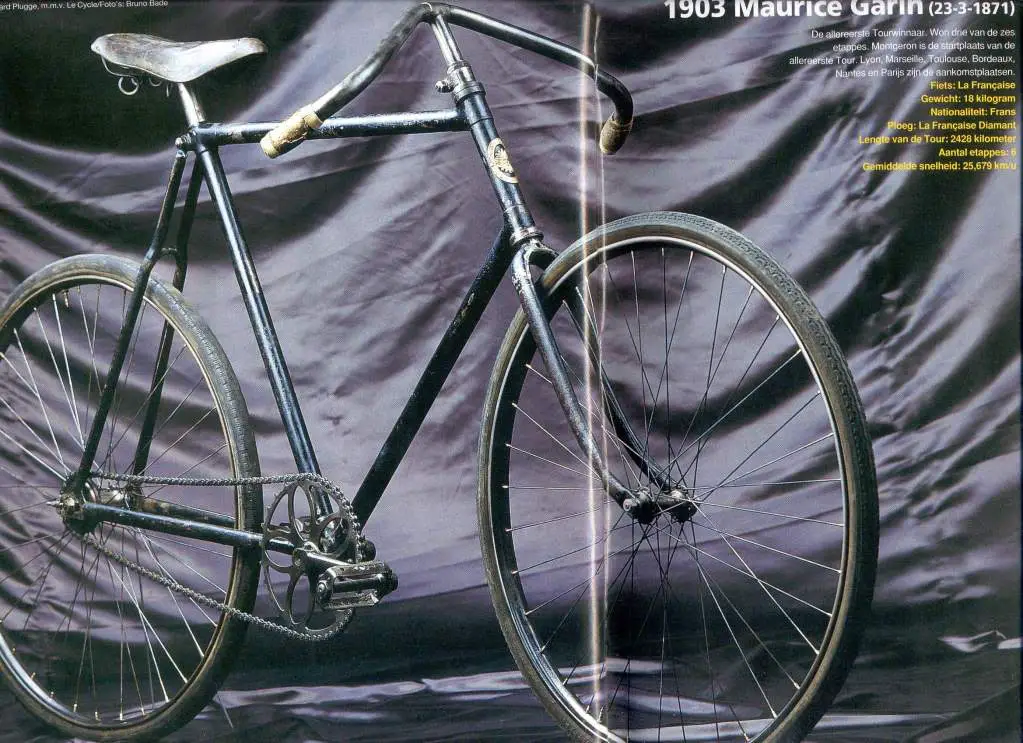 Garin's La Française bike was weighing 18kg (the UCI limit is 6.8kg and all the bikes are around 6.8-7 kg now). Despite the really long stages, a heavy bike with no gears, and the bad roads, Garin's average speed was 25.679 kph. He was riding for the "La Française Diamant" team.
Garin's written notes said:
"The 2,500 km that I've just ridden seem a long line, grey and monotonous, where nothing stood out from anything else. But I suffered on the road; I was hungry, I was thirsty, I was sleepy, I suffered, I cried between Lyon and Marseille, I had the pride of winning other stages, and at the controls, I saw the fine figure of my friend Delattre, who had prepared my sustenance, but I repeat, nothing strikes me particularly."
"But wait! I'm completely wrong when I say that nothing strikes me, I'm confusing things or explaining myself badly. I must say that one single thing struck me, that a single thing sticks in my memory: I see myself, from the start of the Tour de France, like a bull pierced by banderillas, who pulls the banderillas with him, never able to rid himself of them."
Sources
Latest posts by M. Özgür Nevres
(see all)