Giro d'Italia 2014 stage 19 is a 26.85 km uphill individual time trial up to Cima Grappa.
Giro d'Italia 2014 stage 19 quick info
DATE: May 30, 2014, Friday
STAGE TYPE: Individual Time Trial (uphill)
START-FINISH: Bassano del Grappa (123m) > Cima Grappa (1712m)
LENGTH OF THE COURSE: 26.85 km
DIFFICULTY: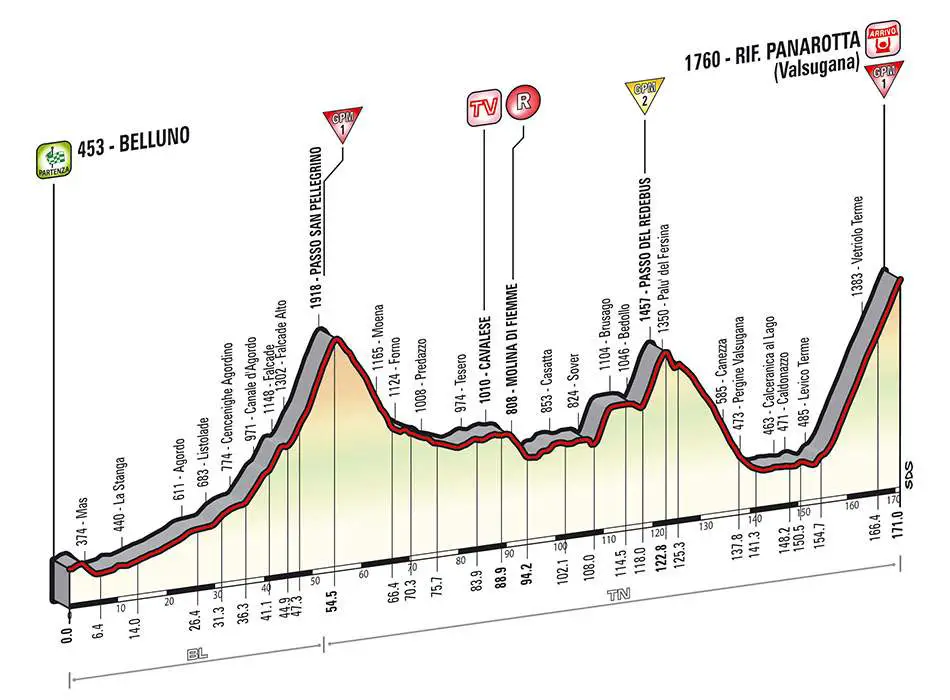 Giro d'Italia 2014 stage 19 profile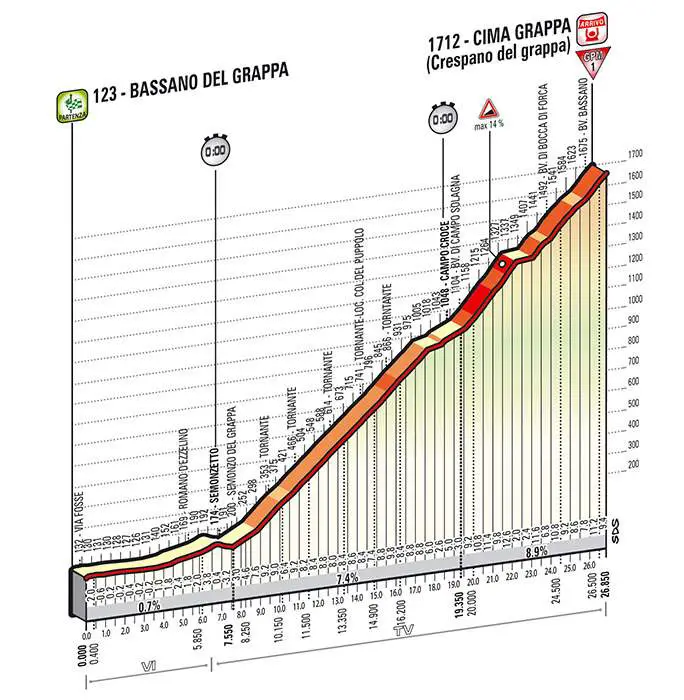 Climb Details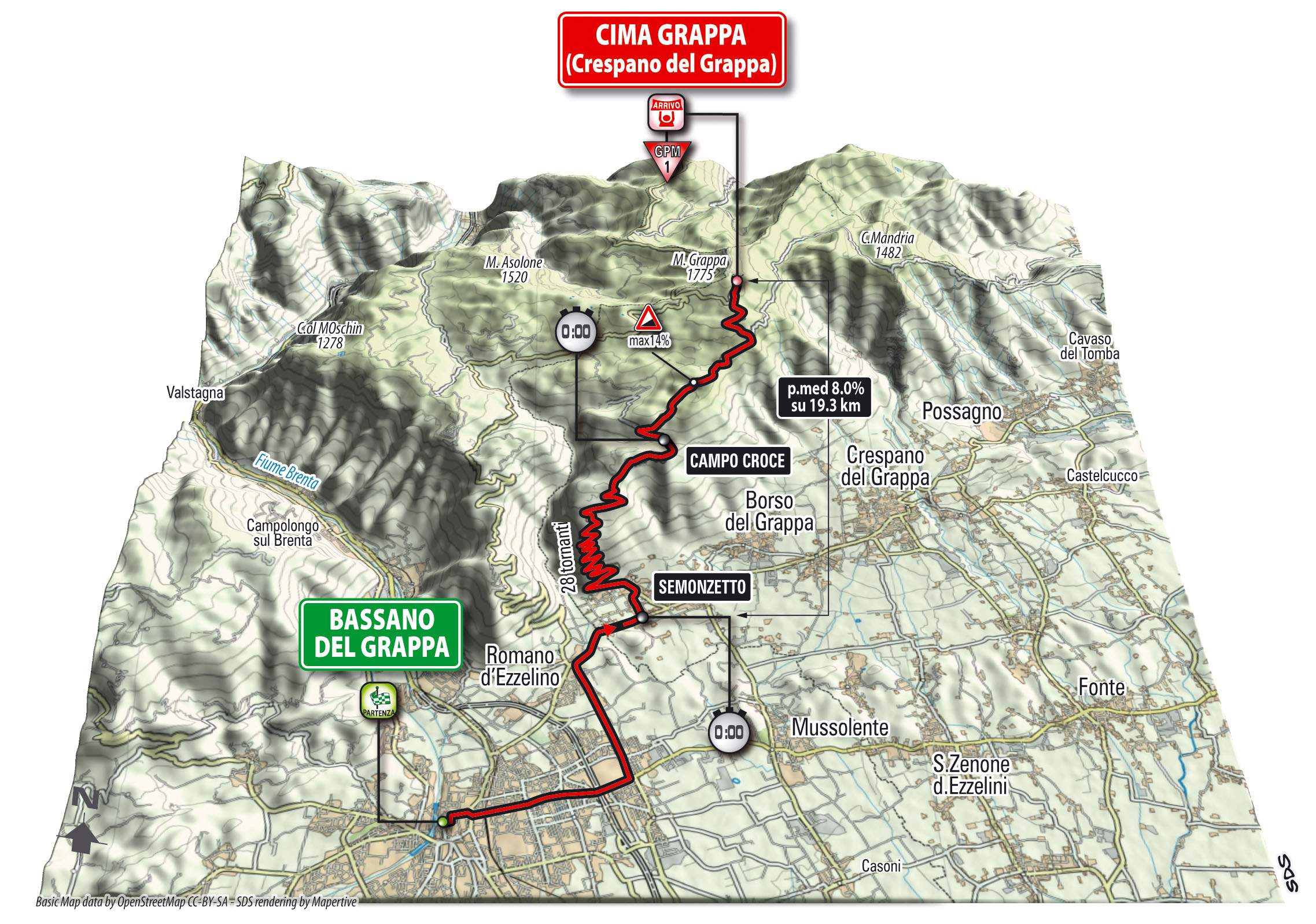 Last kilometers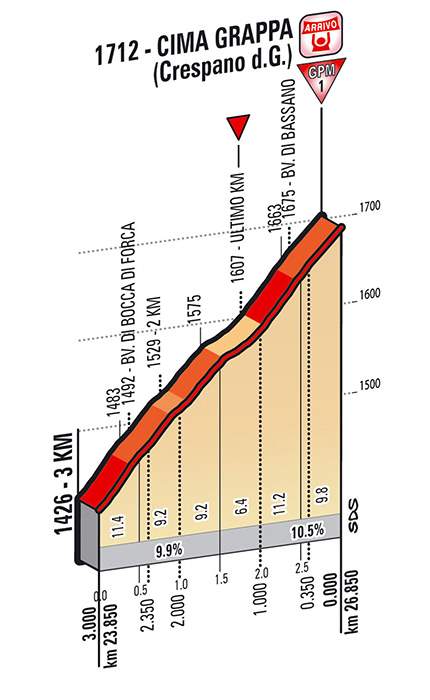 Giro d'Italia 2014 stage 19 map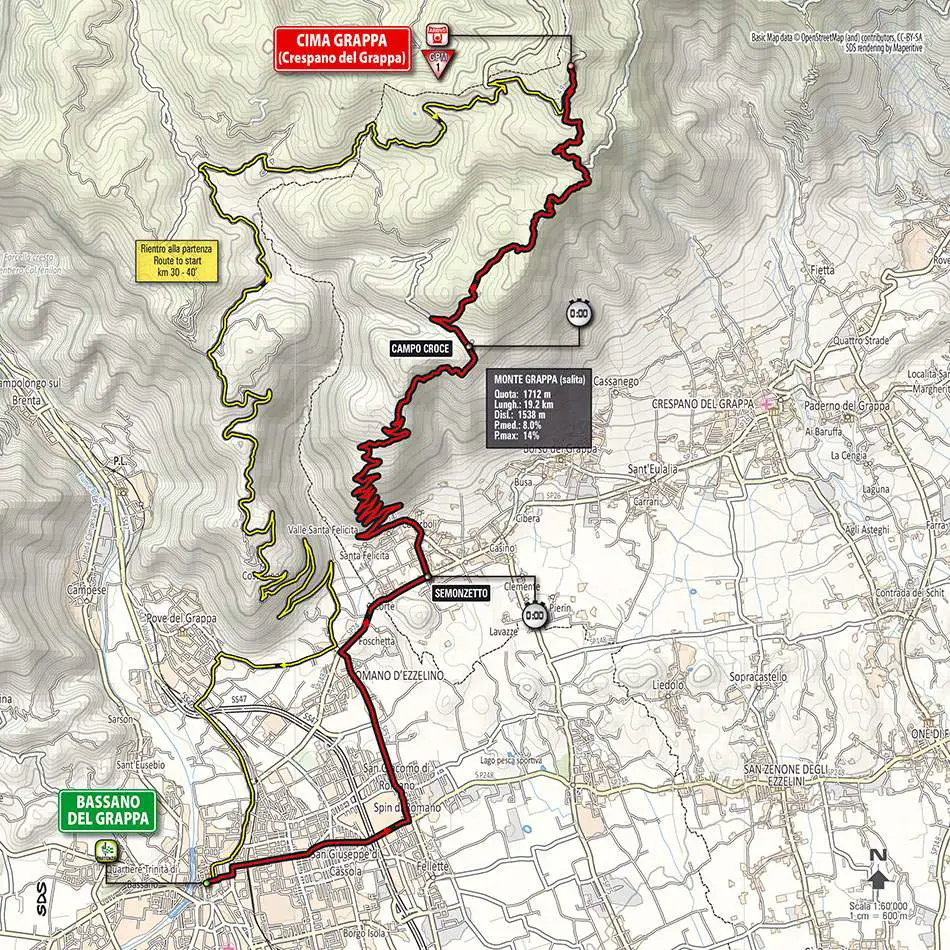 Giro d'Italia 2014 stage 19 start: Bassano del Grappa
Bassano del Grappa is a city and comune in the region Veneto, in northern Italy. It bounds the communes of Cassola, Marostica, Solagna, Pove del Grappa, Romano d'Ezzelino, Campolongo sul Brenta, Conco, Rosà, Cartigliano, and Nove. Some neighborhoods of these communes have become in practice a part of the urban area of Bassano so that the population of the whole urban area is higher than the population of Bassano proper.
The Italian painter Jacopo Bassano (c. 1510 – 14 February 1592) was born, worked, and died in Bassano and took it as his surname. Bassano Del Grappa is also famous for inventing the spirit Grappa, traditionally an after-dinner drink made from pomace (discarded grape seeds, stalks, and stems).
Main sights of Bassano del Grappa
The Cathedral (Duomo), built around the year 1000 but renovated in 1417. It has works by Leandro da Bassano, Ottavio Marinali and others
The Castello Superiore (Upper Castle)
The church of St. John the Baptist, built in the 14th century and restored in the 18th century.
The church of St. Francis, with a Crucifix by Guariento (14th century) and remains of contemporary frescoes. Next to the church is the Town Museum, with ancient archaeological remains, works by Antonio Canova and the Tiepolos, and drawings by Gian Lorenzo Bernini, Spagnoletto, Albrecht Dürer and Rembrandt
The wooden covered Bridge, or Ponte degli Alpini, on the Brenta River, designed in 1569 by the architect Andrea Palladio to replace a pre-existing construction existing at least from 1209. The bridge was destroyed in 1748, and was rebuilt three years later. The Nardini tavern on the bridge, unchanged since 1779.
Palazzo Michieli-Bonato', with a façade frescoed by Jacopo da Bassano.
The Palazzo del Municipio (Town Hall), erected from 1404. It has a noteworthy loggia and a fresco attributed to Jacopo da Bassano.
The Monte di Pietà, a Renaissance edifice with 15th century coats of arms.
The Palazzo Sturm, home to the Ceramics Museum
Giro d'Italia 2014 stage 19 finish: Cima Grappa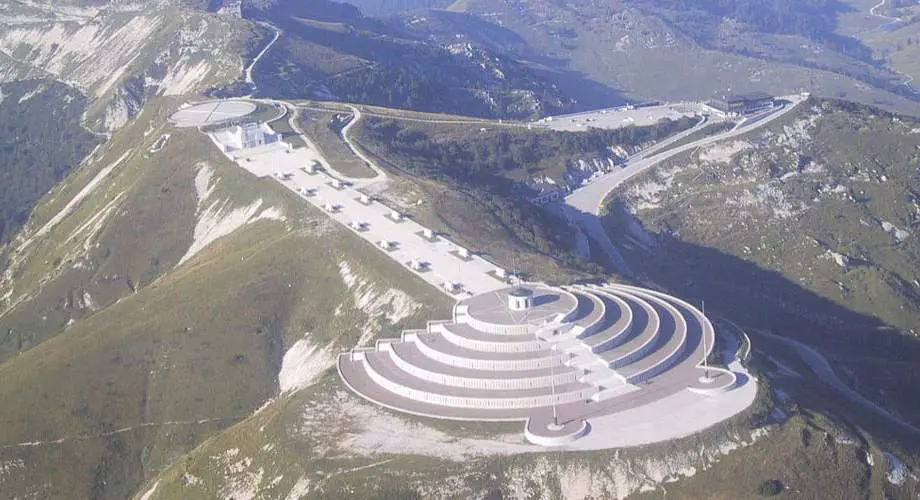 Monte Grappa is a 1,775 meters (5,823 ft) tall mountain in the Veneto region of Italy. Part of the Venetian Prealps, the mountain is divided between the provinces of Vicenza, Treviso, and Belluno
.The Grappa massif, which includes a number of neighboring peaks, is known also for the traditional cheese Bastardo del Grappa and is a popular destination for cyclists.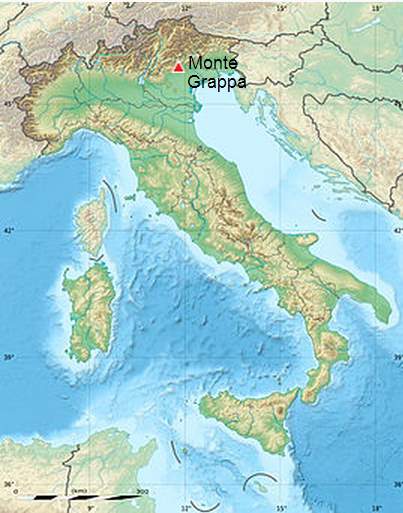 Sources
Latest posts by M. Özgür Nevres
(see all)