Giro d'Italia 2014 stage 18 is a 171 km high mountain stage from Belluno to Rif. Panarotta.
Giro d'Italia 2014 stage 18 quick info
DATE: May 29, 2014, Thursday
STAGE TYPE: High mountain
START-FINISH: Belluno (453m) > Rif. Panarotta (1760m)
LENGTH OF THE COURSE: 171.0 km
DIFFICULTY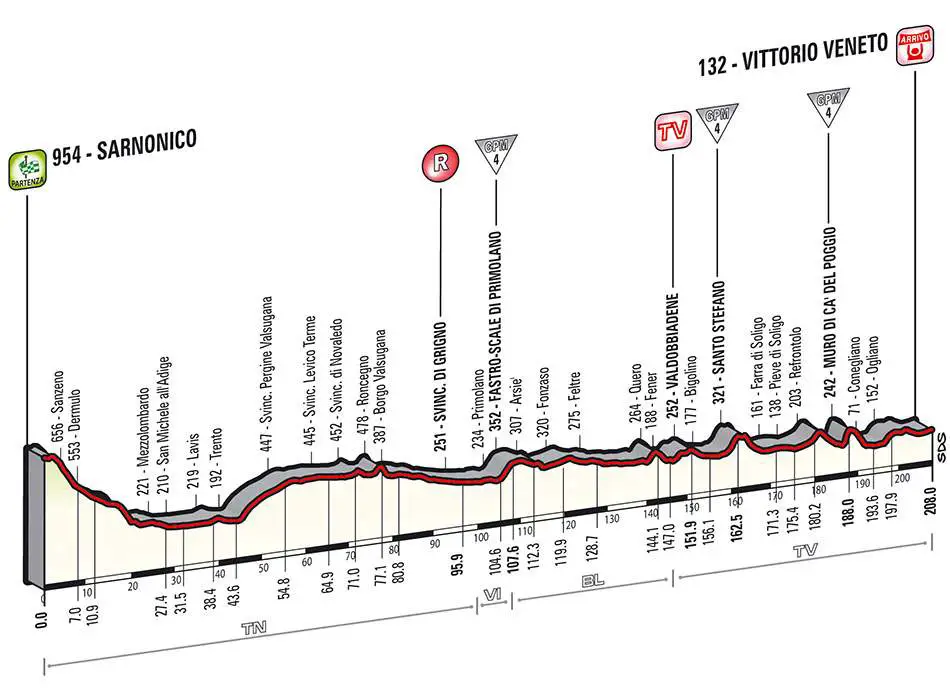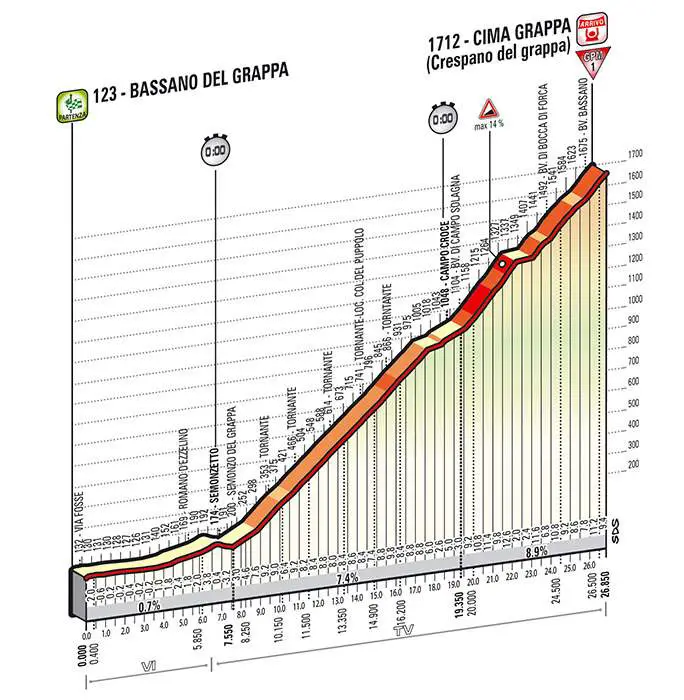 Giro d'Italia 2014 stage 18 profile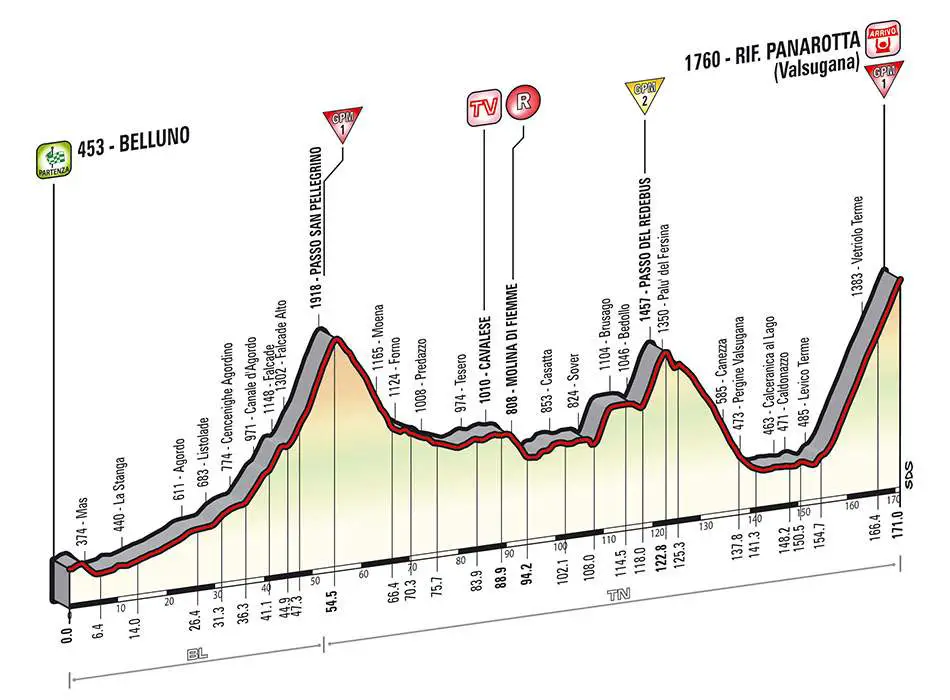 Climbs
Passo San Pellegrino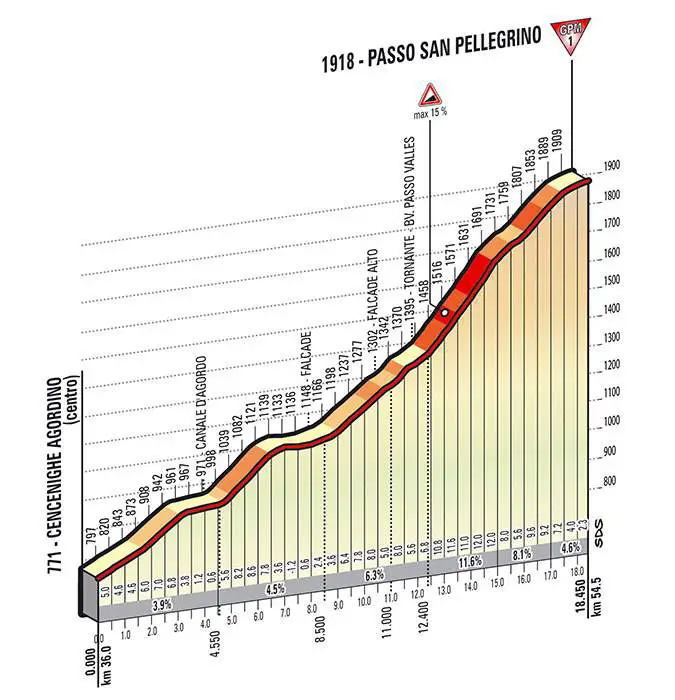 Passo San Pellegrino (the San Pellegrino Pass) (1918 m) is a high mountain pass in the Italian Alps. It connects the municipalities of Moena and Falcade. The ski resort Trevalli is located at the pass. The area is also popular in summer for rock climbing. The Cima Uomo peak stands nearby.
Located on the border between the provinces of Trento and Bolzano and it allows easy access to the capital of South Tyrol from the area of Trentino Dolomites.
Passo del Redebus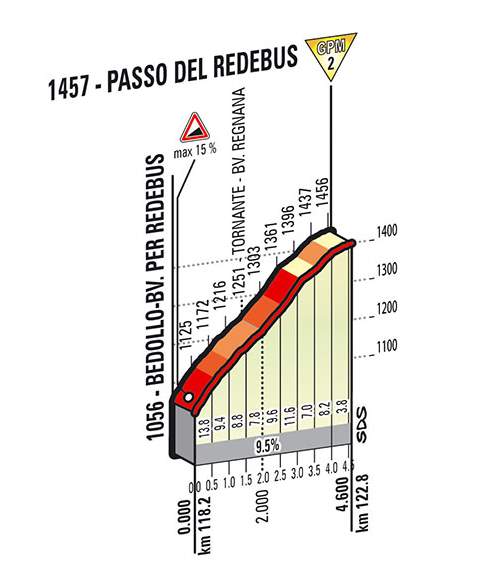 The Redebus Pass is a mountain pass at an altitude of 1,455 m, located in Trentino, Italy. Connects the Val Mocheni with the Plateau Pine, more precisely, with the town of Bedollo.
Last kilometers
Giro d'Italia 2014 stage 18 map
Start: Belluno
Belluno is a town and province in the Veneto region of northern Italy. Located about 100 kilometers (62 miles) north of Venice, Belluno is the capital of the province of Belluno and the most important city in the Eastern Dolomiti region.
With its roughly 35,000 inhabitants, it is the largest populated area of Valbelluna. It is one of the 15 municipalities of the Parco Nazionale delle Dolomiti Bellunesi.
Together with other Alpine towns, Belluno engages in the Alpine Town of the Year Association for the implementation of the Alpine Convention to achieve sustainable development in the Alpine Arc. Belluno was awarded Alpine Town of the Year 1999.
Main sights of Belluno
The Duomo (Cathedral, late 15th century), with the 18th-century bell tower designed by Filippo Juvarra. The church's plan is attributed to the Venetian architect Tullio Lombardo
Palazzo dei Rettori (1491)
The red edifice of the Communal Palace
The Bishop's Palace, erected in 1190 by the count-bishop Gerardo de' Taccoli
The Fountain of Piazza del Duomo
Baroque church of San Pietro (1326), originally in Gothic style. It includes five paintings by Andrea Schiavone, three by Sebastiano Ricci.
Palazzo del Capitano.
The 16th-century church of San Rocco.
The church of Santo Stefano, housing several 15th-century paintings by local masters. It includes also an Adoration of the Magi from Tiziano's workshop.
The Romanesque church of San Biagio.
The Porta Dojona and Porta Rugo gates in the ancient walls.
The 16th-century church of Santa Maria dei Battuti.
Finish: Rifugio Panarotta
The Rifugio Panarotta is situated in Trentino-Alto Adige and belongs to the Dolomites-Alps.
Sources
Latest posts by M. Özgür Nevres
(see all)