Pinarello has revealed its 2015 bike models. The admiral ship of the collection is Pinarello Dogma F8. This year, in Tour de France, UCI Pro Team Sky Procycling and its leader Chris Froome (last years' winner) will use the brand new Dogma F8. It is said to be lighter, stiffer and more aero than before. It has been approved by the UCI and will debut at the Critérium du Dauphiné 2014 which begins in Lyon on 8 June.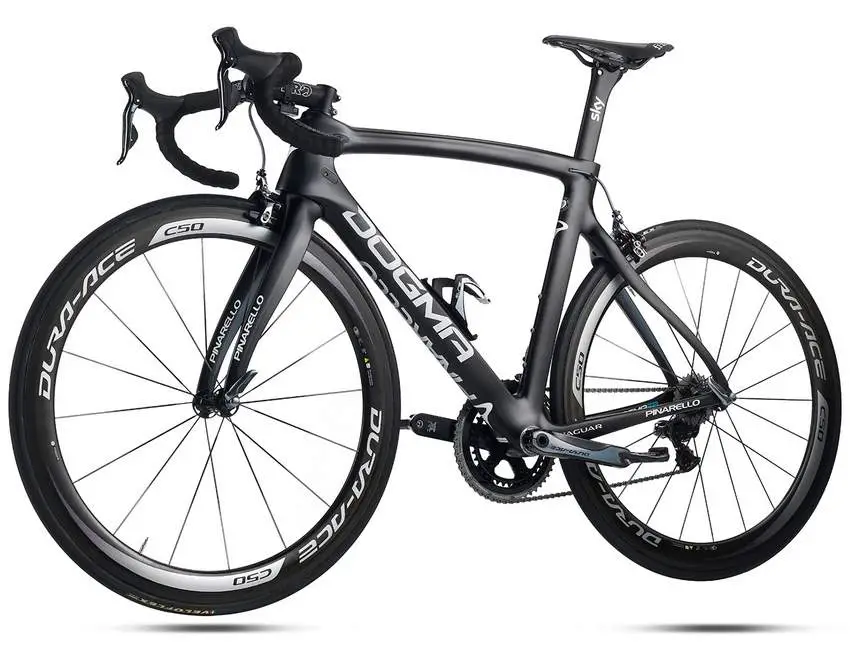 Dogma F8's predecessor, the Dogma 65.1 already has two Tour de France titles in its palmarès: Team Sky riders Sir Bradley Wiggins in 2012, and Chris Froome in 2013 won the Tour with Dogma 65.1 bikes. It also won the 2013 UCI World Championship title with Rui Costa and more than 100 Pro Tour races.
The 8th of DOGMA coming with advertising slogan: "The Eighth Dogma … the eighth wonder of the world."
The Italian bike manufacturers' exclusive partner, TORAY has named Pinarello the only bike brand to use the new T11001K Dream Carbon with Nanoalloy Technology, which has a better stiffness to weight ratio than the previous versions. A DOGMA 65.1 with Torayca 65HM1K weighs 940gr on size 54. The same frame with T11001K fiber weighs nearly 80 grams less while retaining the same structural characteristics.
While Dogma 65.1 has oval tubes, Dogma F8 tubes are flat back. According to Pinarello:
A true aero profile should have an 8:1 ratio. However, the UCI regulations imposes a maximum ratio of 3:1.
The logical solution of applying 3:1 ratio to a round tube yields an oval or egg-shaped cross section. This, however, drastically increases the aerodynamic drag.
With the flatback TM solution adopted on the DOGMA F8, the oval section is flattened on the back side. That reduces the turbulence. This new shape dramatically reduces the aerodynamic impact (see the images below).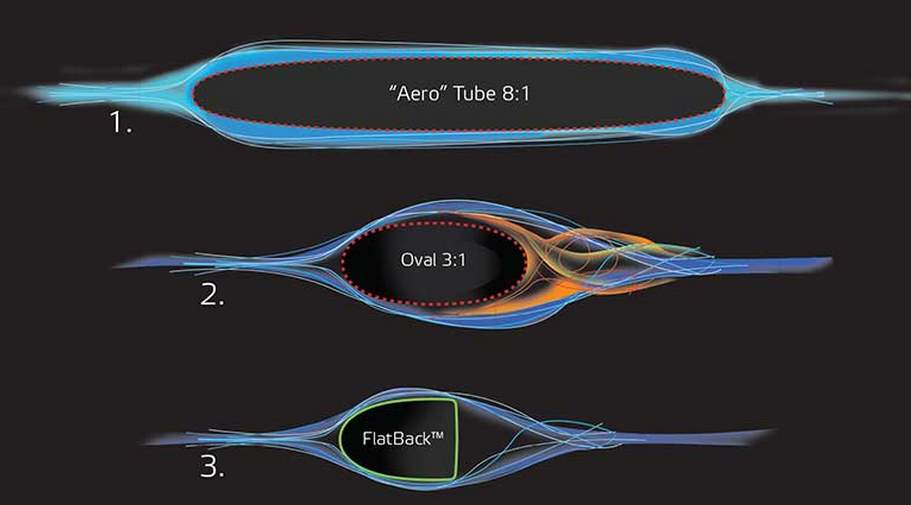 Pinarello say: "Pinarello LAB, TEAM SKY and JAGUAR created a working group where everyone brought his decisive contribution."
"Team SKY with feedback from its athletes, Jaguar the Aerodynamics concerns CFD and Wind Tunnel testing, Pinarello LAB for cycling part, structural study and design. This synergy brought to light the Dogma F8."
2013 Tour de France winner Chris Froome says: "The first thing I realised with the Pinarello Dogma F8 is that just holding it you can feel immediately that the weight is a huge factor. They've managed to get the weight right down, which for us is fantastic. Getting on the bike and trying it for the first time and taking it around a few corners, you can really feel the rigidity.
"When you push into the pedals the power goes straight through the bike. It doesn't flex and it doesn't move. Whatever power you put into the pedals, it goes onto the road. This is certainly a bike I hope I'm going to be winning another Tour de France on. I'm going to do everything I can to make that happen."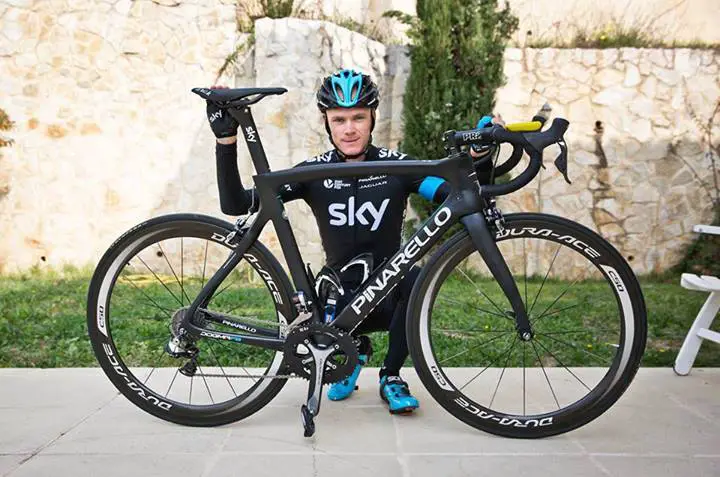 Fausto Pinarello says: "DOGMA F8 achieves new significant numerical data, but more importantly, maintains the unique driving feeling, which made previous Pinarello Dogma bikes unbeatable. Whoever rides the new F8 DOGMA, will immediately perceive the extraordinary work done by our team, in creating a streamlined and aerodynamic bike without losing the typical characteristics of DOGMA: a powerful and responsive bike for every track."
According to the Italian bike manufacturer, the new Dogma F8 is:
12% stiffer
16% more balanced
47% less aerodynamic impact
120g lighter for frame and fork (size 54) (860g-without paint)
A few quick notes:
12% stiffer, impressive
What's the meaning of "16% more balanced"? How can you measure it, and what's the unit? I really don't understand…
47% less aerodynamic impact… really??? I have suspicions about that. 47% is a really big percentage for this.
All photos from pinarello.com
I am a software developer, a former road racing cyclist (at the amateur level) and a science enthusiast. Also an animal lover! I write about cycling on this website, cycling-passion.com. You can check out my social media profiles by clicking on their icons.
Latest posts by M. Özgür Nevres (see all)