Tarmac is the top-of-the-line model of Specialized's road bike series. Specialized Tarmac 2015 is developed in a partnership with the British Formula One constructor McLaren.
Most recently, team Saxo Tinkoff's Spanish rider Alberto Contador won the Vuelta a España 2014 using a Specialized S-Works Tarmac bike.
The motto of the Specialized Tarmac is "Rider-First Engineered™". Specialized explains that "it is a totally new way to approach bicycle development that grew out of our partnership with the leaders in Formula 1 development, McLaren. Rider-First Engineered™ begins and ends with the Rider; each of the seven frame sizes was developed independently, based exclusively on the real-world stresses introduced by the corresponding rider."
According to Specialized, when compared to the previous Tarmac SL4, all seven sizes of the new Tarmac see improvements in handling, pedaling response (BB stiffness), ride compliance, and aerodynamics. On top of that, smaller riders (49, 52, and 54) get a lighter and more balanced bike with improved in-corner handling. Large riders (61 and 64) see marked improvements in steering response.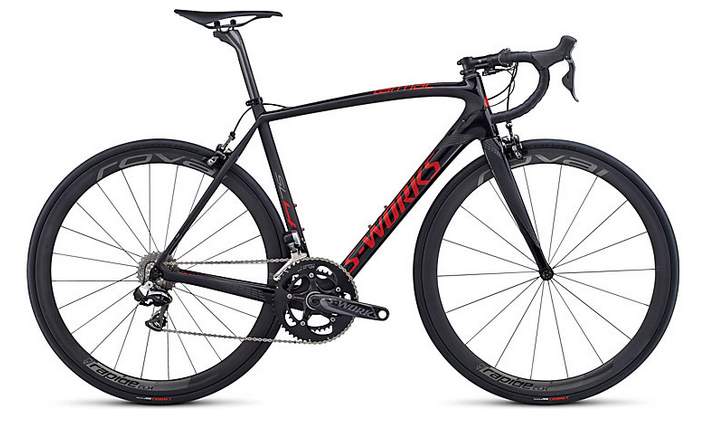 S-Works Di2 Disc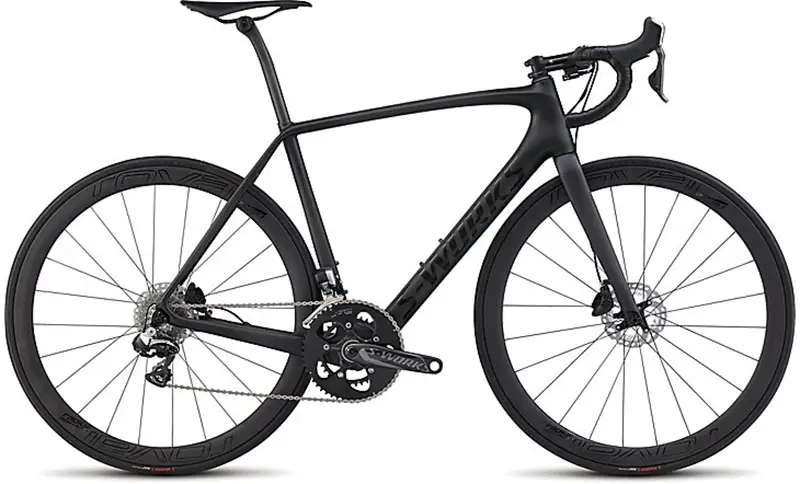 Specialized used FACT 11R High-modulus carbon fiber on all S-Works frames.
Specialized S-Works Tarmac 2015 Dura-Ace Di2 Disc Specifications:
Frame S-Works FACT 11r carbon, FACT construction, tapered/shaped 1-1/8" to the size-specific lower headtube, disc specific, compact race design, internal cable routing
Fork Specialized FACT carbon, disc, full monocoque, size-specific taper
Headset 1-1/8" upper, size-specific lower, hybrid cartridge lightweight bearings, 8mm carbon cone spacer, w/ 25mm of carbon spacers
Stem S-Works SL, alloy, 4-bolt
Handlebars S-Works SL Carbon, shallow drop, 125mm drop, 75mm reach
Tape Specialized Classic, w/ gel
Front Brake Shimano 785, hydraulic disc, Ice-Tech resin pads w/ fins, 140mm RT-99 Ice Tech rotor
Rear Brake Shimano 785, hydraulic disc, Ice Tech resin pads w/ fins, 140mm RT-99 Ice Tech rotor
Front Derailleur Shimano Dura-Ace Di2, 11-speed, braze-on
Rear Derailleur Shimano Dura-Ace Di2, 11-speed
Shift Levers Shimano 785 Di2, 11-speed
Cassette Shimano Dura-Ace, 11-speed, 11-28
Chain Shimano Dura-Ace, 11-speed
Crankset S-Works FACT carbon, OSBB, 52/36, w/ CeramicSpeed ceramic bearings
Pedals Nylon flat test ride, loose-ball, w/ reflectors
Front Wheel Roval Rapide CLX 40 SCS Disc, w/ CeramicSpeed ceramic bearings
Rear Wheel Roval Rapide CLX 40 SCS Disc, w/ CeramicSpeed ceramic bearings
Front Tire S-Works Turbo, 220TPI, folding bead, BlackBelt protection, 700x24c
Rear Tire S-Works Turbo, 220TPI, folding bead, BlackBelt protection, 700x24c
Inner Tubes Ultralight, presta valve
Saddle Body Geometry Toupé Pro, carbon rails, 143mm
Seatpost S-Works FACT carbon, 20mm offset, 27.2mm
Seat Binder Specialized, integrated wedge
S-Works Disc Module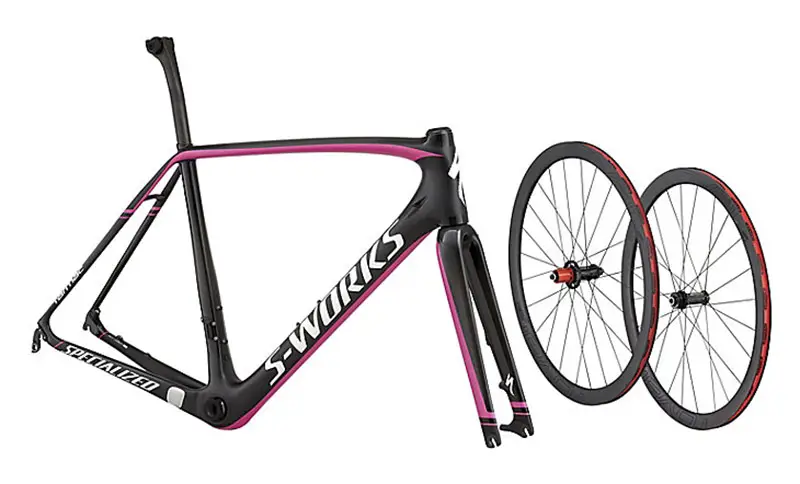 Specialized S-Works Tarmac 2015 Disc Module Specifications:
Frame S-Works FACT 11r carbon, FACT construction, tapered/shaped 1-1/8" to the size-specific lower headtube, disc specific, compact race design, internal cable routing
Fork Specialized FACT carbon, disc, full monocoque, size-specific taper
Headset 1-1/8" upper, size-specific lower, hybrid cartridge lightweight bearings, 8mm carbon cone spacer, w/ 25mm of carbon spacers
Bottom Bracket CeramicSpeed, ceramic bearings
Front Wheel Roval Rapide CLX 40 SCS Disc, w/ CeramicSpeed ceramic bearings
Rear Wheel Roval Rapide CLX 40 SCS Disc, w/ CeramicSpeed ceramic bearings
Seatpost S-Works FACT carbon, 20mm offset, 27.2mm
Seat Binder Specialized, integrated wedge
S-Works Dura Ace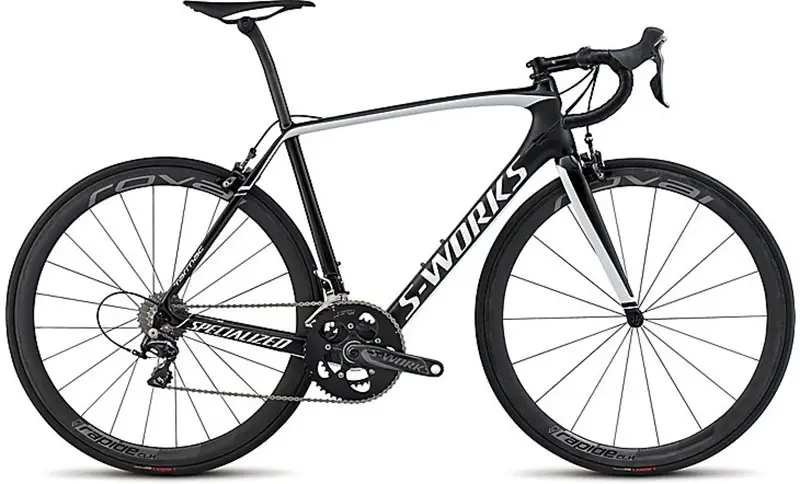 Specialized S-Works Tarmac 2015 Dura-Ace Specifications:
Frame S-Works FACT 11r carbon, FACT construction, tapered/shaped 1-1/8" to the size-specific lower headtube, compact race design, internal cable routing
Fork S-Works FACT carbon, full monocoque, size-specific taper
Headset 1-1/8" upper, size-specific lower, hybrid cartridge lightweight bearings, 8mm carbon cone spacer, w/ 25mm of carbon spacers
Stem S-Works SL, alloy, 4-bolt
Handlebars S-Works SL Carbon, shallow drop, 125mm drop, 75mm reach
Tape Specialized Classic, w/ gel
Front Brake Shimano Dura-Ace
Rear Brake Shimano Dura-Ace
Front Derailleur Shimano Dura-Ace, 11-speed, braze-on
Rear Derailleur Shimano Dura-Ace, 11-speed
Shift Levers Shimano Dura-Ace, 11-speed
Cassette Shimano Dura-Ace, 11-speed, 11-28
Chain Shimano Dura-Ace, 11-speed
Crankset S-Works FACT carbon, OSBB, 52/36, w/ CeramicSpeed ceramic bearings
Pedals Nylon flat test ride, loose-ball, w/ reflectors
Front Wheel Roval Rapide CLX 40, w/ CeramicSpeed ceramic bearings
Rear Wheel Roval Rapide CLX 40, w/ CeramicSpeed ceramic bearings
Front Tire S-Works Turbo, 220TPI, folding bead, BlackBelt protection, 700x24c
Rear Tire S-Works Turbo, 220TPI, folding bead, BlackBelt protection, 700x24c
Inner Tubes Ultralight, presta valve
Saddle Body Geometry Toupé Pro, carbon rails, 143mm
Seatpost S-Works FACT carbon, 20mm offset, 27.2mm
Seat Binder Specialized, integrated wedge
S-Works Tarmac Frameset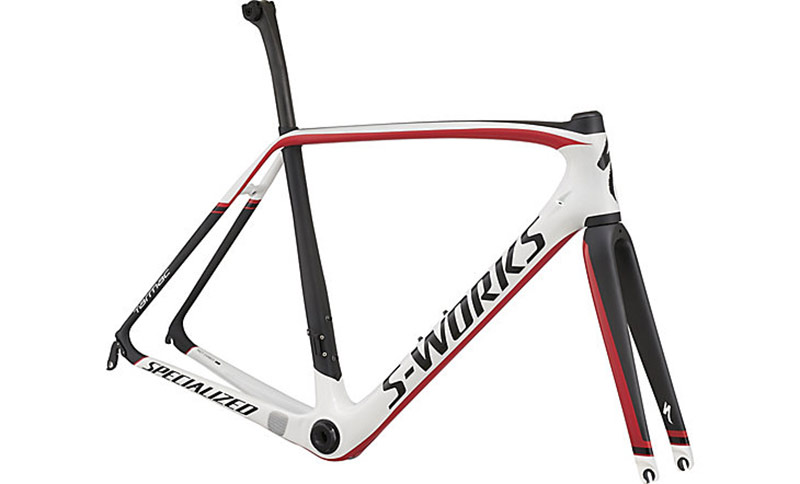 Specialized S-Works Tarmac 2015 frameset Specifications:
Frame S-Works FACT 11r carbon, FACT construction, tapered/shaped 1-1/8" to the size-specific lower headtube, compact race design, internal cable routing
Fork S-Works FACT carbon, full monocoque, size-specific taper
Headset 1-1/8" upper, size-specific lower, hybrid cartridge lightweight bearings, 8mm carbon cone spacer, w/ 25mm of carbon spacers
Bottom Bracket CeramicSpeed, ceramic bearings
Seatpost S-Works FACT carbon, 20mm offset, 27.2mm
Seat Binder Specialized, integrated wedge
Pro Disc Race UDi2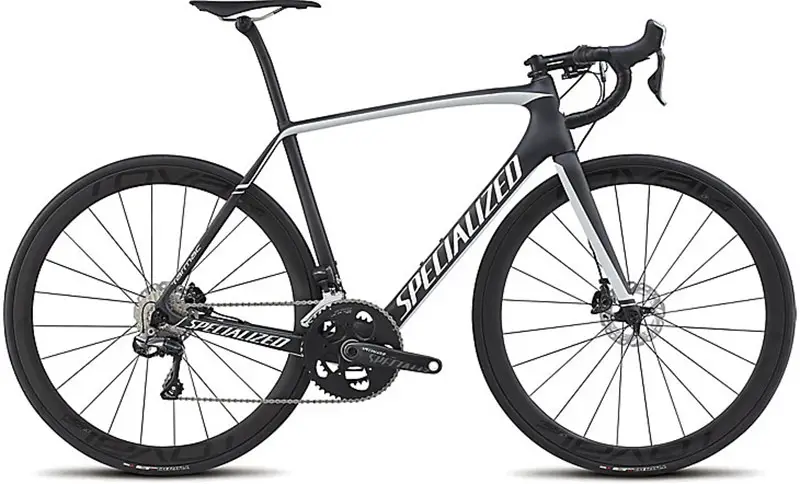 Specialized Tarmac 2015 Pro Disc Race Ultegra Di2 Specifications:
Frame Specialized FACT 10r carbon, FACT construction, tapered/shaped 1-1/8" to the size-specific lower headtube, disc specific, compact race design, internal cable routing
Fork Specialized FACT carbon, disc, full monocoque, size-specific taper
Headset 1-1/8" upper, size-specific lower, stainless steel cartridge bearings, 8mm carbon cone spacer, w/ 25mm of carbon spacers
Stem Specialized Pro SL, alloy, 4-bolt
Handlebars Specialized Expert, shallow drop, alloy, 123mm drop, 75mm reach
Tape Specialized Classic, w/ gel
Front Brake Shimano 785, hydraulic disc, 140mm RT-99 Ice Tech rotor
Rear Brake Shimano 785, hydraulic disc, 140mm RT-99 Ice Tech rotor
Front Derailleur Shimano Ultegra Di2, 11-speed, braze-on
Rear Derailleur Shimano Ultegra Di2, 11-speed
Shift Levers Shimano 785 Di2, 11-speed
Cassette Shimano Ultegra, 11-speed, 11-28
Chain Shimano Ultegra, 11-speed
Crankset Specialized Pro, FACT carbon, OSBB, 52/36
Pedals Nylon flat test ride, loose-ball, w/ reflectors
Front Wheel Roval Rapide CL 40 SCS Disc
Rear Wheel Roval Rapide CL 40 SCS Disc
Front Tire Specialized Turbo Pro, 127TPI, folding bead, BlackBelt protection, 700x25c
Rear Tire Specialized Turbo Pro, 127TPI, folding bead, BlackBelt protection, 700x25c
Inner Tubes Ultralight, presta valve
Saddle Body Geometry Toupé Expert Gel, hollow Ti rails, 143mm
Seatpost S-Works FACT carbon, 20mm offset, 27.2mm
Seat Binder Specialized, integrated wedge
Pro Disc Race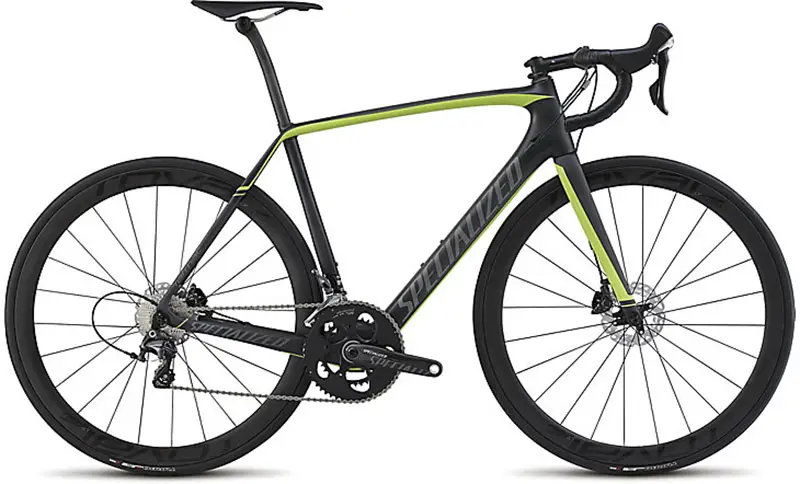 Specialized Tarmac 2015 Pro Disc Race Specifications:
Frame Specialized FACT 10r carbon, FACT construction, tapered/shaped 1-1/8" to the size-specific lower headtube, disc specific, compact race design, internal cable routing
Fork Specialized FACT carbon, disc, full monocoque, size-specific taper
Headset 1-1/8" upper, size-specific lower, stainless steel cartridge bearings, 8mm carbon cone spacer, w/ 25mm of carbon spacers
Stem Specialized Pro SL, alloy, 4-bolt
Handlebars Specialized Expert, shallow drop, alloy, 123mm drop, 75mm reach
Tape Specialized Classic, w/ gel
Front Brake Shimano 785, hydraulic disc, Ice-Tech resin pads w/ fins, 140mm RT-99 Ice Tech rotor
Rear Brake Shimano 785, hydraulic disc, Ice-Tech resin pads w/ fins, 140mm RT-99 Ice Tech rotor
Front Derailleur Shimano Ultegra, 11-speed, braze-on
Rear Derailleur Shimano Ultegra, 11-speed
Shift Levers Shimano 685
Cassette Shimano Ultegra, 11-speed, 11-28
Chain Shimano Ultegra, 11-speed
Crankset Specialized Pro, FACT carbon, OSBB, 52/36
Pedals Nylon flat test ride, loose-ball, w/ reflectors
Front Wheel Roval Rapide CL 40 SCS Disc
Rear Wheel Roval Rapide CL 40 SCS Disc
Front Tire Specialized Turbo Pro, 127TPI, folding bead, BlackBelt protection, 700x25c
Rear Tire Specialized Turbo Pro, 127TPI, folding bead, BlackBelt protection, 700x25c
Inner Tubes Ultralight, presta valve
Saddle Body Geometry Toupé Expert Gel, hollow Ti rails, 143mm
Seatpost S-Works FACT carbon, 20mm offset, 27.2mm
Seat Binder Specialized, integrated wedge
Pro Race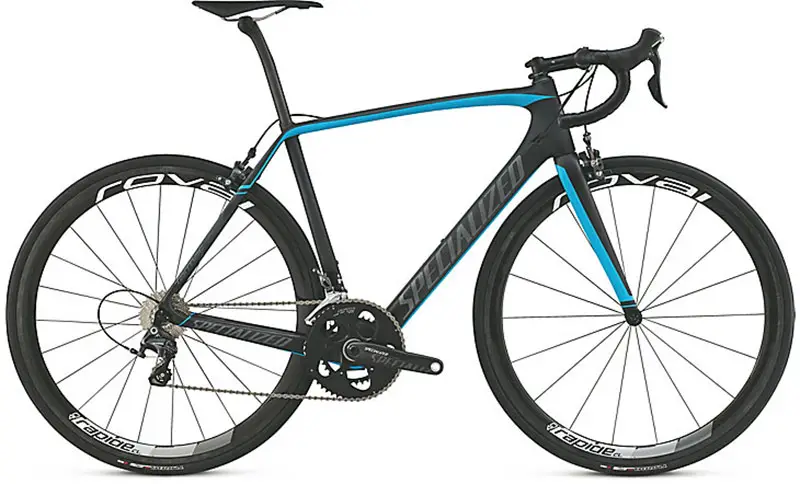 Specialized Tarmac 2015 Pro Race Specifications:
Frame Specialized FACT 10r carbon, FACT construction, tapered/shaped 1-1/8" to the size-specific lower headtube, compact race design, internal cable routing
Fork S-Works FACT carbon, full monocoque, size-specific taper
Headset 1-1/8" upper, size-specific lower, stainless steel cartridge bearings, 8mm carbon cone spacer, w/ 25mm of carbon spacers
Stem Specialized Pro SL, alloy, 4-bolt
Handlebars Specialized Expert, shallow drop, alloy, 123mm drop, 75mm reach
Tape Specialized Classic, w/ gel
Front Brake Shimano Ultegra
Rear Brake Shimano Ultegra
Front Derailleur Shimano Ultegra, 11-speed, braze-on
Rear Derailleur Shimano Ultegra, 11-speed
Shift Levers Shimano Ultegra, 11-speed
Cassette Shimano Ultegra, 11-speed, 11-28
Chain Shimano Ultegra, 11-speed
Crankset Specialized Pro, FACT carbon, OSBB, 52/36
Pedals Nylon flat test ride, loose ball, w/ reflectors
Front Wheel Roval Rapide CL 40
Rear Wheel Roval Rapide CL 40
Front Tire Specialized Turbo Pro, 127TPI, folding bead, BlackBelt protection, 700x23c
Rear Tire Specialized Turbo Pro, 127TPI, folding bead, BlackBelt protection, 700x23c
Inner Tubes Ultralight, presta valve
Saddle Body Geometry Toupé Expert Gel, hollow Ti rails, 143mm
Seatpost S-Works FACT carbon, 20mm offset, 27.2mm
Seat Binder Specialized, integrated wedge
Expert
Specialized Tarmac 2015 Expert Specifications:
Frame Specialized FACT 10r carbon, FACT construction, tapered/shaped 1-1/8" to the size-specific lower headtube, compact race design, internal cable routing
Fork S-Works FACT carbon, full monocoque, size-specific taper
Headset 1-1/8" upper, size-specific lower, stainless steel cartridge bearings, 8mm carbon cone spacer, w/ 25mm of carbon spacers
Stem Specialized Pro SL, alloy, 4-bolt
Handlebars Specialized Expert, shallow drop, alloy, 123mm drop, 75mm reach
Tape Specialized Classic, w/ gel
Front Brake Shimano Ultegra
Rear Brake Shimano Ultegra
Front Derailleur Shimano Ultegra, 11-speed, braze-on
Rear Derailleur Shimano Ultegra, 11-speed
Shift Levers Shimano Ultegra, 11-speed
Cassette Shimano Ultegra, 11-speed, 11-28
Chain Shimano Ultegra, 11-speed
Crankset FSA, carbon, BB30, 52/36
Pedals Nylon flat test ride, loose-ball, w/ reflectors
Front Wheel Fulcrum S4
Rear Wheel Fulcrum S4
Front Tire Specialized Turbo Pro, 127TPI, folding bead, BlackBelt protection, 700x23c
Rear Tire Specialized Turbo Pro, 127TPI, folding bead, BlackBelt protection, 700x23c
Inner Tubes Standard, presta valve
Saddle Body Geometry Toupé Expert Gel, hollow Ti rails, 143mm
Seatpost S-Works FACT carbon, 20mm offset, 27.2mm
Seat Binder Specialized, integrated wedge
SL4 Comp Ultegra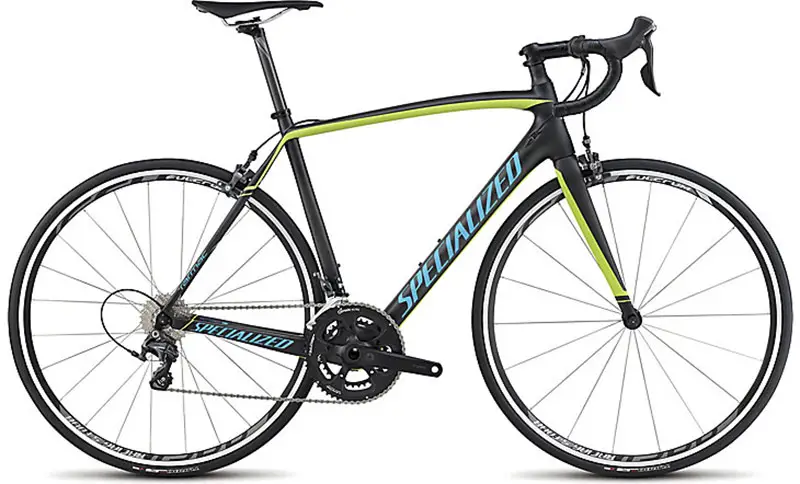 Specialized Tarmac 2015 SL4 Comp Ultegra Specifications:
Frame Specialized FACT 9r carbon, FACT construction, compact race design, 1-3/8" lower bearing, OSBB
Fork Specialized FACT carbon, monocoque, OS race for 1-3/8" bearing
Headset 1-1/8" upper, 1-3/8" lower, integrated Cr-Mo cartridge bearings, 20mm cone spacer, w/ 20mm of spacers
Stem Specialized Comp Multi, 3D forged alloy, 4-bolt, 12-degree rise
Handlebars Specialized Comp, shallow drop, alloy, 125mm drop, 70mm reach
Tape Specialized Classic, w/ gel
Front Brake Shimano Ultegra
Rear Brake Shimano Ultegra
Front Derailleur Shimano Ultegra, 11-speed, braze-on
Rear Derailleur Shimano Ultegra, 11-speed
Shift Levers Shimano Ultegra, 11-speed
Cassette Shimano Ultegra, 11-speed, 11-28
Chain Shimano Ultegra, 11-speed
Crankset Praxis Works, TURN Zayante, BB30
Pedals Nylon flat test ride, loose-ball, w/ reflectors
Front Wheel Fulcrum S4
Rear Wheel Fulcrum S4
Front Tire Specialized Turbo Pro, 127TPI, folding bead, BlackBelt protection, 700x23c
Rear Tire Specialized Turbo Pro, 127TPI, folding bead, BlackBelt protection, 700x23c
Inner Tubes Standard, presta valve
Saddle Body Geometry Toupé Comp Gel, hollow Cr-Mo rails, 143mm
Seatpost Specialized Comp, FACT carbon, 27.2mm
Seat Binder Alloy, 32.6mm
Elite 105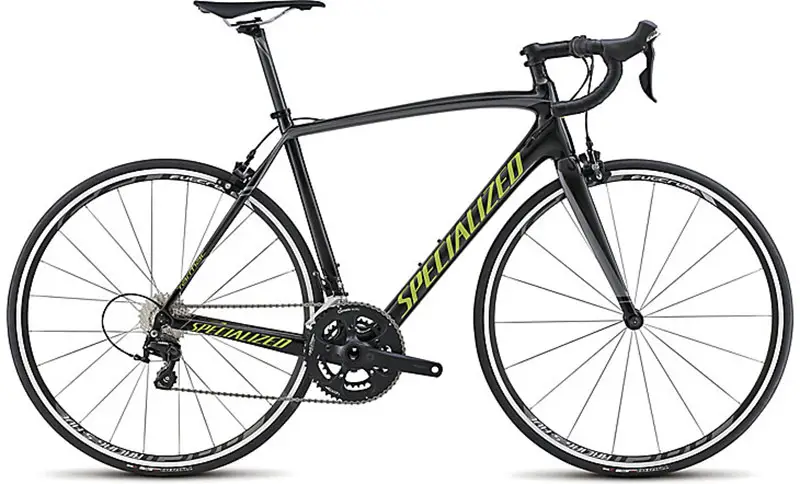 Specialized Tarmac 2015 Elite 105 Specifications:
Frame Specialized FACT 9r carbon, FACT construction, compact race design, 1-3/8" lower bearing, OSBB
Fork Specialized FACT carbon, monocoque, OS race for 1-3/8" bearing
Headset 1-1/8" upper, 1-3/8" lower, integrated Cr-Mo cartridge bearings, 20mm cone spacer, w/ 20mm of spacers
Stem Specialized Comp Multi, 3D forged alloy, 4-bolt, 12-degree rise
Handlebars Specialized Comp, shallow drop, alloy, 125mm drop, 70mm reach
Tape Specialized Classic, w/ gel
Front Brake Shimano 105
Rear Brake Shimano 105
Front Derailleur Shimano 105
Rear Derailleur Shimano 105, 11-speed
Shift Levers Shimano 105 STI, 11-speed
Cassette Shimano 105, 11-speed, 11-28
Chain Shimano 105, 11-speed
Crankset Praxis Works, TURN Zayante, BB30
Pedals Nylon flat test ride, loose-ball, w/ reflectors
Front Wheel Fulcrum S5
Rear Wheel Fulcrum S5
Front Tire Specialized Turbo Pro, 127TPI, folding bead, BlackBelt protection, 700x23c
Rear Tire Specialized Turbo Pro, 127TPI, folding bead, BlackBelt protection, 700x23c
Inner Tubes Standard, presta valve
Saddle Body Geometry Toupé Comp Gel, hollow Cr-Mo rails, 143mm
Seatpost Specialized Comp, FACT carbon, 27.2mm
Seat Binder Alloy, 32.6mm
Sport
Specialized Tarmac 2015 Sport Specifications:
Frame Specialized FACT 9r carbon, FACT construction, compact race design, 1-3/8" lower bearing, OSBB
Fork Specialized FACT carbon, monocoque, OS race for 1-3/8" bearing
Headset 1-1/8" upper, 1-3/8" lower, integrated Cr-Mo cartridge bearings, 20mm cone spacer, w/ 20mm of spacers
Stem Specialized Comp Multi, 3D forged alloy, 4-bolt, 12-degree rise
Handlebars Specialized Comp, shallow drop, alloy, 125mm drop, 70mm reach
Tape Specialized Classic, w/ gel
Front Brake AXIS 1.0
Rear Brake AXIS 1.0
Front Derailleur Shimano 105
Rear Derailleur Shimano 105, 11-speed
Shift Levers Shimano 105 STI, 11-speed
Cassette Shimano 105, 11-speed, 11-28
Chain Shimano 105, 11-speed
Crankset FSA Gossamer, BB30
Pedals Nylon flat test ride, loose-ball, w/ reflectors
Front Wheel AXIS 2.0
Rear Wheel AXIS 2.0
Front Tire Specialized Turbo Pro, 127TPI, folding bead, BlackBelt protection, 700x23c
Rear Tire Specialized Turbo Pro, 127TPI, folding bead, BlackBelt protection, 700x23c
Inner Tubes Standard, presta valve
Saddle Body Geometry Toupé Comp Gel, hollow Cr-Mo rails, 143mm
Seatpost Specialized Comp, FACT carbon, 27.2mm
Seat Binder Alloy, 32.6mm
Tarmac Pro Frameset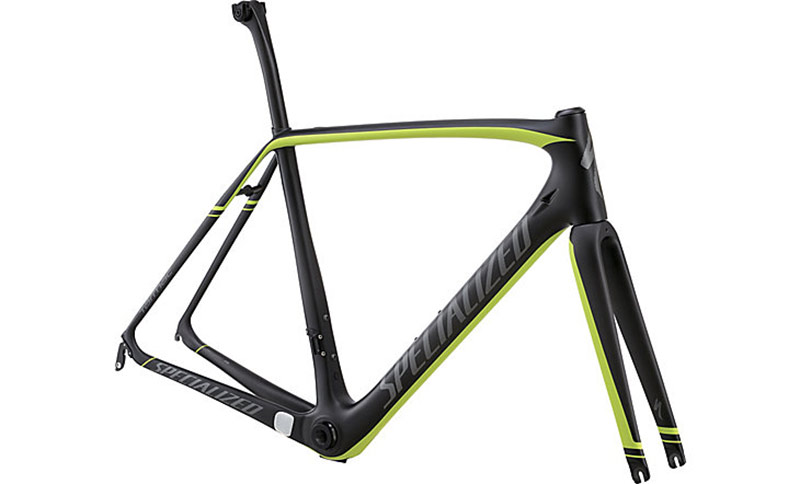 Specialized S-Works Tarmac 2015 frameset Specifications:
Frame Specialized FACT 10r carbon, FACT construction, tapered/shaped 1-1/8" to the size-specific lower headtube, compact race design, internal cable routing
Fork S-Works FACT carbon, full monocoque, size-specific taper
Headset 1-1/8" upper, size-specific lower, stainless steel cartridge bearings, 8mm carbon cone spacer, w/ 25mm of carbon spacers
Bottom Bracket Hope, BB30
Seatpost S-Works FACT carbon, 20mm offset, 27.2mm
Seat Binder Specialized, integrated wedge
To see all the models, visit specialized.com
Latest posts by M. Özgür Nevres
(see all)