Sad news… Today, on April 13, 2021, Valeriano Falsini, a friend of the legendary Fausto Coppi has died.
Who is Valeriano Falsini?
Valeriano Falsini (Reggello, 4 November 1928 – Matassino , 13 April 2021) was a former Italian road cyclist. He was a professional between 1950 and 1954.
Nicknamed "the potter" (inherited from his father's profession), Falsini attracted attention in a number of amateur road races. He took nineteen wins, eleven of them were only in 1949.
Gino Bartali had complimented him during a training ride and in 1950, Costante Girardengo hired him in his team and Falsini turned pro. Also in 1950, during a training ride in the Italian Riviera to the Milano-Sanremo, he met with Fausto Coppi.
While helping his team captain Rik Van Steenbergen during the Giro di Toscana (1950), Falsini arrived at the finish exhausted, after running under continuous downpours: just from that race Falsini began to suffer from a strong osteoarthritis in the back that heavily penalize his career. During the Giro di Lombardia, Falsini and Alfredo Martini were the victims of a bad fall, caused by a dog crossing the street, and he was forced to retire.
Fausto Coppi, however, proposed him to his team, Bianchi. He took part in the 1951 Milan-San Remo, finised in the last position. Due to osteoarthritis, Falsini was not selected for the Giro d'Italia. Instead participated in the Giro del Piemonte, which ended with the accident that took the life of Serse Coppi, brother of Fausto.
Because of his poor physical condition, Bianchi didn't renew his contract, and the professional career of Falsini came to an end (he raced as an individual for a year more or two).
Falsini was a good friend of Fausto Coppi, who gave him the bike which he rode during the 1952 Tour de France (which Coppi won) as a present.
Every year, on January 2, Falsini has visited the Museum House of Fausto Coppi in Castellania to pay homage, riding the bike that Fausto gave him as a present. (Coppi died on January 2, 1960)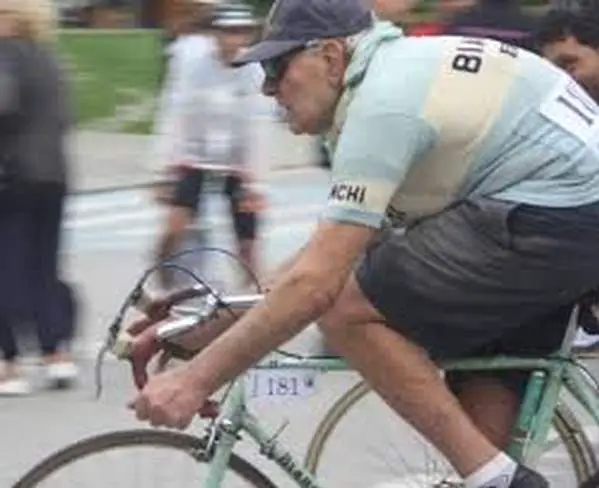 In 2013, the film named Mi chiamava Valerio (He called me Valerio) was made with the direction of Patrizio Bonciani and Igor Biddau, which takes up the story of Falsini. The film was presented at the 2013 UCI Road World Championships which held in Tuscany, Italy between 22 and 29 September 2013. Then, it was released in theaters on January 24, 2014.
Sources
Latest posts by M. Özgür Nevres
(see all)