Vuelta a España 2013 stage 20 will finish at the top of Alto de l'Angliru, the sixth-time in Vuelta history. This is the toughest climb in cycling history for many.
The length of the course is 142.2 km, from Avilés to Alto de L'Angliru.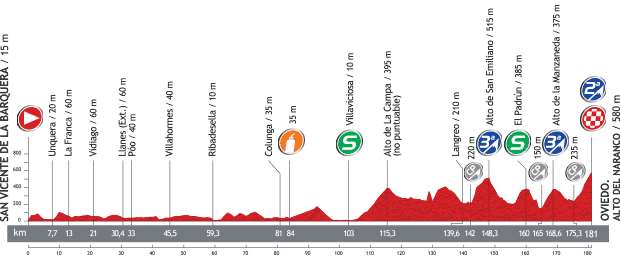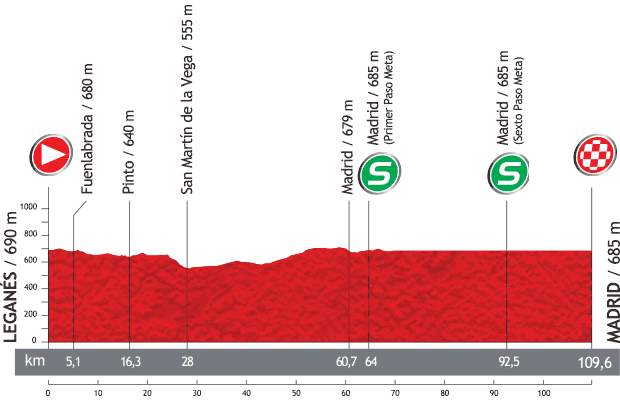 Vuelta a España stage winners atop Alto de l'Angliru (as of 2011)
1999 José Maria Jiménez (ESP)
2000 Gilberto Simoni (ITA)
2002 Roberto Heras (ESP)
2008 Alberto Contador (ESP)
2011 Juan José Cobo (ESP)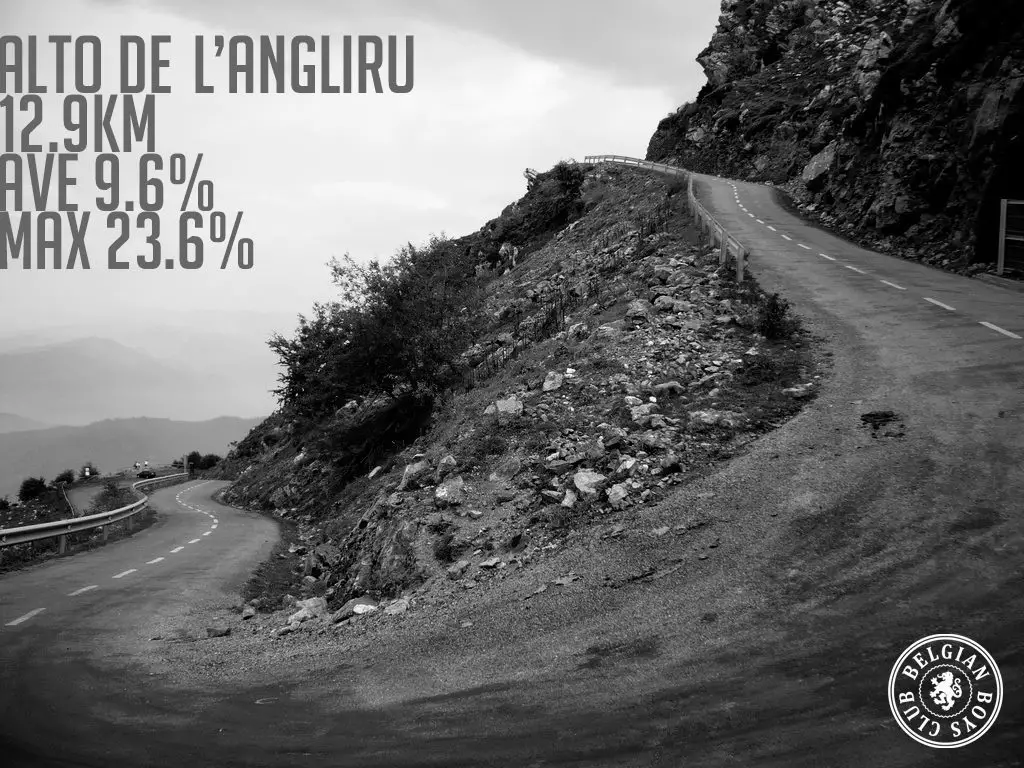 Vuelta a España 2013 stage 20 quick info
DATE September 14, Saturday
STAGE TYPE Mountains with summit finish
START-FINISH Avilés (10 m) > Alto de L'Angliru (1,557 m)
STAGE DISTANCE 142.2 km
Vuelta a España 2013 stage 20 profile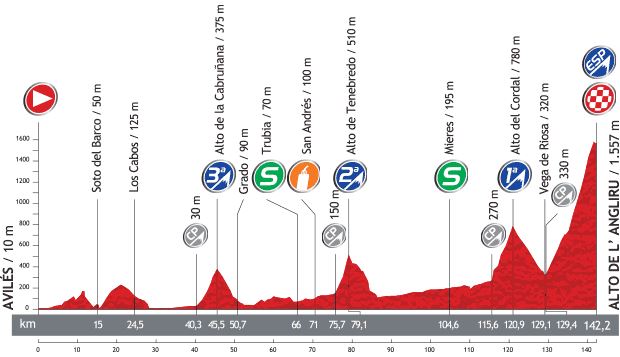 Stage climbs
Name :: Distance :: Max. Altitude :: Vertical gain :: Avg. :: Max.
Alto Del Cordal :: 5.3 km :: 780 m :: 510 m :: 9.6% :: 12.14%
Alto de l'Angliru :: 12.2 km :: 1,575 m :: 1,245 m :: 10.2% :: 23.50%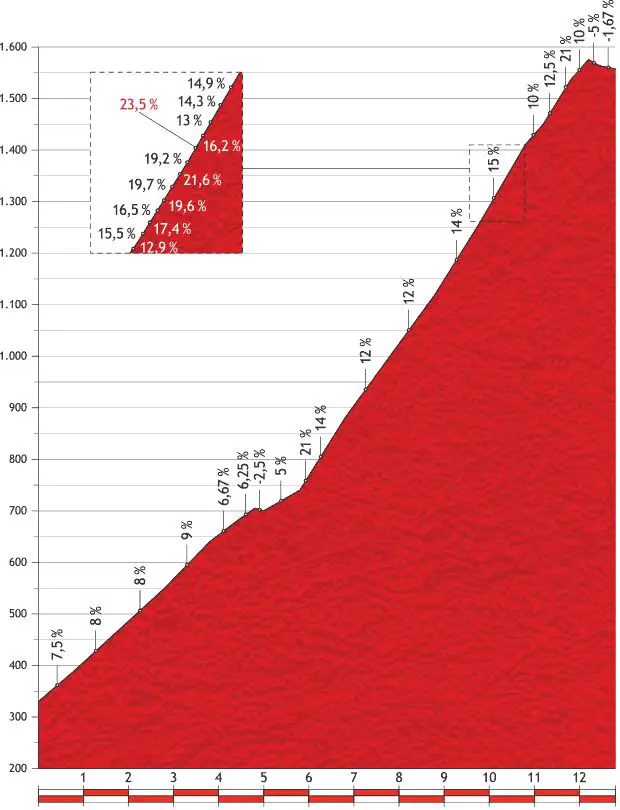 Last kilometers
Stage map
Start: Avilés
Avilés is a city in Asturias, Spain. Avilés is with Oviedo and Gijón, one of the main towns in the Principality of Asturias.
The town occupies the flattest land in the municipality, in a land that belonged to the sea, surrounded by small promontories, all of them having an altitude of less than 140 meters. Situated in the Avilés estuary, in the Northern Central area of the Asturian coast, west of Peñas Cape, it has a national seaport and is an industrial city. It is close to popular beaches such as Salinas.
Architecture
St. Thomas of Canterbury church (dating from the 13th century)
Church of Saint Nicholas of Bari (12th-13th century), in Romanesque style
Palacio de Valdecarzana, the sole example of civil medieval architecture in the town
Palacio de Llano Ponte (1700–1706)
Baroque Palacio de Camposagrado, fortified in its north façade against the English pirates
Capilla de los Alas, a 14th century funerary monument in Romanesque-Gothic transition style
Old church of Sabugo (13th century)
Palacio de Balsera, in Modernist style
Palacio Valdés Theatre, in Neobaroque style.
Museums and arts centers
Museum of Avilés Urban History
Black Pottery Museum
Alfercam Museum, where visitors can find a combination of world musical instrumentas and vintage cars.
"Casa de Cultura", including the Bances Candamo public library, art gallery, reading and study areas.
CMAE – Centro municipal de arte y exposiciones – arts and exhibicion centre in El Arbolón area, not far from the town centre.
Oscar Niemeyer International Cultural Centre,designed by the Brazilian architect Oscar Niemeyer. It is a magnet for different personalities, including winners of the Prince of Asturias Awards, the Nobel prize, musicians, actors, the United Nations, etc.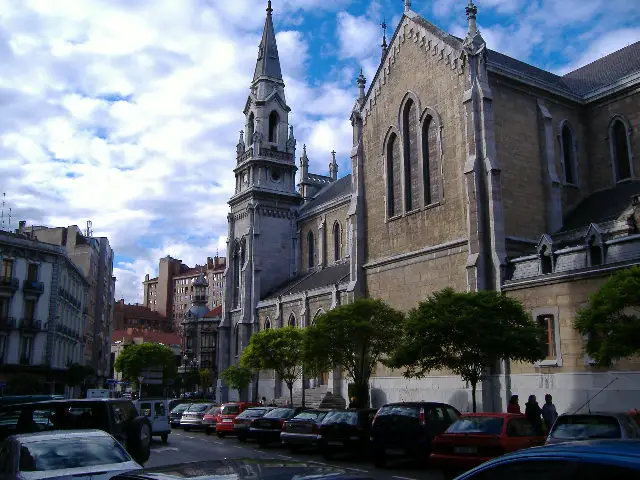 Finish: Alto de L'Angliru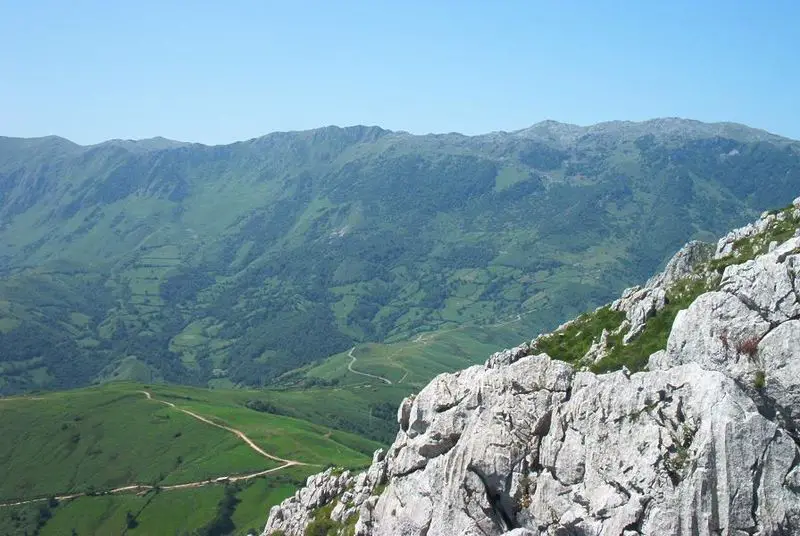 Alto de L'Angliru (alternative name: La Gamonal) is a steep mountain road in Asturias, near La Vega-Riosa, in northern Spain. It is one of the most demanding climbs in professional road bicycle racing.
The organizers of the Vuelta a España wanted a mountain to rival the Alpe d'Huez and Mont Ventoux in the Tour de France and the Mortirolo Pass in the Giro d'Italia, which would go on in 2003 to add one of the world's most demanding climbs, the Monte Zoncolan, in an attempt to compete with the new Spanish climb.
The Angliru was first included in 1999, on stage eight from León. José Maria Jiménez won after catching Pavel Tonkov a kilometer from the finish. He dedicated the win to Marco Pantani, disqualified from that year's Giro d'Italia, saying: "I dedicate it to Pantani by everything that he has suffered in this time".
During stage 15 in 2002, riders climbed the Angliru in rain. Team cars stalled on the steepest part, some unable to restart because their tires slipped on messages painted by fans. Riders were caught behind them and others had to ride with flat tires because mechanics could not reach them. David Millar crashed three times and protested by handing in his race number a meter from the line. The judges ruled he had not finished the stage and he left the race. He regretted his temper – he had been ninth – and apologized to his team.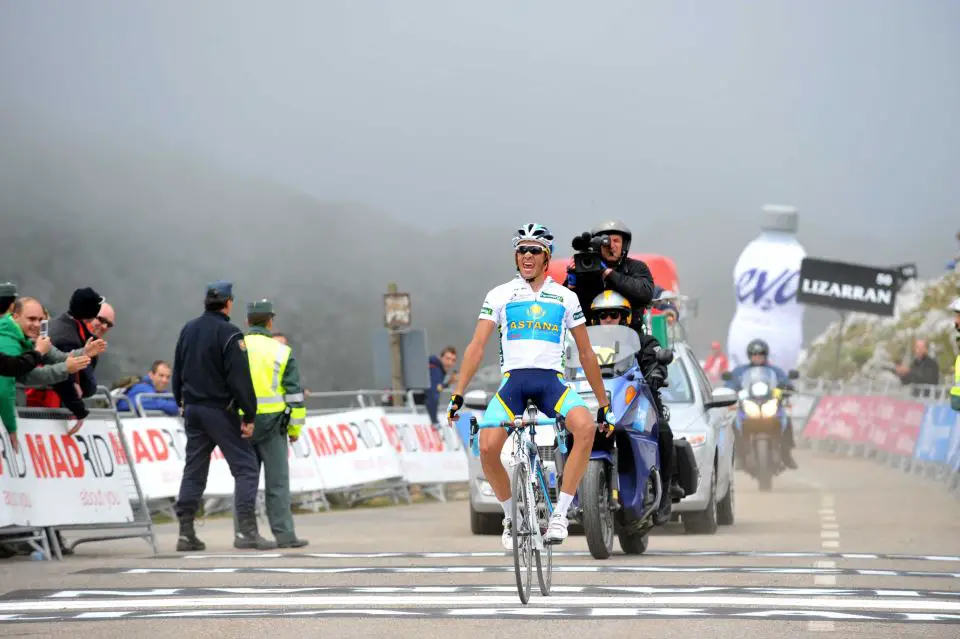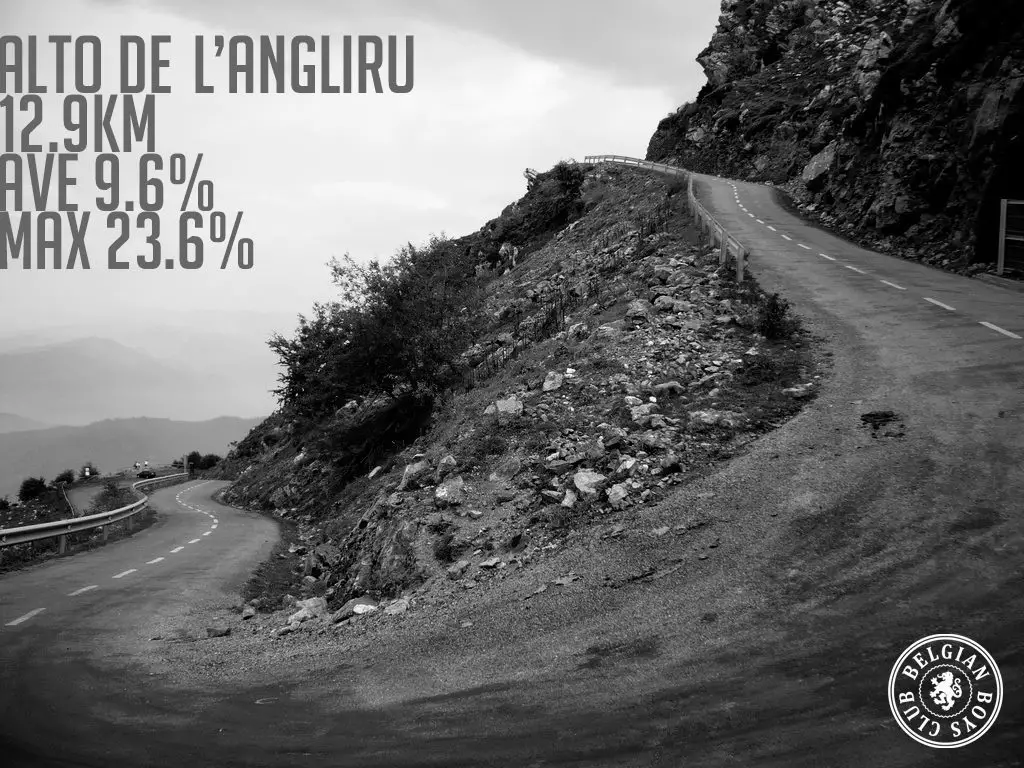 Sources
Latest posts by M. Özgür Nevres
(see all)