Vuelta a España 2013 stage 3 is a flat stage between Vigo and Mirador de Lobeira. The length of the course is 184.8 km. The stage is listed as plain, but it ends with a short but steep uphill, so it's suitable for the puncheurs.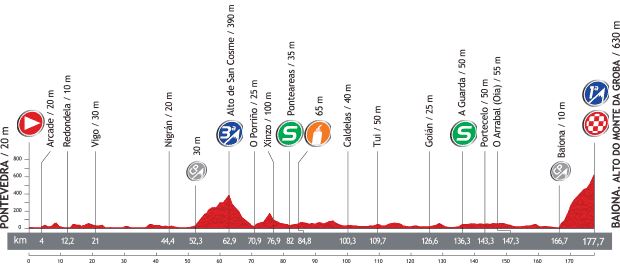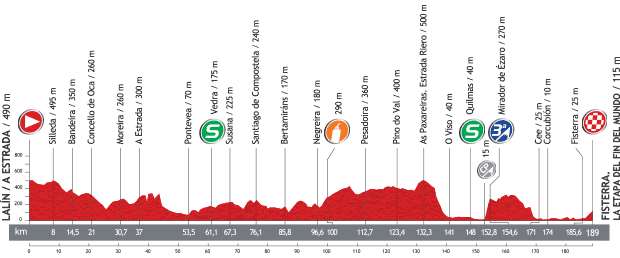 Vuelta a España 2013 Stage 3 quick info
DATE August 26, Monday
STAGE TYPE Plain
START-FINISH Vigo (100 m) > Mirador de Loberia (250 m)
STAGE DISTANCE 184.8 km
Vuelta a España 2013 Stage 3 Profile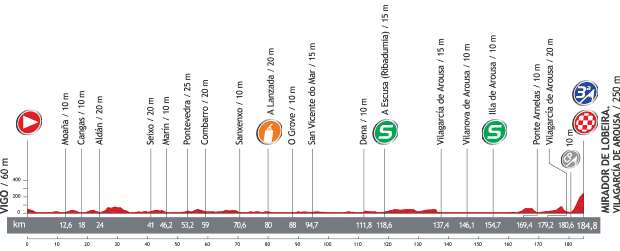 Last kilometers
Stage map
Start: Vigo
Vigo is a city and municipality situated in north-west Spain, in the Spanish autonomous community of Galicia, and on the ria, or bay, of the same name, on the Atlantic Ocean. With 297,124 inhabitants, Vigo is the most populous city in Galicia and the 14th in Spain.
Main sights of Vigo
Vigo has few remarkable old buildings but is home to a collegiate church and a few museums, most of which was inaugurated between the late 1990s and early 2000s. Among them, the Museum of Contemporary Art (MARCO) and the Museum of the Sea. The oldest museum is the Quiñones de León Municipal Museum. The most important historical center of the region is located in its capital and rival city, Pontevedra.
Samil Beach and Toralla island
Casco Vello (historic centre)
Porta do Sol, Policarpo Sanz and Alameda area (modern centre)
Príncipe and Urzaiz Streets (commercial area)
Celtic Castro ruins
Castro fortress
Collegiate church of Santa Maria de Vigo
Museums
Naturnova Museum: Museum dedicated to the environment. Interactive contents.
Museum of the Sea: Museum dedicated to the Sea, and to tinned food and to naval. Important building designed by famous architects Aldo Rossi and Cesar Portela.
Museum of Contemporary Art, Vigo: One of the most important museums of Contemporary Art in Spain.
Museum of Castrelos.
Verbum, Casa das Palabras. A museum dedicated to languages and communication. Important building designed by famous architect Cesar Portela.
Pinacoteca de Vigo
Galician Center of Photography
Ethnographic Museum Liste
Pedro Barrié de la Maza Foundation
Romanesque architecture of Vigo
The municipality of Vigo is not only one of the major industrial cities in Galicia, but it is also one of the more important Roman centers of Pontevedra. Although within the city one will not find much Romanesque architecture, it can be seen a few kilometers away from the city center.
In many of the municipality's neighborhoods and parishes, a large number of Roman ruins remain. Such is the importance of the Roman remains in Vigo that many Spanish authors have come to coin the term Romanesque Vigo (románico vigués in Spanish). Vigo retains some interesting examples of Romanesque churches in southern Galicia:
Santa María de Castrelos
Santiago de Bembrive
San Salvador de Coruxo
Beaches
Samil beach
Carril beach
Canido beach
Vao beach
Finish: Mirador de Lobeira
The Monte Lobeira is a mountain in the town of Villanueva de Arosa Pontevedra.
The mountain only measures 289 meters in height, although being the altitude coastal area is seen at 100%.
This mountain is most famous for the impressive viewpoint there on top of the top. The summit can be accessed by logging roads, to the foot of the gazebo, then you have to climb a few meters high, through stairs.
Sources
Latest posts by M. Özgür Nevres
(see all)