Vuelta a España 2013 Stage 4 is between Lalín / a Estrada and Fisterra. The length of the course is 189 km. The stage is listed as Mountains with Summit Finish, but not so mountainous in fact. It ends with a short but steep uphill, like stage three, so it's suitable to the puncheurs.
The fourth stage of the Vuelta will also feature a route commonly referred to as a "leg breaker". The final part of the stage will again spike up although it won't be challenging enough to result in significant changes in the classification. In theory, all leaders should be able to complete this stage without too much trouble. The stage will consist of 186 kilometers and will end at the finish line located in Fisterra "el Fin del Mundo" (The end of the Earth).
The peloton also climb the "Mirador de Ezaro" along the way.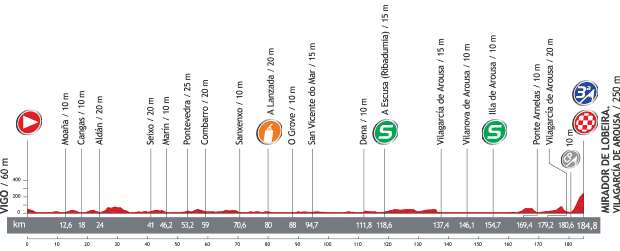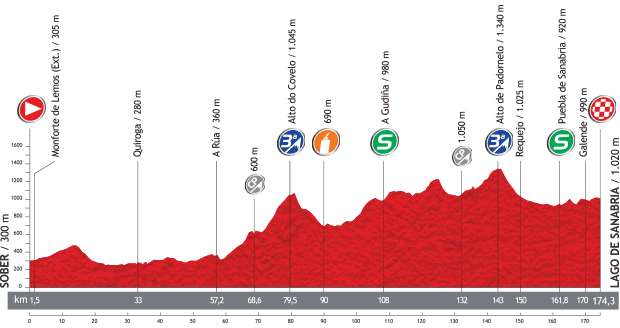 Vuelta a España 2013 Stage 4 quick info
DATE August 27, Tuesday
STAGE TYPE Mountains with Summit Finish
START-FINISH Lalín / a Estrada (570 m) > Fisterra (125 m)
STAGE DISTANCE 189.0 km
Vuelta a España 2013 Stage 4 profile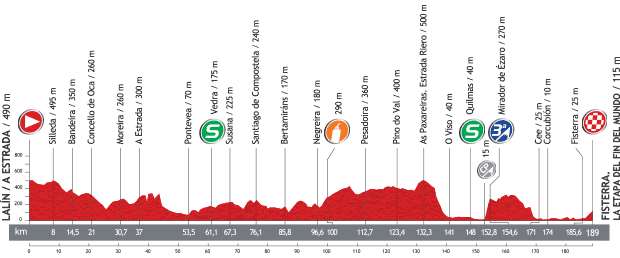 Last kilometers

Stage map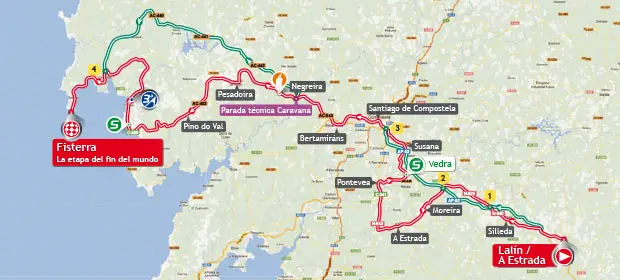 Start: Lalín / A Estrada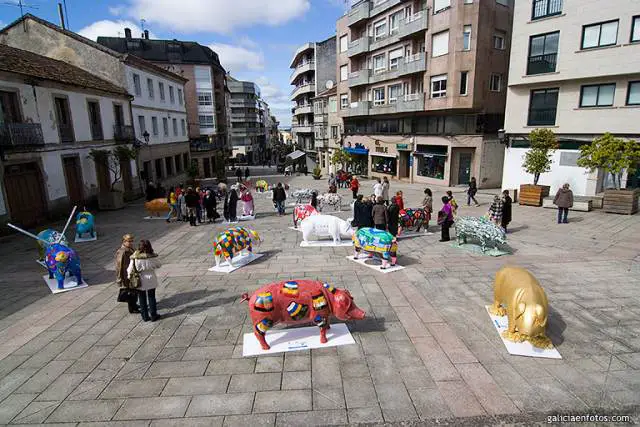 Lalín is a municipality in Galicia, Spain in the north of the province of Pontevedra, is the capital of the region of the Deza.
A Estrada is a municipality of the Pontevedra province in Galicia in northwestern Spain. It is located some 15 miles southeast of Santiago de Compostela. A Estrada is the chief town of a densely-populated mountainous district; its industries are agriculture, stockbreeding, and the manufacture of linen and woollen cloth.
Finish: Fisterra
Fisterra is a municipality in the province of A Coruña, in the autonomous community of Galicia, Spain. It belongs to the comarca of Finisterre. Fisterra is on Cape Finisterre, the final destination for many pilgrims on the Way of St. James.
Fisterra is on the rocky Costa da Morte (Galician: "Coast of Death"), named because of the large number of shipwrecks along these shores. The name Fisterra comes from Latin FINIS TERRAE, meaning "Land's End". This name stems from the fact that this area is on a remote peninsula that is one of the westernmost points of land in Galicia, and hence in Spain.
Fisterra has some spectacular beaches like O Rostro, Arnela, Mar de Fora, Langosteira, Riveira, and Corbeiro. Many of the beaches are framed by steep cliffs leading down to the "Mare Tenebrosum" (or dark sea, the name of the Atlantic in the Middle Ages).
Sources
Latest posts by M. Özgür Nevres
(see all)