Team Colombia will use Wilier Triestina Twin Blade in time-trial events for the 2013 cycling season. The Colombian pro-continental team made an announcement last Thursday about their new time-trial bikes.
In November, it is announced that the famous and historic Italian bike manufacturer Wilier Triestina to support Team Colombia during the 2013 season. Then earlier this month, the team unveiled their new bikes: Wilier Triestina will equip the Escarabajos (the Beetles, in Spanish) in 2013 with its top-range racing model: Wilier Triestina Zero7.
The team made another announcement titled "The Escarabajos to challenge the clock on Wilier Twinblade" on last Thursday and unveiled their new, exclusive model to be employed in time trial races.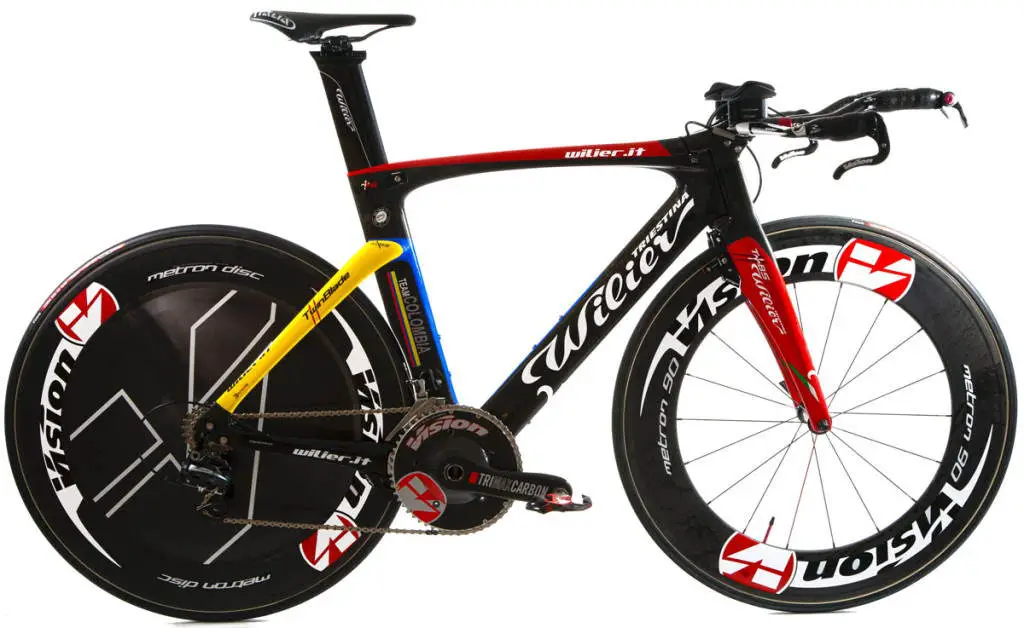 The official debut for the Colombian Team's new Twin Blade frames is scheduled on February 7th, in the Tour of Mediterranean Stage 2, a 24 km team time trial (TTT) from Ville d'Agde to Sete.
The new time-trial bikes of the team will be equipped with FSA/SRAM drivetrain and Vision Wheels. They are painted with the colors of the Colombian flag. FSA handlebar and stem, Selle Italia saddle, Wilier integrated seatpost, Vittoria Tubular tires, and Time pedals are completing the build.
Specifications of Team Colombia's Wilier Triestina Twin Blade Time Trial bike
Frame: Wilier Triestina Twin Blade
Fork: Wilier Twin Fork
Headset: Ritchey
Shifters: FSA/SRAM
Gearshift: SRAM
Derailleurs: SRAM
Crankset: FSA Trimax Carbon TT
Chain: FSA
Sprocket: SRAM
Brakes: FSA
Wheels: Vision
Tires: Vittoria Tubular
Stem: FSA K-Force Light
Handlebar: FSA Trimax Carbon SI R-Bend
Seatpost: Wilier Triestina integrated
Saddle: Selle Italia
Pedals: Time
From Wilier Triestina's website:
"Our approach to aerodynamic design consists of seeing wind and airflow as allies. Our Twin Blade respects the nature of airflow and seeks to manage it at every opportunity in order to maximize efficiency by diminishing air turbulence and resistance."
About Wilier Triestina
From their website:
Wilier was born in 1906 thanks to the brilliant idea of a trader from Bassano, Pietro Dal Molin, of building bicycles on his own account. His forge or \"Steel horses\" rose as a small workshop along the banks of the river Brenta, at Bassano del Grappa, and it became more and more successful by keeping up with the increasing demand for bicycles.
For this reason, Dal Molin determined to set up a professional team captained by the Triestin Giordano Cottur, well-know for succeding no less than Gino Bartali during the Bassano-Monte Grappa lap for amateurs.
At the same time, according to the common feeling of uneasiness about the fate of Trieste, Dal Molin decided to associate the name of this Julian town to that of his own firm. In this way, in Autumn 1945 the Wilier Triestina was born, distinguished by its red copper-colored bicycles, which later became an authentic trade-mark.
Strong in its success and thanks to the prestige it had gained, in 1947 Wilier bought up a promising young cyclist: Fiorenzo Magni, this one, instead of being crushed in the challenge between Fausto Coppi and Gino Bartali, found out the right system to become the third great protagonist of Italian cycling, by winning the Tour of Flanders and Giro d'Italia in 1948.
Unfortunately, after the first enrapturing phase of national reconstruction, in the early '50s, came the period of the economic miracle: people gave up bicycles to discover scooters and motorbike. Cycle firms suffered the damage of progress, and in 1952 Wilier Triestina had to shut down and leave its agonistic activity.
Nowadays, the glorious story of this firm and of its "copper-colored jewel" lives again thanks to the Gastaldello brothers from Rossano Veneto, who bought the Wilier Triestina mark in 1969, proud to bring again great favor to one of the best known Italian cycle houses and providing dozens of professional and dilettantish Italian and foreign teams with their bicycles.
The ultimate glory was in September 2008, when the Italian cyclist Alessandro Ballan won the UCI World Road Championships in Varese on a Wilier bike, just ahead of his illustrious teammate Damiano Cunego.
In the last decade, and especially since 2008 – due to the success of international cycling and of the new models, Wilier Triestina continues to increase and consolidate its presence in the international market, with double-digit growth in terms of revenue and bicycles produced.
Read more on the Wilier Triestina official website.
Latest posts by M. Özgür Nevres
(see all)