Stage 11 of the Giro d'Italia 2014 is a 249 km medium mountain stage from Collecchio to Savona. It is the longest stage of this years' Giro d'Italia.

STAGE DETAILS
DATE: May 21 2014, Wednesday
STAGE TYPE: Medium Mountain
START-FINISH: Collecchio (116m) > Savona (10m)
LENGTH OF THE COURSE: 249.0 km
DIFFICULTY:


<< Previous Stage | All stages of Giro d'Italia 2014 | Next Stage >>
Stage Profile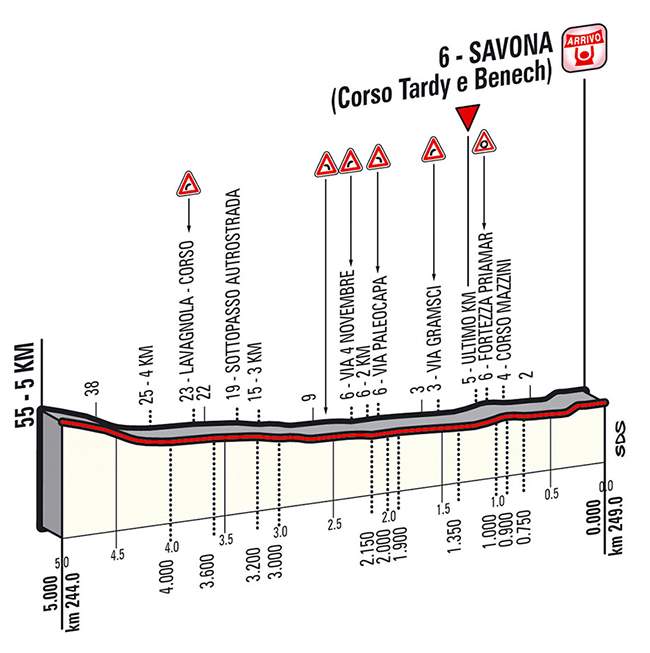 Stage Map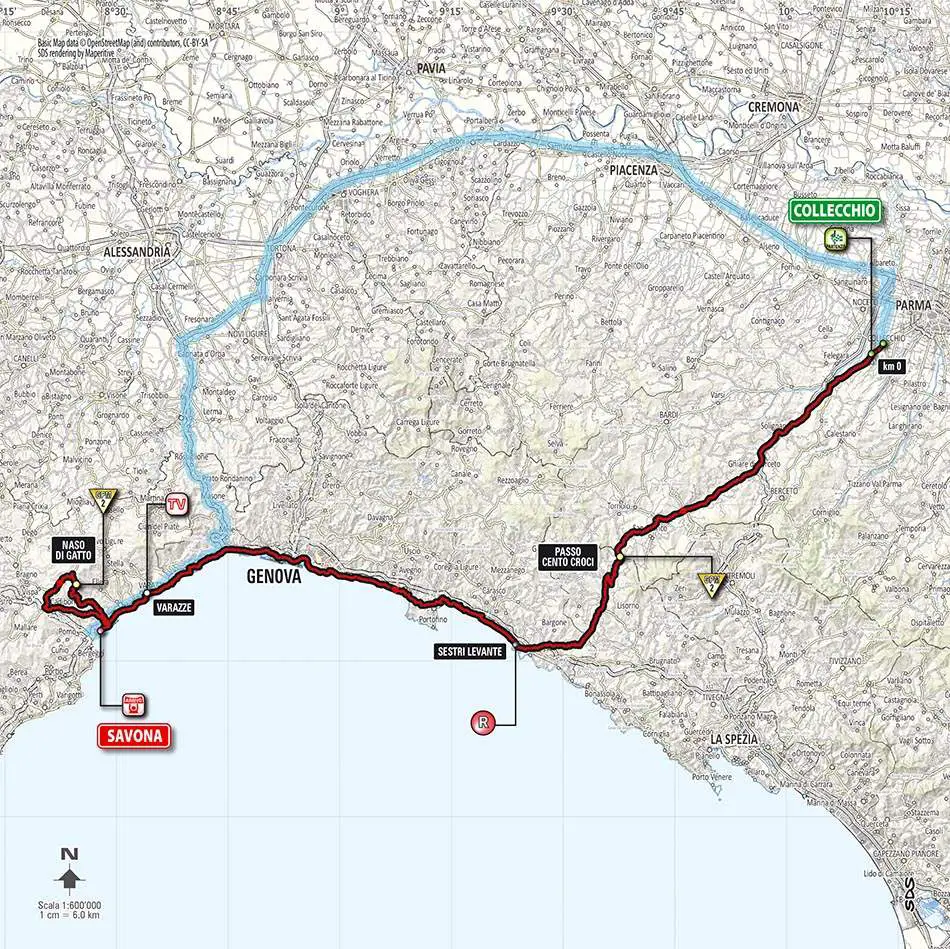 Start: Collecchio
Collecchio is a town in the province of Parma, Emilia-Romagna, Italy. It is located 12.9 kilometres (8.0 mi) by road southwest of the centre of Parma. A major food producing area, it is home to multinational Italian dairy and food corporation Parmalat and Parma F.C.'s training complex, Centro Sportivo di Collecchio, and is connected by railway.A major food producing area, it is home to the multinational Italian dairy and food corporation Parmalat and Parma F.C.'s training complex, Centro Sportivo di Collecchio, and Il Collecchio Baseball Club, a baseball team established in 1974.
Architecturally of note is the Pieve di San Prospero and Villa Paveri-Fontana, formerly Villa Dalla Rosa-Prati. Villa Paveri-Fontana was built in the late seventeenth century on a pre-existing sixteenth century building. It still keeps rooms painted with mythological and architectural perspective. At the entrance stands on the right (if coming from Parma) is a monumental arched entrance, called the "L'Arco del Bargello" which marks the entrance to the park. Villa Meli-Lupi di Soragna, located in the Fortunato Nevicati park is an example of special architectural structures as it depicts a nut, with the front moved by small columns forming a portico, and a corner tower.
Finish: Savona
Savona is a seaport and comune in the northern Italian region of Liguria, capital of the Province of Savona, in the Riviera di Ponente on the Mediterranean Sea.Savona used to be one of the chief seats of the Italian iron industry, having iron-works and foundries, shipbuilding, railway workshops, engineering shops, and a brass foundry.
One of the most celebrated former inhabitants of Savona was the navigator Christopher Columbus, who farmed land in the area while chronicling his journeys. 'Columbus's house', a cottage situated in the Savona hills, lay between vegetable crops and fruit trees. It is one of several residences in Liguria associated with Columbus.
Main sights of Savona
Near the Rocca di San Giorgio, on the "Promontorio del Priamar", stands the fortress named Priamar, built by the Genoese in 1542 after their conquest of Savona, on the area of the old cathedral and old city and later used as a prison and military priso. At Fort Priamar were relegated many soldiers of the defeated Bourbon Kingdom of the Two Sicilies who did not want to betray their country. Among them the adjutant Santomartino Joseph, who defended the fortress of Civitella del Tronto. In the fall of the stronghold of Abruzzo, Santomartino was tried by Piedmont and sentenced to death. Under pressure from the French the sentence was commuted to 24 years in prison to be served in the fortress of Savona. Shortly after his arrival, one night, was found dead, leaving his wife and five children. He said he had tried to escape. An example of a suspicious death on which it was never open an investigation to ascertain the real causes of death. Also a Republican patriot Giuseppe Mazzini was imprisoned here by the government of the Savoy monarchy.
Adjacent to the Cathedral and built 1480-1483, is the Cappella Sistina (Sistine Chapel), containing the Mausoleum erected by the Della Rovere Pope Sixtus IV to honor his parents, Leonardo Della Rovere and Luchina Monleone. The construction was commissioned by Giovanni D'Aria and his brother Michele. The chapel is architecturally similar to the chapel dedicated to the Cardinal Pietro Riario in the Basilica of the Santi Apostoli, Rome. After years of deterioration, in 1765-1767 a reconstruction was ordered by the Genovese Doge Francesco Maria Della Rovere. This updated the chapel in a Rococo style, with ceiling painted by Paolo Gerolamo Brusco. The Cathedral has a noteworthy 16th century carved wooden choir seats.
Facing the cathedral is the unfinished Palazzo Della Rovere (Della Rovere Palace), built by Cardinal Giulio della Rovere (future Pope Julius II) and designed by Giuliano da Sangallo as a university.
Palazzo Delle Piane (Delle Piane Palace), also known as Palazzo Delle Palle.
The old towers, survived after the 1528 war with Genoa: the Campanassa (Commune tower, where the freedom declaration of Savona was signed in 1191), towers Corsi and Riario, "Ghibelline Tower", and Torre della Quarda (also known as "a Torretta"), in the Leon Pancaldo square.
The Sanctuary of Nostra Signora della Misericordia (Our Lady of Mercy).
In neighbourhood of Savona remains a house documented as property of Domenico Colombo, father of Christopher Columbus, where they lived for many years (Christopher Columbus lived in Savona for much of his youth).
The church of Nostra Signora di Castello (Our Lady of the Castle) has a large altarpiece by Vincenzo Foppa and Ludovico Brea painted in 1490.
I am a software developer, a former road racing cyclist (at the amateur level) and a science enthusiast. Also an animal lover! I write about cycling on this website, cycling-passion.com. You can check out my social media profiles by clicking on their icons.
Latest posts by M. Özgür Nevres (see all)