Giro d'Italia 2014 stage 10 is a 173 km flat stage from Modena to Salsomaggiore Terme.
Giro d'Italia 2014 stage 10 quick info
DATE: May 20, 2014, Tuesday
STAGE TYPE: Flat
START-FINISH: Modena (35m) > Salsomaggiore Terme (156m)
LENGTH OF THE COURSE: 173.0 km
DIFFICULTY: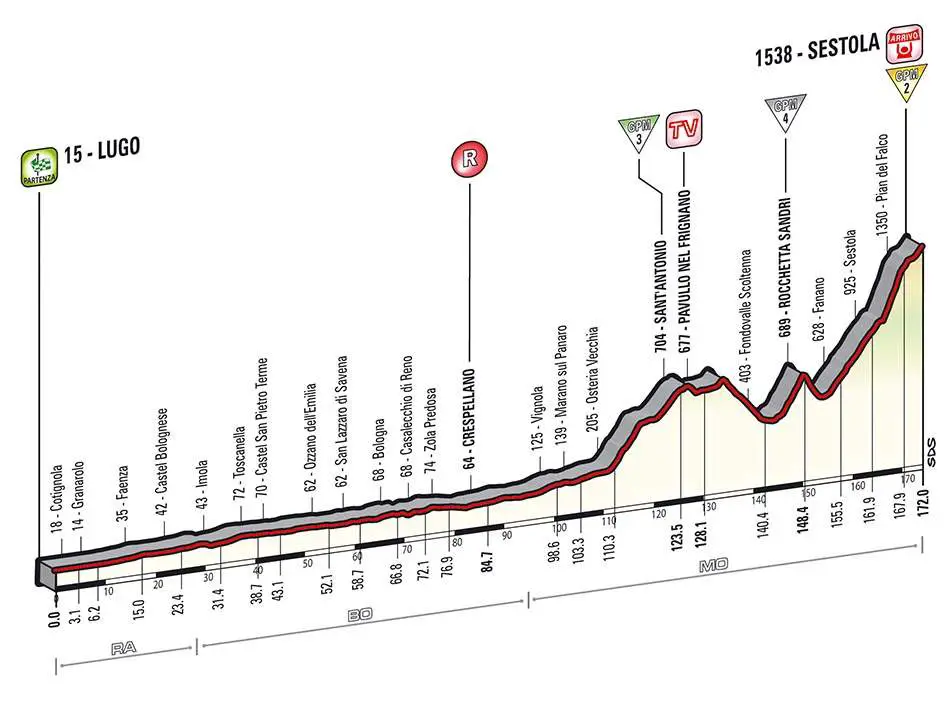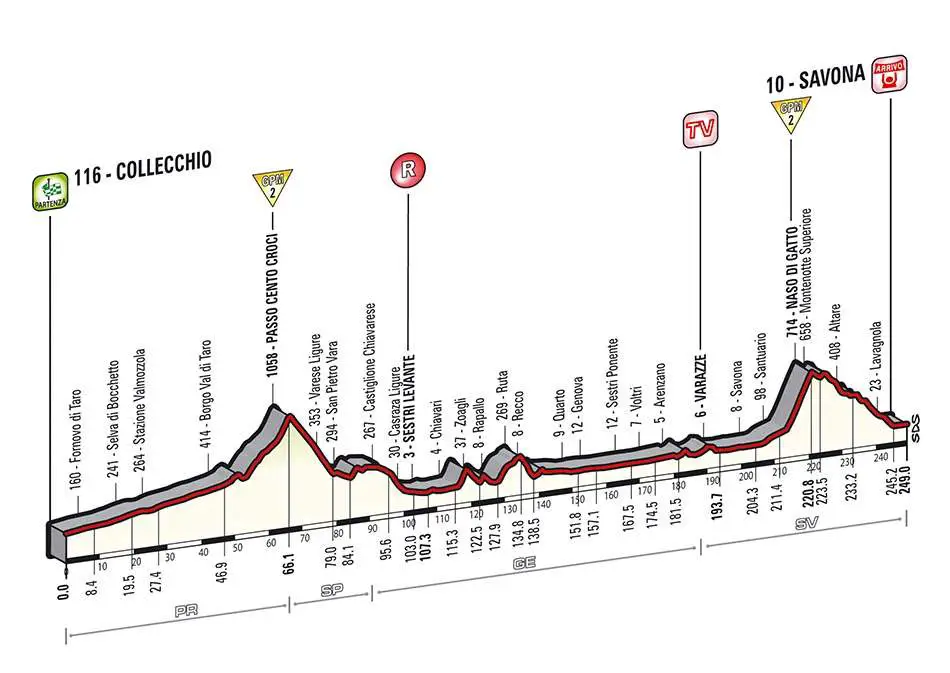 Giro d'Italia 2014 stage 10 profile
Last kilometers
Giro d'Italia 2014 stage 10 map
Giro d'Italia 2014 stage 10 start: Modena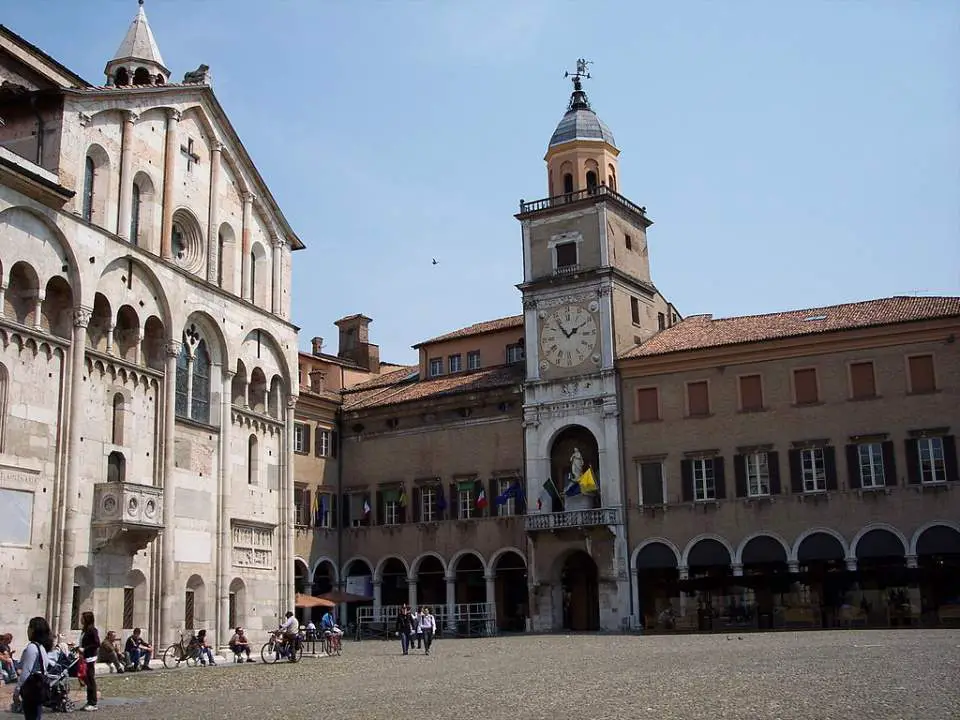 Modena is a city and comune (municipality) on the south side of the Po Valley, in the Province of Modena in the Emilia-Romagna region of Italy.
An ancient town, it is the seat of an archbishop, but is now known as "the capital of engines", since the factories of the famous Italian sports car makers Ferrari, De Tomaso, Lamborghini, Pagani, and Maserati are, or were, located here and all, except Lamborghini, have headquarters in the city or nearby. Lamborghini is headquartered not far away in Sant'Agata Bolognese, in the adjacent Province of Bologna. One of Ferrari's cars, the 360 Modena, was named after the town itself. One of the colors for Ferraris is Modena yellow.
The University of Modena, founded in 1175 and expanded by Francesco II d'Este in 1686, has traditional strengths in economics, medicine, and law and is the second oldest athenaeum in Italy, sixth in the whole world. Italian officers are trained at the Italian Military Academy, located in Modena, and partly housed in the Baroque Ducal Palace. The Biblioteca Estense houses historical volumes and 3,000 manuscripts.
Modena is well known in culinary circles for its production of balsamic vinegar and also for its Military Academy, Italy's "West Point", which is housed in the Ducal Palace.
Famous Modenesi include Mary of Modena, the Queen consort of England and Scotland; operatic tenor Luciano Pavarotti (1935 -2007) and soprano Mirella Freni, born in Modena itself; Enzo Ferrari (1898-1988), eponymous founder of the Ferrari motor company; the Catholic Priest and Senior Exorcist of Vatican Gabriele Amorth; renowned chef Massimo Bottura and the rock singer Vasco Rossi who was born in Zocca, one of the 47 comuni in the Province of Modena.
Main sights of Modena
Ducal Palace
Town Hall
Piazza Grande (a UNESCO World Heritage Site)
The Cathedral and the Ghirlandina (a UNESCO World Heritage Site)
Other churches

San Vincenzo
Santa Maria della Pomposa
San Giovanni Decollato
Sant'Agostino
San Francesco
San Pietro
San Giorgio
San Bartolomeo
Chiesa del Voto

The Synagogue
Mercato Albinelli, a historical covered market founded in 1931
Orto Botanico dell'Università di Modena e Reggio Emilia, a botanical garden
San Cataldo Cemetery, designed by avant-gardist Italian architect Aldo Rossi (1971-1997)
Home (museum) of Luciano Pavarotti
Museums

Estense Gallery, with works by Tintoretto, Paolo Veronese, Guido Reni, Correggio, Cosmé Tura, and brothers Annibale and Agostino Carracci. The most famous works are the two portraits of Francis I d'Este, a sculpture by Gian Lorenzo Bernini and a canvas by Diego Velázquez.
Estense Library, one of the most important libraries in Italy.
Museum of Medieval and Modern Art.
Municipal Museum of Risorgimento.
Este Headstones Museum.
Roman Lapidary Museum.
Graziosi Gallery of Plaster Casts.
City Museum of Archaeology and Ethnology.
Museums of the Cathedral
Museum Enzo Ferrari
Museum of Picture Cards
Giro d'Italia 2014 stage 10 finish: Salsomaggiore Terme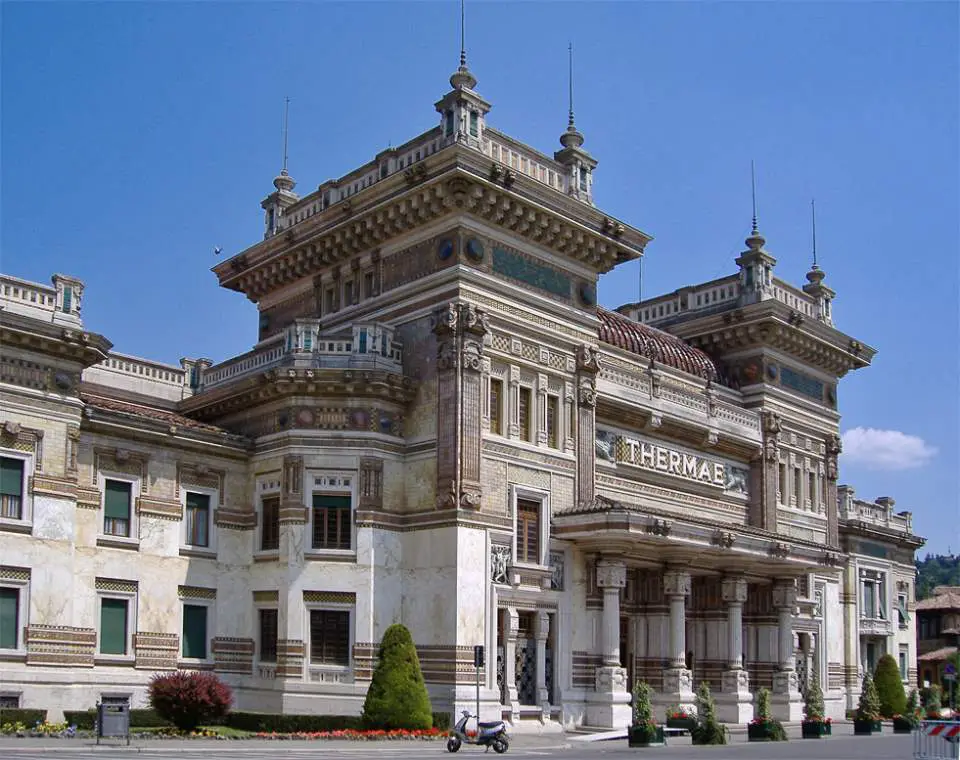 Salsomaggiore Terme is a town and comune in northern Italy. It is located in the province of Parma, in the Emilia-Romagna region, located at the foot of the Apennines. It is a popular Spa town. The water is strongly saline.
Due to its sodium content, the mineral water of Salsomaggiore belongs to the group of salty waters, a bromo-iodine-salt variety. Hypertonic and cold water extracted from artesian wells, 800 to 1,200 meters deep, at a temperature of 16°C and at a density of 16° on the Baumé scale (1 degree Baumé is equivalent to approximately 11 grams of salt per liter).
The main focus of the town lies in its baths, notably in the "terme" situated in the center of the town. Since 2007 Salsomaggiore is home to a European Festival called Incontrarsi a Salsomaggiore, a celebration of art, music, and theater dedicated to women and their health.
Notable attractions of this town are the central piazza with its clothing shops, the main center of the town with a gelateria that is renowned throughout the area, and the countryside surrounding this valley town.
The two villages nearby, Salsominore and Tabiano, have also their own baths.
Sources
Latest posts by M. Özgür Nevres
(see all)