On April 6, 2013, a good to read interview with Graeme Obree has published in heraldscotland.com by Mark Smith, titled "Graeme Obree smashes the myth of sporting success".

Who is Graeme Obree?
Nicknamed The Flying Scotsman, is a Graeme Obree Scottish racing cyclist who twice broke the world hour record, in July 1993 and April 1994, with his own handmade bicycle "the old faithful", and was the individual pursuit world champion in 1993 and 1995. He was known for his unusual riding positions and for the Old Faithful bicycle he built which included parts from a washing machine. He joined a professional team in France but was fired before his first race.
He suffers from bipolar disorder and has attempted suicide three times. His life and exploits have been dramatized in the film The Flying Scotsman. Obree has created some radical innovations in bicycle design but has had problems with the cycling authorities banning the riding positions his designs required.
In March 2010 he was inducted into the Scottish Sports Hall of Fame.
Now the 47-year-old Scotsman is working on a plan to attempt the human-powered land speed record in a machine of his own design for a while. Last week, he tested the vehicle, "Beastie", in preparation to break the human-powered land speed record.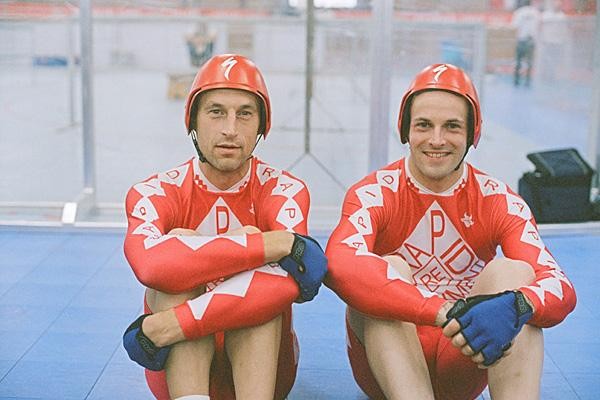 Headlines from the interview
Childhood and first days at school: "I remember lying in the sunshine and the school bell went off, and everybody's conditioned by bells, aren't they? We're all Pavlov's children – bells, whistles and work – but I thought: 'Oh, it's such a nice day,' so I just lay there on the grass."
"A lot of the positive stuff was driven by negativity"
About success: "It is isolating. It divides you from the rest of society because they are not successful by your definition. You're limiting your circle of friends to other successful people, in inverted commas."
"I think the Americans have caused more depression than anybody, because you're a 'winner' or a 'loser'. With that, you're relegating 90% of the population to feel like s***"
Do successful people have more mental health problems? "Yes, they do. Striving for success on top of success is a form of insanity. In business you can keep striving, but in sport you will go over the top of the graph and it's downhill from there."
Read more: Graeme Obree smashes the myth of sporting success (heraldscotland.com)
I am a software developer, an ex-racing cyclist (at the amateur level) and a science enthusiast. Also an animal lover! I write about cycling on this website, cycling-passion.com. You can check out my social media profiles by clicking on their icons.
Latest posts by M. Özgür Nevres (see all)