Italian bicycle manufacturer Pinarello announced its latest Dogma series: Pinarello Dogma F8W 2016 – "W" stands for wireless! The bike is equipped with SRAM's new RED eTAP wireless electronic groupset and will be available in limited numbers from January 2016.
F8W is the fruit of teamwork between Pinarello LAB, TEAM SKY, and the British multinational car manufacturer JAGUAR (owned by the Indian company Tata Motors since 2008). Team SKY brought feedback from its athletes while Jaguar contributing to Aerodynamics concerns CFD and Wind Tunnel testing. Pinarello LAB did the cycling part, structural study, and design. This synergy brought to light the Dogma F8.
Pinarello Dogma F8W Wireless
Pinarello Dogma F8W isn't a wireless-specific frame: the frame ports for cables or wires have been covered, so you can switch to an alternative groupset anytime. The bike is coming with Zipp 303 Firecrest carbon clincher wheels, and a Most Aero 3K stem and handlebar. The frame is in red/white, code-named "896 RED WHITE F8W".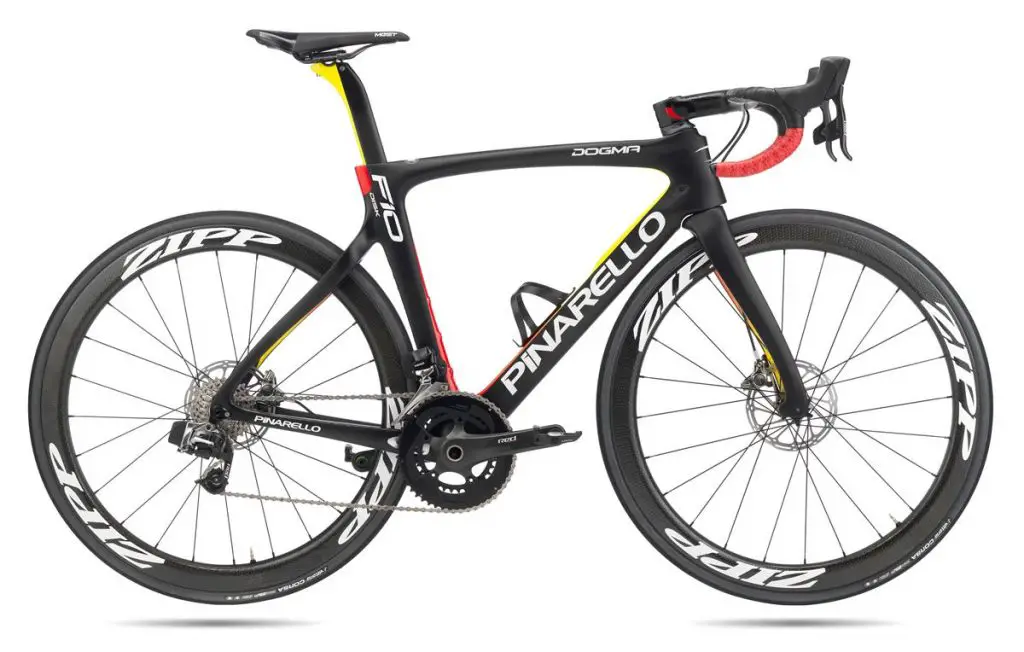 Fausto Pinarello said: "I've been trying the new SRAM RED eTap on my Dogma for a long time; I'm really impressed by the performance of this product. I am sure that it will be perfect on our bikes".
"DOGMA F8 achieves new significant numerical data, but more importantly, maintains the unique driving feeling, which made previous Pinarello Dogma bikes unbeatable. Whoever rides the new F8 DOGMA, will immediately perceive the extraordinary work done by our team, in creating a streamlined and aerodynamic bike without losing the typical characteristics of DOGMA: a powerful and responsive bike for every track."
SRAM's European Marketing Director Gaetan Vétois added: "Being associated with Pinarello for their latest Dogma launch, provides the perfect platform and match for SRAM RED eTAP. It also brings together two companies focused on product innovation for the benefit of its customers."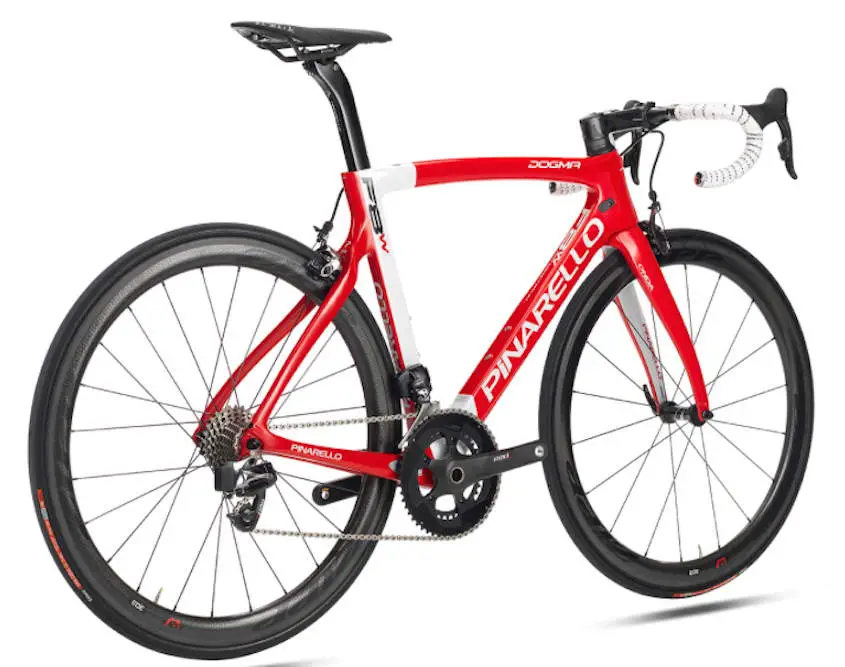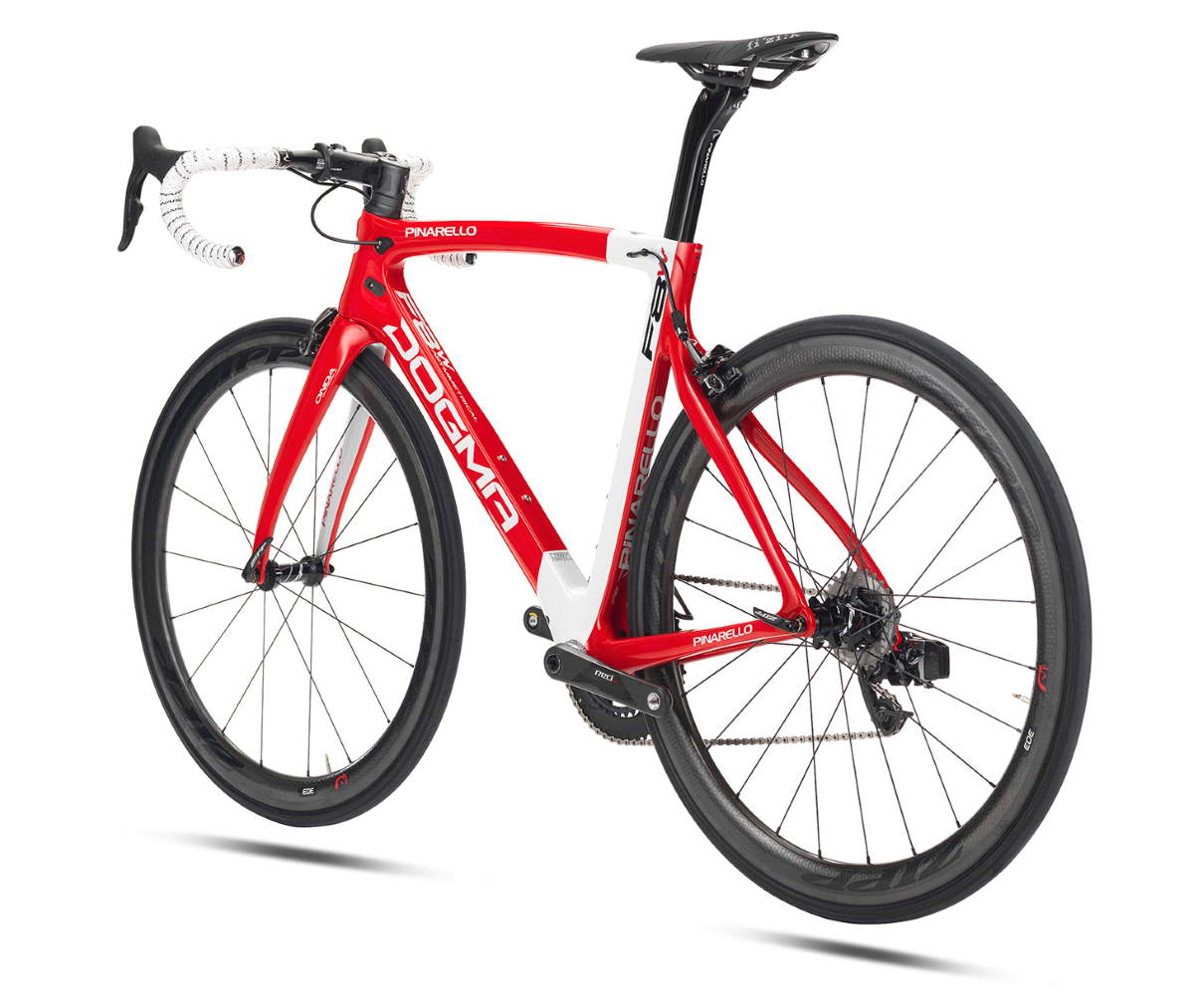 SRAM eTAP Wireless Groupset
SRAM introduced its wireless eTAP groupset last August, and it is the first electronic groupset of the American drivetrain manufacturer. The new group came six years after Shimano launched Di2 and four years after Campagnolo introduced EPS, but they are fully wired. RED eTAP is wireless. Both shifters and derailleurs are powered by their own batteries.
F8W isn't the only bike that will be equipped with SRAM RED eTAP. Previously, the British bike producer Boardman unveiled its 2016 range and it includes two bikes with eTAP shifting.
Sources
Latest posts by M. Özgür Nevres
(see all)