Top 10 tips to climb better and faster: Climbing is not fun, for most of the cyclists. It is slow, painful and sometimes you feel beaten up, especially you're out of form and overweight. To make things worse, climbing ability is the key to win most of the races. But you can climb better following these tips.
The tips below do not have magical effects. You cannot be a better climber from today to tomorrow. And if you want to climb faster and better, you must be ready to suffer, especially in the beginning. It is impossible to write a guide like "5 minutes a day, and you'll climb better. You won't even sweat." The real world doesn't work like that.
Being a better climber is both suffer and fun. It's suffer, because you must make big efforts. It's fun because if you climb better, especially better than your cycling mates, you feel great 🙂 And we're cyclists, so suffering is the part of the game.
Here we go:
Top 10 tips to climb faster
1. Think like a climber
First of all, you should adjust your thoughts to climbing. When you see a climb during a ride, what do you think? "Oh f*?#~… another steep climb…", right? Do not think like that. Think positive. Say yourself: "great, there's a new opportunity to being a better climber. I will climb this one better than ever and my climbing ability will improve every climb."
2. Choose hills
Most riders choose flat routes instead of hilly ones because they don't want to hurt themselves. Big mistake! At least two times in a week, choose the hilliest route around. To be a better climber, climb more. If you live in a flat area with no hills around, try to ride against wind using higher gear ratios. Ride 10-20 minutes like that at your lactate threshold. This will simulate riding uphills.
3. Climb with better climbers than you
Find some good climbers and train with them. This works best if your mate(s) slightly better than you. If they are much better than you, you'll quickly get dropped and lose your moral.
4. Find the optimal gear combination
Choose a gear combination that enables you to cadence at least 70 rpm. Finding the gear ratio that suits you most needs a bit of experience. But you can use this method: if your legs are hurting and burning, choose an easier gear (this means higher cadence); if your lungs are crying out for relief, choose a harder gear (lower cadence). If both are at their limit, and you have run out of gearing options, there's not much you can do.
5. Get more aerodynamic (body position)
Do not tighten your upper-body. It's a waste of energy. Stay relaxed.
Aerodynamics also affects your climbing speed. Basically, if you're riding more than 13 km/h on a flat road (no wind), air resistance is the greatest counter-force against you. Air resistance grows with the square of your speed. This means, while riding at 40kph, air resistance is 4-times bigger than riding at 20 km/h. If the climb is so steep, you may ignore the aerodynamics.
But, if the climb is not so steep and you able to ride faster than 18-20 km/h, switching a more aerodynamic position gives you a slight advantage. For that reason, Marco Pantani was holding the handlebar from drops while climbing, to get a more aerodynamic position.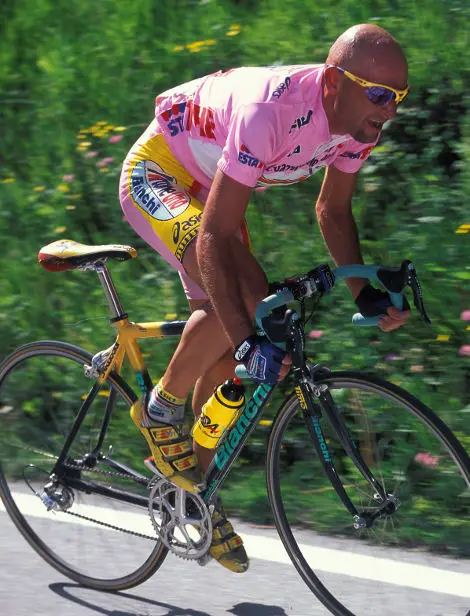 6. Choose tires that have better rolling-resistance
Choose good-rolling tires. Rolling resistance must be the key point when choosing tires. Some tires roll better while some others not. You can lose up to 25 watts if your tires are not rolling nicely. You can check out the rolling resistances of some clincher tires from here.
7. Lose some weight
To be a good climber, lose some weight. Train more and/or have a good diet. What is your ideal weight? According to Joe Friel (Bicycling magazine, May 2012), top male riders are 2.1-2.4 lbs per inch (0.375-0.428 kg per cm) of height. This means if you're 180 cm in height, your ideal weight should between 67.5-77kg.
If you're going to be a dedicated climber you will want to be at 2.1 (0.375) (or close to that number). Published numbers suggest that Cadel Evans is at 2.2, along with Pierre Rolland (who is taller and heavier), with Samuel Sanchez at 2.1 (a little taller than Evans and the same weight)
8. Choose your climbing style
Usually, your heart-rate increases an average of 5 bpm when you stand up while climbing. But small and lightweight riders like Marco Pantani can stand with less pulse penalty because they're supporting less weight than big riders like Jan Ullrich.
To find the climbing style that's most efficient for you, ride a steady grade that takes 8-10 minutes to climb. Do the whole hill seated at a brisk but not all-out pace. Note your heart rate and the time it takes to get to the top. Roll around for 10-12 minutes to recover, then ride the climb again-standing this time, at the same heart rate. Compare your elapsed times. Repeat several times over a period of a month to allow variations in the form on a given day. By comparing the times, you should have a clear picture of which climbing style is better for you.
9. Do not start too hard
Starting with an easy pace to a long climb is better. Mentally divide the climb into thirds. Ride the first one at a moderate pace. Increase the pace slightly during the middle third. At the last third, increase the pace all the way to the top.
9. b. Set intermediate goals
Additionally, you can mark off intermediate goals: break a long climb into a series of goals. Tell yourself you'll maintain the pace to the next turn. Once you get there, set another goal, the big tree a quarter mile ahead, for instance. You'll be at the top soon.
10. Start climbing in the front of the bunch
If you're riding in a big group or peloton, try to start the climb in the front of the bunch, especially if you're not the best climber in the group. You can limit your losses and even catch up on the descent.
If you're racing against experienced riders, it's hard to be in the front before a decisive climb because everybody knows s/he has to be in the front. This is one of the reasons that in cycling, having a good team is very important. Strong domestics can carry their leader in front of the peloton before a decisive moment.
Latest posts by M. Özgür Nevres
(see all)