Cycling is perhaps the most inspiring sport in the world. It's not only inspiring, but also brutal, punishing, filled with pain and suffering, yet still beautiful. It inspired many writers and poets. Here are the best cycling quotes below (ordered by owners' surname):
A list of the best cycling quotes
A
It was eleven more than necessary.

Jacques Anquetil, cyclist, 5-time winner of the Tour de France, after winning a race by twelve seconds.
B
I'm still that eight-year-old kid who rode up the Stelvio. I'm still that kid in my legs, in my head, and in my heart.

Ivan Basso, former pro cyclist.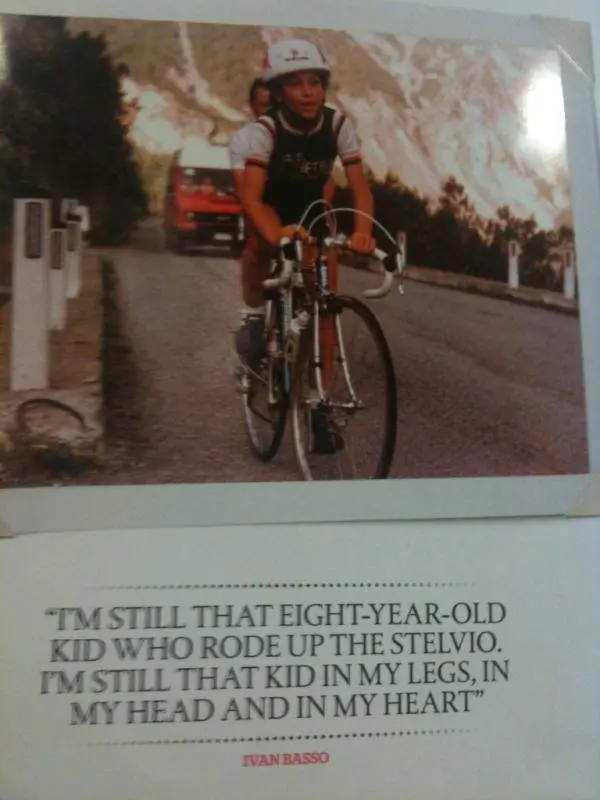 Cycling for everyone has more defeat than victory, even for the great Eddy Merckx who won over 400 races, more pain than wellness, more effort than glory, but all of that combined makes cycling so fascinating. The public wants to see the hell before heaven: the suffering before the win. You need to stay dedicated to your dream. The real cyclist is a person who after a bad race on Sunday wakes up on Monday and is ready to go out on the bike to train to get better.

Rubens Bertogliati, former pro cyclist.
There simply is nothing else like it. And, as a test of physical and mental endurance it has no equal. Other sports may be as intense, as pressurized, as hard for short periods: But the Tour does on day after day after day. It's the only race in the world where you have to get a haircut halfway through.

–Chris Boardman, former pro cyclist, multiple times holder of the Hour Record.
C
To race a bike, you need to be a poor man.

Biagio Cavanna (b. Novi Ligure, 1893 – d. Novi Ligure, December 21 1961), Italian track cyclist and sports manager, who became famous for having discovered and initially coached campionissimi Costante Girardengo and, later, Fausto Coppi.
No hour of life is lost that is spent in the saddle.

Winston Churchill, politician.
Ride your bike, ride your bike, ride your bike.

Fausto Coppi, "il campionissimo", after being asked what three pieces of advice he would give to an aspiring cycling champion.
The bicycle has a soul. If you succeed to love it, it will give you emotions that you will never forget.

Mario Cipollini, cyclist, former world champion.
D
Variable gears are only for people over forty-five. Isn't it better to triumph by the strength of your muscles rather than by the artifice of a derailleur? We are getting soft. Give me a fixed gear.

Henri Desgrange, 1903. Cyclist, the first organizer of Tour de France.
When the spirits are low, when the day appears dark, when work becomes monotonous, when hope hardly seems worth having, just mount a bicycle and go out for a spin down the road, without thought on anything but the ride you are taking.

Sir Arthur Conan Doyle, author.
E
Life is like riding a bicycle. In order to keep your balance, you must keep moving.

Albert Einstein, physicist.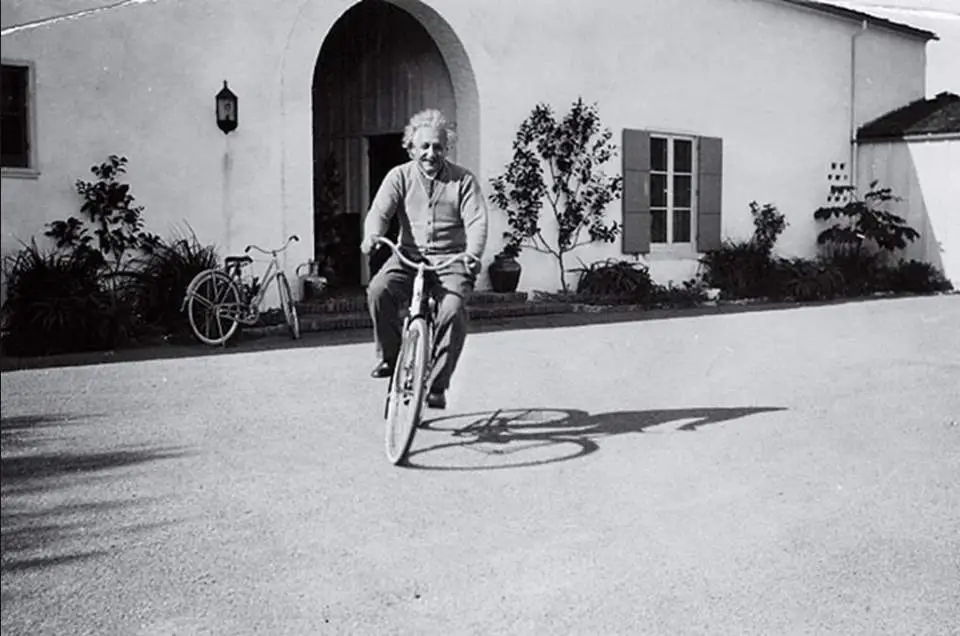 G
Cycling isn't a game, it's a sport. Tough, hard and unpitying, and it requires great sacrifices. One plays football, or tennis, or hockey. One doesn't play at cycling.

Jean de Gribaldy, cyclist. Sean Kelly's directeur sportif.
H
Running would be much better if they invented a little seat to sit on and maybe some kind of platforms for your feet to push and… Oh wait.

Liz Hatch, cyclist.
It is by riding a bicycle that you learn the contours of a country best, since you have to sweat up the hills and coast down them. Thus you remember them as they actually are, while in a motor car only a high hill impresses you, and you have no such accurate remembrance of country you have driven through as you gain by riding a bicycle.

Ernest Hemingway, author.
As long as I breathe, I attack.

Bernard Hinault, cyclist. 5-time winner of Tour de France.
K
Nothing compares to the simple pleasure of a bike ride.

John F. Kennedy, Former U.S. President.
Bike riding is a beautiful thing. Peaceful and serene, flowing and artistic, freeing and blissful, pedaling a bike over hill and dale is ethereal. Tack a number on your back, though, and bike racing is a bizarrely unnatural sport hinging so much on luck.

Ted King, former pro cyclist.
Ask a scientist to design a better violin and you get a dirty look. While the instrument seems simple, the science behind it is not. Such is bicycle stability. The machine appears uncomplicated but the theories governing its motion are nightmarish. Some things just can't be easily defined by physics and mathematics. The interaction of the body, mind, muscles, terrain, gravity, air and bicycle are so complex that they defy exact mathematical solutions. The feel and handling of a bike borders on art. Like the violin, it's been largely designed by tough, inspiration and experimentation.

Chester Kyle, Engineering Professor.
L
It never gets easier, you just go faster.

Greg LeMond, former cyclist. 3-time winner of Tour de France and the UCI World Champion.
As a kid I had a dream – I wanted to own my own bicycle. When I got the bike I must have been the happiest boy in Liverpool, maybe the world. I lived for that bike. Most kids left their bike in the backyard at night. Not me. I insisted on taking mine indoors and the first night I even kept it in my bed.

John Lennon, musician
M
To be a cyclist is to be a student of pain. At cycling's core lies pain, hard and bitter as the pit inside a juicy peach. It doesn't matter if you're sprinting for an Olympic medal, a town sign, a trailhead, or the rest stop with the homemade brownies. If you never confront pain, you're missing the essence of the sport. Without pain, there's no adversity. Without adversity, no challenge. Without challenge, no improvement. No improvement, no sense of accomplishment, and no deep-down joy. Might as well be playing Tiddly-Winks.

Jeffrey Scott Martin, Paralympian
I've won. Hurray! I don't have to go to school any more.

Eddy Merckx, widely considered as the greatest cyclist of all time.
I Want To Ride My Bicycle
I Want To Ride My Bike
I Want To Ride My bicycle
I Want To Ride It Where I Like

Freddie Mercury, musician.
Cycling is such a stupid sport. Next time you are in a car travelling at 40mph think about jumping out – naked. That's what it's like when we crash.

David Millar, cyclist.
The bicycle, the bicycle surely, should always be the vehicle of novelists and poets.

Christopher Morley, journalist, novelist, essayist and poet.
O
My biggest fear is not crashing on a bike… It's sitting in a chair at 90 and saying, 'I wish I had done more'.

Graeme Obree, "The Flying Scotsman", who twice broke the world hour record, in July 1993 and April 1994, and was the individual pursuit world champion in 1993 and 1995.
R
Yeah. And right then I agreed with him. But we did choose the most beautiful. The most epic. The daftest. The most furious, the most poetic, romantic, brutal, life-affirming and soul-destroying sport of all, the sport that drives its flawed geniuses to destruction and its devotees to distraction. It's the simple love affair of man with machine, human-powered machine, and it's the one toy from childhood we get to keep, that grown men and women still get to play with, all over the world, no matter how old, no matter what culture, race, creed or ideology.

It's the thing that gave you the freedom to leave your neighborhood and to explore the world around and when we race, it's the same barnstorming thrill you had when you sped down your block, racing home from school against Pete Barnes to see who could get to the edge of the cul-de-sac first. It's that same rush, that same freedom, the same Breath of Sheer and Unadultered Life. The sport of kings, kid. Beat that.

Lee Rodgers, cyclist. After a hard stage in Tour de Langkawi, Rodgers stood by two Pure Black guys on a terrace watching golfers. One of them turned to him, face lined and wearied beyond its 24 or so years, and said, "Man, we chose the wrong sport." After that, Rodgers wrote these words in his diary (blog).
"It's a bollocks, this race! You're working like an animal, you don't have time to piss, you wet your pants. You're riding in mud like this, you're slipping… it's a pile of shit." (When then asked if he would start the race again, de Rooij replied:) "Sure, it's the most beautiful race in the world!"

Theo de Rooij, cyclist. After crashed out the Paris-Roubaix.
S
If the constellations had been named in the twentieth century, I suppose we would see bicycles.

Carl Sagan, scientist.
[A bicycle is] an unparalled merger of a toy, a utilitarian vehicle, and sporting equipment. The bicycle can be used in so many ways, and approaches perfection in each use. For instance, the bicycle is the most efficient machine ever created: Converting calories into gas, a bicycle gets the equivalent of three thousand miles per gallon. A person pedalling a bike uses energy more efficiently than a gazelle or an eagle. And a triangle-framed bicycles can easily carry ten times its own weight – a capacity no automobile, airplane or bridge can match.

Bill Strickland, author.
It is the unknown around the corner that turns my wheels.

Heinz Stucke, long-distance touring cyclist.
T
Learn to ride a bicycle. You will not regret it if you live.

Mark Twain, author.
V
I get paid to hurt other people, how good is that?

Jens Voigt, former pro cyclist.
W
Whenever I see an adult on a bicycle, I have hope for the human race.

Herbert George Wells, author.
Latest posts by M. Özgür Nevres
(see all)