In the run-up to the maiden edition of the All Around eMTB in July 2022, well-known influencer Steve Ude tackles the competition's most epic trails to give riders a preview of what's in store. He created a special teaser video right on the adrenaline-fuelled natural single trails, taking in the astonishing vistas of the Valle d'Aosta's epic four 4000m peaks, to showcase the unique backdrop to this new eMTB stage race.
All Around eMTB
Taking place from July 5th to 9th 2022, the very first edition of the All Around eMTB will see e-bikers from all over Europe compete along a route comprising Valle d'Aosta's brand-new single trails. An innovative stage race format that combines competitive spirit with the equally important spirit of sharing.
To give fans a taste of the trails, All Around eMTB turned to 33-year-old Trento-based mountain bike instructor and diehard all-season mountain enthusiast, Steve Ude.
"Even though I haven't been involved in the competition world for years, I was completely behind this project from the start because the wild, alpine side of the event chimes perfectly with what I am trying to get across in my videos: they are about developing a passion for discovering new regions, new peaks and valleys on your MTB," commented Steve. "The All Around eMTB is aimed at people with a good MTB technique who are also always looking for something more than a straightforward competition".
Ude couldn't help but compare the All Around eMTB with other routes: "I was blown away by the Valle d'Aosta's alpine setting, particularly the configuration of the landscape itself which really does seem custom-made for mountain bikes: even though the trails are very technical uphill, they are most all pedalable! And then when you get to the top, when you climb from one valley to the next, the setting and the panorama are genuinely epic."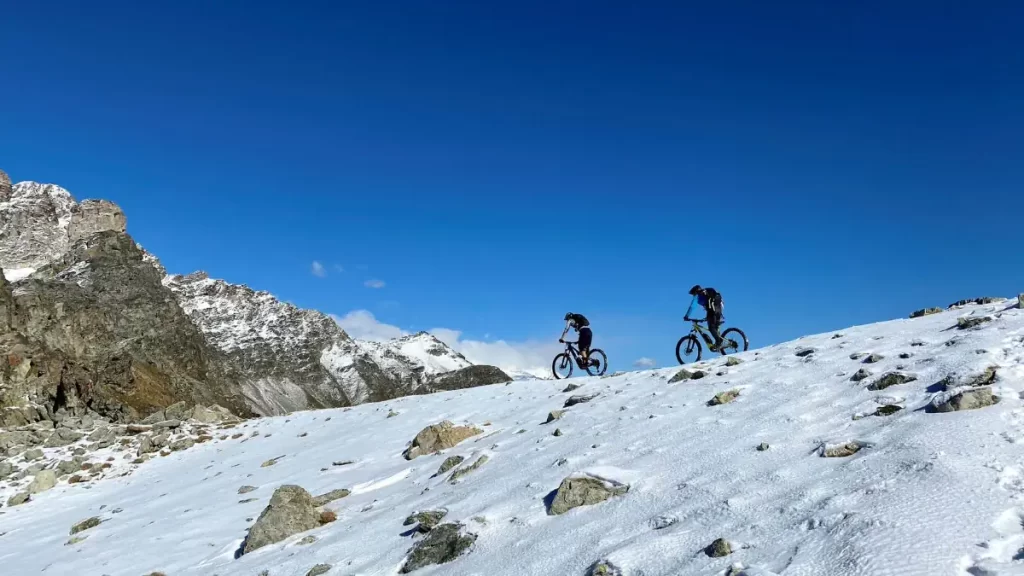 Before parting ways, we asked Steve for some advice for riders thinking of entering: "You will definitely need to focus on training suitable for the elevation gain and the mileage of the stages so that you'll be able to compete over several days without pushing yourself too far" Steve explained, drawing on his endurance experience.
"Another hugely important thing is to really be familiar with your bike and its battery so you don't risk having to walk home or get back to the All Around Camp with too much battery left," continued Steve.
"And then of course, just remember to have fun! Good preparation will help you there too: it will help you stay fresh enough to enjoy the landscape and the adventure," added Steve. We were a bit surprised by his parting words: "One piece of dispassionate advice for everyone taking part though: don't forget to look behind you now and then! Monte Rosa, the Matterhorn and the other 4000m peaks will be watching you, always majestic, from all different perspectives and angles".
The first edition of the All Around eMTB is scheduled to take place from July 5th to 9th 2022 in Valle d'Aosta. The trails will be on a 200km long circular route to be completed in four days with special time trials alternating with transfer stages. Entries are open solely to electric mountain bikes. There is also a second classification reserved for competitors that decide to complete just two stages, totaling 100 kilometers.
For more information, visit All Around eMTB official website.
Latest posts by M. Özgür Nevres
(see all)