A special collection that celebrates the uniqueness of the Tour de France, developed by Santini to offer cyclists a range of minimalist technical cycling wear from the exclusive new "Maillot Jaune" brand.
The huge symbolic value of the Tour de France has been brilliantly distilled into the "Maillot Jaune" brand used for a brand-new and exclusive capsule collection developed by Santini for A.S.O.
The Maillot Jaune logo can be interpreted either as a stylized bird's eye view of a cyclist or an athlete with their arms raised in victory.
The Santini collection spans jerseys, bib shorts, a base layer top, a technical t-shirt, a jacket, and various accessories. The color palette chosen for the Maillot Jaune is ultramarine blue, petrol green, and yellow. The result? An elegantly minimalist look.
Maillot Jaune jerseys
There are two jerseys in the collection. The Allez is an exact copy of official Yellow Jersey's fit and is made entirely from recycled PET and waste yarn-derived fabrics. It is both sleek and body-hugging to optimize aerodynamics. The design itself is attractively minimalist: the upper part of the jersey is ultramarine blue while the sleeves are petrol green.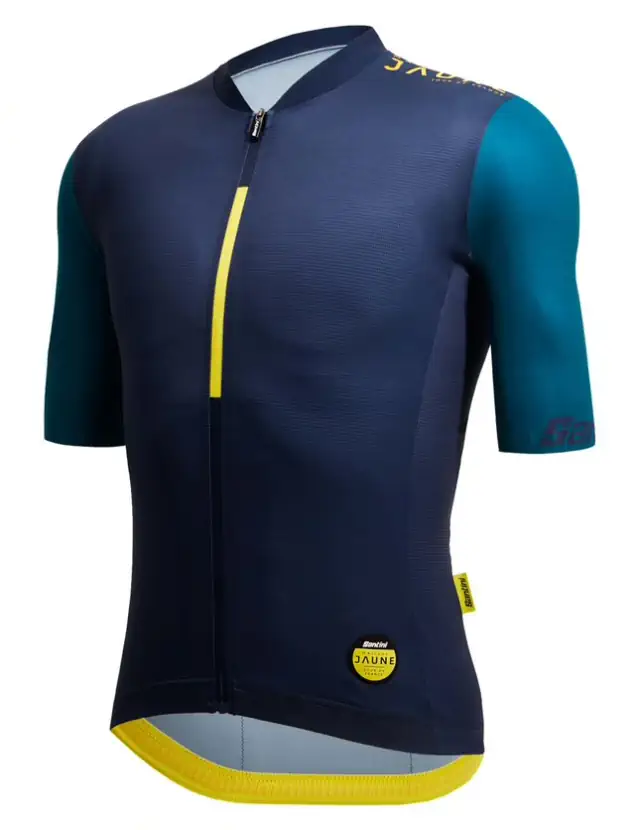 The Esprit, on the other hand, is designed for the hottest summer days. It is slim fit and made from particularly light, breathable fabrics. Yellow stripes against an ultramarine background give it an elegant, linear appeal too.
other products
The "Maillot Jaune" collection also includes a technical t-shirt with the same design as the Allez jersey that's perfect for everyday wear, bib shorts with the C3 pad with ergonomic 3D different density surfaces, and gel seat bone inserts, and a micromesh base layer top.
Santini has also designed a vest and a 100% waterproof jacket for wet windy days, both of which pack away into their own zipped side pockets and sport reflective Maillot Jaune logos. Coordinating accessories – gloves, socks, cap, and neck warmer – complete the look.
The launch of the new "Maillot Jaune" collection is part of the Santini and A.S.O. agreements and further strengthens a partnership that also spans the Tour de France leader jerseys.
About Santini
Santini Cycling Wear was founded in 1965 by Pietro Santini who spotted a market for technical cycling clothing as a result of his abiding passion for the sport and competition.
In what would seem like a revolutionary and contrarian choice today, the Bergamo-based company made the pivotal decision to design and manufacture all of its products exclusively in Italy.
Each item is designed and developed by a design team with a deep-rooted passion for the two-wheel world to meet four key requirements: fit, performance, comfort, and durability.
Santini currently produces 5,000 items of clothing per day and exports 80% of its output. It is deeply committed to ongoing investment in researching and developing innovative textiles and new production methods.
However, people – athletes – remain its central focus as it continues to refine its creations to allow cyclists to pursue their sporting passions in a comfortable but inimitably stylish kit.
Latest posts by M. Özgür Nevres
(see all)