The partnership between Santini and US-based UCI WorldTeam Trek-Segafredo is celebrating its fifth year. Now the Italian cycling wear company reveals the new kits made from recycled fabrics that will dress the men and women of the team both in competition and training for the coming cycling season. Santini is supplying Trek-Segafredo with a complete wardrobe to tackle all four seasons and different weather conditions. Both men's and women's kits and accessories will be identical in quantity and technical spec.
Dressing a pro cycling team is a serious challenge in terms of sizes, preferences, and requirements. That's without even mentioning changing seasons, individuality, and men's and women's training into the mix. In short, there is a huge amount of preparatory work and management involved. The partnership between Santini and Trek-Segafredo enters its fifth year in 2022 and extends well beyond race kits to include training kits and also all of the rest of the apparel the cyclists require throughout the year.
The Trek-Segafredo men's and women's teams receive the same wardrobe required to tackle a season of international competition and intense training. Santini supplies both teams with complete kits and accessories for all the seasons and different climate conditions; all in the same quantities and made to the same high technical spec, which also means the same focus on the environment.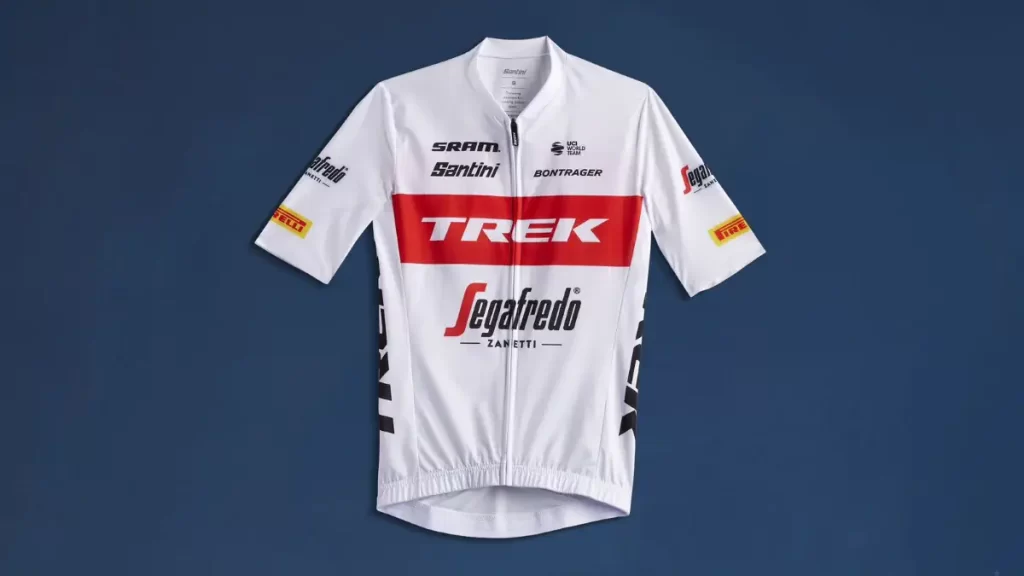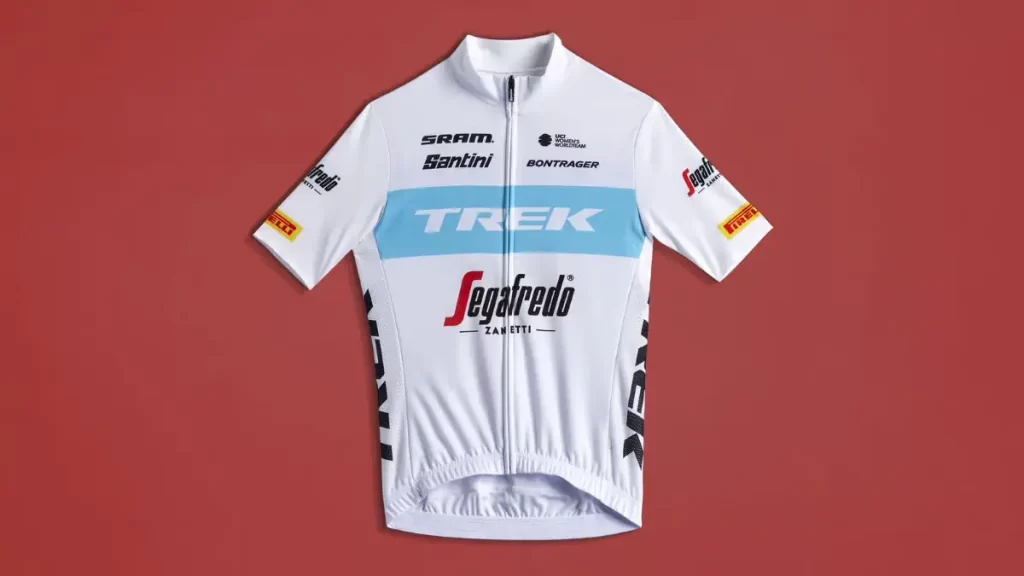 Santini Trek-Segafredo kit: Eco-friendly choices
The racing kits of the Trek-Segafredo men's and women's teams include an official jersey made from not one but two sustainable fabrics: Ecofabric RECY by Corno, which, as the name suggests, is an eco-friendly product made from yarn recycled from used materials and those discarded in the environment, and Sitip's Native – Ecoknit, also made from recycled fibers and yarns without the use of polluting chemicals, to reduce consumption of natural resources and dependency on non-renewable energies.
In addition to this, all of the apparel supplied to the team is packaged in the TIPA compostable bags Santini has been using since January 2021.
Race and training kits
White was chosen as the main color for the official jerseys for men's and women's teams. The men's jersey has a red band across the chest as a background to the Trek logo, while the women's version has a light blue band. The bib shorts, on the other hand, are navy blue with a red band for the men's one and a light blue band for the women's one. In line with Trek Segafredo's focus on safety, the training kit is a bright fluorescent grenadine pink for maximum visibility on the road during training sessions.
Replica versions of the men's and women's Trek-Segafredo kits are also available to amateur riders.
For further information: www.santinicycling.com
About Santini Cycling Wear
Santini Cycling Wear was founded in 1965 by Pietro Santini who spotted a market for technical cycling clothing as a result of his abiding passion for the sport and competition. In what would seem like a revolutionary and contrarian choice today, the Bergamo-based company made the pivotal decision to design and manufacture all of its products exclusively in Italy. Each item is designed and developed by a design team with a deep-rooted passion for the two-wheel world to meet four key requirements: fit, performance, comfort, and durability.
Santini currently produces 5,000 items of clothing per day and exports 80% of its output. It is deeply committed to ongoing investment in researching and developing innovative textiles and new production methods. However, people – athletes – remain its central focus as it continues to refine its creations to allow cyclists to pursue their sporting passions in a comfortable but inimitably stylish kit.
Latest posts by M. Özgür Nevres
(see all)