Here is the list of the boutique* bicycle manufacturers, ordered by their name (starting with R). If you want to find a unique bike that fits your personality, review this list.
The list is probably not complete, so if you want to contribute, please leave a comment below.
A B C D E-F G-H I-J-K L M N-O-P-Q R S T V-W Y-Z
REEB Cycles
Founded in 2011, The company is located in Longmont, Colorado, United States.
Website: reebcycles.com
REPETE cycles
Located in Prague, Czech Republic, REPETE was founded by two Czech framebuilders, Mikolas Voverka, and Robin Fišer. They are constructing frames from Columbus steel tubes, an Italian manufacturer with a long-standing history in cycling. REPETE REborn won the North American Handmade Bicycle Show 2015 Best Road Bike award.
Website: repetecycles.com
Retrotec & Inglis Bikes
Retrotec Cycles founded in 1992, and Ingles Cycles founded in 1996 by Curtis Inglis. He builds custom handmade steel bicycles under the name of Inglis cycles but continues building Retrotec bikes when orders came in.
Website: ingliscycles.com
Rex Cycles
Located in Sacramento, California, United States, Rex Cycles specializes in custom frames, mechanical and frame repairs, parts, and our complete bikes. They specialize in road racing, touring, and tandem bicycles, and the unique S and S Bicycle Torque Coupling travel system. The company was founded by Steve Rex in 1987. Steve Rex is a self-taught frame builder, having gained inspiration while studying abroad in Bristol, England. Upon finishing college he took machining and welding courses and began experimenting with framebuilding. He would fix bicycles for customers by day and build frames at night. His business has grown steadily over the years, and he is now a highly regarded builder.
Rich Adams
Founded by Rich Adams, the company is located in Wilkes-Barre, Pennsylvania, United States.
"When done right, the classic steel road bike is like no other. Good stiffness for accelerating and climbing, enough flex for comfort and road feedback, simple lines, and practical workmanship create that special riding experience. The jack of all trades, steel is the chameleon of frame materials capable of a wide variety of ride characteristics simply by adjusting the geometry and tube selection." -Rich Adams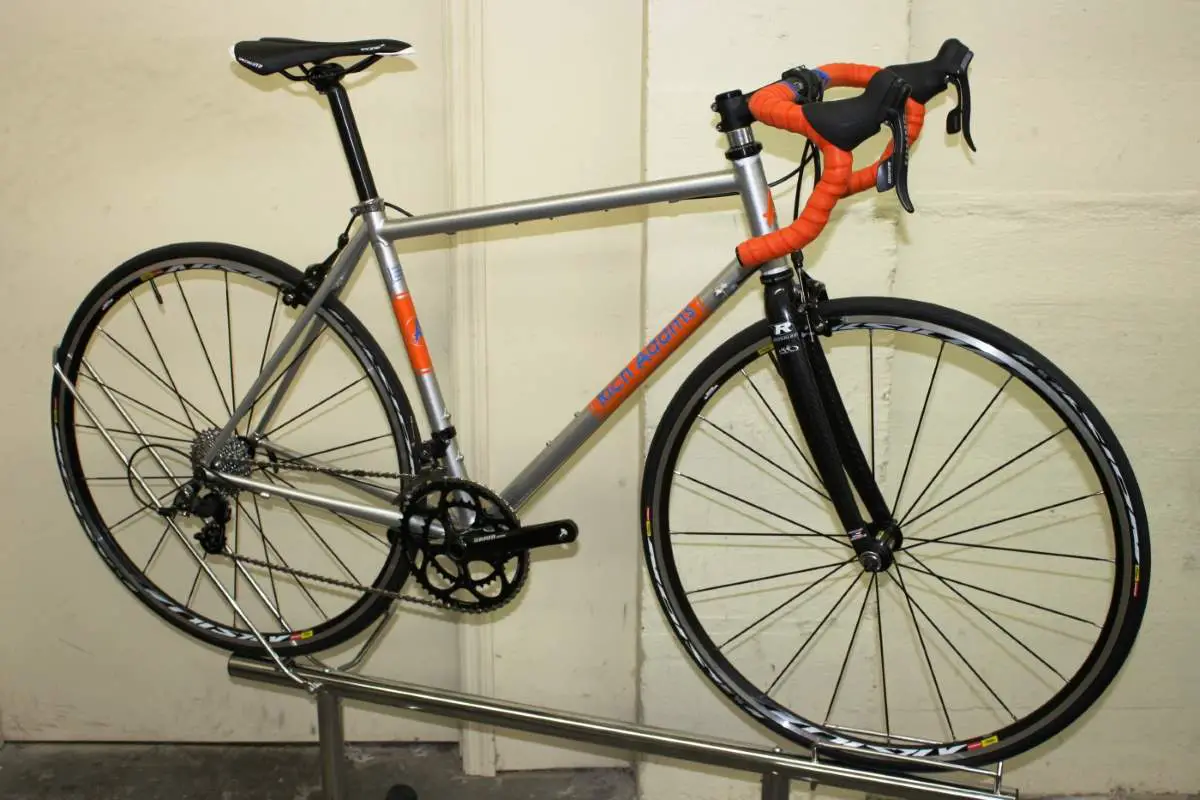 Website: bicycleframes.com
Richard Sachs
Richard Sachs has been building bicycle frames since 1972, and he works alone. He builds only 4 to 6 frames each month. People sometimes wait 7-8 years to get a Richard Sachs bicycle.
"Since 1972 my initial and singular goal has been to create a well-made, hand-built, made-to-measure bicycle frame. Through the years I have been able to combine my experience in the sport with my artisan approach to framebuilding to develop a predictable, repeatable construction assembly that enables me to produce a perfectly straight, well-balanced frame, ideally suited to the needs of each and every client placing an order." -Richard Sachs
Website: richardsachs.com
Rock Lobster Cycles
The company was founded by Paul Sadoff and located in Santa Cruz, California, United States. Sadoff is building frames since 1978. His frames have been ridden at the Olympics and at world championship cyclocross and mountain bike events in many parts of the world.
Rock Lobster frames are built using a variety of materials and methods. While most frames are TIG-welded, fillet brazing and lugged construction are available on most steel frames. Almost any degree of artistic touches are available as well, depending on budget. All aluminum frames are TIG welded and then artificially aged or heat-treated by an aerospace quality facility. Frames are aligned to within .020. Steer tube sizes of 1 and 1 1/8 are available on road and mountain frames. All threads are English and all frames are fully prepped before leaving the shop. Both powdercoat and wet-paint finishes are available, the stock finish being a powdercoat (single color) with a wet-paint clearcoat is included in the price. All sizing and geometries are custom as these frames are built one at a time.
"My aim is to build frames that do not hold the rider back from the highest level of performance and enjoyment. The trophies in my shop were not won at bike shows…they were won at races all over the U.S.A." -Paul Sadoff
Website: rocklobstercycles.com
Rossin Bikes
Rossin is an Italian classic bicycle manufacturer founded in 1974. In 1973, disagreements arose between Vittorio Ghezzi of Itla and Ernesto Colnago, after they facilitated the young Italian cyclist Gianbattista Baronchelli's move to Scic instead of promoting Ghezzi's new professional team. This fuelled Ghezzi to challenge Colnago and set up a company to manufacture highly competitive bikes. He recruited Mario Rossin, who had worked for many years at Colnago and was a welding genius. The creative Inzaghi joined them, along with Domenico Garbelli, and Ghezzi's son. Rossin was officially born on 14th September 1974.
Baronchelli raced between 1974-1989 and obtained a total of 94 victories, including two Giri di Lombardia (1977, 1980) (today, "Il Lombardia").
Initially, Rossin bicycles were competing in amateur races and making a reputation for itself from the ground up. It wasn't until 1977 that Rossin bikes made their professional debut at the Laigueglia Trophy as part of the GBC Itla racing team.
Over the next couple of years, Rossin grew in size and reputation and in the early eighties started sponsoring the professional Belgian racing team Daf Trucks, led by Roger De Vlaeminck. Every year that went by allowed their expertise and experience to grow, leading them in 1983 to provide track bikes to the national teams of Russia and America. The bikes were the first models ever to be equipped with disk wheels (launched by Rossin in the same year), horned handlebars and sloped upper-tube frames.
Website: rossinbikes.com
Royal H Cycles
Located in Boston, Massachusetts, United States, Royal H Cycles produce handcrafted custom steel, titanium, and carbon frames.
The company was founded by Bryan Hollingsworth in 2009. They build almost any type of bicycles – road bikes, commuter, cyclo-x, track&singlespeed, mountain, touring, etc.
"I started Royal H Cycles in 2009 with the goal of combining perfect fit, classic styling, and modern componentry in just the right ratio. Royal H customers know that nothing sort of a custom build will satisfy their unique vision of the perfect bike. Why trust me with this vision? I am serious about my framebuilding. I cut my teeth at Seven Cycles, one of the premier custom titanium and carbon fiber frame manufacturers, where I learned just how precisely bike frames can be built. When I take up the torch to a new frame, I apply these techniques every time, even though my medium is steel, and the joints are brazed. Holding these tolerances in the shop results in a bike that rides perfectly on the road, simply put. I am also serious about listening to and understanding your vision, and I hope to at all points exceed expectations. And while the ride and fit of a bike are paramount, I know that people who ride lugged steel know there's more, that intangible thing that makes riding their bike a joy. Sometimes it's a colorway, a lug cutout, a seatstay cap, but often it's the whole interplay- the character of the bike. Royal H aspires to build bikes with character. If you are interested in owning your own one of a kind bike, let's talk."
Website: royalhcycles.com
Other manufacturers:
A B C D E-F G-H I-J-K L M N-O-P-Q R S T V-W Y-Z
* According to Wikipedia, "boutique manufacturing is a method used for the custom production of certain products in limited quantities by hand or with a restricted level of automation." (Boutique manufacturing on Wikipedia)
Sources
Rossin Cycles on Steel Vintage Bikes website
I am a software developer, a former road racing cyclist (at the amateur level) and a science enthusiast. Also an animal lover! I write about cycling on this website, cycling-passion.com. You can check out my social media profiles by clicking on their icons.
Latest posts by M. Özgür Nevres (see all)